Hunting for the perfect mini hemp backpack to carry all your essentials? When you choose a hemp pack, you're making a great choice for the planet!
Hemp is gentle on the earth because it needs minimal water to thrive, and is hardy enough to be grown without chemical herbicides or pesticides. In terms of sustainable farming, hemp actually returns around 70% of the nutrients it takes from the soil, while needing only a small amount of land for cultivation.
It's a highly sustainable, low-impact crop that can be turned into fabric with little environmental impact – and a growing number of eco-conscious consumers are turning to hemp for green clothing and accessories, including fashion-forward hemp mini backpacks.
Here are our top picks for a mini hemp backpack that look great, while helping you do your bit to save the planet.
---
Best Hemp Mini backpack options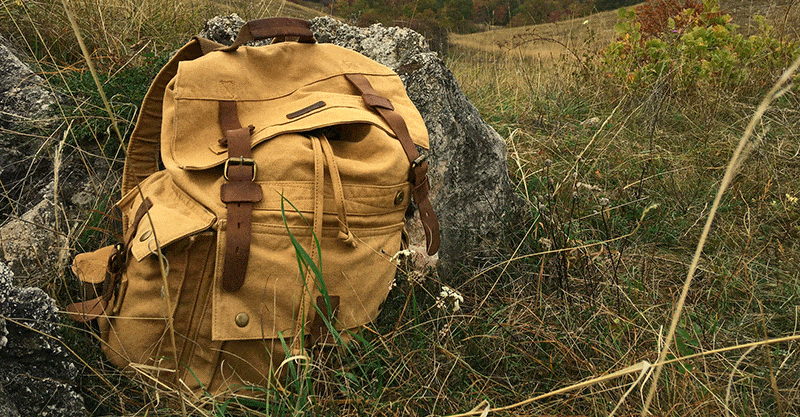 ---
Handmade Himalayan Hemp Backpack, by Asatre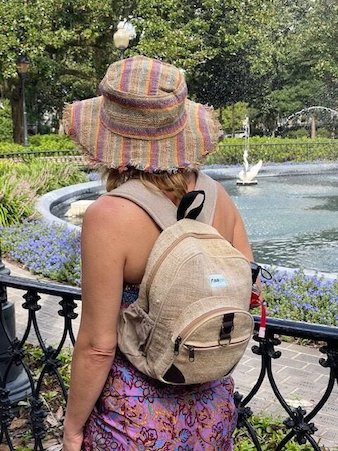 Handmade in Nepal with pure Himalayan hemp and heavy-duty cotton, this casual lightweight mini hemp backpack is a great multi-purpose small bag for daily use. The neutral raw-hemp color looks great with any outfit, and you'll be surprised just how much you'll be able to squeeze into the handy 12 x 10 x 4 inches of storage space. Both compartments are zippered for your peace of mind. 
Asatre hemp mini backpacks are THC free and eco-friendly, and made using natural pure hemp yarns and fabric from the Himalayan regions of Nepal. Their bags feature the Asatre logo on the outside of the bag, and hemp leaf and pure hemp tags located inside the bag.
Based on Georgia, USA, Asatre provides affordable, eco-friendly and sustainable hemp clothing, hemp backpacks and accessories. Their product range is one of the broadest in this list – including everything from hemp clothing for men and women to hemp soaps, hemp pet harnesses and more.
---
Handmade Hemp Mini Backpack, by Mugambo Fashion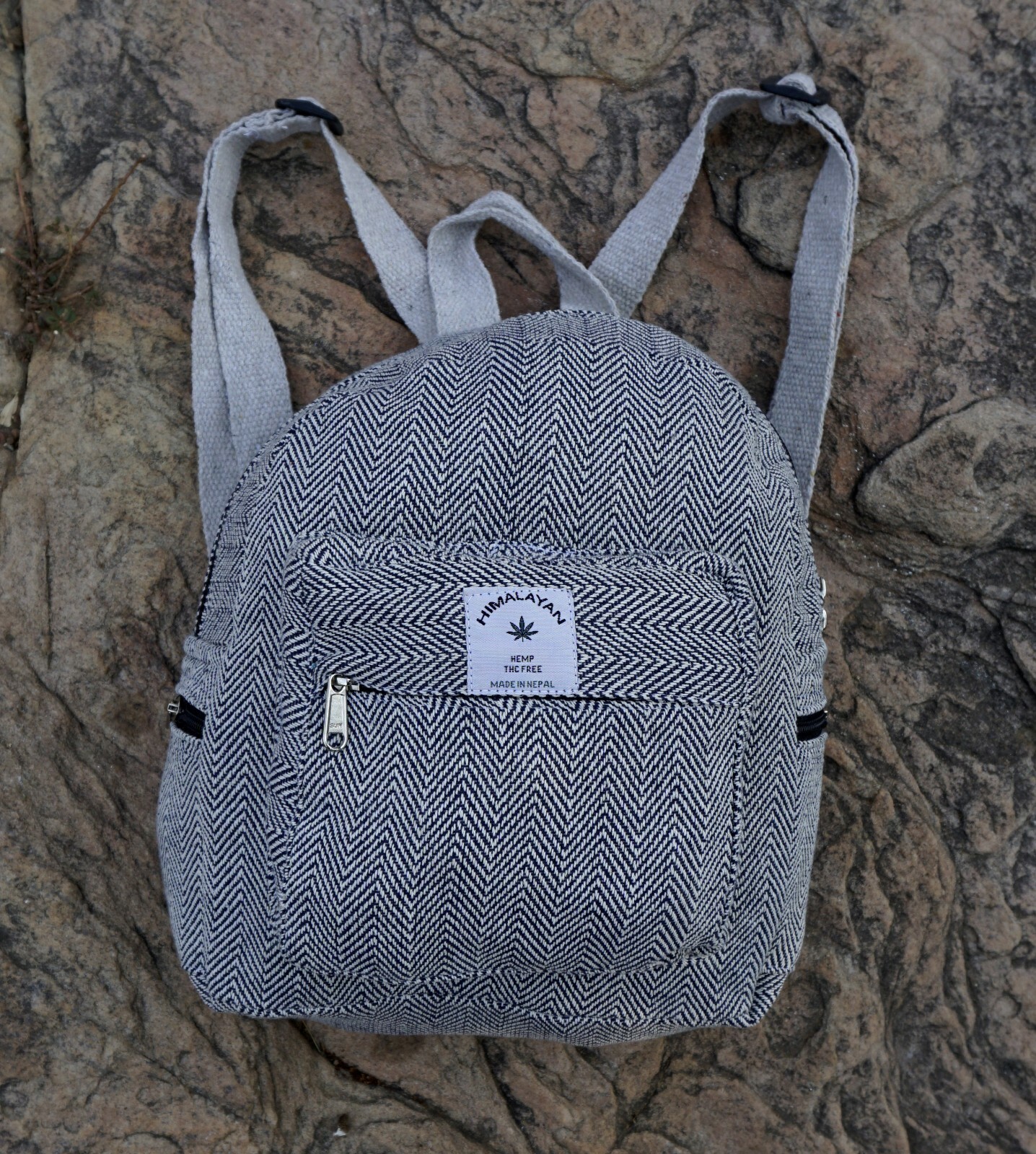 Available as a single mini hemp backpack, or a set including a matching pencil case and coin purse, Mugambo Fashion's Handmade Hemp Mini Backpack is one of the smallest packs on our list – measuring just 8 x 7 x 5. Available in 13 colors and handmade from organic fabric, it features a wide base, adjustable straps, and a drawstring and magnetic flap closure
Mugambo Fashion strives to support local laborers, and focuses on organic and handmade products that are eco-friendly, lightweight and washable.
Their collection includes mini backpacks, yoga mat carriers, pencil cases, coin purses, laptop backpacks, duffle bags, sling bags and more. Hemp mini backpacks are available in a wide range of colors, including black, ivory, pink, blue grey, beige and maroon.
---
Handmade Hemp Backpack Purse, by KayJayStyles
Looking for a mini hemp backpack with that iconic 90s hemp backpack print? KayJayStyles has you covered with their Handmade Hemp Backpack Purse, measuring just 10 x 13 x 4 inches. Keep everything organized with a main zippered compartment, two zippered front pockets, and two large side pockets.
KayJayStyles products are handmade in Nepal with pure Himalayan hemp and heavy-duty cotton. Their hemp backpacks feature a soft cotton inner lining for added strength and durability.
KayJayStyles offer authentic Fair Trade and eco-friendly products, including hemp backpacks, clothing and accessories. Their collection has a vibe best described as urban bohemian. Keep in mind that the color and designs of your mini hemp backpack may vary a little due to the handmade nature of KayJayStyles products, but that's part of the fun!
---
Hemp Mini Packpack, by Core Hemp
Handmade in the Himalayas from 100% hemp and cotton, Core Hemp's mini hemp backpack is available in vintage/ natural, boho print, blue and green. It's lightweight and durable, and features zippered front and main compartments and adjustable straps for the perfect fit. One of the smallest options in this list measuring just 12.3 x 10 x 6.5 inches, it can carry a lot more than its compact size lets on.
Core Hemp is one the leading names in fashion-forward, fair-trade and earth-friendly hemp bags. Their philosophy is to provide affordable fashion without the environment or the people behind it suffering, and to give their customers the opportunity to reduce their impact on the environment. All Core Hemp products are vegan, designed in the USA, and crafted by artisans in Nepal.
The Core Hemp Range includes hemp backpacks, hemp crossbody bags, hemp messenger bags and hemp fanny packs. Their collection is contemporary, stylish and unisex, and machine-washable for convenience.
---
Bird of Paradise Mini Pack, by Bags from Beyond
You'll be walking on sunshine when you pack your gear into this vibrant yellow mini hemp backpack! Made in the Himalayas out of hemp and recycled eco-friendly materials, it measures 9.5 x 12 x 5 inches (at its fullest) and features adjustable straps. The Paradise Mini Pack includes four zippered compartments, two side pockets and a ton of hidden internal pockets to keep everything safely in its place.
Bags from Beyond's philosophy centers on the Nepali proverb, "if you do things right, you never have to worry". Each of their eco-friendly, vegan and fair trade bags is created in the spirit of doing the right thing for the environment. Bags from Beyond supports a fair-trade organization which teaches underprivileged people artisan craft while paying them fair wages for handcrafting each one of these bags.
Their range includes a selection of hemp backpacks, crossbodies and hip sacks/ fancy packs in a wide range of great colors. Each bag is cleansed and blessed with a palo santa smudge before shipping.
---
Sansara Small Hemp Backpack, by Hemp & Hope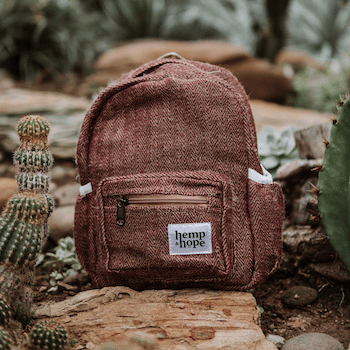 Available in five colors and featuring front, side and main storage compartments, Hemp & Hope's Sansara Small Hemp Backpack is not technically 'tiny' but makes it into this list as a small hemp backpack that's big on style. Measuring 11 x 8 x 4.75 inches this backpack is ideal for everyday use, and features thick shoulder straps for convenience and comfort.
Hemp & Hope is a sustainable fashion brand, working with family run businesses in Kathmandu and Pokhara to deliver sustainable hemp fiber clothing and bags. We love that they have a commitment to 100% plastic-free packaging, and plant a tree with every order!
Hemp & Hope's collection includes backpacks, totes and makeup bags, as well as shirts for men and tops, dresses, jumpsuits and pants for women. Their collections feature gorgeous earth-tones and authentic prints, and the Sansara Small Hemp Backpack is available in black, red, raw, blue and purple.
---
Hemp Super Mini Backpack, by Hempmania
Constructed from 100% hemp canvas, the Hemp Super Mini Backpack is one of Hempmania's best-selling packs. Measuring 9 x 11 x 5 inches, it features adjustable shoulder straps, an easy-access cell phone pocket on the side, and two main compartments – including internal pockets to keep your items safely stored. It is available in seven colors: chocolate, indigo, moss, natural, sage, terracotta and black.
Established in 1997, Hempmania is one of the industry's longest-serving brands dealing exclusively in high quality, earth-friendly hemp products – manufactured in the highlands of Guatemala by an indigenous Mayan family business.
With a mission to promote the use of hemp as an eco-friendly and renewable material for handbags and accessories, Hempmania's collection includes hemp bags, hemp backpacks, hemp wallets and a wide range of hemp accessories.
---
Festy Bound Mini Hemp Backpack, by Dime Bags
Aptly-named because it's the perfect mini hemp backpack for festivals, Dime Bags' Festy Bound is a fun alternative to neutral-toned packs and is available in purple, colbalt, static amber, static blue and static pink! Measuring 11 x 2 x 12 inches, it features adjustable padded shoulder straps for a secure and comfortable fit, and tons of storage space to keep all your goods organized and safe. There's a large main compartment, internal zippered pocket and mesh pocket, a small front pocket, and Dime Bags' iconic hidden pocket for added security.
Founded in 2007, Dime Bags is a leader in the hemp accessories market. Famous for making a high-quality, stylish products that are durable and environmentally friendly, the brand blends recycled polyester and hemp for their exclusive Hempster fabric.
The Dime Bags range includes hemp backpacks, mini hemp backpack bags, wallets, purses, pouches, handbags and fanny packs – not to mention their smell-proof range, featuring carbon filter technology. All products are unisex, and their Hempster fabric allows for an incredible range of colors and patterns.
---
Hemp 2 In 1 Mini Backpack, by Hempalaya
Searching for a hemp backpack that's small and multi-functional? Hempalaya's 2-in-1 Mini Hemp Backpack features shoulder straps attached via carabiners – allowing them to be shortened or lengthened as desired, and giving you the flexibility to wear this pack as a mini backpack, shoulder bag or crossbody bag. Made of handwoven hemp-cotton fabric, this bag measures 9.4 x 8 x 4.5 inches and its design includes zippered main and front compartments, and a separate inner pocket for valuables.
Austrian-based Hempalaya products consist mainly of wild Himalaya hemp and natural raw materials from Nepal. The company focuses on the use of sustainable and raw materials in their products while supporting women's projects and positive change in the textile industry. Hempalaya donates 5% of every sold item goes to Chay Ya Austraia – a non-profit association for the global fight against poverty in remote, hard-to-reach areas.
Hempalaya's sustainable hemp bag collection includes unisex hemp fanny packs, drawstring bags, hemp backpacks, hemp sports bags and weekenders, crossbody bags and more. They also stock apparel and accessories, including caps, hemp yoga mats and carrier bags, scarfs and beanies.