When it comes to activewear, there are many considerations that can make items more sustainable, including:
Wearing items longer, for instance by fixing them,
Seeking natural fibers; several studies show that washing synthetic clothing contributes to the increase of microfibers in the oceans.
Washing the items less often; antibacterial properties mean you don't have to wash items as often.
Trading items in and buying second-hand; buying used extends a garment's life by about two years, which cuts its combined carbon, waste, and water footprint by 82%.
With our recommendation to buy less but better, we present you with 21 options for your next activewear purchases, so you can take good care of yourself while supporting mindfully designed and produced garments.
---
Sustainable Activewear

1. Cotopaxi
Eco | B Corp, climate neutral, community involvement, repurposed materials, ethically-made
We like | The Cerro Tight in Indigo

With a 'Do Good' mentality, you can do no wrong with Cotopaxi's funky recycled products. One of their staple activewear is the Cerro Travel Tight, available in five colors and sizes ranging from XS to XL.
Made from 79% recycled polyester, this compressive high-rise has quick dry and anti-chaffing features, along with five strategically placed pockets, perfect for when you're on the run.
Super-transparent with its sustainability commitments, Cotopaxi has been providing comprehensive Impact reports since 2015, showcasing their actions towards sustainable design principles, human rights and social performance, poverty alleviation, etc. The brands' athleisure factories, located in Cambodia are third-party audited and have a high HIGG Index score which measures recycling, emissions, water usage, waste and energy efficiency.
---
2. My Rose Buddha
Eco | hand-made, eco-friendly fabrics, recycled bottles, trees planted
We like | High-Waist Movement Leggings in Bloom

Hand-made in Montreal, Canada, with spandex and Chitosante-treated recycled polyester fabric made with chitosan, a biomass from crab or shrimp shells, combined with textile fibres, these leggings are antibacterial, odor resisting, moisture wicking, you name it. They come in a beautiful floral style or navy Galaxy patterns, designed by talented Quebec female artists, in sizes from 0 to 14.
My Rose Buddha's activewear range uses non-toxic, recycled and certified organic materials, such as bamboo, flax and hemp. We love that the production of recycled polyester uses half the energy consumption of virgin polyester, reducing CO2 emissions by a third. By opting for clothes treated with Chitosante, you avoid excessive washing which pollutes the oceans.
---
3. Tentree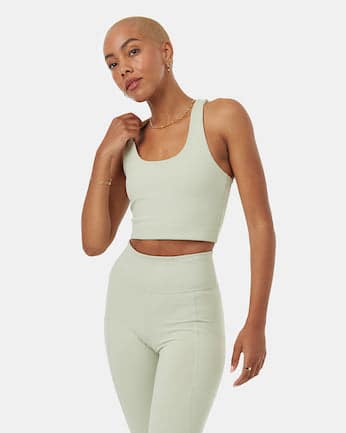 Ethics | B Corp, sustainable materials, ethically-made, tree planting 
Our Pick | inMotion Longline Active Bra in Seedling 

If you're looking for an active bra that's cut to fit your curves, cue the inMotion Longline bra from Tentree, in black, mauve or green, in sizes ranging from XS to XL. Made from Tencel, produced from sustainably sourced wood by environmentally responsible processes, this light support model is gentle on the skin, breathable and soft. Bonus: you can match this item with the inMotion High Rise Legging.  
Designed in Canada and made in the Philippines, this bra's production will have saved nearly 1 litre of water, 0.19kg of CO2 and 0.02g of waste compared to a standard bra and, as its name suggests, 10 trees are planted for every item sold thanks to specialist tree planting partners around the world.
---
4. Patagonia
Eco |Recycled materials, Charitable donations Best For | Warm-weather running
We like | Strider Running shorts in Float Blue
The women's Strider Running Shorts – 3 ½", available in 4 styles in XXS to XL, are ideal for casual runs. Fast-drying, they are made from ultra-light 59% recycled polyester fabric with a durable water repellent and a crepe liner with HeiQ® Fresh durable odor control. They also have a semi-secure back pocket designed to reduce bounce when carrying your phone or keys.
Using Fair Trade Certified sewn and bluesign® approved fabric, meaning their supply chain has been vetted as safe for the environment, its workers and customers, Patagonia is an activist company and part of the 1% Pledge (giving away 1% of sales to the preservation and restoration of natural environments). They also have a Worn Wear hub to cut down on fast fashion where you earn credits for your next purchase.
---
5. Athleta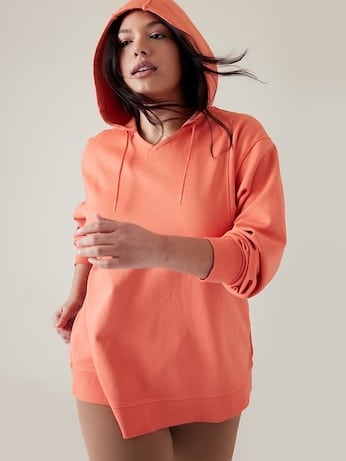 Eco | Organic cotton, B Corp,
We like | Sundown Hoodie Sweatshirt in Soft Persimmon

For a little warmth and softness, the Sundown Tie Dye Hoodie Sweatshirt, available in an amazing array of sizes from XXS to 3X, provides a cozy unique essential for any activity. Made with breathable organic cotton it uses about half as much energy to grow as conventional cotton and doesn't use toxic chemicals which should be the norm for the earth and the farmers who grow it.
We love that they celebrate different body sizes and that 71% of their materials are sustainably sourced, from recycled nylon and polyester, Econyl® (recycled fishing nets and other discarded nylon) and TENCEL for instance. Part of the B Corp community, Atheleta displays its sustainable actions on a user-friendly dashboard, highlighting its progress across women empowerment, sustainable fibers, water-saving techniques (they openly indicate this is an ongoing challenge but persevere) and shipping package diversion indicators.
---
6. Kaira Active
Eco | upcycled materials, responsibly-shipped
We like | Isla Top in Navy

Available in XS to L, the Navy/Geo print Isla Top is a sexy supportive cross-knotted bra with removable pads, suitable for water-based activities such as surfing (UV, chlorine and sunscreen resistant) or on land (yoga, etc…). You can easily accessorize them with the navy shorts or leggings.
Kaira Active's products are uniquely made from 80% ECONYL® yarn, which is effectively the product of upcycled fishing nets retrieved from the ocean floor which are given a new life and purpose. Each garment is sown by hand in Los Angeles, shipped with minimal recycled packaging and 1% of each purchase goes directly to Healthy Seas, a charitable organization that is devoted to cleaning up and protecting our oceans one dive at a time.
---
7. Lululemon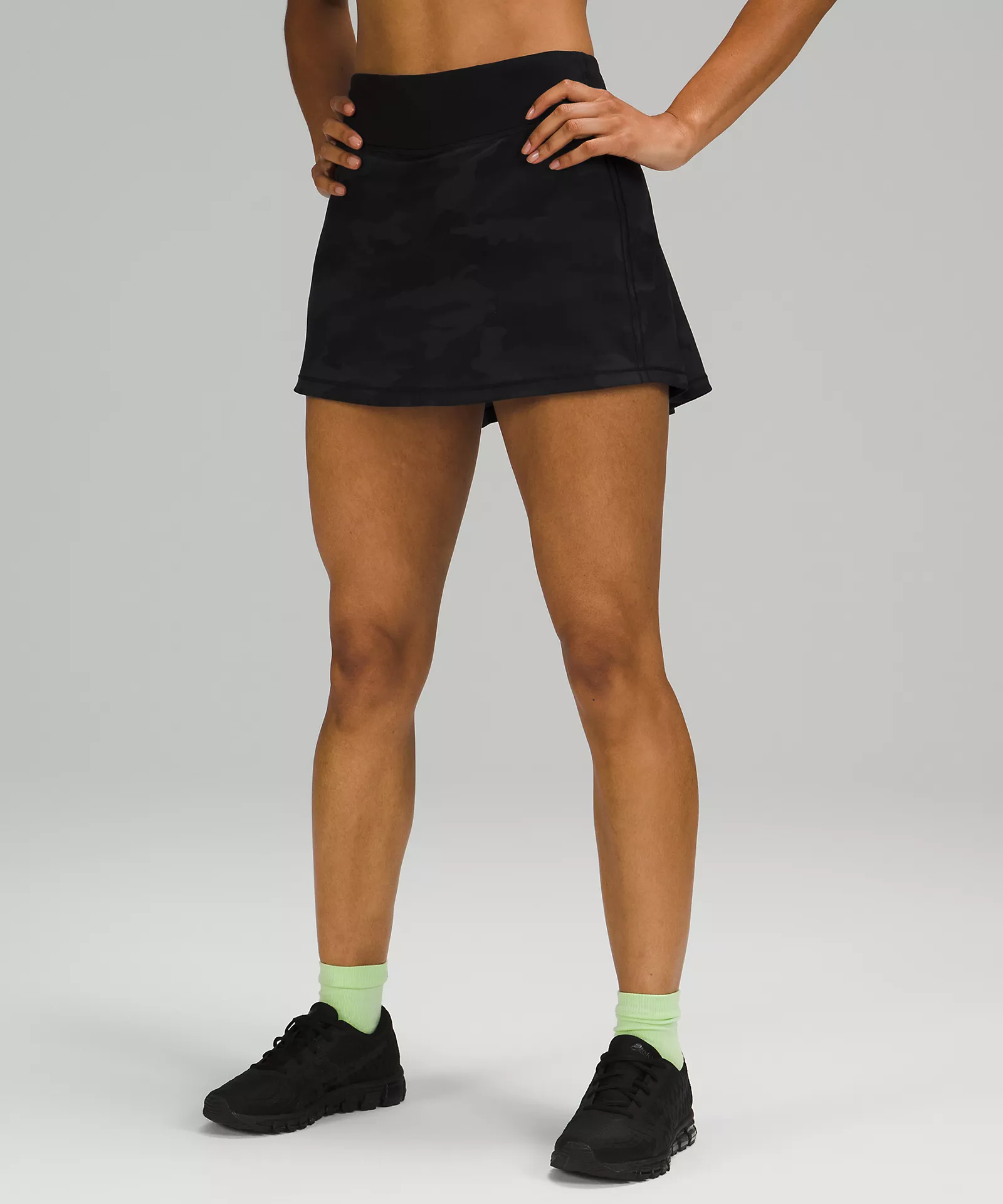 Eco | Social impact, sustainable ambitions, responsible supply chain
We like | Pace Rival Skirt (Tall) in Multi-Black or Icing Blue

Designed for tennis, this little number, available in Icing Blue or a Grey/Black combo, combines a short and a skirt with a 3.5" liner, complete with pockets to hold your essentials close. Made from lightweight sweat-wicking fabric, its quick-drying materials, including partly recycled polyester, leave you cool and dry throughout your game.
Although they may not at the top of their sustainability game yet, Lululemon is working towards it, having set itself targets to achieve by 2025 or later, including having: 75% sustainable materials, 100% forest-based materials to be audited by third parties, creating circularity through new product life extensions, reducing water intensity by 50% as part of the manufacturing process. In the meantime, they are big on diversity and inclusion, and channel their social impact through donations (40,000 yoga mats) and work with 500 likeminded partners.
---
8. Nike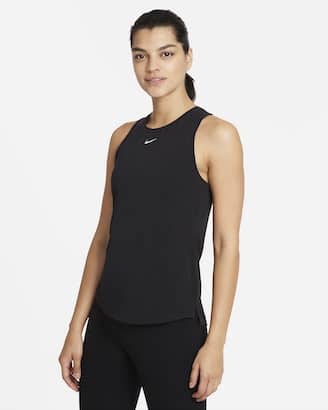 Eco | Sustainable materials, charitable donations
We like | Nike Dri-FIT One Luxe in Black

The Nike Dri-FIT One Luxe is is designed for all the ways you work out—from yoga to HIIT to long runs. Made from at least 75% recycled polyester fibres (from plastic bottles), the buttery-soft fabric is powered by sweat-wicking technology to help keep you dry throughout your workout.
Recycled polyester produces up to 30% lower carbon emissions than virgin polyester, and as such, Nike diverts an average of 1 billion plastic bottles annually from landfill and waterways. Part of Nike's "Move to Zero" journey towards carbon neutral and zero waste, apparel such as this labelled "sustainable materials" are made from at least 55% recycled content. The latest progress against their 29 sustainability targets by2025 show for example that nearly half the energy used in owned or operated facilities is from renewable origin, the corporate workforce includes a 45% representation of women in leadership positions (VP and above) and that important investments are geared towards supporting organizations addressing racial inequality.
---
9. Boody
Eco | Chemical-free materials,
We like | Cami in nude
The body-hugging Cami is likely to be your favorite activewear staple, particularly as it is available in seven plain colors. Made from bamboo viscose that is responsibly managed in forests in the Sichuan Province of China, it is organically-grown which makes it a super soft and durable fabric. And, because these fibers are not chemically treated, you can be sure that you are not wearing or leaching any nasties from your washing machine.
Boody uses 100% organic bamboo plants because of their eco-friendly growing properties and processing system whereby water is recycled, and manufacturing is (practically) zero-waste notably thanks to computer knitting which reduces fabric waste. The raw bamboo is Ecocert-certified and there are a bunch of other certification bodies, such as the Standard 100 OEKO-TEX®, which audit the Boody products for quality assurance and chemical components.
---
10. Threads 4 Thought
Eco | Sustainably-soured and recycled materials, ethically-made
We like | Monica Crop Criss Cross Legging in Heather Current

Threads 4 Thought (T4T)'s ReActive range is made from recycled materials that are regenerated, repurposed, and remade into comfortable, durable, sustainable activewear, perfect for any level of activity. Available in XS to XXL, this legging model offers body-compression, comes in a range of discrete colors and has an adorable criss-cross detailing which adds a little pizazz.
Born with a desire to minimize the environmental impact of their products, T4T's #ThreadLightly tag line and sustainability credentials span the materials they source (for instance Lenzing TM Modal, a fabric from regenerated beech trees), ethical standards at their Guatemala and China factories and their social impact (e.g. with International Rescue Committee supporting in-need communities).
---
11. Iron Roots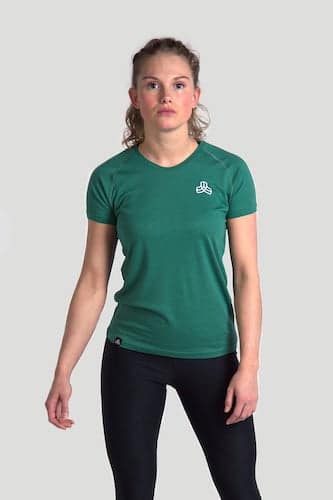 Eco | Tree materials, ethically-made
We like | Beechwood Performance T-Shirt in Jade Green

Made from 50% TENCEL™ Modal and 50% organic cotton, this classic T-shirt is designed and made in Europe and is partly sourced from FSC-certified beechwood trees. Soft and with antibacterial properties, this classic T gives is fitted around the arms and has a discrete brand logo graphic.
Lauded as a microplastic-free garment, Iron Roots set out to create 100% plastic-free apparel due to the microfibers that are released each time polyester clothing is washed. With that in mind, fabrics including Hemp, Eucalyptus and Beech trees are used, bringing about naturally-occurring benefits such as moisture-wicking and anti-static properties. Manufacturing follows fair-trade policies and are ISO-certified which means certain rules are in place to ensure ethical production. Also, shipping is plastic-free and discounts are handed out if customers send back their worn-out Iron Roots athletic apparel.
---
12. Kotn
Eco | Sustainably harvested materials, ethically made, charitable donation
We like | Sweatshorts in burnished lilac
These super soft Egyptian organic cotton French terry knit shorts are made in sizes ranging from XS to XXL and are also available in the equally gorgeous Italian Straw style. They can be paired with tanks or T-shirts of the same tones, with matching hoodies coming out soon.
Ethically crafted in Egypt using certified OEKO-TEX® non-toxic dyes, ensuring it is harmless to human health, KOTN's mission is to set the standard for conscious creation and consumption. Headed and operated in Toronto, the Canadian B Corp has placed sustainability in its raw material supply chain and ethical production at its core and established strong social links with the local communities producing the garments. Indeed, with every purchase, your orders fund the build-out and operations of school infrastructure, salaries for teachers, laptops, maintenance for the roads that link communities to the schools, books and supplies, etc… As such, 7 new schools in rural areas of Egypt have already been established!
Find out more
---
13. Outdoor Voices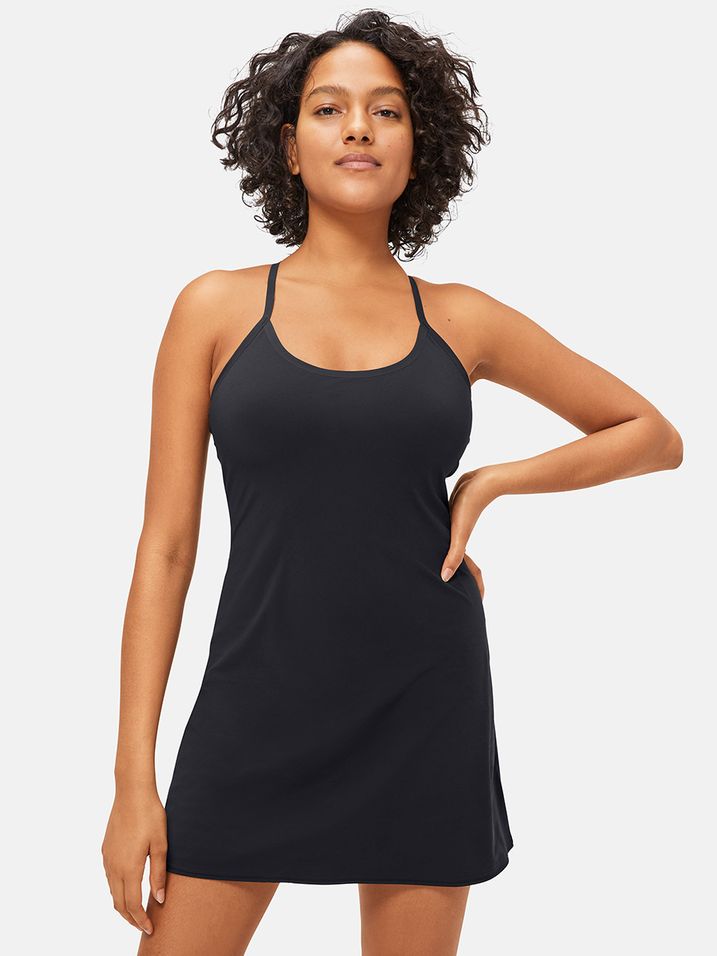 Eco | Sustainable materials, ethically-made
We like | The Exercise Dress in Navy

With its adjustable straps for a customized fit, the Exercise Dress has two phone-friendly pocket, internal grippers so the bodysuit stays in place and a great range of colors including an eye-popping leopard print. Size availability varies according to style and if your size isn't available in the chosen style, there's a handy waiting list.
Outdoor Voices has banked on long-lasting materials and circularity when designing its products. Transparently affirming their work-in-progress sustainability journey, some of the actions underway relate to packaging, recycled or ethically-sourced materials, carbon offsetting, etc…Asides from partnerships announced with WWF and the Nature Conservancy, they're also planning to launch a circular product take-back and repair program, so watch this space.
---
14. Girlfriend
Eco | Recycled and recyclable garments
We like | Shell Sport Brief in copper
You're sure to find your fit in these simply designed briefs as they come in a whopping 9 sizes, from XXS to 6XL, and four colors. Made with 80% recycled plastic bottles and spandex, 5 water bottles will have been diverted from landfill to make this underwear. Plus, if you buy one for each day of the week, you can save $30 too.
Girlfriend have taken slow fashion and sustainability to quite a level. Their items are made in a factory in Vietnam that follows social accountability standards, outputs from the OEKO-certified safe dyes are turned into sidewalk paving stones and they have an enticingly simple recycling program with Unifi in North Carolina which will shred your old leggings, separate the polyester from the spandex, and regenerate the fibers into fabric for new Girlfriend pieces.
---
15. Indigo Luna
Eco | Sustainable materials, natural dying processes, ethically-made
We like | Keira Rashguard in Coffee
Also available in an apricot Batik pattern, this sun-safe swimwear is the ideal way to save on sunscreen thanks to its comprehensive shoulder, chest and back coverage. Salt and chlorine resistant, it's made from soft and super stretchy ECONYL® fabric originating from discarded fishing nets, thanks to a depolymerization process, turning the non-biodegradable nylon problem into a new solution. In this case, stunning swimwear.
Natural dyes come from locally grown plants like Mango, sourced from Bali (Indonesia) close to the factories, so workers are not harmed. Indigo Luna's yogawear and swimwear are purposely created in small, sustainable runs so they regularly run out of stock, in a true slow fashion approach.
Find out more
---
16. Adidas x Stella McCartney
Eco | Recycled materials 
We like | TruePace High Support Sports Bra
If you're looking for a supportive sports bra, this high-impact model will not disappoint. Available in many sizes and features a sports luxe racer-back silhouette and adjustable shoulder straps, the sweat-wicking fabric will keep you dry and stylish, as a Stella McCartney-designed line would.  
Made from recycled polyester and elastane, this item adheres to both Adidas and Stella McCartney's respective sustainability visions, with programs considering circularity, recycling and minimized carbon footprint intentions across their operations. Both brands have committed to stop using virgin plastics (they have dedicated lines originating from recycled materials) and using less water and energy during manufacturing.  
---
17. Everlane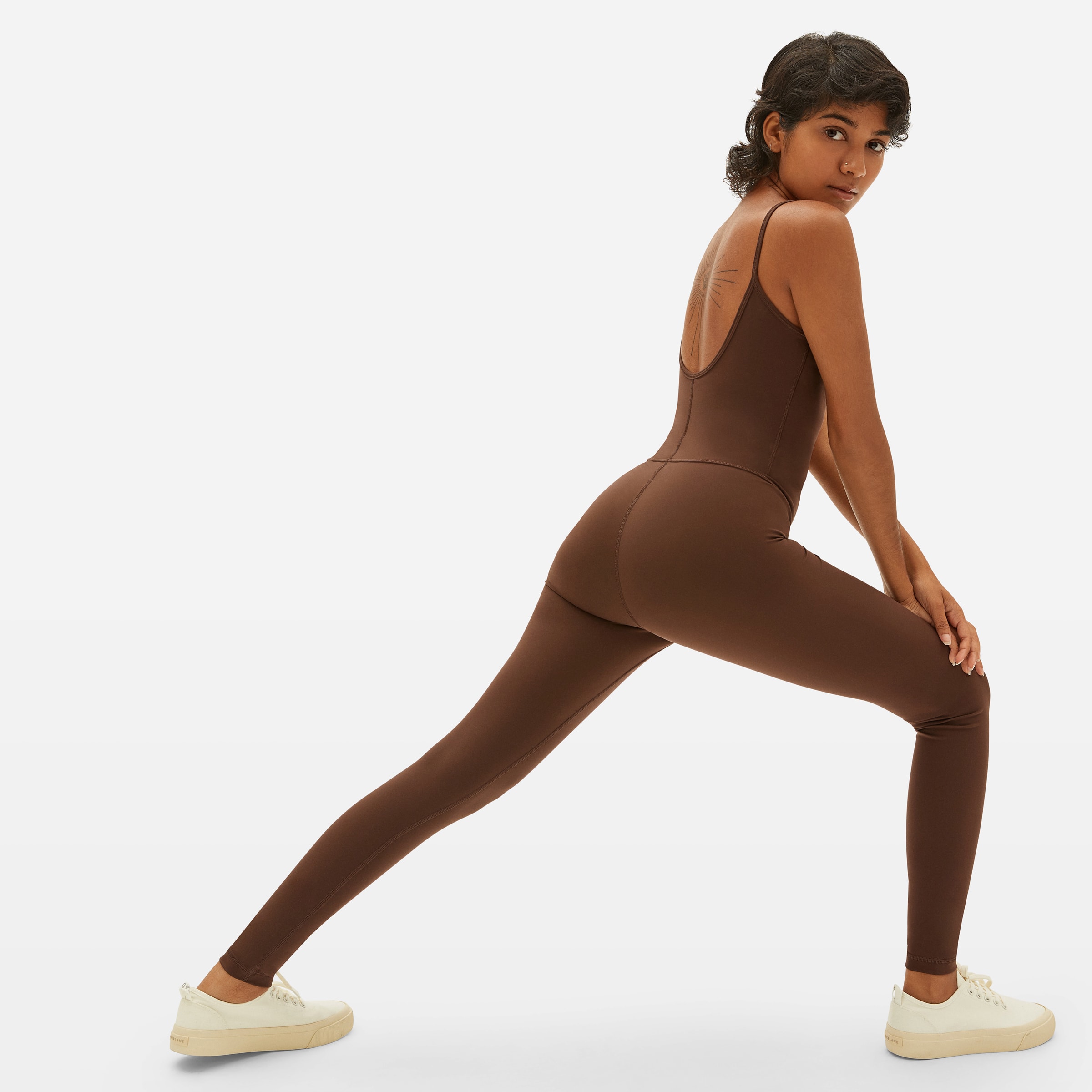 Eco | Sustainable materials, plastic-free
We like | The Perform Unitard in Bitter Chocolate

Made of premium performance fabric from a renowned Italian mill, the Perform Unitard, also in black, features skinny straps, a low-cut back, and is comprised of 58% recycled nylon. Complete with lightweight compression and technical sweat-wicking properties, you can get this in XXS all the way up to XXL.
Having eliminated 97% of the virgin plastic from their supply chain for their apparel, Everlane have committed to no new plastic and prioritize natural fibers as much as possible. Their materials, suppliers and production processes are certified by several standards and their approach to transparent sustainability is refreshing, particularly with regards to the cost breakdown of their items, ensuring no unnecessary markups to customers.
---
18. Wolven
Eco | Sustainably produced textiles, ethically-made
We like | Zephyr Crisscross Four-Way Top in Black-Gold

Not your usual looking tank top, this black and gold print features a snake in the centre symbolizing the power of transformation. Perfectly pairable with the Crossover Pocket Legging or the Midi Bike Short, you can wear this top in four different ways thanks to the adjustable straps.
Made from over 20 recycled bottles, this OEKO-TEX Standard 100 item (THE label for sustainably produced textile) has all the odor resistant, breathable, quick-drying fabric properties you need during your activities. On top of being carbon neutral certified, Wolven is a member of 1% for the Planet and participates in the One Earth – One Ocean association where local Brazilian fishermen are cleaning up Rio's Guanabara bay from plastics.
---
19. Vyayama
Eco | Sustainable materials, certified manufacturing 
We like | KALABLAK™ SCULPT CROP TOP in black 

Made from 85% cupro, an innovative botanical cellulose fiber, this bra naturally transports moisture away from the body, is hypoallergenic and friendly to the skin. You can easily match other items in black from the Kalablak sleek collection including a crop top, leggings, thong, bralette, tank and shorts.  
Pronounced 'vai-ah'mah', meaning 'to move' and 'to tame the inner breath', this brand uses TENCEL® fabric crafted in Europe from sustainably farmed eucalyptus. Tencel is among the softest and most high performing in terms of moisture management, keeping you cool, healthy and comfortable. Certified to the Oeko-Tex standard 100, no harmful toxins were used to make this product.
Find out more 
---
20. Summersault
Eco | Sustainable materials, ethically-made 
We Like | The On-The-Go Zip-Up Jacket in Sage

Made from Tencel, cupro and cruelty-free wools, Summersault's range of active and lounge wear comes in a range of dazzling colors and patterns to suit any style. Catering to all body shapes and sizes, this zip-up jacket is available in XS to 2X and comes in three other tones that can be matched to their line of tops and bottoms.  
A little shy on sustainability affirmations, the brand indicates it works with Asian manufacturing partners that have multiple certifications, and that collectively their factories have over a dozen international certifications, which acknowledge an ongoing commitment to environmental and social sustainability.
---
21. Pact
Eco | Fair Trade factories 
We like | Pureactive Pocket Legging in Charcoal Heather
Pact's Pureactive Pocket Legging is, unsurprisingly, the brand's best-selling legging. Made from organic cotton requiring 91% less water than conventional cottons in a Fair Trade Certified Factory in India, it is GOTS (Global Organic Textile Standard) certified and toxic chemical free. You can find it in plain or patterned styles in sizes ranging from XS to XXL.  
Pact offers you the option to offset the emissions related to its shipping, which incidentally, uses thoughtful packaging to reduce the packaging's lifecycle footprint. Their Give Back Box is part of their U.S. based Give Back Wear Forward clothing donation program whereby your gently used clothing (of any brand) can be shipped onto a local charity to continue minimizing the transport emissions.