Loungewear was put on a fashion pedestal in 2020, with many of us being home-bound and analysts expect that this apparel category will continue growing at an almost 9% growth rate, reaching an estimated $ 20 billion by 2024[1]. With loungewear requirements including comfort, cozy, day-long and year-round wearability, many brands have jazzed styles up to meet our new-normal clothing staple needs.
Fortunately, sustainably sourced or processed textiles generally have intrinsic properties keeping clothing breathable and warm, and often they're naturally resistant such that they'll outlast any confinement period, pandemic or not.Furthermore, many brands embody sustainability principles in various ways, from socially-diverse contributions to environmental protection.
We've gone behind the seams and selected nineteen eco-friendly garments to keep you cozy year-round and illustrate how your consumer choicescan indirectly contribute to a better world, little by little.
Sustainable Loungewear from sustainably-driven brands
1. Kotn
Ethics | Sustainably harvested materials, ethically made, charitable donations
Best For | Pastel colored relaxed hoodie
Our Pick | Terry Cropped Hoodiein Dawn
Price | $65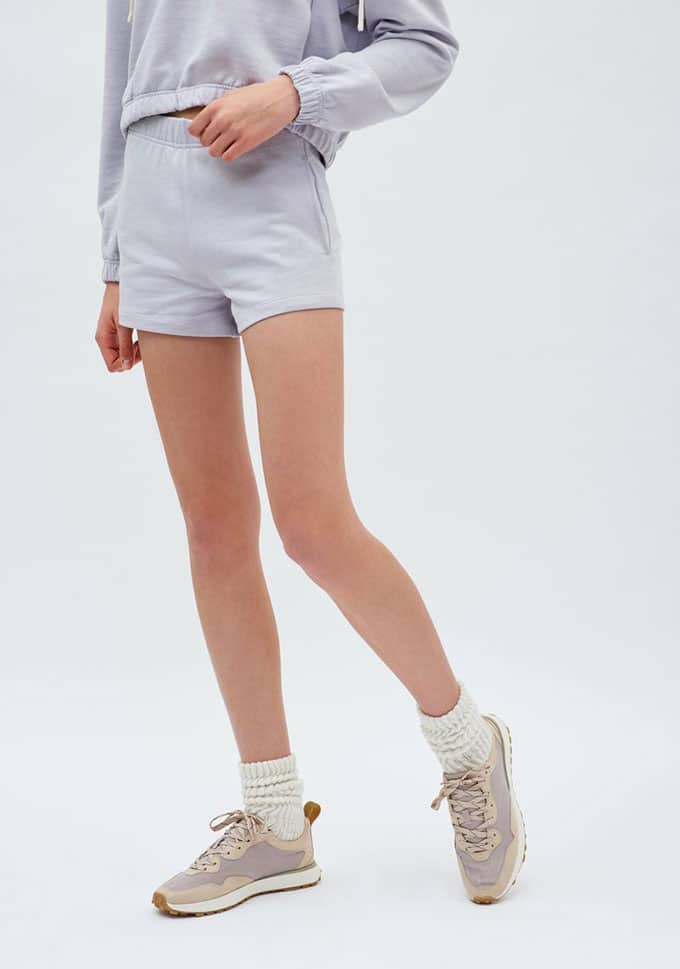 Crafted from 100% Egyptian organic cotton, this soft sweater has a cropped hem and relaxed fit and comes in two beautiful pastel colors in sizes ranging from XS to XXL. Pair it with the Terry culotte sweatpants if you want the complete monochrome look.
Ethically crafted in Egypt using certified OEKO-TEX® non-toxic dyes, ensuring it is harmless to human health, KOTN's mission is to set the standard for conscious creation and consumption. Headed and operated in Toronto, the Canadian B Corp has placed sustainability in its supply chain and ethical production at its core and established strong social links with the local communities producing the garments. Indeed, with every purchase, your orders fund the build-out and operations of school infrastructure and ancillary services. As such, 7 new schools in rural areas of Egypt have already been established!
---
2. Pangaia
Ethics | Carbon positive garments, innovative materials, socially involved
Best For | Staple T-shirts
Our Pick | PPrMINT organic cotton t-shirt in Baby Blue
Price | $60
Available in practically any color you may want, Pangaia's PPrMINT organic cotton t-shirts is treated with the brands' trademark technology: PPRMINT™ oil which has natural antibacterial and antimicrobial properties to keep your T-shirt fresh for longer, meaning less washing needed. Using environmentally friendly dyes and a recycled water system, this items' carbon footprint coming in at 2.9 kg is actually totally offset and even carbon positive. Circularity, philanthropy, innovative materials, ecosystem services… you name it, Pangaia addresses it. In less than a year, their SeaTrees program resulted in over 400,00 mangrove trees planted. You can complete the lounging look with matching shorts or sweatpants.
---
3. Lounge
Ethics | Carbon negative aspirations, ecofriendly raw materials
Best For | Making a lounge-worthy statement
Our Pick | The Reborn Black High Waisted Leggings Set
Price | $65
If you needed any motivation to wear loungewear, this would be it. This explicitly logo branded statement set, combining a luxurious silky crop top and leggings which are both available in XS to XL, is made of a soft polyamide and elastane blend. Lounge's ethical manifesto indicates the company is on a journey to become more sustainable, starting with making its headquarters the hub for energy-efficient, recycle-friendly and bottle-free operations. With carbon neutrality (and beyond) intentions and all-round recycled packaging at play, Lounge's next step – using of ecofriendly materials – has begun with its Bamboo Triangle lingerie Collection, which you'll seamlessly be able to pair with this legging set.
---
4. Tamga Designs
Ethics | Climate neutral, ethically-made
Best For | Bohemian class
Our Pick | The Zahara Lounge Set in Lotus
Price | $115
You might struggle to wear anything other than this two-part set which combines a V-line buttoned shirt and shorts and comes in three dazzling designs in sizes from XS up to XXL. Entirely created from renewable and sustainably managed wood pulp called LENZING™ ECOVERO™ which uses 88% less water than mainstream viscose, it is fully traceable, meaning no old growth forests were cleared to create it. Moreover, TamgaDesigns uses water-saving dyes which, when they react with this fibre, create the vivid colours of this lounge set that won't fade with washing.Not only is the company carbon neutral for its supply chain and shipping, it also donates to social and environmental organizations.
---
5. Worn Store
Ethics | Organic materials, natural dyes, tree-planting for emission offsetting, women-encouraged workplace
Best For | Luxurious warmth
Our Pick | Cashmere Crewneck Sweater in Grey
Price | $262.52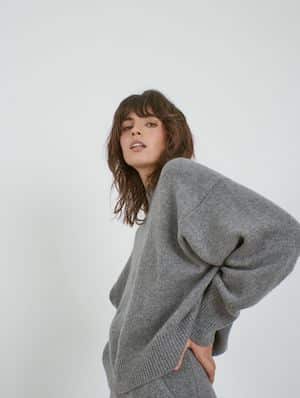 Made from 100% sustainable cashmere, this luxurious Cashmere Crewneck Sweater from New-Zealand brand Worn is soft and warm and comes with matching wide-leg pants, in mainstream sizes. Locally made the artisanal way, its cashmere is sourced from ethical farms in Inner Mongolia, carefully and regularly monitored to ensure the best living standards of the animals. B-Corp registered Worn indicates that from every step of the production line through to packaging, their impact is carefully considered and actions are taken to implement harmonious practices to help minimise their carbon footprint, such as through native tree planting in Australia, as vetted by specialist third party organizations. They've also signed the Responsible Sourcing Network Cotton Pledges to ensure their cotton is sourced under appropriate human rights conditions.
---
6. Bare Knitwear
Ethics | Community involvement, organic and locally sourced materials, traditionally crafted
Best For | Cozy and refined warm pants
Our Pick | Coastal Pants in Fawn
Price | $282.38
These versatile sweatpants were designed to give you ultimate comfort thanks to their extra hip room and high-rise waistband. Coming in three sizes and three gorgeously soft colors, they are crafted with 100% Oeko-Tex Certified Peruvian Pima Cotton, a staple fibre much longer than traditional cotton,which is known for its resistance to pilling and abrasion. Not only is the cotton hand-harvested, the brand fosters collaborative relationships with local distributors and suppliers, keeping the supply chain short and supporting the local economy. The whole design process considers environmental awareness in order to lower over-production and eliminate excess waste.
---
7. Worn
Ethics | Vegan, strict work ethics, chemical-free, plant-based and cruelty-free
Best For | Throwing something on top of nothing
Our Pick | The Black Wrap Modal Robe
Price | $149
From bed to sofa in no time? It's possible, thanks to an easy fastening belt at the hip, you can quickly slip on this sleek ultra-soft modal-jersey robe at the start of each day. As one of the most sustainable fabrics out there, modal is a smooth textile crafted from beech wood which, in Woron's case, is sourced from sustainable forestry plantations. Naturally antibacterial and resistant to shrinkage and fading, it can go on for ever so you can expect to keep it for years.
Made largely out of European factories, Danish-based Woron products are ethically made and allergy friendly, and because they exclusively use plant-based fibers theyare PETA-approved vegan.
A classic and principled slow fashion essential!
---
8. Miakoda
Ethics | Vegan, Unisex, Inclusive
Best For | Versatile dress up or down
Our Pick | The Wide Leg Cropped Pant in black
Price | $85
This pair of black cozy lounge pants has a high waisted silhouette and cropped length (mid-calf) meaning you'll be able to step right out of your home in style. Made from Chinese-grown bamboo, organic cotton and spandex jersey, they will fit everybody as they are available in sizes going from XS to 4XL.
Ethically made in the USA (NYC) by Miakado Apparel, all garments are sourced from plant-based materials, with the fabrics themselves knitted in local fair trade accredited factories abiding by Worldwide Responsible Apparel Production (WRAP) regulations. Miakado also has a strong social sustainability agenda, putting inclusivity at the heart of their actions, for instance at themodel casting stage. Grab some pants for the whole family!
---
9. Hara
Ethics | Sales-linked donations,
Best For | Classic tops
Our Pick | Yoko Classic T-Shirt
Price | $60
If you're after some plain looking T-shirts, Hara's Yoko Classic T's in nine colors and nine sizes will likely fit the bill. Pairable with bike shorts or leggings, this slightly oversized top is as comfortable for sleeping, as it is for daytime and even activewear. It is made from OEKO-TEX 100 approved soft bamboo fabric and natural plant dyes to avoid chemicals getting in touch with your skin.
Profits from every purchase go to Hara's partner, the Environmental Justice Foundation, to support their projects in remote areas of the world that are under environmental stress.For those of you ready tu take the Hara plunge, you can showcase your approval through their ambassador program – check them out!
---
10. Threads 4 Thought
Ethics | Sustainably-soured, ethically-made, impactful donations
Best For | Flashy leggings
Our Pick | Tanory Tie Dye Jogger in Yellow Multi
Price | $78
Threads 4 Thought (T4T) have designed the ultimate pair of joggers in yellow, pink and blue tie dye print. Available in XS to XXL, this not-so-discrete number is made from 100% organic cotton giving you the cozy feeling throughout the day and -why not- through the night.The organic cotton they source uses less water and energy than conventional cotton and no pesticides, making it safer workers and your skin
Born with a desire to minimize the environmental impact of their products, T4T's sustainability credentials span thematerials they source, ethical standards at their Guatemala and China factories and their social impact, for instance by partnering with the International Rescue Committeeto support in-need communities.
---
11. Aerie
Ethics | Responsible raw material sourcing, carbon neutral objectives
Best For | Casual comfort and functional
Our Pick | AE Lounge Harem Jogger in Rose
Price | $20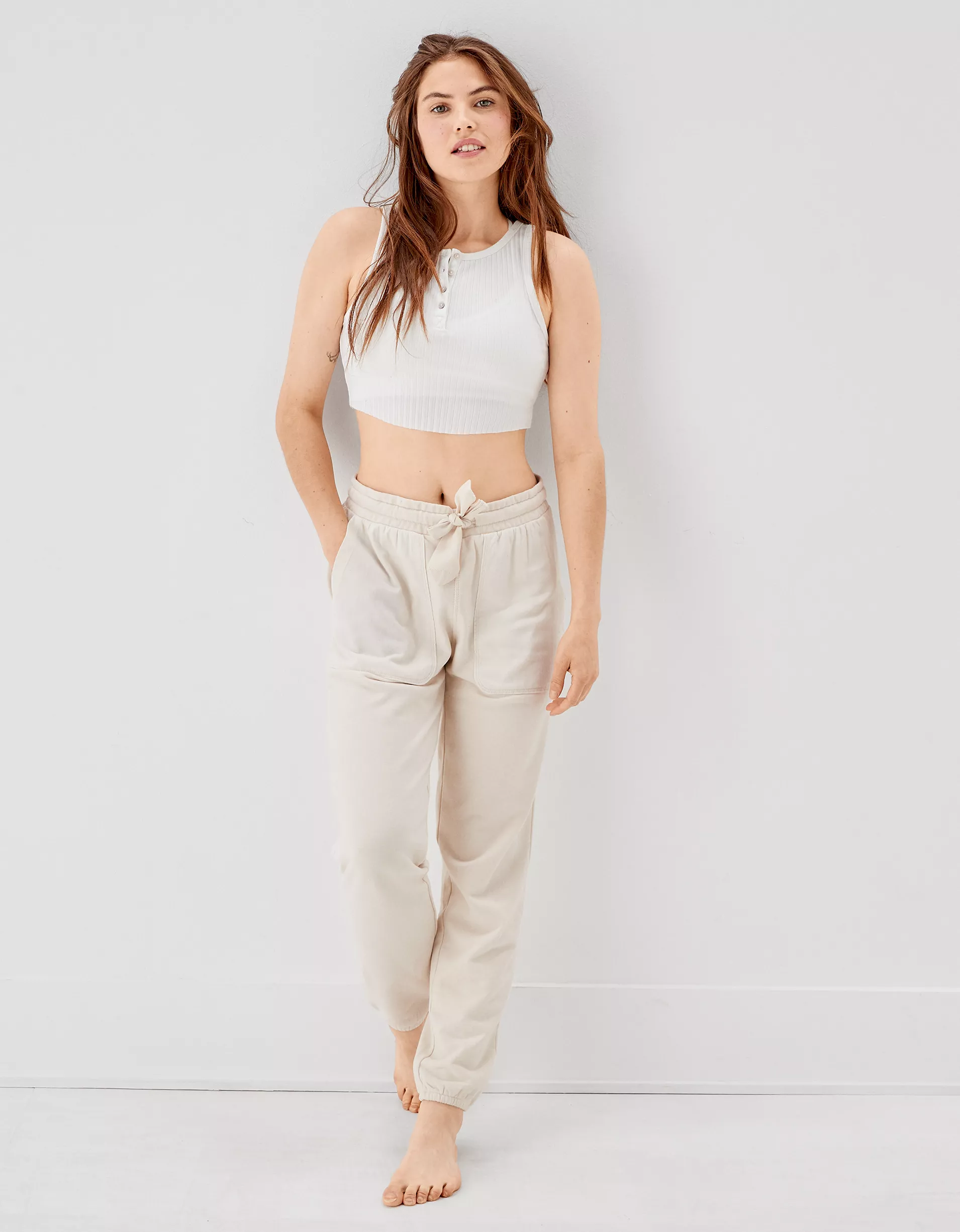 Aerie is a master of sleep and loungewear and these lightweight pants, equipped with front and back pockets, won't disappoint thanks to their Tencel fabric softness. Indeed, blended with cotton and rayon these fibers have unique properties that add great strength and gentleness to the skin.
Made in a factory that meets AE's standards for water recycling and reduction, the brand is gradually integrating more sustainable raw materials into its lines in a move to implement its pledge to accelerate sustainability improvements. Regarding social responsibility, the group follows strict animal welfare policies and participates in the Business for Social Responsibility's HERproject to empower low-income women working in global supply chains.
---
12. Conscious Step
Ethics | 17 environmental and social justice causes supported, vegan-certified
Best For | Toasty feet
Our Pick | Socks that protect sloths
Price | $14.95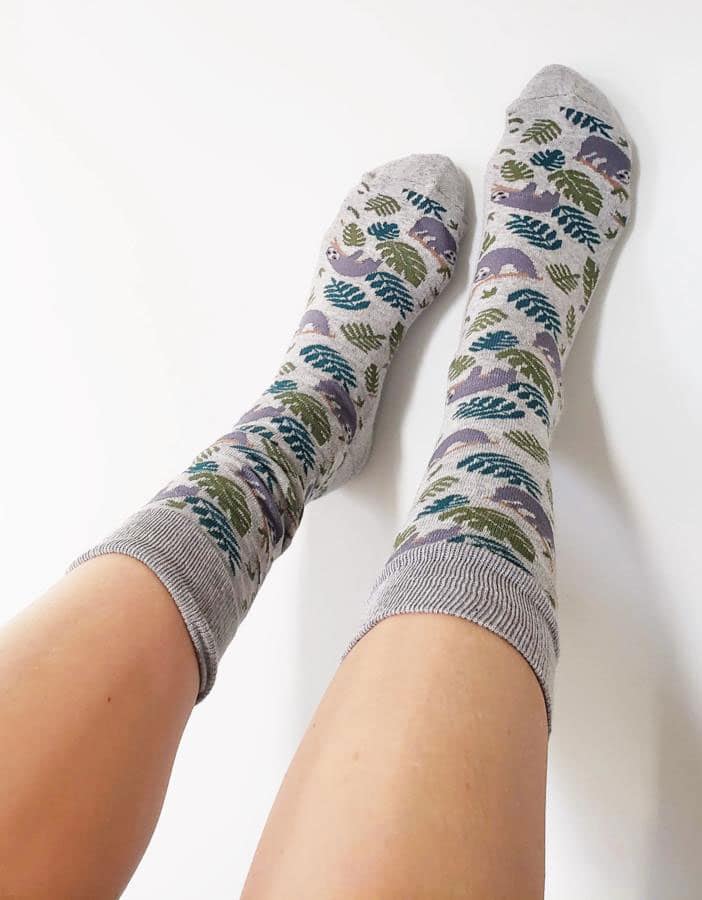 If you're going to lounge around the house all day, what better way to do so than by wearing socks featuring the animal emblem of cool laziness: the sloth. Composed of 75% Fairtrade organic cotton and recycled polyester, these vegan-certified chill socks are sure to keep your feet cozy thanks to their softness and comfort Terry padding. They'll also make you smile knowing you've supported these adorable animals, as each pair sold supports Conservation International and their work to save charismatic animals and other creatures.Indeed, Conscious Step was created to support a number of causes affecting ecosystems, social and disease injustices. Built with lasting quality in ethical workplaces that empower communities, you simply must pick up a pair – or three as they come in boxsets – to complete your lounging experience from head to toe.
---
13. Tentree
Ethics | B Corp, sustainable materials, ethically-made, tree planting
Best For | Warm hoodie tops and pocket
Our Pick | Juniper Hoodie in Meteorite Black Heather
Price | CAD $78
Designed in Canada with vast forested areas as a backdrop, meet Ten Tree's signature treeline design hoodie – the Juniper. Instantly recognizable, this comforting staple is made from 60% organic cotton and 40% recycled polyester. It comes in 3 colors, in sizes ranging from XS to XL.
In addition to featuring savings related to key metrics for water, CO2 and waste used to make this garment compared to comparable products, Ten Tree products are ethically made in Asian factories that are regularly audited to ensure compliance with the Ten Tree Code of Conduct and international labour standards. And of course, 10 trees are planted for every item sold through specialist tree planting partners around the world.
---
14. Cozy Earth
Ethics | Sustainable materials, toxic-free
Best For | Top and bottom pairing
Our Pick | Ultra-Soft Bamboo Jogger Pant in black
Price | $ 103
This cozy-chic pair of pants is primarily made from premium viscose derived from Chinese-grown bamboo. It comes in four other tones, in XS to XL and can be paired with a matching crew pullover. As an all-season jogger, it is reportedly perfect for sleeping but you might also want to check out Cozy Earth's bamboo pyjama sets and bedding too if you like the feel. The brands' top personnel personally visit its factories in China to ensure every step of the process respects its values. For instance, harmful chemicals are not tolerated. In essence, production workers work hand in hand with Cozy Earth to ensure their environment remains clean and that supply chain personnel are happy.
---
15. Reformation
Ethics | Climate neutral, responsible manufacturing, recycled content prioritization
Best For | Relaxed warm-weather wear
Our Pick | Fiji Short in Topaz
Price | $ 68
Crafted from deadstock Terry knit fabric made with 77% cotton, this unlined garment,from Reformation, comes in four other gorgeous subtle colors in XS through to XL. It's also pairable with acute cropped Miami top. Its sustainability impact showcases the average CO2 and water savings compared to conventional products bought in the US, with calculations considering the entire environmental footprint involved in making the garments. With mostly half its factories in Los Angeles and the other half in Turkey and China where viscose fiber and yarn producers are also located, Reformation participates in the Open Apparel Registry, ensuring public accountability regarding its working conditions in partner factories. We love their transparency concerning their ongoing sustainability endeavours, particularly in regards to employment equity.
---
16. Amour Vert
Ethics | Ecofriendly fabrics, trees planted with selected purchases
Best For | Timeless style
Our Pick | Dominique Scallop Knit Sweatshirt in Natural Birch
Price | $ 88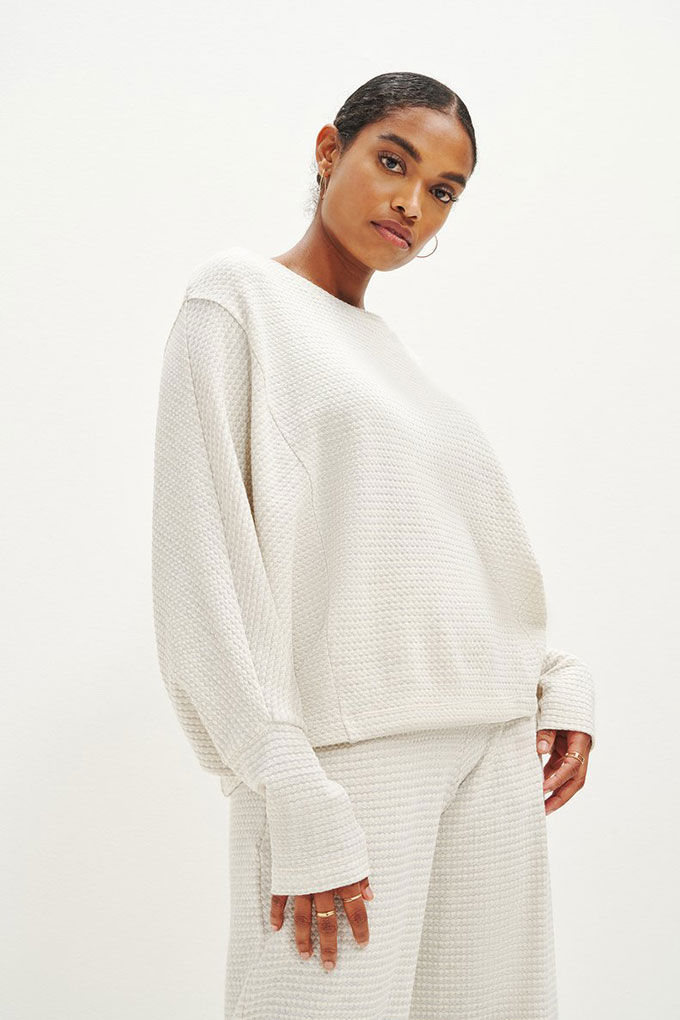 Composed of viscose and modal, a form of plant-based textile, this dolman sleeved crewneck sweater exudes"relaxed fit" so much you'll want to pair it with its matching pants. Furthermore, it is so stylish you'll want to wear it everywhere. Running in only two sizes, Amour Vert pieces are made in limited quantities to eliminate any excess waste. Nearly all products are crafted in California close to the San Francisco's head office, shortening the supply chain logistics carbon footprint. As part of its green love mandate, the company has partnered with American Forests, nearing the 200,000 mark for trees planted in North America and switched to compostable bags and recyclable/compostable boxes using soy-based inks for its customer shipping.
---
17. Ethical Silk Company
Ethics | Charitable donations, traditionally crafted
Best For | Soft and comfy luxury living
Our Pick | Mulberry Silk Lounge Pants in Teal/Grey
Price | $ 150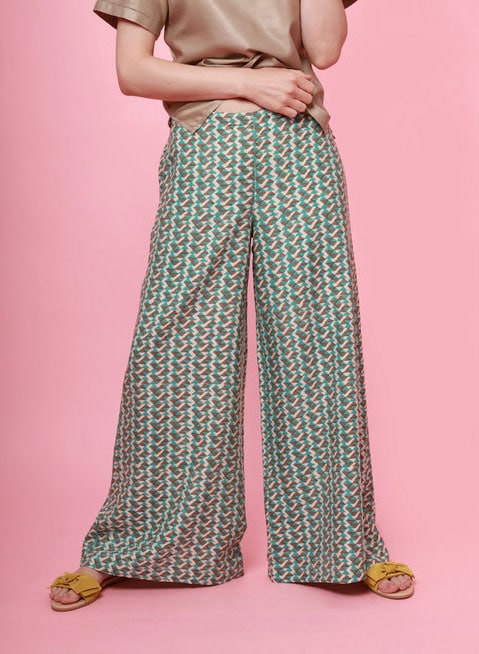 This 100% mulberry silk lounge pant is hand-printed using block printing techniques meaning no two articles will be the same. Well know for its soft and comforting feel, silk is a breathable fabric and natural temperature regulator, retaining heat in cold weather and excess heat is expelled in warm weather. And it's great for those with sensitive skins. With varying availability according to sizes (XS to XL), it also comes in a coral/grey print and both designs can be paired with matching sleeveless tops. Low impact dyes have been used as per The Ethical Silk Company's adherence to Fairtrade standards across its production and tailoring unit in Jaipur, India. Impressively, 5% of company profits are directed towards a local AIDS centre and another 5% are pledged to an Irish organization fighting homelessness.
---
18. Chelsea Bravo
Ethics | Locally sourced and made, ecofriendly and durable material
Best For | Breathability
Our Pick | Chelsea Jumpsuit Unisex in Shell
Price | $ 248
With pieces made to order in-house and a production studio in Manhattan, NYC, Chelsea Bravo's lounging wear is one of a kind. This unisex item is the designer's signature jumpsuit and comes with side seam pockets, a lowered crotch for ample movement and a back zip closure. Made from breathable 100% hemp summer cloth, it has a high moisture absorbency which is ideal if you're trying to cool down in hot conditions. The hemp plant also naturally reduces pests, so no pesticides are usually needed when growing the raw material which, furthermore, grows densely under very little water, making it an efficient and low impact crop to make garments with. Unless stated as available online, Chelsea Bravo items can be made to order and shipped domestically and internationally.
---
19. Vitamin A
Ethics | Locally-made under strict production regulations, sustainable materials
Best For | One-piece
Our Pick | West Organic Rib Tank Dress in White Organic Rib
Price | $ 138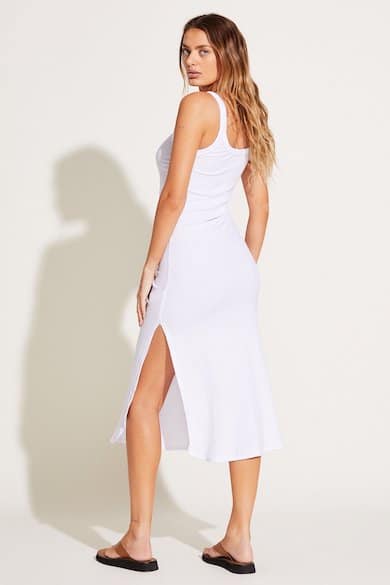 The only dress in our selection, this super soft, super sustainable, side-slit tank dress perfectly hugs your curves. A dress you'll want to live and lounge in. Made by Vitamin A from a blend of sustainable Tencel, organic cottonand Spandex, a third-party provides environmental credentialsof the garment, attesting to the water, CO2 and energy savings compared to comparable alternatives.
The brand places sustainable high-performance fabrics at its core, with all materials certified to meet the global Oeko-Tex standard for safe textiles. With manufacturing in California, which has the strictest environmental laws in the nation, local production drastically reduces shipping related emissions. Furthermore, Vitamin A also indicate that donations from sales are made to supportcommunity projects.
---
[1]https://mms.businesswire.com/media/20201119005989/en/840390/5/IRTNTR40816.jpg?download=1