Allbirds and Vessi are both relatively new brands in the field of shoe and apparel manufacturing. However, within a short time, they both managed to achieve global success. Not only that, they also have a large number of loyal customers and brand followers.
That's primarily due to the fact that they fulfill a real need that people have to wear eco-friendly shoes that are also durable, stylish, and even waterproof.
Given the choice of either type of sneakers, many people find themselves unable to make a final selection. Hopefully, after reading this comparison of Allbirds vs Vessi, you'd know exactly what your next purchase will be!
Comparing the Allbirds vs Vessi, Mizzles and Vessi's waterproof shoe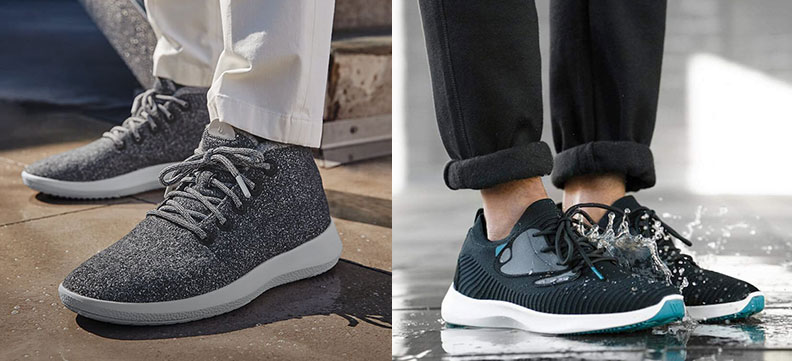 Both Allbirds and Vessi have the general outgoing vibe, with special concern with sustainability and environmental matters. Thus, we decided to explore as many points as we can find to reach an accurate verdict.
To make this comparison fair and square, we'll focus on two similar products: Allbirds' Mizzles and its peer Vessi's waterproof sneakers.
Brand Overview
The philosophy and core values of a brand often dictate the characteristics of a product. We can learn a lot about the quality, design, style, and even price range of these shoes from the company profile.
Allbirds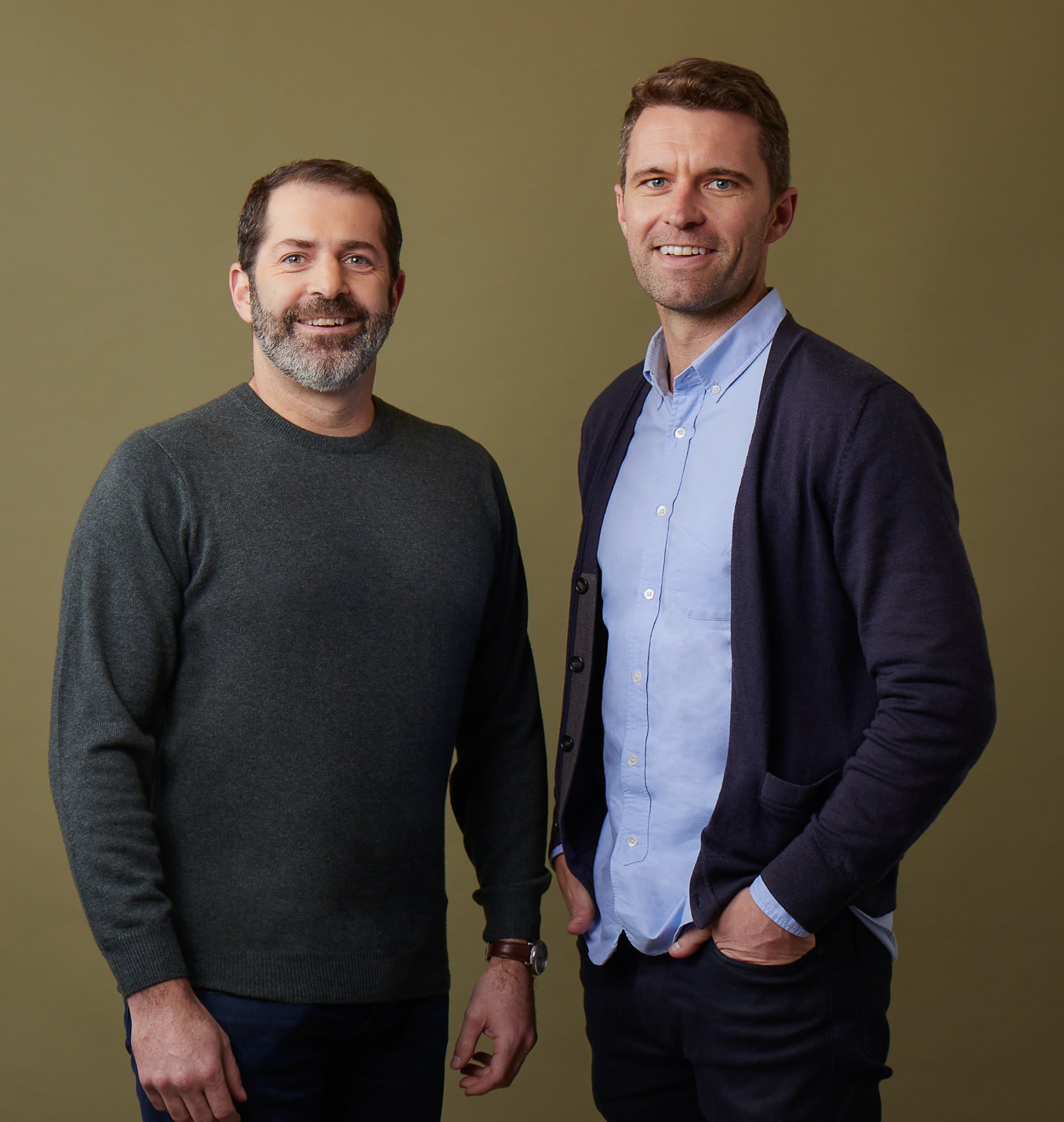 Tim Brown, the founder of Allbirds Shoes, grew up in the rich nature of New Zealand. It's not a big surprise that he developed a deep respect for nature, and found inspiration for his business right there.
A particular question kept popping up in Brown's head, and that was, why aren't there shoes made from sustainable merino wool? He started the journey of looking for a good answer, and from the outset, he teamed up with a brilliant engineer, Joey Zwillinger.
Together they came up with a durable, breathable, comfortable, and actually, stylish fabric made from merino wool. Later on, they managed to add waterproof capabilities as well, which appealed to a wide audience.
The ultimate goal of the team is to create "the world's most comfortable shoes, made naturally and designed practically".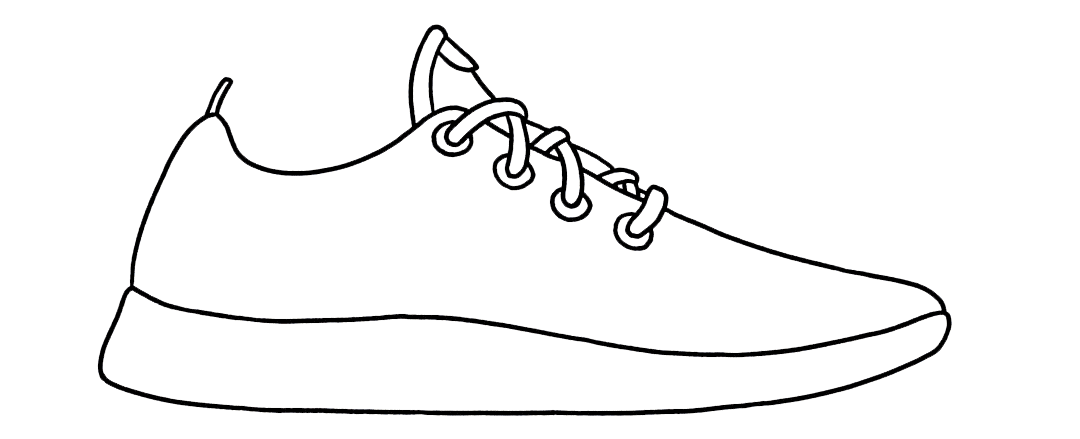 Allbirds is committed to using sustainable materials, whether that is wool, eucalyptus, or recycled packaging materials. Currently, they're working on plant-based leather, which we expect would be huge! As you might've expected, Allbirds is a certified B-Corp.
Vessi
Vessi is the realized dream of "three Vancouverites"; Andy, Tony, Mikaella, who express first and foremost how they were at their wits end with the constant rain. All three founders agreed that they, and the whole world, needed waterproof sneakers that can be used in any context.
In 2018 they started the partnership and created the unique products that we know as Vessi shoes. The main concept was to make shoes that can be worn any day, all day, in any weather. Material-wise, this is a hefty challenge. But it's one that they passed with flying colors.
Vessi's published mission statement is "To create products that move you forward, get you out there and let you live YOUR best life.". But they extend their work to much wider horizons. Vessi started a community fund that has a wide overreach into many social and environmental projects.
Additionally, they implement an integrated approach to sustainability in every stage of making their products. Their eco-friendly outlook includes making sure that the materials used are healthy, and their production lines work on a minimal carbon footprint.
---
Sustainability and Eco-Friendliness
The fashion industry is among the heavy users of fossil fuels, and they customarily add 2.1 billion tonnes of carbon dioxide to the air we breathe on a yearly basis. This is close to the emissions of 460 million cars.
Thus, many people are now buying products from manufacturers who are intent on minimizing these harsh pollutants.
Allbirds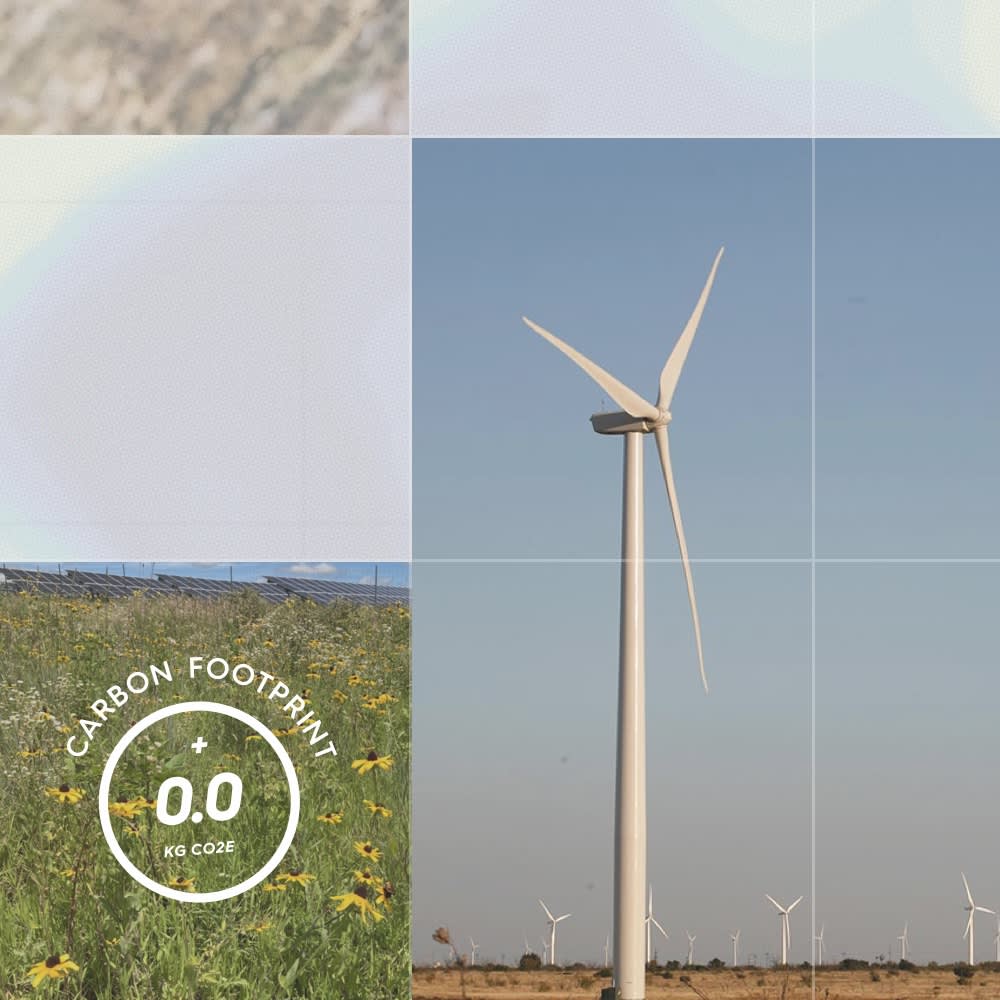 In 2016, Allbirds launched the Wool Runner, which was the first apparel item to replace petroleum-based materials with natural ones. The company's commitment to sustainability hasn't waned since then.
The company has a clear plan to achieve a zero footprint by 2030 and a 50% reduction by 2025. To that end, Allbirds only works with natural regenerative materials, they use energy responsibly, and fully comply with being a carbon-neutral business.
The innovation at Allbirds never stops. This is very clear in the way they select, repurpose, and reinvent natural materials to get the fabric properties that they want. Trino, TrinoXO, Sweetfoam, and Plant Leather are some of their incredible inventions.
The energy used in making Allbird shoes and other apparel is 100% renewable. Also, the company reached a 95% steady-state of ocean shipping. The responsible energy consumption concept extends to the majority of customers who use cold water in machine washing and hang their shoes to dry.
There's a multilevel approach to sustainability at Vessi. This starts with the sourcing of materials to every aspect of eco-friendly manufacturing and operations. Even the partners they work with need to be environmentally aware and committed to clear sustainability policies.
Vessi
Vessi is certified and accredited by some of the most renowned organizations in the field of green manufacturing and environmental standards. Some of these are the Blue sign, ISO, BSCI, Higg Index, Global Recycled Standard, and OEKO-TEX.
One of the primary concerns of Vessi is to minimize waste and energy consumption in every stage of production. Also, to make sure that every material used is of a vegan source. The company boasts of reducing water usage by around 30%, energy consumption by a whopping 600%, and trimming waste by 97%. Not bad at all!
The packaging is not forgotten in these arrangements, and every shoebox is made from 100% recyclable materials. Furthermore, no plastic is used at all in making these boxes.
---
Material Properties
Currently, the advancements in material design and manufacturing are phenomenal. And the best materials are those that perform well, live long, while staying environment-friendly.
Allbirds
The Allbirds Mizzles sneakers are described as "soft and itch-free on the inside, water repellent and extra-durable on the outside". They're made from prime quality ZQ Merino wool that's ethically sourced.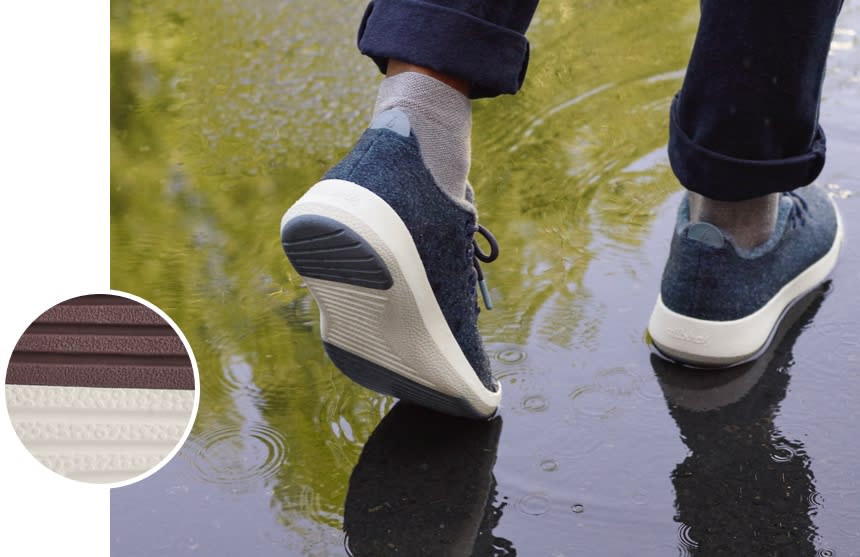 To achieve total dryness, this upper has a coating layer of ECO PASSPORT that's Certified by OEKO-TEX.
The shoe soles are made from SweetFoam, which is a carbon-negative green EVA that's mixed with an FSC-Certified natural rubber. This combination gives traction, flexibility, and support. In addition, it's 100% eco-friendly.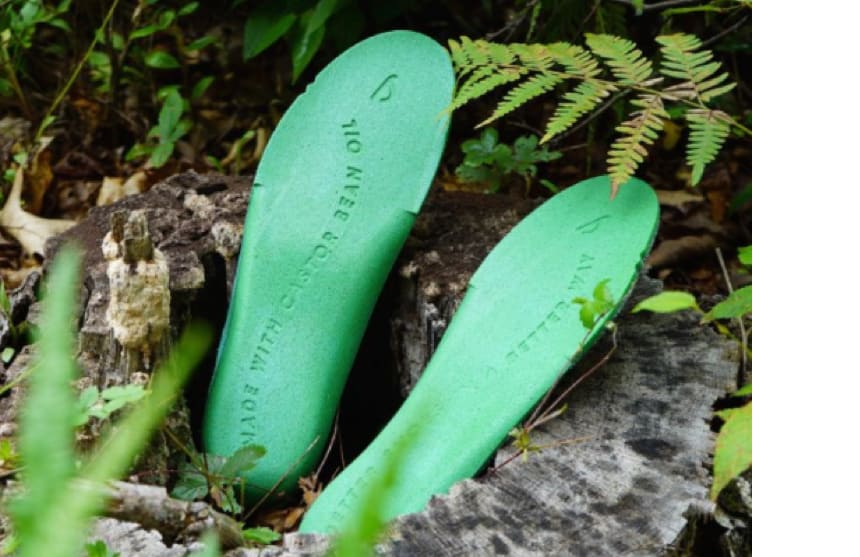 One of the best features of these sneakers is their insoles. It's made from alternate layers of Merino wool and castor oil, which is a far cry from the traditional foam that's petroleum-based. This insole is moisture-wicking, reduces odors, and it provides amazing cushioning for the feet.
Even the shoelaces are made with an eye on the environment. Every one of these Loop and Swoop shoelaces is made from recycled polyester, which is a brilliant way to reuse and repurpose discarded plastic bottles.
---
Vessi
The waterproofing elements are weaved right into the fabric, which maximizes the ability of the shoe to repel water, snow, slush, or mud. At the same time, the weave allows the shoe material to stay breezy, light, and breathable.
This is pretty much how Vessi manages to keep their shoes relevant throughout the year. When you think about it, this balance of warmth, breathability, dryness, and fabric softness is mindblowing!
---
Comfort and Good Fit
That's pretty much the most important aspect of any shoe: to fit nicely around the natural contours of the foot, and feel generally comfortable.
Allbirds
The materials used in making Allbirds shoes, the general design of all the different layers, and the shape of this footwear all contribute to high degrees of comfort.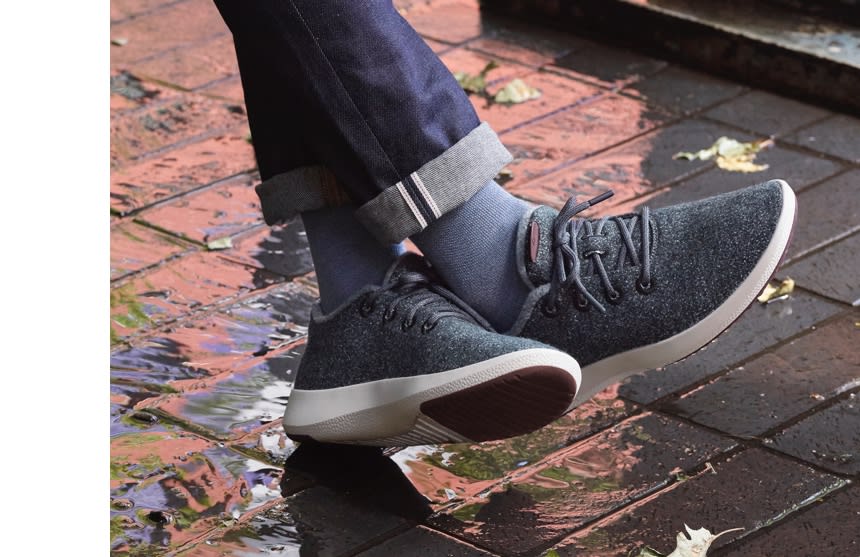 These shoes come in whole sizes only, with a recommendation to size up for half-sizes. The material takes up the curves of the foot quite quickly, so there's no noticeable break-in period.
Allbirds shoes are pretty much all-weather shoes. They're breezy, warm, and water-repellant. On top of that, they're featherlight, which makes them versatile and suitable for all kinds of activities.
Vessi
Vessi shoes are designed to fit like a glove. This minimizes the discomfort people occasionally feel with asymmetric feet or half-size variance. Vessi shoes are true to size, and they're available in full sizes only. People with half sizes are advised to size up for extra comfort or size-down for a snug fit.
The flexible material also means that these shoes don't need a painful break-in period till the shoe softens and takes shape.
The midsoles are as soft as walking on a cloud while providing proper support, flexibility, and good grip. There are larger patches of rubber in all the right places to enhance abrasion resistance, even with an active lifestyle.
---
Water Resistance
This feature has always been missing in woven fabric shoes, as well as those made from natural materials. Waterproof everyday shoes are definitely a huge plus, especially, since the alternative is wearing bulky winter boots.
The added perk here is that these sneakers provide total protection from wetness while remaining breathable and light. They're also quite stylish while doing all that.
Allbirds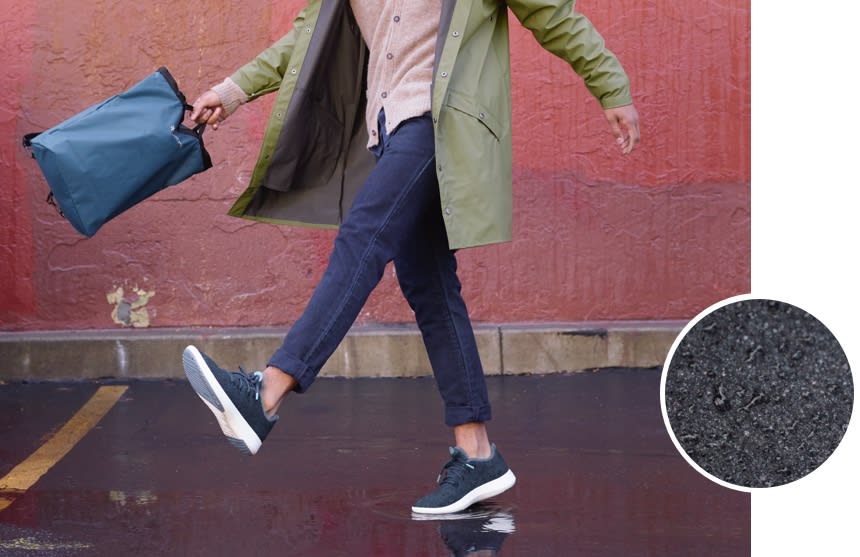 Not all the shoes in the Allbirds product line-up are waterproof. The Mizzles are the only ones that come with that option. To achieve this result, the Merino fabric gets an extra coating of ECO PASSPORT. It's a bio-based layer that acts as a shield to repel water away from the shoe.
Vessi
The tech used in making Vessi shoes employs the principle of integrating the water repellent characteristic into the weave of the fabric. The pores are designed to be so small that the water can't get in, but at the same time, they're sufficiently large for breathability.
---
Aesthetics and Style
The aesthetics and style of footwear are incredibly important aspects of how we evaluate shoes. The best fit and ultimate comfort of a shoe would barely forgive an ugly appearance!
Allbirds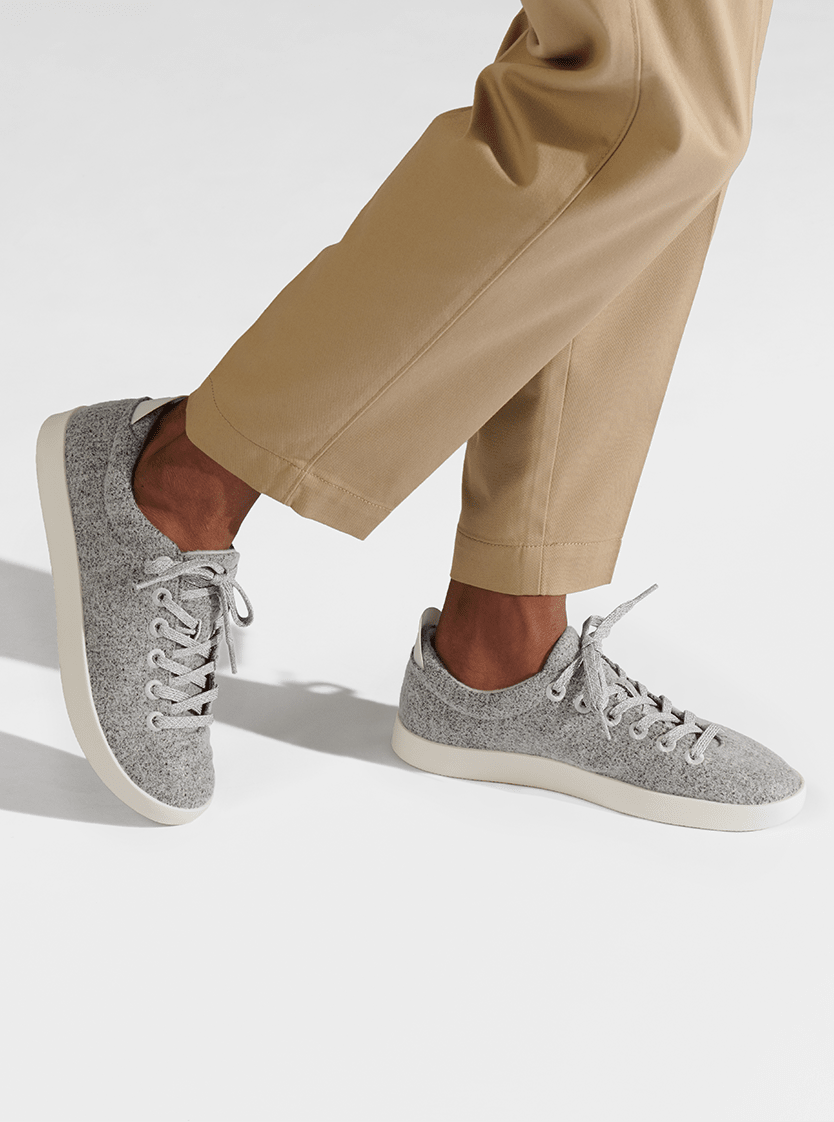 From the get-go, Allbirds shoes aimed for a classical look with a touch of city-chic style. It appears to be elegant and sophisticated, but it still has an active and spontaneous feel to it.
These shoes come in a palette that's mostly neutral and natural, so there are shades of greys, blues, browns, greens, and a little burgundy.
Vessi
Vessi shoes are rather new age and adopt a streamlined minimalist profile in almost all of their designs. There are often little signatures like distinct curves, textures, patterns, placement of laces, or similar unique features to give each pair of shoes a distinct character.
---
Price
Price will always be a major determinant of whether a buyer would go on with the purchase, or wait a bit more. Then again, we constantly factor in the durability, quality, and style as we compare prices.
Allbirds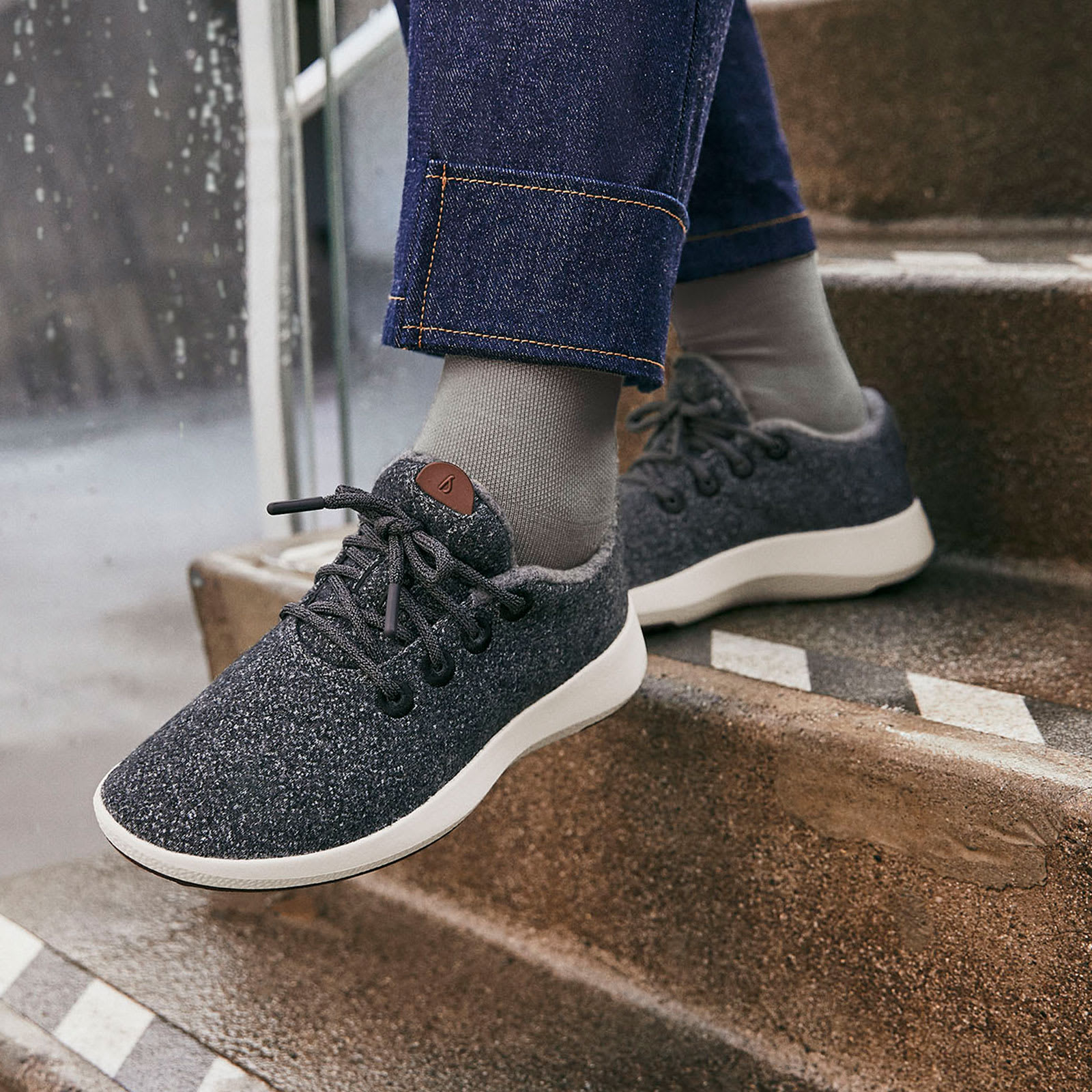 The prices of the Allbirds Mizzles shoes are within the$100 to $150 bracket. There are women and men varieties only, with no kids models.
The Runner Mizzles are the most economical, while the Wool Dasher Mizzles come with the highest price tags.
Vessi
The prices of Vessi shoes are generally moderate and pretty fair considering their premium quality.
The men's and women's line has 5 distinct models, and they all revolve around the $150 mark. The Weekend sneakers are somewhat classical, while the Cityscape ones are the avant-garde extra-stylish shoes.
There's also a kid's model, and it's priced well below $100. All of these shoes are 100% waterproof, so there's a nice variety to choose from.
---
Exchange and Return Policy
Online business is becoming more and more the primary means of shopping for a lot of people. There are plenty of perks for that, like letting your fingers do the walking. However, there's also a high chance that the delivered products are the wrong size, color, or style.
Allbirds
Allbirds shoes offer a 30-day period for making a final decision, then returning or exchanging shoes, unworn socks, or packed undergarments. Some items aren't eligible for that policy though, like accessories and masks.
Vessi
As of the first of March 2020 purchases, Vessi allows a generous 90-day return or exchange period, which applies to new and never-worn sneakers.
Black Friday items are up for exchange only, since they're priced in a special way. As for promotional sales, these are exempt from the exchange and return benefits, and treated as final transactions.
---
The Final Verdict
The two brands; Allbirds and Vessi share the same affinity for creating prime quality footwear from natural materials, in addition to keeping the planet healthy and thriving. One of the main points of distinction is that Allbirds Mizzles are more classical, while Vessi shoes tend to be a tad more modern.
They both employ the strongest policies to achieve ambitious environmental goals that ensure extended sustainability. The prosperity of the community as a whole also ranks high on their priority list. Thus, they're deeply involved in a multitude of projects that contribute to that end.
It's hard to say that one brand is better than the other where sustainability is concerned. But we can point out that Allbirds is more focused on its efforts, and has a more detailed plan extending till 2030. They're also certified as a B-Corp, which is a big plus.
The materials used in both Allbirds and Vessi shoes are sustainable, but Vessi takes a hard turn towards vegan sourcing, while Allbirds is more into Merino wool. As for waterproofing, Vessi shoes' tech is ingrained in the weave, while Allbirds apply a coating layer to repel water. In that regard, Vessi might be more durable.
Both brands are quite comfortable and fit well. Thus, we'll move to the final point, which is prices and return policies. Allbirds is slightly less expensive than Vessi across the board, but not by a significant margin. Both brands offer return and exchange policies, but those of Vessi are noticeably more generous.