Have you ever heard of the Great Garbage Patch? These are actually three distinct areas in between Eastern Japan and of the West Coast of Continental United States where tons of plastic floats and poses a serious problem to marine life.
All that plastic has become an ecological disaster, and it is time the world did something different. It starts with one thing, such as shoes and sandals, but substituting with a suitable material will go a long way.
There are a number of hemp shoes available, but what about for skaters?
Below is a list of the best skate shoes we could find created from environmentally friendly, and environmentally sustainable material.
Hemp Skate Shoes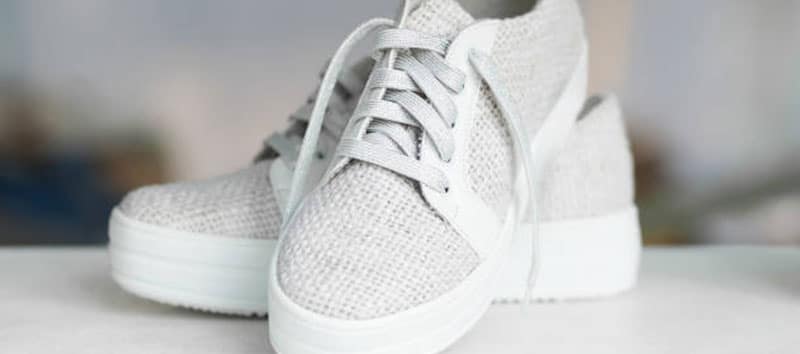 ---
Globe Skate Shoe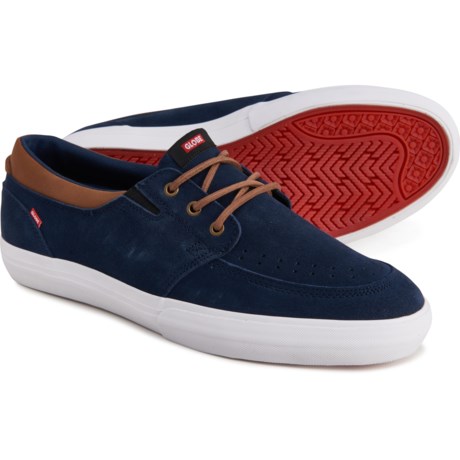 This Globe Attic Skate shoe is a superb recreation of the classic skate shoe look, but with a hint of improvements made here and there. The most obvious bit of improvement is the hemp material used instead of the traditional canvas and then from here, the design takes subtle shifts at the toe box with the elaborate stitching.
The Globe attic Skate Shoe comes in black with white stitching and sole for that all important look. You can find other styles and colors such as grey with black or the eye-catching sand mock brown. The Globe Hemp shoes are suitable for both men and women.
---
LeafToEmber Charcoal Gray Hemp Shoes.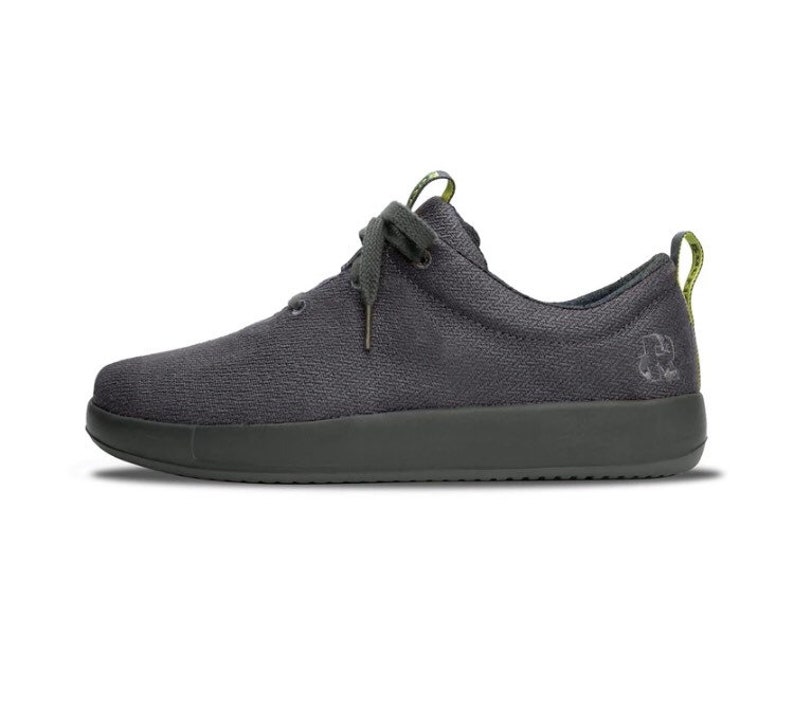 If you are looking for something eco-friendly but doesn't go calling attention to itself, then here is a pair you will love. These charcoal gray heart throbs are made from sustainable hemp for the tops, and Eco-Pure foam for the midsole and outsole. The shoe is made with proprietary arch stimulating technology to promote comfort and recovery.
These hemp skateboarding shoes are meant to serve women who spend a lot of time on their feet. To this end, they are lightweight, and there are a variety of women's shoe sizes ranging from size 6 to 14.5.
---
Explorer V2 by 8000 Kicks.
This shoe bleeds over into sneaker territory more than skate shoe, but there is no denying how comfortable and durable they are. The design is simple with the outsole raised at the front for ease of movement.
These hemp shoes are constructed from algae bloom soles, a hemp insole and is 100% vegan friendly. You can have the shoes in both men's and women's sizes. You also have a wide choice of colors ranging from a two-tone brown scheme, a darker brown, black, navy blue, light and dark greens.
---
Jo Hemp Sneakers.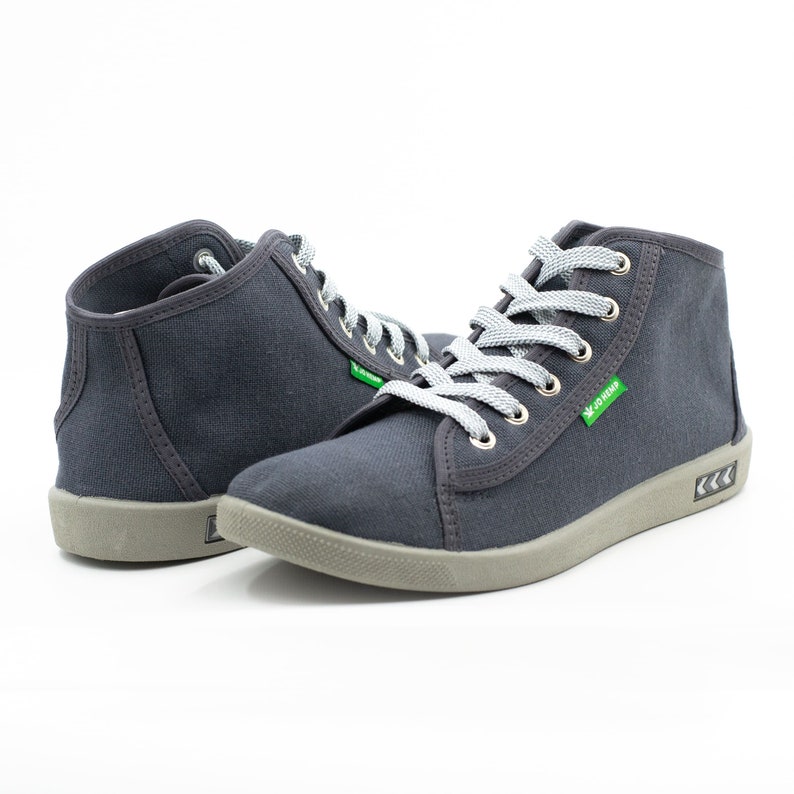 Here you have a mid-top hemp skateboard shoe that has been optimized for the person who would want to put some miles into this shoe. This is a soft and practical shoe crafted from 100% organic hemp for the top and shoe laces, and a recyclable foam for the soles. You have a simple design that will blend in greatly with whatever outfit you choose.
This is a handmade design that has been processes to be water resistant. You can find the shoe available in three colors which are black, blue and beige. As they are a men's shoes, the sizes start at 41 going up to 46.
---
Jo Hemp Ivory Sneakers.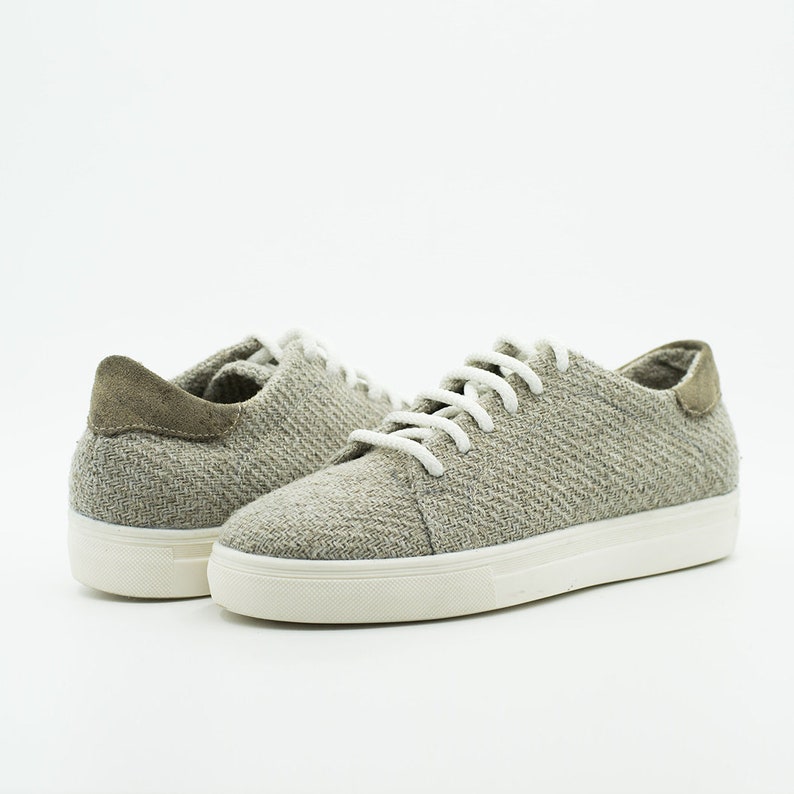 It is a guarantee that the visual texture of this shoe will cause you to immediately fall for it. The weave pattern sets it a mile apart from what the world has come to expect from skate shoes and other types of sneakers. The multiple weaves of the hemp fibers are treated for water resistance and when combined with the sole, make for a soft and practical shoe for everyday use.
Jo Hemp have designed this shoe specifically for women. The sizes you will come across range from 36 to 40. You also get to choose between three colors; beige, black and grey.
---
Hemp Sneakers by HempMadeInUA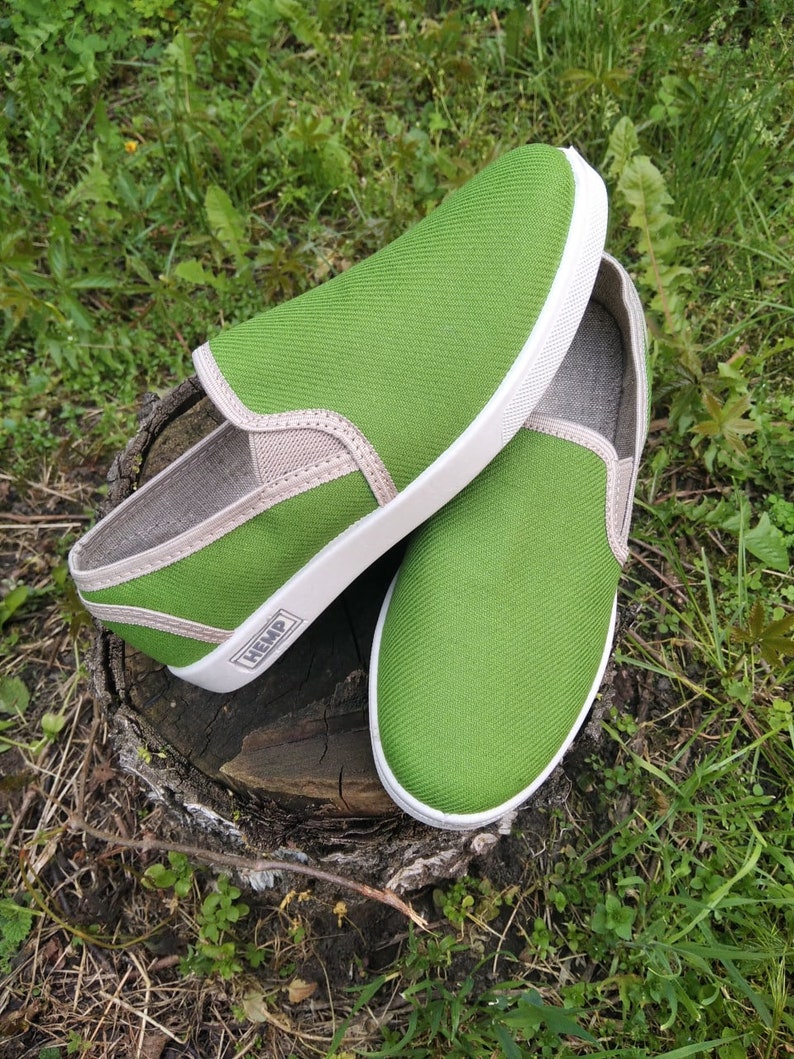 If you are looking for slip-on skate shoes that closely resemble those of other brands, then this is your best option. These shoes have a standard white sole with hemp making up the upper part. These particular shoes are designed to be comfortable to have on for long periods of time, and then quickly throw them into the washing machine for cleaning.
These hemp sneakers are designed for women, and you can get sies ranging from 5.5 to 95. The colors are black, white and a vivid green that anyone will absolutely love. The top and the insole are crafted from 100% hemp fabric.
---
Hemp Sneakers by Jo Hemp.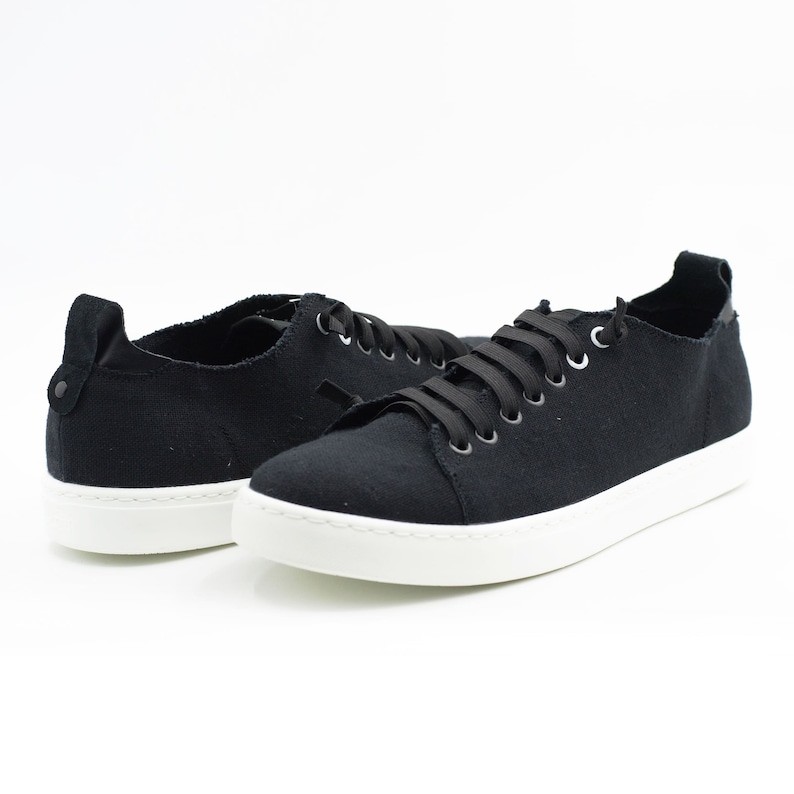 This is the perfect pair for someone who understands that some designers will choose to give their shoes an unfinished look. It is not always that small brands may not always have the perfect stitching for their products.As long as the look doesn't compromise on the quality and usability. The rough top line does not take away from the beauty and simplicity of this particular shoe.
The shoe is designed particularly for men who will be spending a lot of time covering miles, or on their feet. The only come in black with a white sole, and the sizes range from 40 to 45.
---
Women's Hemp Shoes by Flying Caret Atlantic.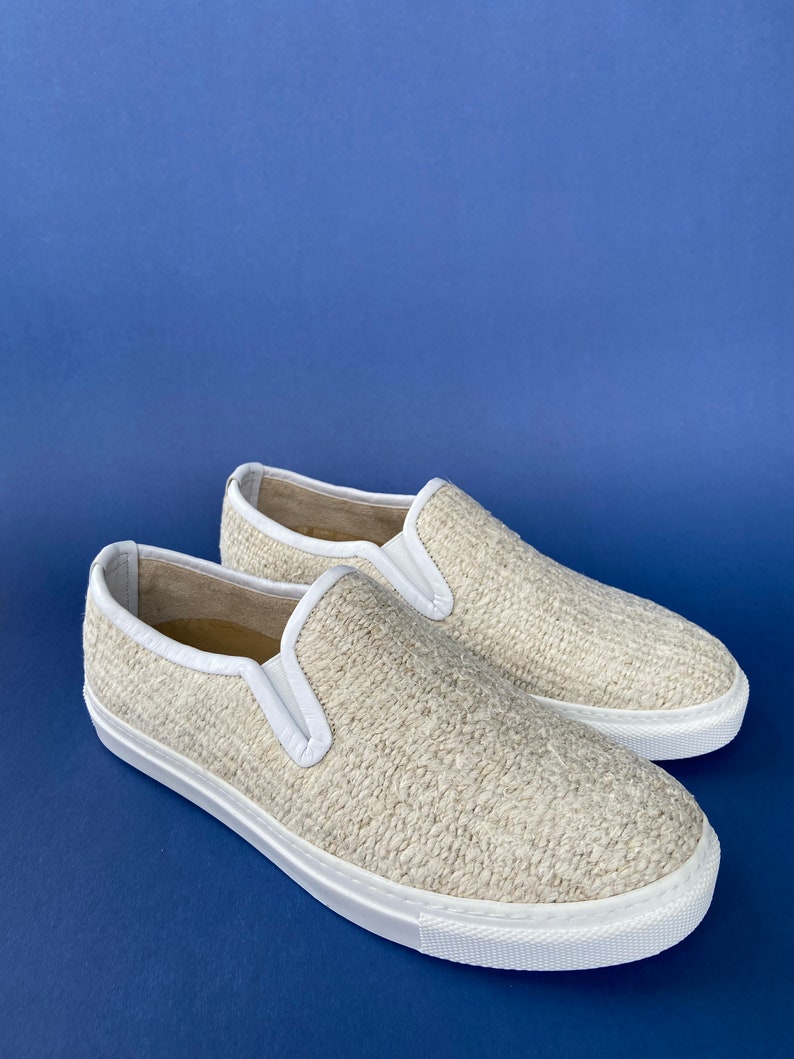 If there is one thing that hemp does better than any other material out there, it is the visual patterns formed by the stitching. This particular shoe does it so well, you will have a hard time trying to walk away from this simple slip-on design. And then to make things even sweeter, the top line is hemmed in white to match the outer sole. Superb.
This particular shoe is designed for women and the sizes range from 6 to 10. They are designed to be breathable, durable and comfortable as well as take advantage of hemp's antimicrobial properties to kill any foul smells before they develop.
---
Hemp Sneakers Coob by Jo Hemp.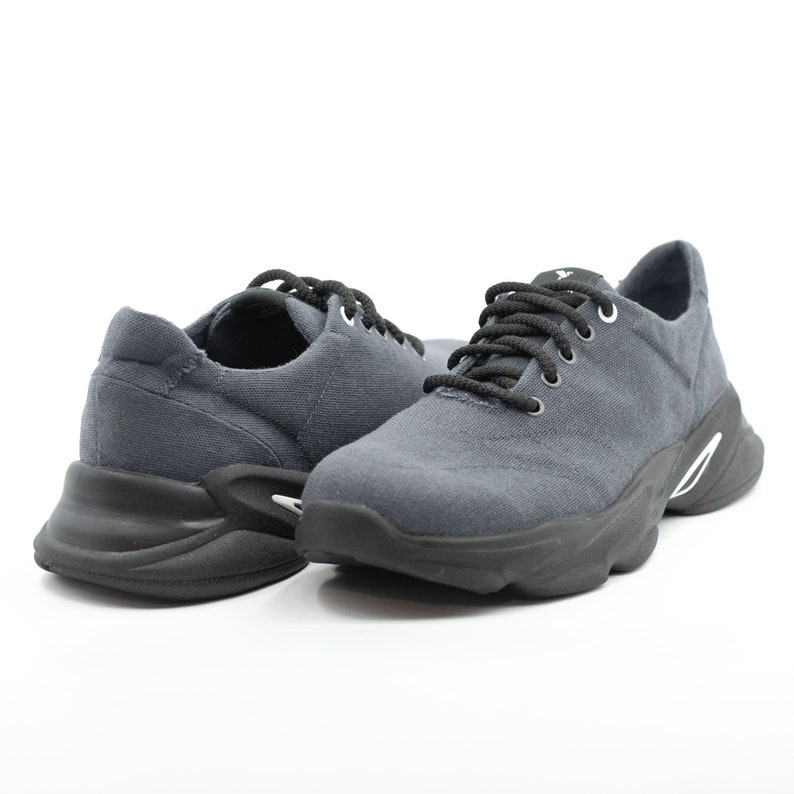 While they are a step away from being actual skate shoes, it would be wild to ignore such good shoes. These sneakers perfectly imitate the elaborate sneakers the world has come to know and love, but it does so with 100% organic grown hemp making up the top. These shoes are designed for those who have an active lifestyle, or love sports.
The Coob hemp sneakers are only available in men's sizes, ranging from 40 to 45, and only come in grey top with a black sole. They are machine washable and lightweight. The antibacterial nature of hemp also means the shoes are naturally anti-odor.
---
Made To Order Trainers by OmNaturalExport.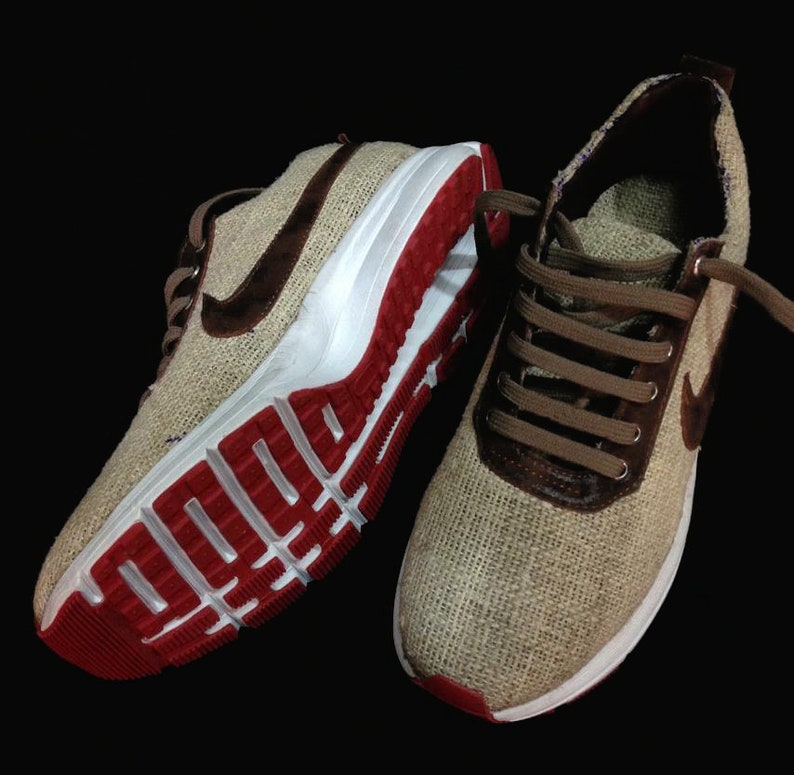 Have you always been a fan of Nike trainers, but didn't know how you can get them to fit into your environmentally conscious life? Well, someone has got your back. While Nike may be slow to adopt hemp, someone decided to make a copy of their famous trainer designs with hemp. You get all the comfort and support of the trainers, but with the breathable and anti-microbial advantages of hemp.
These shoes are handmade from hemp and cotton inner lining and they are only made to order. They come in men's size options from size 7 to 10, and you can add whatever customization you deem necessary.
---
Runner Hemp Slip-Ons by Jo Hemp.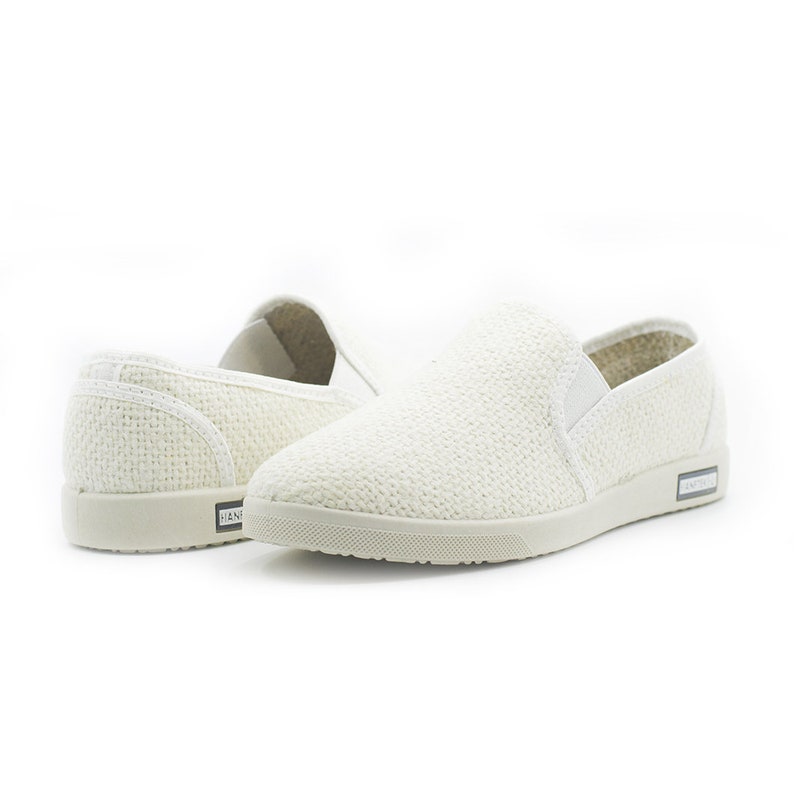 Again, the wonderful hemp visual texture from the weaving makes a return here, but this time, it has been bleached white. While this pair may not have the oomph from the striking natural look, they are still stylish enough to set you apart from what everyone else is rocking. The Runner shoes are designed to protect your feet while being light enough to almost feel like you are barefoot.
The Runner hemp slip-ons are designed for women who spend a lot of time on their feet, or those who cover a lot of miles while walking. You can find them in women's sizes ranging from sizes 6 to 9.5.
---
Hemp Unisex Eco Vegan Sneakers.
The low top is a classic variation of the skate shoe design, and these shoes have given it a lovely twist. The shoes are handmade from hemp and ocean plastic then given a unique design. The toe tip curves away from the vamp and the outer sole extends up to surround the perforation vents.
The shoes are made from organic hemp and line with organic cotton. You can choose to have the shoes in a low top or mid top configuration with sizes ranging from 35 all the way up to 46.
---
The Hemp Advantage.
While the world may be moving slowly in regards to adopting such wonderful practices, the adoption process has to at least start somewhere. The world appreciates the steps you are taking towards a green future.
While most of the designers and vendors of these shoes may be small scale, it is your support that will ultimately see them rise to take over from other companies that are not willing to take an environmentally friendly approach.
The breathability, anti-microbial properties and the chemical-free nature of hemp means that the products you choose to buy will not only help protect what is left of the environment, but also protect your very skin and feet.