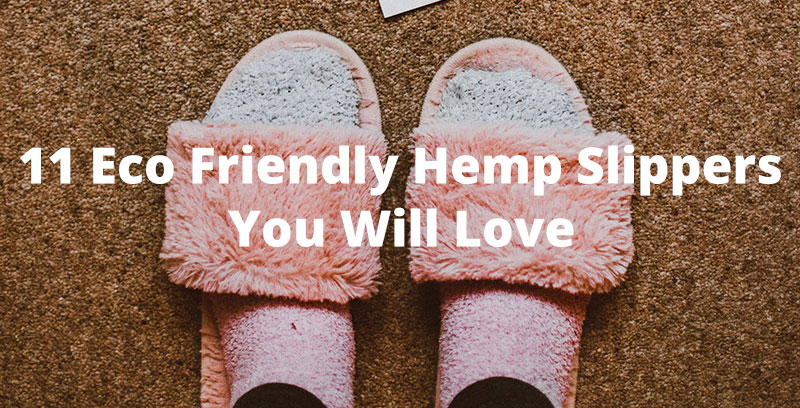 Did you know that the East African coast receives more than 90 tons of marine pollution, every year? A significant amount of that is flip flops and other plastic waste that floats around causing ecological disasters in areas of the world that do not have the capacity to deal with the issue.
Plastics are choking the world. It is time the world pivots to sustainable materials to cut down on the need for plastics. What better material is there for creating slippers and shoes than hemp?
Hemp Slippers
1. Men's Fraid Not ST by Sanuk.
The design takes the form of the traditional slipper. This particular product tries hard not to call too much attention to itself, what with the drab brown color and black accents around the slipper. However, it makes up for all of that by being superbly lush with the combination of jute and rubber outsoles, which are then complemented by the comfortable hemp straps.
Sanuk as a company is founded on two principles; having fun, and preserving coastlines. To this very end, the products they come up with are hip and colorful, while also utilizing a variety of eco friendly materials towards the manufacturing of their products.
---
2. Okinawa Indoor/Outdoor Hemp Slippers by Rawganique.
Here is a slipper design that is meant to be versatile. The slippers will work a treat while you are inside your home, and also for when you need to step out into the yard to grab the newspaper or let the dog out to blow some steam. The two available color options, natural and black, are a departure from what you would expect, and bring a difference to what would otherwise be drab options.
Rawganique is a company dedicated to the people who have chemically sensitive skin, or have made a choice to live a chemical-averse lifestyle. To this end, they manufacture their products from a variety of organic options such as cotton, flax linen or hemp.
---
3. Hemp Hemisphere Flip Flops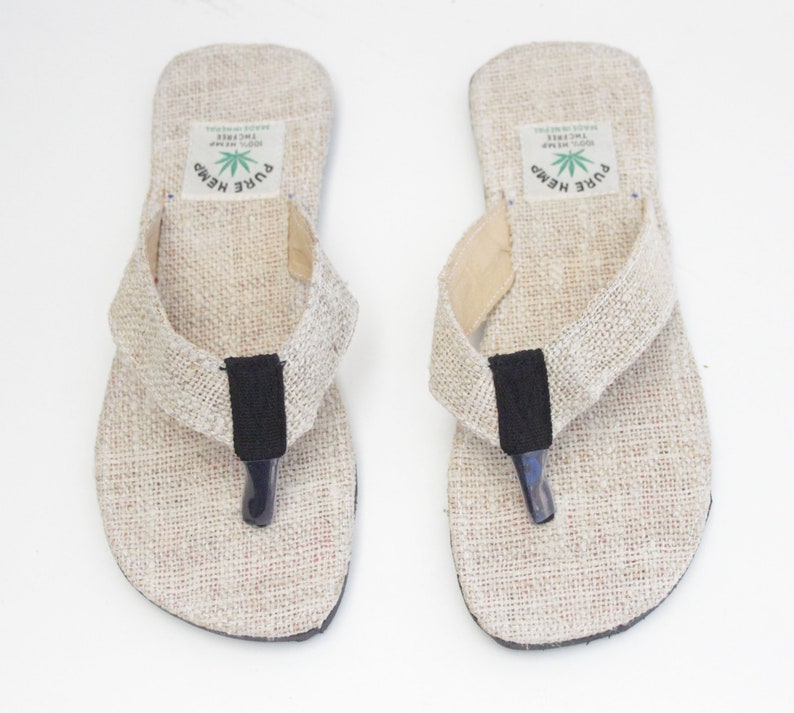 You will either be drawn in by the color, or the pattern of the hemp weaving. Either of the two options is a guarantee. These simple flip flops look like they are made to be more practical than eye-catching and they have managed to hit that nail on the head. The simple natural color of the hemp is greatly contrasted by the black in the middle of the straps. While it may not do much in terms of spicing up the design, at least a visual cue is introduced.
You can have these slippers in either beige or black. They are unisex slippers and their sizes range all the way from size 2 to 12.
---
4. Casual Beach Slippers by Exotic Merchant Crafts.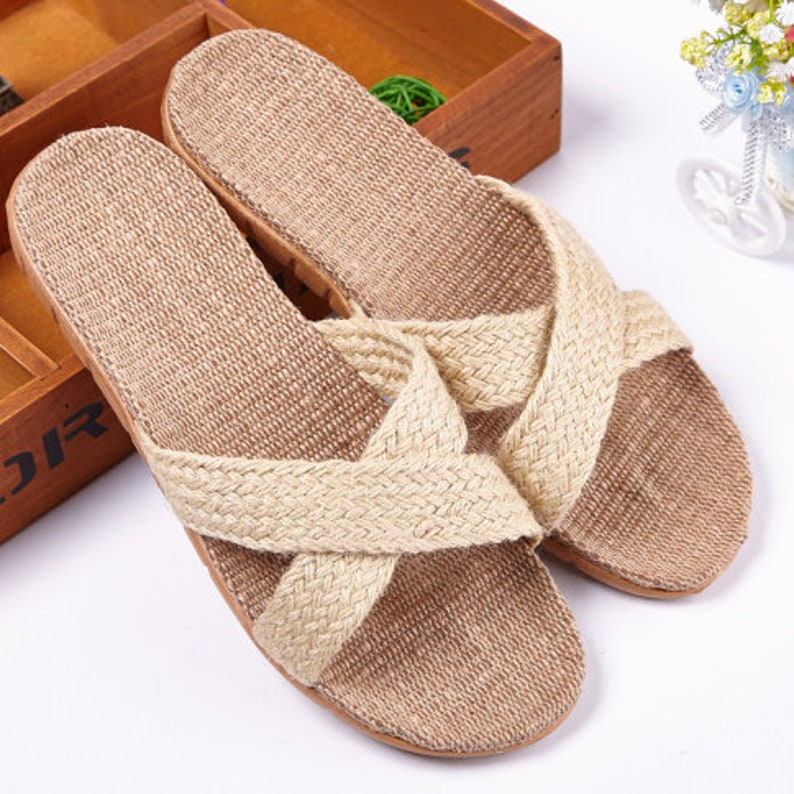 The one place that has suffered the most in environmental degradation gets to see what the future is like with these woven slippers.The woven structure of the sole and inner sole is crafted from straw, with hemp making up the straps. The crossed strap option also makes the design of these slippers a departure from what you would come to expect from slippers.
These slippers are an entirely biodegradable option to wear daily at the beach, or on the veranda of your home. You can have them in cream, blue, green or purple. They are a unisex option, so sizes range from 35 to 47.
---
5. Perth Purity by Rawganique.
These slippers' design is reminiscent of something a ballet dancer would have on. They immediately conjure a sense of haute couture and artistry. These particular slippers are constructed from natural organic hemp for the shell, with natural, untreated wool making up the padding inside the slipper.
The Perth Purity slippers are constructed 100% glue free, and instead use wax to hold it together. They are meant to be hypoallergenic and chemical free. They are also in natural colors, meaning they are dye free. The slippers are a unisex option and come in sizes ranging from 36 all the way to 46.
---
6. Hemp Sock Slippers by Hemp Made In UA.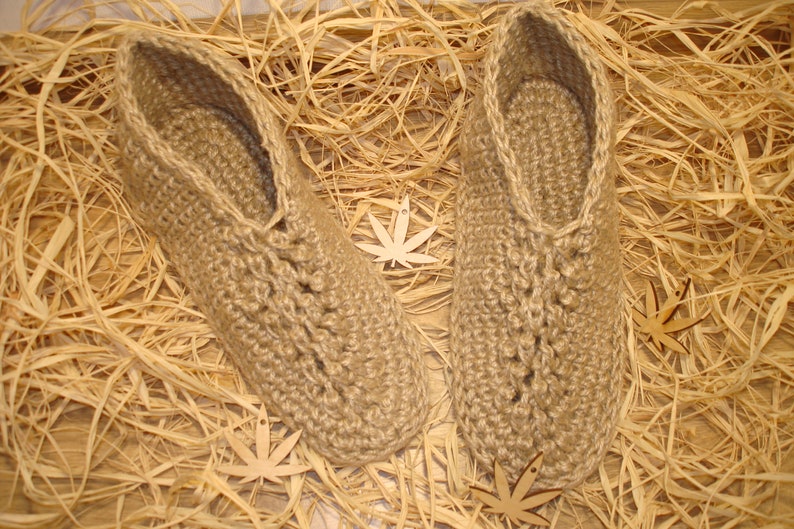 Very few things go together so naturally in the same way as socks and slippers, so why not combine the two? These slippers are woven to act both as a pair of socks and as comfortable slippers you could easily slip into. The best part is, it is woven from 100% hemp, which makes it able to absorb moisture and ward off ugly smells from the feet.
This product is meant to be 100% natural. So, no dyes to make them available in different colors. What is available is different sizes. As a unisex product, the slippers range in size from 5 all the way to 13.
---
7. Hemp Slippers by Organic Buying.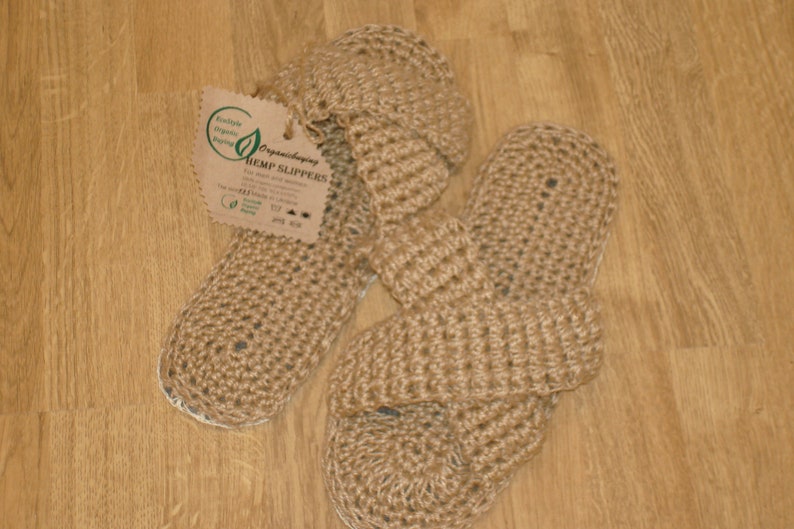 If you are the kind that likes floppy slippers but don't like it covering your toes, then these slippers are a superb option for you. The slippers are woven entirely out of 100% natural hemp. The only foreign material added are woolen insoles to make the slippers a dream to walk on. The simple crossed strap design makes them easy to slip into and out of.
These slippers are meant to be 100% environmentally friendly. They are not dyed in any way, neither are the hemp plants raised with the aid of chemicals. These handmade slippers are available in a variety of sizes as they are unisex. The sizes range from 5 to 13.
---
8. Summer Woven Hemp Sandals by Golden Walk.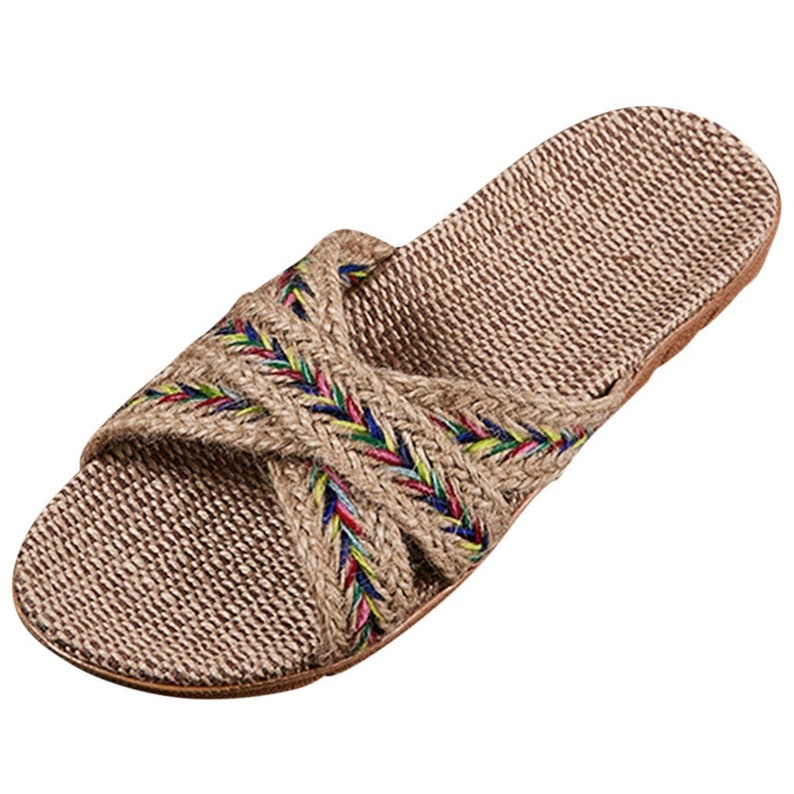 If you are the kind of woman that knows how to play a good toe game, here are environmentally friendly and bio degradable slippers that you can choose to model your beautiful toes in. The slippers feature a triple strap design, crossed over each other to create an arched toe opening. The hemp straps then are held to the rubber sole by the hemp in sole.
As a women's options, the sizes range from 6.5 to 12. You can also get the slippers in different colors. These include red black and blue. The straps are also available in different patterns.
---
9. Gluck Slippers by Rawganique.
Even if you are wearing slippers for your own comfort and convenience, it doesn't mean you should forego style. Well, these slippers have chosen to combine the two ideas and coming up with slippers that resemble moccasins, but are still easy enough to slip in and out of. What you get are a pair of slippers handmade from 100% organic hemp and organic cotton fleece for the insoles.
You can have these slippers with extra insoles which can come in different sizes, depending on the slipper size you chose. The sizes are a bit more generic as they come in small, medium, large or extra-large, rather than going for a specific size.
---
10. Kyoto Organic Hemp Slippers by Rawganique.
If you are looking for the traditional slippers that the world has come to know and love, then here is a 100% bio degradable option that you will love. The covered toes and open back make for a quick and easy way to slip them on and take off. The design of the top part is a bit ornamented with some quilting to add visual interest.
You can choose to have the slippers with or without straps. Color options are also limited, with a choice of only natural and black. The slippers are unisex and come in different sizes ranging from 36 to 46.
---
11. Lascaux Cave Shoes by Rawganique.
The name Cave Shoe is an apt description of what the slippers look like. Even though you can use the laces to create a tighter fit, you can also just leave them as slippers that have some character to them. The shoes are created entirely from hemp and no glue or elastic is used to hold the shoe together.
An important part of this design is the fact that the soles are replaceable. Yes, the soles are held to the shoe with buttons and you can choose to purchase them with an extra pair of insoles. The sizes are generic, coming in with small, medium, large and extra-large.
---
Why should you buy hemp slippers?
The pivot towards relying on hemp fibers to create shoes is a conscious effort towards environmental conservation. Plastics are currently choking the world. That plastic can be recycled over and over for the entire world to use.
In the meantime, switching to a more eco friendly and bio degradable option means actually doing something about the plastics problem. Also, there are benefits to using hemp for slippers and shoes.
Hemp fibers are strong and have surprising characteristics. It gets softer with age and is hypoallergenic. The fibers are breathable, meaning your feet won't be the cause your shoes develop a nasty smell from the amount of time you spend in them.
Perhaps the most important bit is, hemp is hypoallergenic. If you have issues with a variety of clothing materials out here, hemp can become a great substitute and still give you the same stylish options you have come to expect from other materials and their designs.