Shoes made from recycled plastic may seem a bit strange to many people, but it is now a somewhat common material used by many eco-friendly shoe brands.
Even big brands like Allbirds and even Nike now have shoes using plastic bottles as materials in their shoes.
I think most people know we have a plastic pollution problem and below we get into some details which may help reaffirm why it is good to support these brands that are removing plastic from the ocean to be recycled.
In a hurry? Check out our favourites here.
Image
Product
Details
Price
Allbirds
• One pair of laces = one plastic bottle
• Eco friendly materials
Check Price at Allbirds.com
Rothy's
• Made from recycled bottles
• Machine Washable
Check Price
Etnies
• Recycled Plastic Uppers
• "Buy a shoe plant a tree"
Check Price

1. Allbirds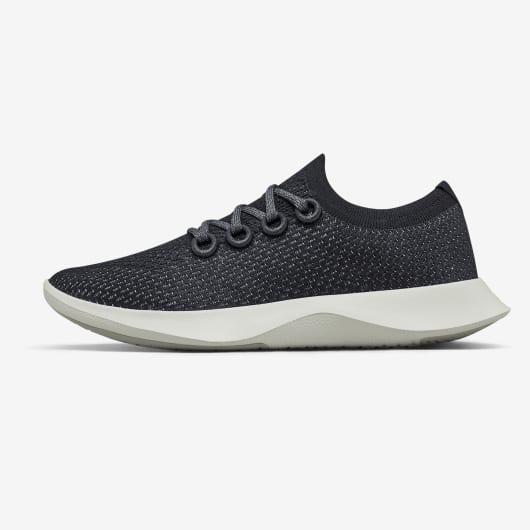 Allbirds has committed itself to reduce climate change, and they make shoes through decidedly eco-friendly methods. Aware that even with these steps, their company contributes to the global contribution, they tax themselves for the carbon they emit by investing in carbon offsets and funding projects that work toward neutralizing their carbon footprint.
Allbirds provides a range of footwear for men and women, including sneakers, boat shoes, slip-ons, and high tops. Both their size and color selections are vast, making it very easy for shoppers to find something they like.
Our Pick: Men's Tree Dashers – These shoes are made from a variety of eco-friendly materials, including recycled cardboard, castor bean oil, and merino wool from sustainable agricultural sources. Recycled plastic bottles are what account for the laces in these shoes – one bottle accounts for one pair of laces.
---
2. Converse Renew Recycled Chucks
Converse is doing its part toward a more eco-friendly future for fashion, too. The brand's famous sneakers are available in the Converse Renew line, which is still as stylish as their other lines, but instead feature translucent midsoles and flecked outsoles. While recycled rubber is the main material used here (including scraps from their own factories), there are other recycled materials used as well, including plastic.
Converse has an impressive amount of footwear available for women, men, and kids. There are sneakers for skateboarding, basketball, high tops, low tops, and shoes made custom to order. In terms of color, there is a veritable rainbow for you to choose from.
Our Pick: Chuck 70 – Marketed as being Converse's most sustainable sneaker yet, this shoe made from recycled materials is as trendy as it is comfortable. They are available in two different summer-inspired colors and would make the perfect addition to a warm weather wardrobe.
---
3. Tropical Feel All Terrain Sneakers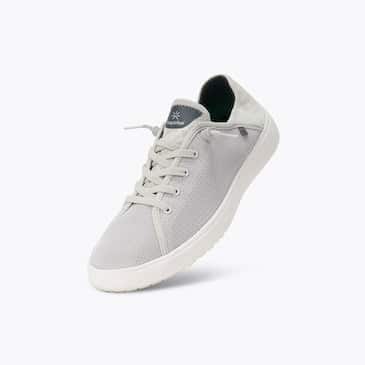 Tropical Feel adds a touch of irony with their all-terrain shoes in that they are made to be able to swim in the ocean. So ultimately these shoes may end up in the ocean, but not in a bad way.
They have their impact on the environment measured by an external agency and also partner with Bloom and Cosmo to ensure their materials are recyclable and eco-friendly.
They have quite a large range of shoes for both men and women so there is bound to be a style and color that suits your taste.
Our Pick: Sunset Grey Ship. These shoes sport a 4-in-1 versatility with the materials of a hiking shoe, the style of your everyday sneaker, and the benefits of aqua shoes while maintaining the comfort of sports shoes.
---
4. Sperry
Sperry has a line called SeaCyled, which features shoes made from recycled ocean plastic. Each pair crafted helps to reduce the amount of plastic waste currently polluting the ocean. In fact, one pair of SeaCycled shoes equates to about five recycled bottles. By 2023, the company aims to have 50 percent of all its products be part of the SeaCycled collection. The company has also eradicated unnecessary packaging in order to reduce plastic waste.
Sperry's SeaCycled sustainable sneakers are for women and men and are minimalistic in style. They are simple, casual shoes that are great for summer outings or for everyday indoor use.
Our Pick: Men's SeaCycled™ Bahama II Sneaker – With mesh linings made from 100% recycled plastic recovered from the land and sea, these sneakers let you look good while providing you with increased traction.
---
5. Stella McCartney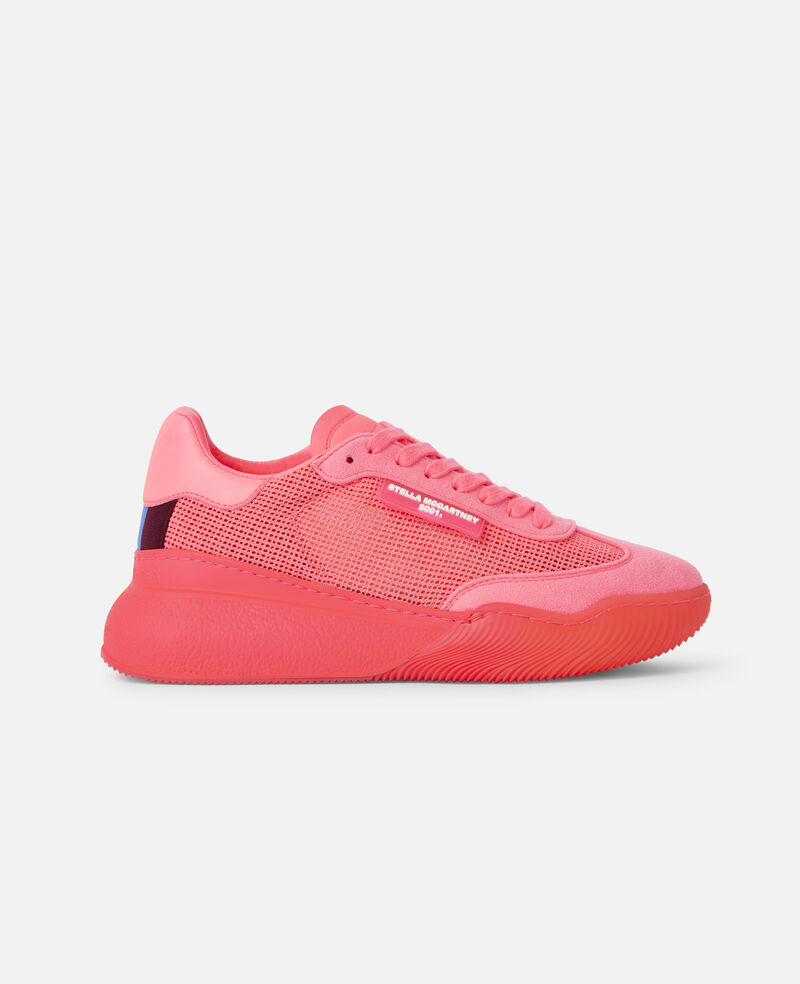 This brand knows and recognizes that it is an agent of change and has worked hard to become an activist for ethical values and environmental protection. Their products are proof that footwear can still be beautiful and striking without leaving behind a huge negative impact on the environment. The company is transparent about its manufacturing process and also makes it a point to report its impact.
Stella McCartney's shoes cover a lot of bases: casual, elegant, and athletic. What's more, they create vegan shoes, sustainable shoes, and shoes made from recycled materials. Their selection is for women and kids and they have sandals, wedges, boots, and sneakers.
Our Pick: Loop Square Mesh Sneakers – Vibrant, athletic, and trendy, these sneakers are made from recycled materials without any sacrifice in the quality department.
---
6. Adidas Parley Recycled Plastic Shoes
Adidas's partnership with Parley has led to a very successful collaboration that keeps plastic out of the ocean. Parley works hard to intercept all manners of plastic waste before it reaches the ocean. That waste is then converted into threads, and Adidas then uses the threads to create recycled shoes.
There are quite a few Adidas Parley shoes to choose from in different colors and styles. The shoes are engineered to provide the utmost comfort and support regardless of whether you're active or just hanging out with your friends.
Our Pick: 4DFWD X Parley Shoes – Available in two different colors, these Adidas recycled plastic shoes are meant to enhance movement and are incredibly versatile. The design is seamless and complements running clothes just as well as it enhances casual wear.
---
7. Nike Flyknit Recycled Running Sneakers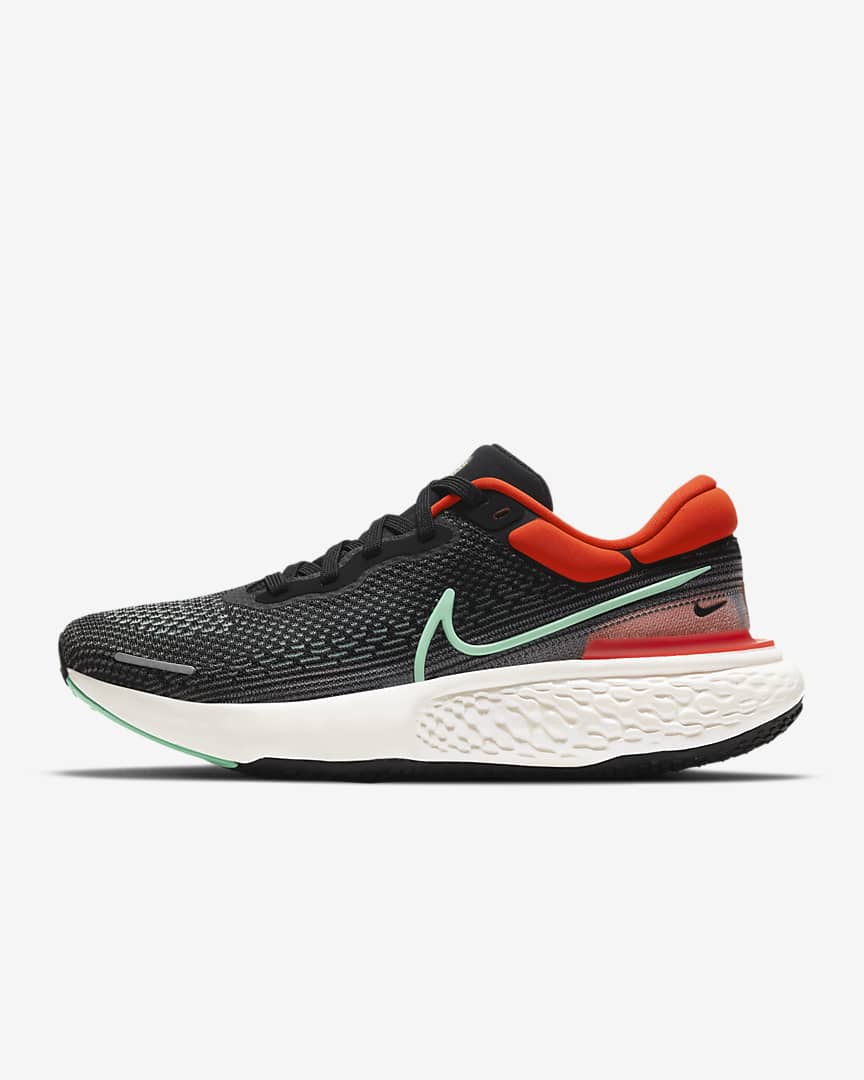 Nike has started the "Move to Zero" initiative, which means the company is working toward zero waste and zero carbon during their manufacturing process. Not only are their shoes made from recycled ocean plastic, they also reuse other textiles like polyester and yarn. Nike Flyknit material is made with 60 percent waste as opposed to that of traditional footwear upper manufacturing. What's more, each shoe made from Flyknit accounts for 6 to 7 plastic bottles.
There are quite a few shoes to choose from in the Flyknit collection, including running and basketball shoes. Vibrant colors combined with a sleek design ensure an eye-catching pair of shoes that you will love to wear.
Our Pick: Nike ZoomX Invincible Run Flyknit – Available from size 7 all the way up to 15, these runners are meant to carry you through long runs. These running shoes made from recycled plastic are breathable and help to transfer energy through every step you take.
---
8. Vivobarefoot Shoes
Vivobarefoot is a bit different from other shoe brands in that its founders believe that traditional shoes, with foam and other materials made from petrochemicals, are actually hindering our health. Their belief that we are meant to go barefoot is what prompted them to design their very unique footwear that puts as little between your foot and the ground as possible. In line with their natural beliefs are their desire to put as little pressure on the environment as possible, which is why they make shoes made from plastic bottles and sustainable materials.
Vivobarefoot offers active shoes, outdoor shoes, casual shoes, and shoes for everyday wear. The designs are simple yet sophisticated, and each pair has a couple of different colors you can choose from.
Our Pick: Tracker Forest Esc Women's – These hiking shoes are meant to help you connect to the environment no matter whether the path you take is rugged or simple. They look far less bulky than traditional hiking shoes but are more than capable of letting you make it to your destination with ease.
---
9. MOVMT Recycled & Organic Cotton Shoes
This brand stands for the reduction of single-use plastic, and to that end, they create eco-hip accessories and footwear made from upcycled, recycled, and sustainable materials. MOVMT also supports eco-minded organizations such as 5 Gyres, which works hard at reducing oceanic plastic waste. The upcycled plastic used by MOVMT comes from bags cleaned from the ocean in Bali.
MOVMT has a small selection of shoes that sport a minimalist yet refined design. They are comfortable and vegan knit with rubber bottoms that offer you the best support for long days spent on your feet.
Our Pick: Blake Black – A quality, specialty cushioned footbed in these shoes makes them performance ready, and they also provide a lot of comfort.
---
10. Cariuma
Cariuma believes in "making things in a way that is better for people and the planet". That's why they have designed all of their sneakers to be not only sustainable but of the highest possible quality. All of their materials are responsibly sourced and designed with a timeless silhouette to ensure they can be worn for years to come. Among the materials they use are cork, sugarcane, organic cotton, natural rubber, and recycled plastic bottles.
Cariuma has sneakers for men and women, and they come in slip-on, high-top, and low-top styles. The aesthetic is classic and simple with solid color designs. There are plenty of sizes, so it should be easy to find the perfect fit.
Our Pick: Stone Black Knit – This high-top men's sneaker fits snug without being too tight, and offers a comfortable, supported step. It's ideal for a day spent on the go or just for casual wear.
---
11. Rothy's Recycled Plastic Bottle Shoes
In a concentrated effort to do right by the environment, Rothy's has ensured that nearly every material they use in the fabrication of their shoes is either sustainable or recycled. In order to keep plastic from reaching landfills, they divert the cargo and then turn those bottles into their signature thread. That thread is then used to make durable bags, shoes, and accessories. They also turn plastic taken from the ocean into machine washable bags.
To look at them, you wouldn't be able to guess that Rothy's shoes are made from recycled bottles. They have flats, sneakers, loafers, Mary Janes, sandals and more for women and kids alike. Airy patterns and light colors make any of these recycled shoes a great addition to a summer wardrobe.
Our Pick: White Rainbow – With the bold rainbow striping, these sneakers are sure to draw compliments no matter where you are. They are comfy and machine washable, making them great for day-to-day use or for just chilling around the house.
---
12. Etnies Recycled Plastic Shoes
Etnies makes a variety of different kinds of skate shoes, including vegan. The eco-friendly twist on these shoes is that they are made from recycled materials for the insoles, recycled rubber for the outsoles, and recycled plastic for the canvas uppers. What's more, if you buy from the Vegan Eco collection, you will be contributing to the company's reforestation effort: "Buy a Shoe, Plant a Tree."
Etnies has a full lineup of shoes for women, men, and kids. If you want something bright and bold, they have you covered, and the same goes if you'd prefer something a little more subdued. These recycled shoes are built to cushion your foot and are crafted to last a long time, so be prepared for the pair you buy to become your new favorites!
Our Pick: Jameson 2 Eco – This is the company's most popular shoe silhouette and one of the Vegan Eco lines. It's a low-top shoe with an STI Foam Lite 1 insole to ensure that your feet will be cozy and comfortable even after hours spent on your feet.
---
13. Nothing New Recycled Shoes
The amount of recycled materials that go into a pair of Nothing New shoes is quite impressive. Recycled fishing nets are used for the heel counters, the bindings are made from recycled cotton and the outsoles from recycled rubber. The laces, uppers, and labels are all made from recycled plastic. Every pair of sneakers made by Nothing New accounts for 5.6 plastic bottles and 160 gallons of water saved.
Nothing New's sneaker selection is for both men and women and is available in high-top and low-top styles. With numerous colors to choose from, it should be easy to find your new everyday pair of eco-friendly, recycled shoes to wear.
Our Pick: Women's High Top – With a clean, precise silhouette and your choice of solid color, these sneakers are hip enough to be worn with almost any outfit.
---
14. The North Face Recycled Shoes
This brand has committed itself to the goal of becoming 100 percent responsibly sourced by 2025, and in order to meet that goal they have started using renewable, regenerative, and recycled materials in their shoe fabrication. They currently use recycled PET (plastic bottles) in their shoe construction, and also have a program called Clothes the Loop which takes unwanted footwear and clothing and repurposes it.
Whether you're looking for hiking footwear (fast or light), trail running footwear, sneakers, boots, slippers, or sandals, you will be able to find them at The North Face. Constructed with longevity in mind, this footwear is built to endure rugged conditions, but will do just as well for hanging out at home or with your friends.
Our Pick: Men's VECTIV Infinite – With a bold yellow and black pattern, these sneakers are responsive and fast trail shoes that offer incredible cushioning and great traction. These are the perfect shoe for people who love to explore the outdoors on foot.
---
15. Vivaia
Vivaia are an up-and-coming footwear brand with a range of shoes for women (and a few for men). Their range encompasses everything from heels, to boots to sandals and more.
With a mission to create the most stylish and sustainable footwear that is eco-friendly and responsible, Vivaia also continues to evolve and find more eco-friendly processing solutions and materials.
Our Pick: Aria 5°. For women who love a combination of style and sustainability, these shoes are for you. For the men, we love the look of the waterproof slip-on sneakers as shown above.
---
16. Suavs
Suavs make some pretty slick-looking shoes and are a perfect example of where high-level fashion can also be eco-friendly and/or sustainable.
They create a digital knit from post-consumer recycled water bottles which they use as the upper part of their shoe along with gum soles and cotton laces.
And of course, Suavs shoes are all vegan friendly
They have a range of shoes from high tops, to slip-on to jandals and these are available for both men and women.
Our Pick: The Zilker Gum. Style meets fashion with this classy shoe. Available in a number of colors this shoe is also available for women.
---
Why choose shoes made out of recycled plastic? Our plastic pollution problem.
It is no real secret that we have a pollution problem. Heard of the Great Pacific Garbage Patch?
According to IUCN.org 14 million tonnes of plastic is put into the ocean each year. 14 million.
Not only is that a horrific feat in itself, but the list of damages this causes is something we all should be ashamed of.
For example:
• 100% of baby sea turtles have plastic in their stomach
• More than 1 million seabirds and 100,000 marine animals die from plastic pollution every year.
• 88% of the sea's surface is polluted by plastic waste.
If that isn't horrid enough for you, you can find more statistics here.
Rothy's themselves have kept 100 tonnes of plastic from reaching the ocean, and while it is just a drop in the bucket of the overall problem, every little bit helps.
So if you plan on purchasing some shoes in the future, why not go for a pair from an eco-conscious brand.
---