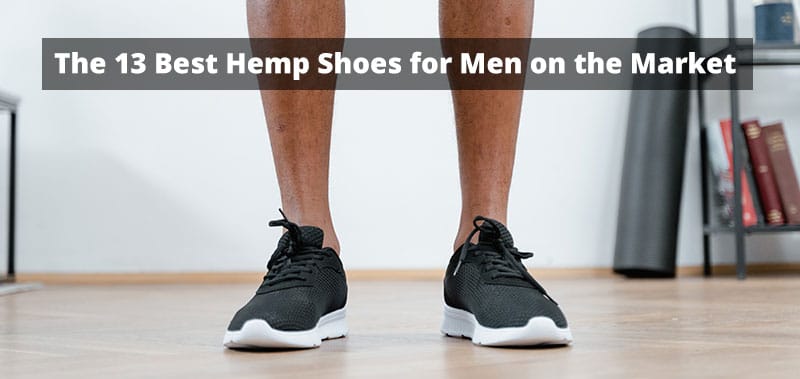 According to studies, the sustainability progress of the fashion industry has been slowing down since 2019. And the harmful impact of the industry is progressing much faster. So it's time to throw out your old non-vegan shoes and get a pair of hemp ones for the environment's sake.
Hemp grows fast and clean, and it doesn't deplete the soil as cotton does. Not to mention, anything made of cotton can be made of hemp, so the better alternative is obvious.
Here are the best hemp shoes for men on the market!
Best Men's Hemp Shoes
A pair of classic sneakers never go out of fashion. So if you're a fan of timeless shoes, this Saucony pair may be the one for you.
The shoes are made of a hemp/canvas blend, accounting for comfort, durability, and sustainability. The material is also breathable and light, so you're not bothered by an unpleasant odor after a while.
The shoes' midsole is cushioned, and the tongue is padded to offer the utmost comfort. On top of that, the rubber outsole features patented traction to keep the shoes durable with heavy use.
Pros
100% vegan materials, including the glue
Impressive traction for different terrains
Vintage, timeless design
Cons
Some users reported the color fades after a while
---
If you're a fan of unconventional shoes or want to enjoy the barefoot feeling while wearing shoes, this Vibram pair may be your best bet. It features a unique wrap-around design that wraps around your feet and fingers like a second skin.
The foam outsole contours to the shape of your feet, providing more comfort in the long run. Additionally, the shoes are made of poly blend fabric and hemp. Both materials are breathable enough to keep your feet dry and cool, even after wearing the shoes for long hours.
Pros
Barefoot feel
Stretch points included to offer a good fit
Breathable materials to prevent odor
Cons
Not suitable for rough terrains
---
Slip-on shoes are generally convenient and user-friendly. If you prefer them, you'll love this pair from Sanuk.
The shoes have a soft hemp lining, and they're cushioned with a poncho to offer the utmost comfort. The footbed is elastic to absorb shocks and keep you comfortable. Besides, the upper part is topped off by holes for breathability. This way, your feet stay cool and dry without an odor.
Pros
Impressive traction and shock absorption
The material can withstand wet conditions
Holes on the upper part for breathability
Cons
---
If your priority is comfort when choosing a pair of shoes, you may want to take a look at this Sanuk pair. The shoes are made of a hemp blend, lined with 100% cotton canvas. In addition, the materials are entirely vegan if that's a concern of yours.
The shoes have a rubber sole that withstands rough terrains, along with a soft-top foam for comfort and breathability. What's even better is that the shoes are easily packable in any bag, thanks to their flexible material.
Pros
100% vegan materials
Affordable compared to competitors
Rubber soles for comfort
Cons
The shoes may wear out after washing them in the washing machine.
---
If you want to make a fashion statement while staying comfortable, the Sanuk Vagabond is worth considering. The shoes have frayed edges and an exposed gore, accounting for a fashionable design with a vintage vibe.
The footbed is made of molded EVA foam. After a while, it contours to your foot shape to provide maximum comfort. Additionally, the outsole is made of recycled EVA foam and rubber.
Pros
Entirely made of hemp and recycled materials
Highly comfortable
Durable outsoles
Cons
Some users complained that the material was too light
---
The Sanuk Chiba pair is a bit similar to the Vagabond, except that it has a more modern design. It has frayed edges, and the material looks a bit rough as a part of the shoes' design.
The shoes feature a hemp upper and a cotton canvas lining. All of the materials are vegan, and the shoes go under the Globally Recycled Standard(GRS).
The shoes have an EVA footbed, accounting for high comfort and durability.
Pros
EVA footbed for comfort and elasticity
Packable design
Rugged rubber sole to withstand rough terrains
Cons
Some users reported the soles come out after a while
---
8000Kicks is one of the well-known manufacturers of hemp shoes. The Explorer is their most popular model to date, and it's available in a variety of attractive colors.
The shoes feature a minimalist design with a tang of style. They fit any occasion, and they're suitable for indoor and outdoor use.
The material is water-friendly, so you can step in puddles freely. Plus, the materials are 100% vegan; even the soles are made of algae blooms.
Pros
100% vegan materials
World's 1st hemp insoles
Water-friendly material
Cons
The material gets easily dirty.
---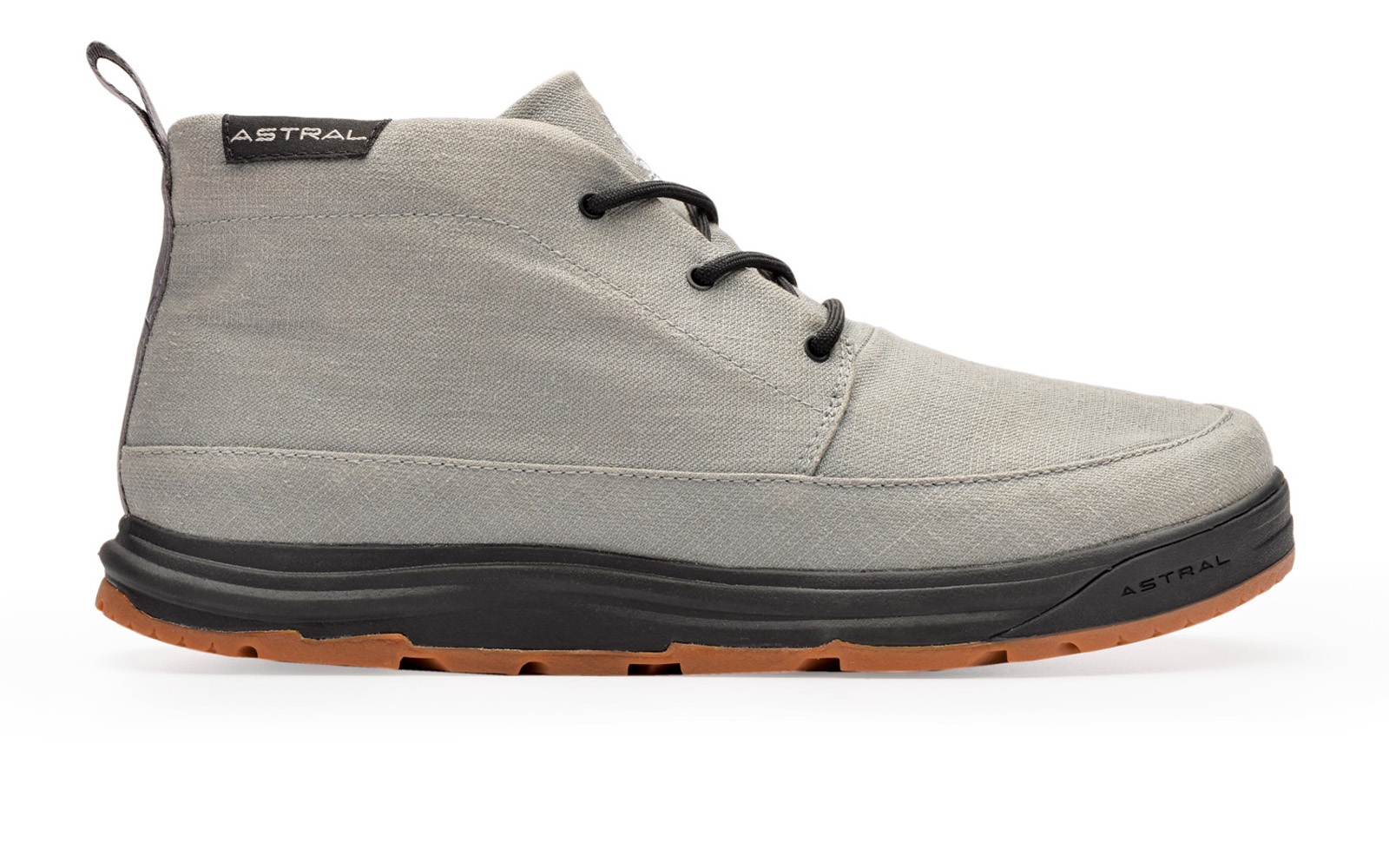 If you've been a fan of hemp shoes for a while, you've undoubtedly heard about Astral and its environment-friendly shoes. The Chukker pair features a timeless, classic design that's fit for all occasions.
The medium-arch midsole is made of EVA foam, and the uppers are made from hemp. On top of that, the outsole is made from rubber for maximum comfort.
Pros
Highly durable materials
Classical, timeless design
Cushioned footbed for comfort
Cons
On the expensive side of the market
---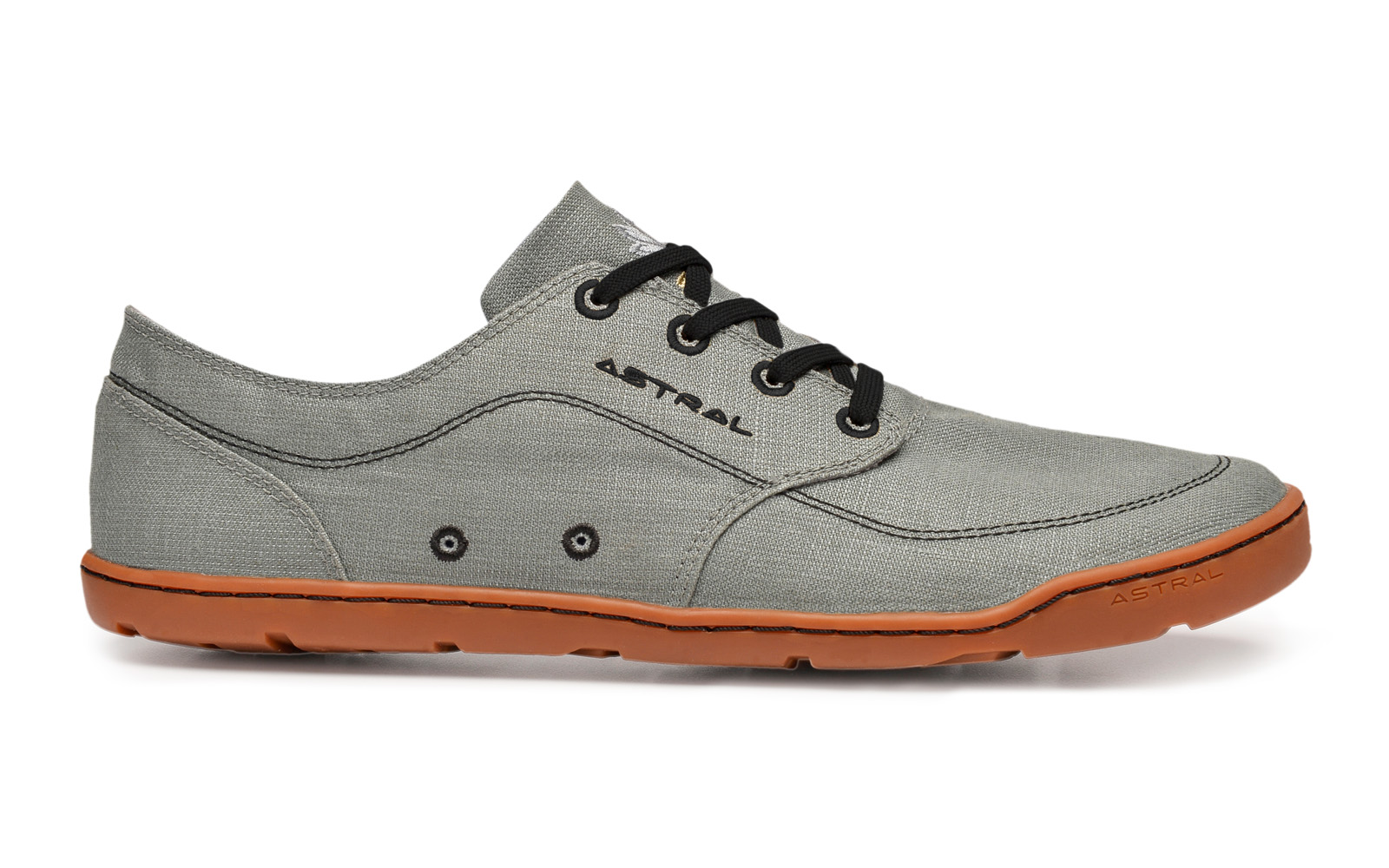 The Loyak pair from Astral is a stylish take on a classic design. The shoes feature a low profile that adds a trendy look. Paired with the brownish-orange sole, the shoes will make a fashion statement anywhere you go.
As with most hemp shoes, the uppers are made of hemp, while the soles are made of rubber. The outsoles also offer impressive traction.
Pros
Stylish design
Flex grip outsole for traction and comfort
Moderate price compared to competitors
Cons
The sizes run tight if you wear socks.
---
If you want to embrace hemp fashion while staying in the comfort of your home, getting this slippers pair may be a good idea.
The slippers are made of 100% cruelty-free, vegan materials, which are also breathable and soft. The padding on the inside is made of wool, and the seams are glue-free. Plus, you can wax the uppers for waterproofing.
Pros
Highly comfortable
Budget-friendly
Glue-free to ensure durability
Cons
---
The winter is coming. Do you know what that means? No, not House Stark coming to seek revenge. It means you need to get a pair of boots now!
The unisex pair from Ragwanique is classic yet stylish and elegant. It's handmade from hemp and vegan materials, which explains its high price.
The replaceable booties are made of cotton, and the soles are made of rubber for comfort and durability.
Pros
Cotton fleece lining for warmth
Replaceable booties
Handmade for high quality
Cons
On the expensive side of the market
---
If you're into grounding or earthing, Ragwanique made this Zen Zero pair explicitly for you. The soft soles will connect you to the earth's energy without a rubber barrier. And you don't need to worry about durability. The soles are made of stiff hemp to ensure they stay intact.
The shoes are handmade to ensure premium quality, and the lack of heels and rubber soles account for even more comfort.
Pros
Handmade for premium quality
No soles or heels
You can wax the material to waterproof it
Cons
Not suitable for wet surfaces
---
The Bohempia boots pair is the perfect piece to complement all your wintery outfits. Its fashionable design is timeless and stylish, and it's available in a lovely grey color that'll match most of your outfits easily.
The boots are insulated to provide enough warmth, and the sole is non-slip for walking on wet surfaces safely. In addition to that, the material is breathable and antimicrobial to prevent unpleasant odors.
Pros
Vegan PETA certificate
Cotton fur coat inside to provide maximum warmth
Non-slip soles for good traction on slippery surfaces
Cons
On the expensive side of the market
---
The Final Verdict
There's a pair of hemp shoes for absolutely any occasion. If you're at home, you can wear the Hemp House Grounding Slippers. After that, you may wear the Hemp Loyak M's for a casual, friendly gathering or the Sanuk Tideline Hemp for a nice stroll around your house.
When the weather gets cold, it's time to take the ZAVID – GREY Winter Boots or the BOSTONEER Hemp Boots out for a quick clean before the season starts.
In all cases, you'll find hemp shoes waiting for you to wear! It's time to ditch your old synthetic shoes and opt for a new eco-friendly pair.