In this article, I will detail some of the best sustainable men's shoes and shoe brands.
In fact, I have hand-picked 13 of the best shoes and brands I would personally wear. I did in fact end up purchasing a pair of Allbirds Wool Runners, and love them. (See below – if you have any questions feel free to ask below)
It's a hard choice to narrow it down, but I hope you enjoy the list.
13 Sustainable Men's shoes and brands

1. Men's Wool Runners – Allbirds
I don't buy a lot of things including clothes and footwear and have made a pledge to myself to go sustainable next time I need to. These are one of my favorites and ended up buying a pair of these fantastic sustainable sneakers.
Perhaps a little bit of tribalism coming out, as the founder is also from NZ and they use NZ wool, but to be fair, these shoes are great.
They are available in a bunch of colors with a mix of different colors for the upper and lower. The great thing about them? Machine washable. Just through them into the washing machine to clean them. I'll be honest, I have never had a pair of shoes like that before.
How about their sustainability?
These sustainable sneakers are made from eco-friendly and renewable materials.
The upper is high quality ethically sourced merino wool, the midsole from Brazilian sugarcane which is made with the world's first carbon-negative green EVA, and the sole is made from caster bean oil and merino wool.
Furthermore, the laces are made from 100% recycled polyester, meaning discarded plastic water bottles are refashioned into shoelaces.
All and all, these shoes are carbon neutral so as far as sustainable sneakers and shoe brands go, you won't go wrong with a pair of Tree Runners from Allbirds. They also make a good pair of running shoes.
---
2. Sustainable Hemp Shoes – 8000kicks
These kicks from 8000 kicks (that's a lot of kicks) are super stylish and come in a couple of colors, black and white, and beige.
What's special about these?
They are made from hemp.
I had to chuckle as I know what a lot of people are thinking and 8000 kicks actually answer your question. No, you can't smoke the shoe.
I'm glad they clarified!
Anyhow, these sustainable sneakers are designed and engineered in Portugal. They are waterproof because of the fibers and the proprietary coating layer they have. They are made with a hemp upper and a bloom foam algae bottom. They have 'the world's first natural hemp insole. They are 100% vegan.
Ultimately a very eco-friendly and stylish sustainable men's sneaker.
Find out more at 8000kicks.com
---
3. Loom Footwear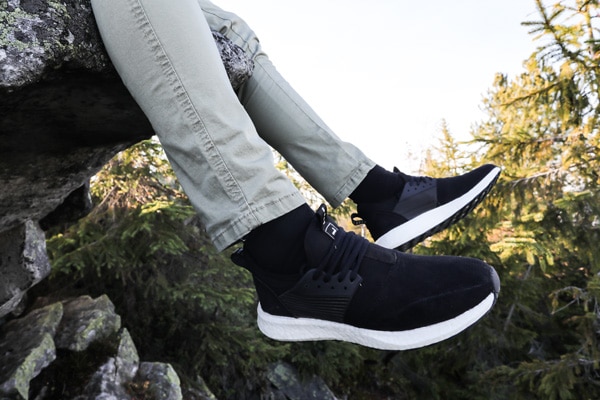 Designed with durability, simplicity, and comfort in mind – Loom shoes are everything eco-friendly shoes should be. They keep feet dry and fresh regardless of the weather.
With a merino wool interior, the breathable surface of these waterproof shoes regulates temperature, is antibacterial, and is anti-odor. The H2-Go layer is 100% waterproof, while the wool-lined cushion helps minimize foot pressure while walking.
Sustainable men's shoes come in sizes from 6 to 13 (US) and are available in black and white. As for the sustainable women's shoes, they're available in sizes 5 to 11 (US) and also come in black and white.
Loom sustainable shoes are lightweight, reduce foot fatigue, and make long-hour walks more enjoyable. The flexible form-fitting design allows for a full range of motion, protecting the ankles, knees, and shins from shocks.
These sustainable shoes are vegan-friendly and are made with cruelty-free material from the world's most eco-friendly farms.

Find out more at LoomFootwear.com
---
4. Nebula – Wildlings
As soon as I saw these shoes I liked them. They are super stylish, but also eco-friendly.
They are even lighter than the Hyloathletics weighing in at only 129 grams, perhaps due to the fact that these shoes are actually made of just 3 pieces of material. A lot of love and thought has gone into the design of these shoes.
The upper of these sustainable shoes are made from a mix of knitted merino and polyester while the insole is a mix of paper and polyester. The sole is comprised of rubber, recycled materials, and cork.
They have a good range of vibrant, colorful, and trendy men's footwear ranging from shoes to boots to sandals, and use fair trade practices.
Find out more at Wildlings.shoes
---
5. Men's Running – Hyloathletics
I'm glad I came across these. These are actually advertised as running shoes but could certainly pass for everyday sneakers (at least in my opinion)
There is a lot to like about these.
Firstly, they are machine washable for easy cleaning but they are also super light, weighing just 215g. I highly dislike having heavy shoes when I'm running.
The upper is 100% natural and the shoes are made from corn fiber, a waste product from corn production. The insole is made from algae bloom with a 100% organic cotton top layer. The midsole is made using EVA with corn starch inject to minimize the amount of EVA used and can be recycled to be used in future shoes. The outsole is made from 100% natural rubber.
Interestingly, each of these running shoes has a unique identifier code so they can track how many have been made, the production process, and the materials used. Ultimately, they would like the shoes to return to them when they are done so they can repurpose and recycle them into new shoes.
Another eco-friendly footwear company doing good things with sustainable fashion.
Find out more at Hyloathletics.com
Read our Review of Hylo Athletics Running Shoes (personally tested)
---
6. The Royale Knit – Greats
I love the fact that you can get these shoes in bright lime green or 'Neon Algae'. Either way, I'll take it. There is a good variation of color with this range, though don't expect rainbow neon colors, as green is a bit of an outlier.
Their shoes are a bit different from the others as they are made from recycled plastic bottles and believe it or not, they are also machine washable.
No virgin plastic is ever used in their shoes but rather from 7 recycled plastic bottles. They are vegan shoes, sustainable and ethically made with fair trade practices.
The shoes are handcrafted, and the footbed is made from algae foam while the outer from natural rubber.
Their selection includes a large range of men's shoes ranging from boots, to sneakers to high tops to slip ons.
---
7. EFE PIÑATEX – Nae Vegan
I do like not having to bother about laces and if you are the same, Nae Vegan may have just the shoes for you.
Definitely for the fashion-conscious male these smart-casual zip sneakers. will look good with nearly any outfit.
The upper is made from pineapple leaf fibers and PLA fibers while the insole is Microfiber lined Paperboard agglomerate. The outsole is made from sustainable materials (rubber).
Nae Vegan has a good selection of vegan shoes including classic sneakers (think low cut Chuck Taylors) to boots, to sandals to dress shoes for both formal and casual occasions also using fair trade practices.
Find out more at Nae-vegan.com
---
8. SEMNOZ II LIGHT GREY – Saola
This is one of Saola's best-selling shoes and it is easy to see why. Not only is it super stylish, but it's also very eco-friendly and made from recycled materials.
These 100% vegan shoes are made from recycled plastic bottles & canvas for the upper while the insole is made from cork and algae foam.
The soles are made from EVA and recycled EVA while the laces are 100% organic cotton.
The shoes are super lightweight and have removable insoles so you can put in your own if you need to.
This footwear brand has a good selection of men's shoes including high and low cuts as well as slip-ons.
Find out more at Saolashoes.com
---
9. urban runner AHL – soleRebels
I like the fact that these shoes are completely hand-crafted. All the materials from the hand spinning and hand looming of the textiles are done by hand and ethically made.
It creates their unique style and also gives these shoes a more personable feel.
These shoes are also made in Ethiopia. They use used tires to create the soles with hand-loomed organic cotton upper and float midsole and they are also fair trade.
This range also comes in a few different colors which is cool.
They actually have a good collection and if you are one for unique footwear, you will definitely want to check out their range.
They are bright, vibrant, and colorful with shoes ranging from sneakers to boots to slip-ons.
Find out more at soleRebels.com
---
10. ARGAN LOW – Ekn
Fancy some high-quality Portuguese hand craftsmanship?
These shoes by Ekin. are handmade in Portugal and feature a premium vegetable-tanned leather (suede) upper with a full calfskin lining and a recycled outsole.
With contemporary design elements, mixed with subtle additions for extra durability they are a mix of fashion and longevity.
They have a great range of men's shoes with vegan options featuring formal and casual options and also have fair trade practices.
Find out more at eknfootwear.com
---
11. Men's The Zilker – Suavs
Aptly named 'Suavs' these shoes are, well, suave.
They also have a bunch of different pattern options which is nice for those who like the choice.
They have moisture-wicking insoles which means you can easily wear these without socks and not worry about sweat issues.
The shoe is made from 100% post-consumer recycled threads and is super easy to pack as they pack flat.
They have a range of high cut, low cut, and slip on men's shoes, all of which in my opinion make them very classy and stylish shoes.
Find out more at suavshoes.com
---
12. Stone Grey Knit – Cariuma
There is a couple of things I like about these, other than the fact they look great.
First is the buy one plant 2 trees. For every purchase of a pair of shoes, this footwear brand will plant 2 trees in the Brazilian rainforest.
The second is they very clearly and easily show what each part of their shoe is made from.
Interestingly, the upper is made from bamboo and recycled materials (PET), while the insole is made from foam, cork, and mamona oil. The outsole is made from green EVA made from sugarcane and the laces from recycled plastic bottle threads.
Add to that they are 100% vegan and machine washable.
They have a large collection of high-cut and low-cut trendy sneakers, with many color choices.
---
13. Lowcuts Black & White Organic Fair trade – Etiko
I've got a lot of friends who love that classic lowcut style 'Chuck Taylor' kind of sneaker. Personally it's not for me but I wanted to add at least one option to this list for those that do like this style.
Etiko has a good range like this including this fantastic-looking low-cut sneaker.
Made from sustainable materials including organic cotton, canvas upper, and a natural rubber sole fresh from a rubber tree. No animal glues or toxic dyes are used and they are hand-stitched by certified fair trade employees.
They have a good range of sustainable men's sneakers including high tops, slip-ons, and low cut, with a number in this classic style many are so fond of.
---
14. Merino Wool Knit – Giesswein
If you like the properties of merino wool then Giesswein would certainly be worth a look. Like Allbirds, this sustainable footwear brand uses 100% virgin merino wool so it is made from the finest, softest wool available.
The great thing about these men's shoes is that 1) you don't need to wear socks and b) they are machine washable, so they are super easy to clean and maintain.
As above the upper is made from 100% natural wool, and the sole is made from EVA.
These sustainable sneakers are available in a good range of colors for both the sole and upper and they have a range of merino shoes and clothing for men and women.
---
15. Nisolo – Everyday Low Top
If you or your man are looking to go a little more formal or looking for work shoes, then Nisolo's dress shoes might be worth a look.
This particular shoe is made from high-quality waterproof leather, while eco-friendly materials such as organic cotton and natural rubber are used for the sole and laces.
The leather used in their shoes is 'Certified Group Leather' and not to mention their shoe is 0% net carbon. 100% living wages are also paid to those that make them.
Nisolo has a large selection of shoes for men ranging from sandals and slip-on to formal and work shoes.
---
16. Rothy's
This shoe brand is somewhat famous for its shoes being made from recycled plastic bottles, but its men's shoes are also very stylish.
They have a thread spun from water bottles and their shoes are created from that, along with their laces.
In 2022 Rothy's were looking to achieve zero waste, not only that they were looking to use twice recycled materials in their shoes which is a world first.
Rohty's has a good selection of loafers, sneakers, and boots for men.
---
I hope you enjoyed the list. Do you have a favorite sustainable men's sneaker you think deserves to be on the list? Share it below in the comments!