Toms shoes not for you?
Looking for some eco-friendly slip-on style shoe brands that are similar to Toms?
If you are one of those people we have you covered.
We have been on a mission and hand-picked a selection of 17 Toms alternatives, Toms knockoffs, and companies like Toms.
There are a lot of cool options available, so we hope you find the list useful.
Read on to check them out.
In A hurry? Check out 3 of our favorites below
Allbirds Wool Loungers

Editors Pick


• Made from merino wool
• Renewable materials
• Machine Washable
• Many colours to choose from
Check Price at Allbirds.com
Etiko
• 100% Vegan
• Certified Fair Trade
• Hand Stitched
• B-Corp Company
• 100% organic cotton used
Check Price at Etiko


Bendy by Ashbury Skies
• Lower carbon footprint than most asian made leather shoes
• Hand stitched not glued
Check Price
Best Shoes Like Toms / Toms Alternatives

1. Bendy by Ashbury Skies
Made from
Italian suede, footbed from slow recovery eco foam
Their Eco Pledge
Pledge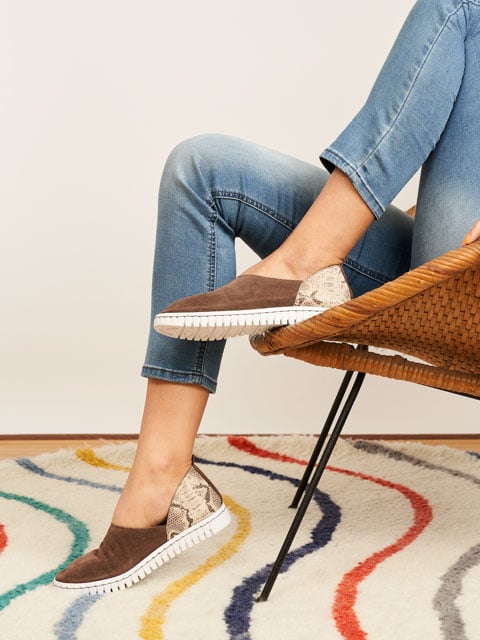 BENDY is simple, comfortable, stylish and planet friendly. The BENDY has less than 8 components vs 25-30 in an average leather sneaker. This means comparatively BENDY uses less labor and fewer emissions are needed to make the shoes. And because they are made in California, there is less transportation, BENDY has a lower carbon footprint than other leather Asian-made shoes.
Additionally, unlike most shoes, BENDY is stitched together instead of glued. This reduces toxic glue during assembly and reduces worker exposure to toxic vapors.
Bendy has a double thick, cushioned insole that feels like you are stepping down on a pillow. The footbed is made of slow recovery, breathable, eco foam. It's similar to the kind you would find in a high-performance running shoe and will form to your particular foot shape.
---
2. Women's Wool Loungers – Allbirds
Made from
Merino Wool
Their Eco Pledge Pledge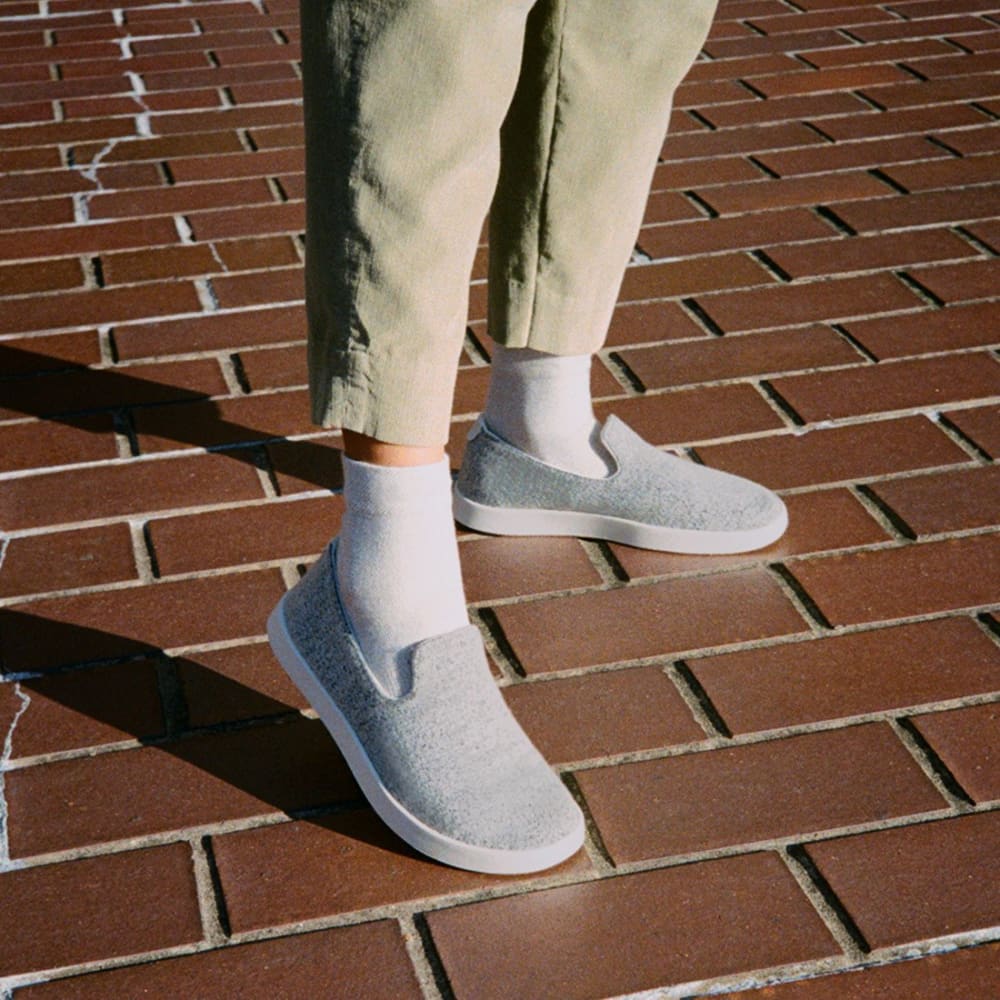 I'll be honest. I'm a fan of the Allbirds style. All their products look extremely slick and it's all eco-friendly to boot and in my opinion rival any shoe brand in terms of design. I have a pair of wool runners and love them.
The Allbirds Wool loungers, are another great choice as a Toms alternative.
These particular slip ons are made from merino wool and completely renewable materials.
Along with these Wool Loungers, Allbirds have a similar pair of shoes but made from eucalyptus tree fiber.
They also have a range of men's range.
Want comfortable and stylish slip ons for your feet? I highly recommend you check them out.
---
3. Madison Sneaker – Dr Scholls
If you are looking for off brand shoes like Toms but cheaper these popular slip-on shoes from Dr. Scholls Madison sneakers are worth a look.
These slip ons are lightweight and flexible and made with the use of recycled bottles from the ocean.
There is a huge range of colors and styles that will suit everybody's tastes and have a range of slip ons and sneakers for men, women, and kids and are a great choice for Toms shoes knockoffs.
---
4. DONNA SUSTAINASOLE – Sanuk
Website | Sanuk
Made from | 55% recycled content by weight
Their Eco Pledge | Pledge
For those people looking for some funky eco-friendly alternatives to Toms, Sanuk has a great option with their Donna Sustainanasole's.
Made from BLUMAKA recycled foam soles; footbeds made with 85% recycled PU foam, lined with 100% recycled polyester; and uppers constructed of 100% Recycled GRS Certified Fibers this pair of shoes will look stylish on those summer days outdoors.
Sanuk has a large range of slip ons and other shoes for women, men and kids.
---
5. Thousand Fell Woman's Slip On
Website | Thousand Fell
Made from | Recycled shoes, recycled rubber, recycled PET
Their Eco Pledge | Pledge
Thousand Fell provides cute Toms Shoes alternatives, in particular in the form of this pair of recycled slip ons.
These beautiful white slip ons are made from a number of eco-friendly materials such as recycled shoes, PET, and rubber.
These shoes are breathable, durable, and come in a range of sizes from 5-10.
They also have a footwear range for men.
---
Website | Biankina
Made from | Organic cotton, all-natural rubber, elastic
Their Eco Pledge | Pledge
These canvas shoes and alternatives to Toms Shoes are perfect for those of you that are vegan. Made from organic cotton, and natural rubber, these shoes are 100% cruelty-free vegan slip ons.
They are handcrafted by Spanish artisans and the sizes run true to size and are lightweight, very breathable, and comfortable to wear.
They have a bunch of different color options and are a great option for women looking for perfect travel shoes.
---
7. LUCAS VEGAN SLIP ONs – Matt & Nat
Website | Matt & Nat
Made from |
Their Eco Pledge | Pledge
These beautiful vegan slip-on shoe is another great example of shoes like Toms Shoes.
These are the kind of travel shoes discerning women can wear anywhere.
Matt and Nat are constantly sourcing sustainable to use in all their shoes.
They produce a range of different shoes and slip ons.
---
8. SEQUOIA II OLIVE – Saola Shoes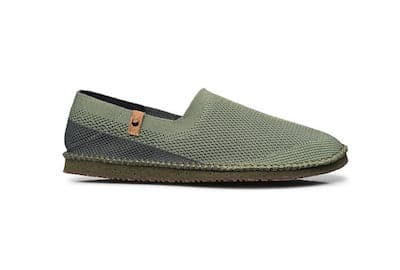 Website | Saola Shoes
Made from | Recycled plastic bottles (90%) 100% natural cork + Algae Foam, Recycled EVA (20%) + EVA
Their Eco Pledge | Pledge
This pair of shoes that are similar to Toms by Saola shoes should please the environmentalist in all of us.
Made from recycled plastic bottles, natural cork, and recycled EVA these slip on shoes have a beautifully unique style for those people wanting to wear something a little different.
The Saola brand has a range of slip on for women and guys as well as a big collection of other eco-friendly shoes.
---
9. Gradient – Mattisse Footwear
Website | Mattisse
Made from | Synthetic leather
Their Eco Pledge | Pledge
These shoes like Toms, by Mattisse are PETA-approved vegan shoes.
Made from synthetic leather with a man-made outsole, these super comfortable shoes are great for people looking for something a bit more funky than usual.
Matisse as a brand, strives to use sustainable and re-used materials when possible as well as continually aiming to reduce waste.
Find out more
---
10. Women´s The Barton – Suav shoes
Website | Suav Shoes
Made from | 100% Recycled Digital Knit
Their Eco Pledge | Pledge
Women´s The Barton by SUAV shoes are other shoes like Toms that are worth a good look.
These stylish shoes have a cool no-stitch design, are soft and breathable and you can wear them with or without socks. Not only that they are easily washable.
It has a low-density rubber outsole which helps with comfort while you walk.
All SUAVS shoes uppers are digitally knitted out piece by piece with post-consumer Recycled Water Bottles, reducing material waste in production.
---
11. OPANKA II WOMENS OBSIDIAN – Vivobarefoot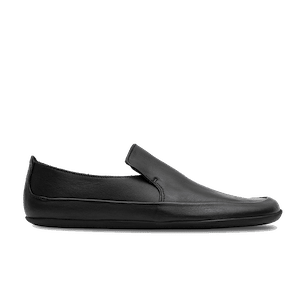 Website | Vivobarefoot
Made from | Canvas & Leather
Their Eco Pledge | Pledge
Made from local sustainable leather from Portugal, these Toms shoe alternatives are perfect for people looking for a lightweight, barefoot shoe to wear.
Light, breathable, and extremely flexible, these shoes have a style perfect for casual or smart alike.
---
12. MORRIS VEGAN SLIP-ONS – Goodguysdontwearleather
Website | Goodguysdontwearleather
Made from | Vegan leather, rubber sole
Their Eco Pledge | Pledge
This Morris Vegan slip on is a great Toms shoe alternative.
Made entirely from vegan leather with a rubber sole and removable insole, this pair of white shoes are unisex and are perfect for guys and women alike.
Perfect for a variety of dress occasions.
Find out more
---
13. SQUADRON – Low-Cut Sneakers – Po-Zu
Website | Po-Zu
Made from | Pinatex and Linen, featuring an elastic gusset
Their Eco Pledge | Pledge
Star Wars fan? Well, these are for you. Po-Zu's alternative to Toms Shoes comes in the form of this pair of vegan slip on named "squadron".
Officially licensed with Disney/LucasFilm you will look like the most stylish of Jedi in this slip on.
Po-Zu are all about sustainability and handpicks its materials from some of the best sustainable sources such as organic, sustainable linen, Piñatex, and organic cotton.
If you are one of those people that want to feel part of the force, then you can't miss this star wars design & themed shoe.
Check them out at Po-Zu
---
14. BOSSANOVA WORN OUT LEATHER SNEAKERS – Osklen
Website | Osklen
Made from | LWG Gold Rated Bovine leather
Their Eco Pledge | Pledge
With their yacht-style worn leather sneakers, this pair of Toms alternatives provide a sophisticated-looking design for the classy individual.
This brand provides a number of other slip-on options with a design to suit everyone and options for men and women.
---
15. Slip On Grey & White – Etiko
Website | Etiko
Made from | Organic Cotton, natural latex rubber.
Their Eco Pledge | Pledge
This pair of skate shoes are made from Certified Fairtrade, Organic Cotton, and 100% Vegan. there are no animal glues or toxic dyes and they are hand-stitched by fair trade employees.
A certified B-Corp brand, Etiko offers unisex a slip-on suitable for men and women and is meant to be on track for net-zero carbon emissions this year (2020)
---
16. mocUP dar – soleRebels
Website | Sole rebels
Made from | Organic Cotton, recycled tires.
Their Eco Pledge | Pledge
If you are looking for a pair of finely handcrafted slip on shoes then check out this pair from soleRebels. Made in Ethiopia from organic cotton and recycled tires these shoe ooze personality.
SoleRebels have a range of slip-on footwear and a variety of other sustainable shoes for men and woman. Their products are very unique so if you want a purchase outside of the norm I suggest checking out their range.
All soleRebels shoes are ethically made using sustainable materials when possible.
Find out more at soleRebels
---
17. EMMI SLIP-ON WHITE – Terhi Polkki
Website | Terhi Polski
Made from | Recycled felt upper & 30% coffee beans and 70% natural rubber sole
Their Eco Pledge | Pledge
Designed in Helsinki and made in Portugal, this pair of slip on shoes are a great compliment to your favorite outfit and also water repellant for those unexpected wet days.
Terhi Pollki has a range of shoes from boots, to heels for me and women.
---
18. TÊNIS SLIP ON PALHA – Un/Do Upcycling Shoe Co.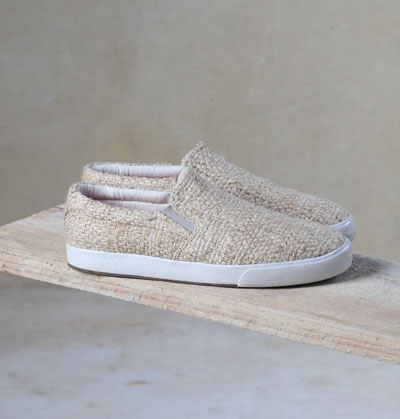 Website | Un/Do Upcycling Shoe Co.
Made from | Recycled felt upper & 30% coffee beans and 70% natural rubber sole
Their Eco Pledge | Pledge
We really like the design of this pair of slip on from Up/Do and think they would look good with any clothes and situation.
These shoes are made from up-cycled vegan materials are very lightweight and have a low environmental impact.
Un/Do have a whole range of eco-friendly products ranging from belts and wallets to shoes and handbags.
Find out more at Un/Do Upcycling Shoe Co.
---
Whether you are looking for a high quality alternative that might be better than Toms or some cheaper knock off Toms, there is definitely an option for you.
Hopefully, you enjoyed the list. Is your favorite brand not here? Let us know in the comments, we would love to add them!