There is some pretty slick slip-on shoes out there.
But which companies make sustainable slip on shoes?
Below we detail 9 sustainable shoe brands making slip ons for men and women using natural and recycled materials.
Cariuma has a very open and highly sustainable shoe that is pretty darn nice to boot, for those looking for a company going above and beyond with their green practices.
Likewise, Allbirds are another very reputable brand with stunning shoes and transparent business practices open for those to see.
More concerned with style? We think Suavs are, well, Suav and in our opinion some of the most stylish out there.
Wondering how we chose the shoes in this article? Check out our process below.
Sustainable Slip On Shoes
1. Allbirds Tree Loungers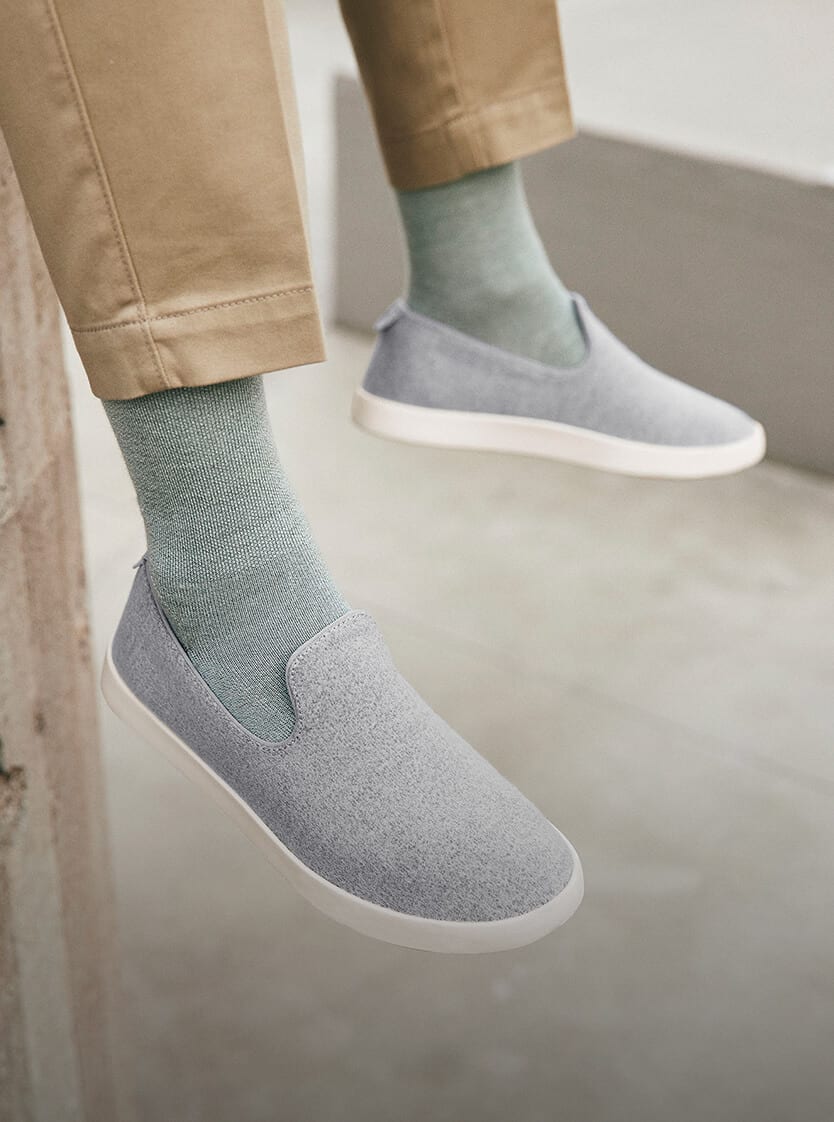 I do like Allbirds shoes, I have a pair myself. They are stylish and comfortable, but also look great.
As do these slip-on Tree loungers.
Born in New Zealand, Allbirds have quickly grown and exposed the desire for eco friendly shoes all around the globe.
Now also in the USA, and recently become a public traded company, Allbirds continue on their mission to become 'climate positive' which would make them one of the few, actual, sustainable shoe brands around.
Even though they achieved carbon neutrality, they haven't stopped there with plans in place to continue evolving their processes while also trying to offset carbon.
It's a noble goal more businesses should take up.
Notable features of these shoes are that they are machine washable, flexible and they minimize odor.
Materials
The Tree Loungers are actually one of two sustainable shoes made by Allbirds using two different base natural materials.
Though Allbirds became mostly famous for merino wool shoes, these particular shoes are actually made from eucalyptus tree fibers (upper).
The sole is made from their proprietary material SweetFoam®, which is the 'world's first carbon negative green EVA'
When it comes to the insole it has been layered with caster bean oil and ZQ Merino wool.
Allbirds even give you a breakdown of the carbon footprint of these shoes. 7.6 kg CO2e. Any extra carbon emissions are offset.
Products & Range
When purchasing Tree Runners you have a pretty neat selection of color choices and combinations to choose from with 10 options available.
They stock both men's and women's shoes with men's sizes ranging from 8-14 and women's sizes from 5-11.
One thing to note is that they only do full sizes. No half or quarter sizes.
It is recommended to size up. I did this with my wool runners and it worked out nicely for me.
Where/how/by whom they are made
Allbirds has a number of different factories around the world making their shoes, however, these particular shoes are made in Vietnam.
As far as workers' rights and the supply chain are concerned Allbirds – "seek suppliers who work to improve the standard of living for their employees through wage systems and benefits. And we also expect full transparency of all partners' supply chains and visibility into the names and locations of their sub-suppliers."
Certifications & Sustainability
Allbirds are B-Corp certified and also only source their eucalyptus from FSC® Certified Forests.
They support a number of green initiatives which you can see here and their packaging is made from 90% recycled cardboard.
There is also an initiative called 'Rerun' which enables you to buy pre-loved Allbirds and also enables you to minimize YOUR footprint, instead of just dumping your shoes.
---
2. Cariuma IBI SLIP-ON
'One of the lowest carbon footprint sneakers ever made'
Three times fewer than the industry standard per pair.
You have to give credit to Cariuma. They have gone to a lot of effort to ensure they are moving in the right direction in terms of sustainability.
Most materials are independently certified and even the carbon emissions of their slip ons has been independently measured and certified.
All of which is very openly and visibly displayed on their website.
The shoes are also machine washable.
Materials
These stylish shoes are made from sustainable & natural materials including bamboo and recycled plastic knit for the upper and lining, while the insole consists of a lightweight foam, cork and Mamona oil whilst the outsole consists of a green EVA which is made from sugarcane and has a negative carbon emissions balance.
Almost all the materials used in the shoe have been certified by an external organization which we go into below.
Products, Range & Shipping
Cariuma's slip-ons come in a numerous range of colors with 13 different colors to choose from
Sizes for both men and women range from 5 – 13 with half sizes available.
Shipping is 'free and fast' but international shipping costs. When you purchase a pair of these shoes they are delivered with carbon neutral shipping through DHL Go Green.
They have a return guarantee of 60 days (with conditions of course)
Where/how/by whom they are made
While we couldn't quite ascertain where these particular shoes were made it is mentioned that the lowest wage paid by supply partners to their workers is 49% above the minimum wage. They also have a code of conduct of which their manufacturers are audited each year which is certified WRAP – GOLD.
They have 100% traceability with their tier 1 suppliers.
Certifications & Sustainability
Cariuma has really put a lot of effort into being third-party certified all through their production process.
To begin with, they are a B-Corp company.
Most of their sustainable materials are certified, such as their bamboo which is certified by the Forest Stewardship Council, the sugarcane by 'I'm GREEN', the recycled PET by the Global Recycling Standard, and their packaging by the Forest Stewardship Council.
The company is also certified with Global Textile Standards (GOTS), Leather Working Group, OCIA International, and OEKO-TEX.
On top of all of that, the carbon output of the shoe is ISO Certified.
AND
With every purchase, 2 trees are planted in the Brazilian Rainforest.
---
3. Thousand Fell Slip Ons
"The world's first recyclable sneaker."
"Get paid to recycle"
Thousand fell are working hard to minimize their impact on the environment, while also putting some onus on you, the purchaser, to do the right thing.
We will explain below how that all works, but the idea is to keep their shoes in a 'closed loop'.
Designed in NYC and made in Brazil, Thousand Fells shoes are 100% animal-free and vegan sneakers.
Notable features about these shoes are the fact they are made sock and odor free with an anti-odor inner made from Aloe Vera.
Materials
Thousand Fell's slip-ons are made from recycled bottles, natural rubber & innovative food waste component parts.
The insole is recycled rubber from old yoga mats while the upper consists of recycled plastic bottles.
They have replaced unnecessary plastics with the use of coconut and husk sugar cane, while also using natural materials, Aloe Vera & quartz, to coat the shoes to protect them from water and stains.
All materials are responsibly sourced and are only chosen if they are can – biodegraded, recycled to make new shoes, or up-cycled into materials for new projects.
Products & Range
These sustainable shoes come in a variation of up to 16 colors, but the area of color change is somewhat smaller (not the whole shoe) though there is a base black or white option.
They produce shoes for both men and women and sizes for women range from 5-10 with half sizes and 8-13 for men with half sizes..
Where/how/by whom they are made
Thousand Fell shoes are made in a small family owned factory located in Franca, Brazil which has been in business for 3 decades. It doesn't seem to give much more information on their website than that in terms of Fair Trade and workers' rights.
Certifications & Sustainability
Thousand Fell is a B-Corp pending company and is also certified by 'Textile Exchange' which is a global non-profit which works with companies to continue to ensure they are using the best practices possible, from farming to processing to materials.
Along with the above certifications, Thousand Fell is also part of 1% for the Planet.
Now, the whole idea around Thousand Fell's 'closed loop' is that all materials from previously used shoes can be either decomposed, reused or re-purposed into more shoes, or something else in order to achieve zero waste.
They incentivize you to recycle your shoes when you have finished with them by asking for a $20 recycled deposit, which you can get returned to you when you hand your shoes back in to be re-purposed.
Find out more at Thousand Fell
---
4. Etiko Slip On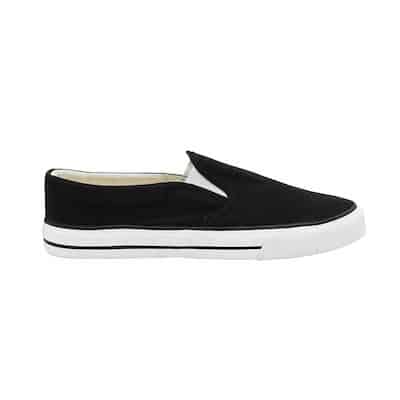 Etiko, or 'Ethical' in greek is on a mission to be Australia's most ethical company. Founded by Nick Savaidis in 2005 Etiko was created as Nick couldn't find things to buy that he was 100% sure weren't made by children or a suffering worker in a sweatshop.
Etikos have an admirable mission to not just 'not do harm' but to 'do as much good as possible and this is reflected in their products and their business practices.
Materials
Etiko makes their eco-friendly shoes from natural latex rubber soles (soles) while the upper is made from organic cotton which is hand-stitched by fair trade certified employees.
No animal glues or toxic dyes are used in the production process.
Products & Range
Etiko offers a couple of different color options and makes these sustainable sneakers for both men and women.
Men's sizes range from US 4-13 while the female sizes are also the same so are unisex sneakers. No half sizes seem to be available.
Where/how/by whom they are made
This particular pair of shoes are made in Pakistan and source their organic cotton from India while their natural rubber is ethically and sustainably sourced from Sri Lanka.
There is a code of conduct with numerous conditions of ethics and standards which their employees are given. Too many to list but you can read them here.
Certifications & Sustainability
Using sustainable materials and fair trade practices, Etiko has picked up a number of local a global awards and certifications.
They are a B-Corp company, Fair Trade Certified, and also Social Trades certified.
On their website, they were supposed to be on track to be carbon neutral by 2020 (no update on whether that happened) but had measured their CO2 output and were purchasing carbon credits to offset their carbon output.
---
5. Suavs The Barton
Suavs certainly are suave.
They look great and by choosing this shoe brand you help reduce the waste of plastic bottles making their way to the ocean.
These 100% vegan shoes are also machine washable and are tested each production run to ensure they are the safest for your feet and the environment.
Materials
Suavs utilize recycled materials for their shoes, more specifically the upper is made from 100% post-consumer recycled digital thread (such as recycled water bottles).
The insole is a polyfoam while the outside is made from a low-density rubber. All vegan materials.
Products, Range & Shipping
As far as selection goes, Suavs offer a couple of different colors of their slip-on. For women, sizes range from 5 to 12 with some instances of half sizes, while for men, sizes range from 8 -14 also, with some instances of half sizes.
Shipping is free within the US for standard shipping and the shoes have a 1-year warranty.
Where/how/by whom they are made
Suavs are made in a manufacturing facility in Fujian, China. They are ethically made and periodically audits are performed by the Suavs team to ensure safe labor practices and working conditions are met.
Certifications & Sustainability
Unfortunately, no visible certifications were found on their website but they are a member of Soles4Souls so any excess product is donated to organizations that empower people in need.
---
6. Vivobarefoot OPANKA
Vivobarefoot, funnily enough, believes staunchly in the health benefits of being barefoot.
Their sustainable shoes are created with this in mind and their design around how to make the shoes feel the most natural they can possibly be. Thin. Wide. Flexible.
What are some of the benefits of Vivobarefoot shoes?
According to Vivo, going barefoot increases sensory information to the brain increases foot strength by 60%, and improves balance and stability.
Materials
Vivobarefoot has natural rubber soles for their shoes with a premium leather upper, so for those looking for vegan options this is not for you.
The leather comes from one of 2 places, Pittards in Ethiopia, and Interhides Plc. in Thailand. The cattle are 'free-range' and reared by independent smallholder farmers.
Products, Range & Shipping
There are a couple of color options with the one-style slip-on. These pair of shoes range in sizes from 5.5 to 11.5 with some half sizes available, while the men's range from 7-10 (which was a bit strange, however that was what was available to me at the time!)
They offer free delivery on orders over $120, otherwise delivery is $5 standard.
They also offer a 100-day trial. If you change your mind within the time period they will refund you.
Where/how/by whom they are made
These rubber and premium leather shoes are made in Porto, Portugal. Currently, most of the Vivobarefoot line is made in China, however, they are in the process of moving that production to Vietnam.
They have a comprehensive code of conduct in regards to their workers, employees, and fair wages.
Certifications & Sustainability
Vivobarefoot is a B-Corp company and is always striving to better its production practices, reduce its environmental footprint, and find more sustainable materials.
They also run a program 'Revivo' in which they re-sell reconditioned, pre-loved shoes in order to try and keep their products in a closed loop.
Find out more at Vivobarefoot.com
---
7. Baabuk Wool Slip On
Baabuk makes merino wool shoes much like Allbirds, but is a small family-owned business. Based in Switzerland with production in Nepal and Portugal they are able to control their supply chain without having to answer to big execs or shareholders.
Wool is great for regulating your feet's temperature, whether it is hot or cold outside, and thankfully these sustainable sneakers are able to be machine washed.
Materials
Baabuk is a similar alternative to Allbirds, in that they are both made from natural materials like merino wool.
The upper and inner are made from 100% Portuguese mulesing-free sheep wool from sheep roaming free in Serra da Estrela Natural Park, while the soles are made from natural latex from rubber trees.
Products, Range & Shipping
These eco-friendly shoes come in 3 stylish colors and the sizes available are from around 6- 13 US (approx) and are unisex in terms of design.
Shipping is free on orders over $150 otherwise $10 for regular shipping.
They have a 30-day return policy, but also have a U-Turn policy if the size isn't quite correct. This entails you passing on your shoes while getting a 50% discount on your next order.
Where/how/by whom they are made
Baabuks eco-friendly shoes are made in Portugal due to their extensive knowledge and experience in shoemaking and due to the location being the same as the materials for the shoe (wool).
Certifications & Sustainability
Baabuk is a certified B-Corp company and also a family-owned business, so they have complete control over manufacturing and distribution processes.
They also developed a program 'Miss Baabuka' where they have been working with the Swiss Foundation ProSpecieRara to join their work in protecting six endangered species of sheep native to Switzerland.
Also, Baabuk has developed a repair kit for your shoes, in order to ensure your shoes can last for a longer period of time.
---
Specializing in trendy women's shoes, Biankina has a good array of slip-on that are 'the most breathable sneakers of all time.'
All their eco-friendly shoes are handcrafted, have ethical manufacturing, and use sustainable materials as much as possible.
Materials
Biankina uses natural materials to make their slip-on including natural organic cotton for the upper and natural rubber for the soles. They are cruelty-free and vegan.
Gabardine is used for the lining.
Products, Range & Shipping
Biankina has a couple of styles with around 6 different color options for these eco-friendly shoes.
Sizes range from 6-11 with an 8.5 half size.
Standard shipping is free in the US, Canada, and Europe and they have a 30-day return policy available.
Where/how/by whom they are made
All shoes made by Biankina are handcrafted in ethical workshops in Europe.
Certifications & Sustainability
The organic cotton used in these shoes is GOTS certified which ensures all organic textiles adhere to high-level environmental and social criteria.
The shoes are also Peta approved and Cruelty-Free certified.
On top of the certifications, Biankina plant 2 trees forever purchase made.
---
9. Saola VIRUNGA NAVY
With a mixture of recycled materials like water bottles and sustainable materials like cork & algae foam, Saola has created a beautiful pair of slip-ons for both men and women.
With the purchase of what 'might be the lightest shoes, you will ever own' you also help contribute to a number of diverse conservation projects.
The shoes are 100% vegan and machine washable.
Materials
Saola's slip-ons are made from bio-based and recycled materials. The upper consists of 4 recycled plastic bottles, while the insole is 100% natural cork, harvested algae foam, and EVA mix.
The outsole also is created from natural algae and EVA with rubber reinforcements.
Products, Range & Shipping
Saola's slip-ons come in a couple of different styles with a few different color options. Sizes for men range from 7.5 – 13 while women's sizes range from 6.5 – 10.5 with some half sizes available for both.
There is free shipping on orders over $69 and they have a one-free return policy.
Where/how/by whom they are made
Saola's shoes are made in factories in Vietnam that have social and environmental charters in place from other larger brands. Saola is taking things further and applying for BSCI which provides a system that helps companies gradually improve working conditions in their supply chain.
Certifications & Sustainability
There are a number of charities that benefit when you purchase a pair of Saola shoes. Below is a list of organizations in which Saola donates to 1% for the planet, 1% goes to Mwalua Wildlife Trust, 1% goes to Friends Of Bonobo, 1% goes to Sun Bear Outreach, 1% goes to See Turtles, 1% goes to Coral Guardian.
Saola shoes also have the following certifications: Bloom, Global Recycled Standard, and GOTS.
Find out more at Soalashoes.com
---
How we chose the best sustainable slip-ons
There are a number of things to consider when looking for sustainable clothing or a sustainable brand to buy from.
Here are the things we considered when selecting the products above.
Materials
About 60-70% of the carbon footprint of shoes comes from materials and manufacturing, so we looked for companies that used sustainable practices and materials.
We wanted these companies to be transparent in what materials they were using and where/how they were being sourced.
Some companies, for example, use materials like recycled water bottles in their production, while some use certified plastic bottle sources, so we try and keep in mind the extent to which the company goes to ensure the best materials and practices.
Certifications
As we mentioned above, if a company claims to be using sustainable materials, are they really? And where are they sourced?
This is where independent certification comes in.
We looked for companies that can back up their claims they are using sustainable materials, supply chains, and ethical working environments.
We have supplied links to certifications you will see in this article so if you so desire, you can find out more about what they do and what they recognize.
B-Corp. GOTS. Bloom. Global Recycled Standard. PETA Approved. Cruelty-Free. Fair Trade Certified. Social Trades Certified. Textile Exchange. Forest Stewardship Council. 'I'm GREEN'. Leather Working Group. OCIA International. OEKO-TEX. ISO Certified.
Environmental work
Most of the choices above, along with being certified partake in environmental projects such as 1% for the Planet, or other more specific charities or projects. A couple of examples are planting trees for each purchase, or animal conservation charities.