I'm one of those people that have terribly cold feet. I need to have socks or slippers on my feet to feel warm.
This lead me to find out where I can purchase the best sustainable slippers and see what options are available.
I hope you enjoy the list.
Top 13 Best Sustainable Slippers / Ethical slippers for 2020
Below I have compiled a list of 13 of my favorite sustainable slippers.
1. Baabuk Sustainable slippers
Baabuk is all about being innovative and curious with their sustainable high quality shoes and felted wool slippers.
The company aims to pair comfort with sustainability and natural materials so that consumers can feel good about their purchase in every way. The founders started the company after taking eight hours to handcraft a pair of slippers from natural wool.
The family-owned uses Merino wool from well-cared-for New Zealand sheep and focusses on ethically made products and are a B Corp company.
Their farmers' processing practices don't harm the environment.
They also manufacture their products in a factory in Nepal, where they can give back to the local community.
The wool is naturally antimicrobial. The natural rubber soles are flexible with just enough padding.
These wool slippers will keep you feeling cozy in all weather.
Wool keeps you warm in the winter and cool in the summer and are certainly some of the best natural slippers the world has on offer.
---
2. Allbirds Wool Loungers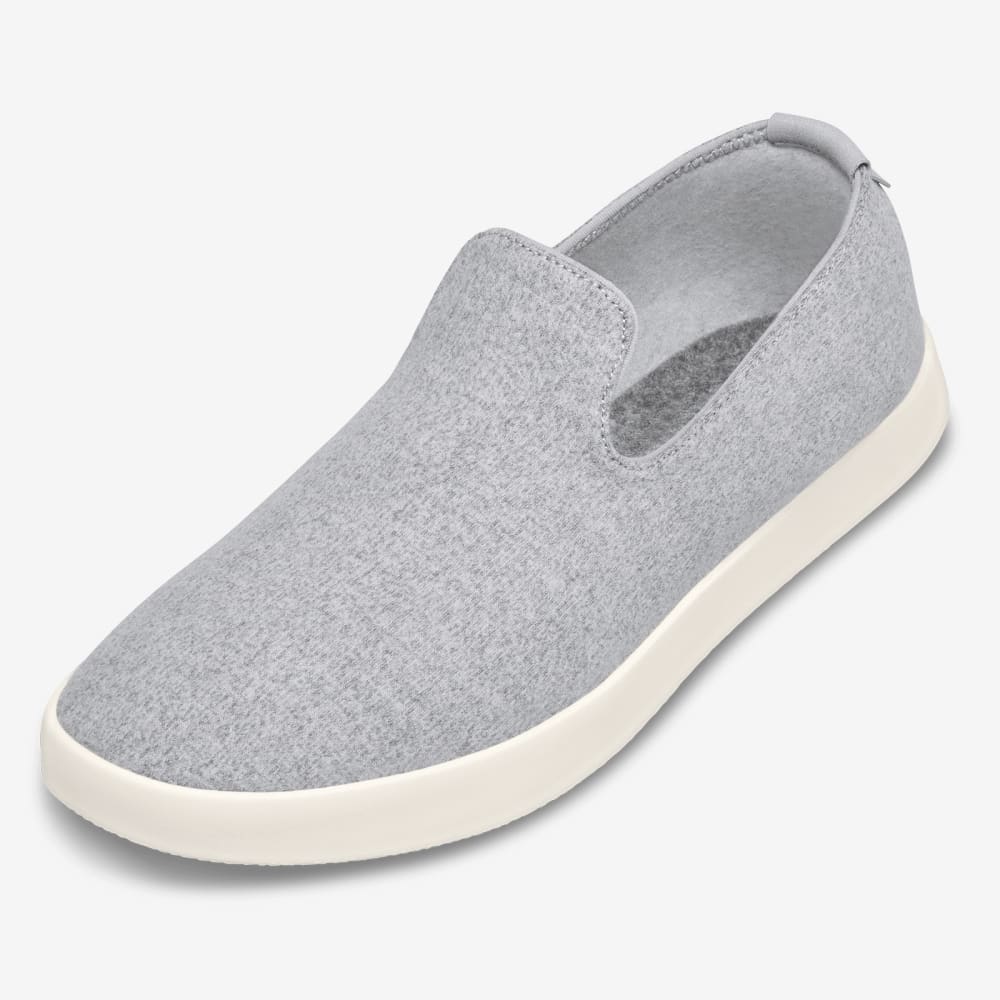 Keep your feet warm and look stylish with the Allbird's Wool Loungers.
These wool loungers are made from merino wool which means they are soft, cozy and warm, and easy to slip on and off for convenience.
The merino wool helps to eliminate odors, and the best thing about these house shoes in my opinion is that they can be thrown in the washing machine to be washed. I like easy maitenance and thats about as easy care as you can get.
These house shoes also come in a good range of colors and are available for men and women.
If for what ever reason you don't like wool house shoes, then Allbirds also offer and alternative made from eucalyptus fibres.
These are also made in the same classy style and also has good color options.
---
3. Betterfelt
We don't just like Betterfelt because of their clever tagline, "You have never felt better!"
The Danish company makes hand felted slippers in Nepal, paying fair trade wages.
The method for washing the slippers helps them retain their natural lanolin. Lanolin provides resistance against dirt and moisture.
This pair of slippers will regulate your body temperature, so it's best to wear them without socks.
The company makes a few styles of slippers from natural materials. The booties are perfect for keeping your ankles warm.
---
3. Kyoto Unisex 100% Organic Hemp Slippers
Rawganique makes chemical-free cotton linen hemp products. They have a few styles of house slippers that are comfortable, grounding, and have fair trade & ethical labor practices and sustainable materials.
The Kyoto Unisex 100% Organic Hemp Slippers are created from 100% organic hemp.
These eco slippers are made from organic European hemp and are all hand-crafted.
They do not contain any glue, rubber, latex, or chemicals.
They're ideal for consumers that are sensitive to chemicals.
---
4. Chilote
Chilote wool slippers just look earthy. The way their handmade slippers are created is through a network of independent woman artisans, empowering the authentic culture of Patagonia's artistry and people.
Some of them are 100% raw natural sheep wool. The wool is thick and plush but breathable. Others incorporate locally sourced organic vegetable-tanned leather or salmon leather for the outsole. Over time, the slippers conform to the shape of your foot.
When you purchase a pair from this Chilote, you'll get a QR code that lets you track your slippers to the particular artisan group in Patagonia that created them.
Each pair of Chilote house slippers comes with a repair kit for self-care, so that you can mend them instead of replacing them, making them even more eco-friendly and some of the best slippers around.
The production process of each of their pairs of eco slippers is highly eco-friendly and as a result, has a low carbon footprint which is so important in the face of today's climate change.
The production process of each of their pairs of eco slippers is highly eco-friendly and as a result, has a low carbon footprint which is so important in the face of today's climate change.
---
5. Muffle-Up!
Canadian company Muffle-Up! is all about reclaiming used materials. The slippers are constructed with upcycled leather on the soles and repurposed sheep's fur for the linings. The rest of the foot covering is made of soft, non-itchy wool for extra comfort. Scraps that are cast-off during the manufacturing process go to local artists.
The products are handmade in Ontario, Canada. Muffle-Up! has made a public acknowledgment that it respects the land, history, and people of the Algonquin territory in which the products are made.
---
6. Thought
Many slippers look similar to one another. You see lots of booties and mules. Thought slipper socks are a little different. They look a little more delicate and feminine, but they're just as rugged as the rest of them. The hand-drawn print makes these slippers unique.
The bamboo and organic cotton are sustainable materials. The lining is made of recycled polyester. These slippers are also easy to keep clean. You can just toss them in the wash when they get dirty.
---
7. Freewaters
Freewaters makes eco friendly slippers, among other casual footwear, such as sandals and sneakers. The slippers are vegan, the products are made with no PVCs or harsh glues, and the packaging is eco-friendly. These slippers use bags made from eco stone powder instead of plastic materials and a great choice for the eco conscious.
Freewaters also has a mission to provide clean water to communities that need it. Freewaters sends 1% of its net sales to grassroots organizations.
As for the slippers, they have an indoor-outdoor sole that's perfect for casual days spent around the house. They slip on easily and keep your feet cozy.
---
8. Rikumo
Rikumo room slippers are made of Sasawashi fabric. This material comes from a type of Japanese paper that's infused with plant fibers. It's naturally deodorizing and antimicrobial. It absorbs sweat and odors. It's a sustainable fabric that doesn't deplete environmental resources or use wasteful processing methods.
Rikumo works with local Japanese craftspeople and artisans to produce sustainable, simple products.
---
9. Toast
Toast's wool suede slippers are so cozy that they're hard to take off. The upper is made of hand-felted wool. Artisans sew the upper onto a suede sole.
The company follows fair-trade principles, making the slippers via a cooperative in Nepal. The company maintains a solid ethical statement and works only with suppliers that can follow ethically made practices.
---
10. Kyrgies
Kyrgies sells ethically made slippers for kids and adults. The house slippers are made in Kyrgyzstan using centuries-old felting techniques from central Asia and ethical farming practices. The sheep that provide the wool graze free-range in pastures. The slipper-making process takes up to six weeks.
The home slippers are meant to be worn outdoors, but they can withstand light errands outside of the house. They're perfect for wearing to a yoga class or the gym and often come with arch support.
---
11. Parachute Home
Parachute makes products from organic cotton. In addition to its sustainable mattresses, the company offers slippers that are luxurious and sustainable. The Oeko-Tex certified cotton and polyester slippers are created by hand in Turkey. These organic cotton slippers are as soft as a cloud.
The company aims to make products without the use of synthetic or harmful chemicals. It also provides malaria nets to people in need.
---
12. Toms Slippers
Toms is a certified B-Corp company that are working hard to reduce its impact on the environment.
They have a range of slippers available including a number of vegan slipper options.
Their range caters to both men and women.
---

Other Amazing Sustainable Slipper Brands to Check Out
Have a number of ethically, Vegetable-tanned handmade made from Suede Leather slippers all made in Morrocco. All of their suppliers practice sustainable methods including using vegetable-tanned leather only, cotton and sheep's wool with no toxic dyes, and 100% natural palm leaf straw.
The slippers are completely hand made and also ethically made.
They have an eclectic range of products ranging from slippers to pillows to baskets.
An Austrian company dedicated to high-quality style, high-performance materials, and minimal waste. Their process leaves 0% scraps, uses up to 90% recycled water in production, and has 100% use of renewable resources.
They have a range of slippers made from lambskin, wool, and cotton and have a good selection for men, women, and kids.
Make procured slippers that are stylish slip-on denim made from recycled jeans with a lining made from recycled wool or terry. The soles are made from recycled needle-punch carpe.
They have slip-on and zipper slippers for men women and children.
make ethically and sustainably sourced house slippers that also come in recycled packaging. They use vegan wool and have arch support for extra comfort.
15 of every sale goes to their 'Freewater' project which aims to supply clean drinking water to less fortunate areas around the globe.
A Female founded company that uses sustainable materials such as plant-based apple leather & sugar cane as well as recycled bottles.
When it comes to sustainability, your choice makes a difference. Having seen a number of sustainable and eco-friendly slipper options, be sure to check out our organic slippers guide and our mega guide of sustainable shoe brands with over 61+ brands offering stylish environmentally friendly shoe options.
---