The footwear industry is responsible for a staggering amount of global pollution, coming in just behind the oil and gas industry. Now that the consequences of decades of pollution are becoming more and more apparent, many footwear brands are pivoting to become more eco-focused, which includes using materials that are upcycled, recycled, or entirely natural. As a result, it is now easier than ever to find a pair of sustainable boots and to help you with that, we've compiled a list of sustainable boot brands that will have just what you are looking for.
Sustainable Boots
---
1. REI
In an effort to make a significant difference in how they impact the environment, REI Co-op uses responsible sourced natural materials wherever they can when creating boots. They have also ceased using materials that are proven to be damaging to the environment, such as PVC. Supply chains can leave a serious environmental impact, and in order to ensure that theirs doesn't, REI has taken steps to improve energy efficiency and reduce waste.
REI Co-op's boot selection is massive – you can find anything from winter boots to hiking boots to casual boots. There are also an abundance of styles and colors, so no matter what you are looking for you are sure to find it.
Our Pick: Blundstone – An anatomic footbed ensures the utmost in comfort, while the outsoles are resistant to oil, grease, acid, and heat. This is a versatile, durable boot that is surprisingly fashionable.
---
2. Fortress of Inca
Fortress of Inca believes that there's no need for sustainability and fashion to be mutually exclusive. With that belief in mind, the brand has gone on to create beautiful boots that are made with 100 percent sustainable materials, including suede, leather, and wood. Each of their boots is handmade by local artisans that are paid a fair wage for their effort.
From heeled to flat, the selection of boots offered by Fortress of Inca is quite impressive. They offer simple yet elegant styles but also have patterned boots for those who like a bit more flair. The boots are designed to be comfortable and durable so you can rest assured that you will be getting your money's worth.
Our Pick: Tallulah Dahlia – This calf-high boot is accented with traditional Peruvian textiles and is soft, supple, and comfortable. They are versatile enough to pair with a skirt or with jeans.
---
3. Thesus
90 percent of Thesus materials used in their boot fabrication are traceable and sustainable, and they are steadily working toward their goal of 100 percent. They make use of recycled PET (plastic bottles), reclaimed ocean plastic, natural fair trade rubber, and water based glue. In addition, their footwear is free of virgin plastic and all the rubber they use is sourced from forests that are sustainably managed.
Thesus has a broad variety of weekend boots, rain boots, and sneakers. The boots are built to endure any kind of weather and are of the highest possible quality. They are perfect for everyday urban living and just as perfect for outdoor getaways.
Our Pick: Anyday Rain Boot In Black – This pair of boots is essential for a rainy day and are lightweight and waterproof. Each pair is sustainably made with recycled rubber and takes 1.4 Kg out of our landfill and waterways.
---
4. Seven All Around
Seven All Around makes shoes that are suitable for wear every day of the week, footwear that offers unparalleled comfort along with elegance. Every part of their footwear making process is inspired by nature, so it only makes sense that their top priority is protecting natural resources. They utilize both recycled and sustainable materials in all of their designs and their collections are meant to bring attention and funding to nature conservation projects.
Seven All Around has some truly exquisite boots that are more works of art than they are footwear. Their over-the-knee boots are graceful and beautiful, while their knee high boots are more modern and simplistic in design. Their ankle boots are a classic, bold silhouette that lends itself well to casual or formal wear.
Our Pick: No. 10 Black Sparkle Knit Ankle Boot – These boots have a strong but tight-fitting recycled knit and come with a chunky heel that will never go out of style.
---
5. TOMS
The mission of TOMS is to use business to improve lives. A large part of that goal is to ensure that the planet we all live on is taken care of. Recognizing that they are just one company, TOMS still makes an effort to lessen their environmental impact by using materials such as recycled polyester, plant based dyes, organic sustainable cotton, and recycled packaging.
TOMS has boots for both men and women. The boots for women are wedge booties in bold patterns, while the boots for men are for outdoor use. All their boots have pleasing silhouettes and are available in a plethora of colors.
Our Pick: Kelsey Wedge Bootie – Funky and fun, these booties are guaranteed to draw attention whenever you wear them. They're perfect for winter or autumn, day or night.
---
6. Timberland
Timberland's Earthkeeper edition footwear come in versatile styles that are made from responsible materials and methods. Some of the materials used include responsible natural rubber, 100 percent recycled leather, recycled rubber, organic sustainable cotton, and renewable sugarcane – just to name a few. The leather they use is sourced from regenerative ranches and every single part of their footwear is in one way or another sustainable.
Timberland has boots for men, women, and children and the styles include hiking boots, rain boots, and ankle boots. There are a huge selection of sizes and colors, so even the pickiest shopper should be able to find something they like.
Our Pick: Women's Kinsley Safari Zebra 6-inch Waterproof Boots – Incredibly comfortable and featuring an animal print collar, these boots are a conversation starter and better yet, entirely sustainable!
---
7. Huma Blanco
This Peruvian shoe brand makes boots that are painstakingly hand crafted in Lima, Peru. The materials used, such as alpaca and calf hair, are used with natural dyes or left in their pure form in order to cut down on environmentally harmful processes. All the materials are locally sourced in close partnership with suppliers.
Huma Blanco's boots boast a pleasing minimalistic sophistication with different heel types. Whether you prefer bold uniform colors or animal print designs, they are sure to have something you'll love.
Our Pick: Harlow – With a square toe and a flared wooden heel, these boots possess an timeless silhouette that lets them accent nearly any outfit perfectly.
---
8. Nisolo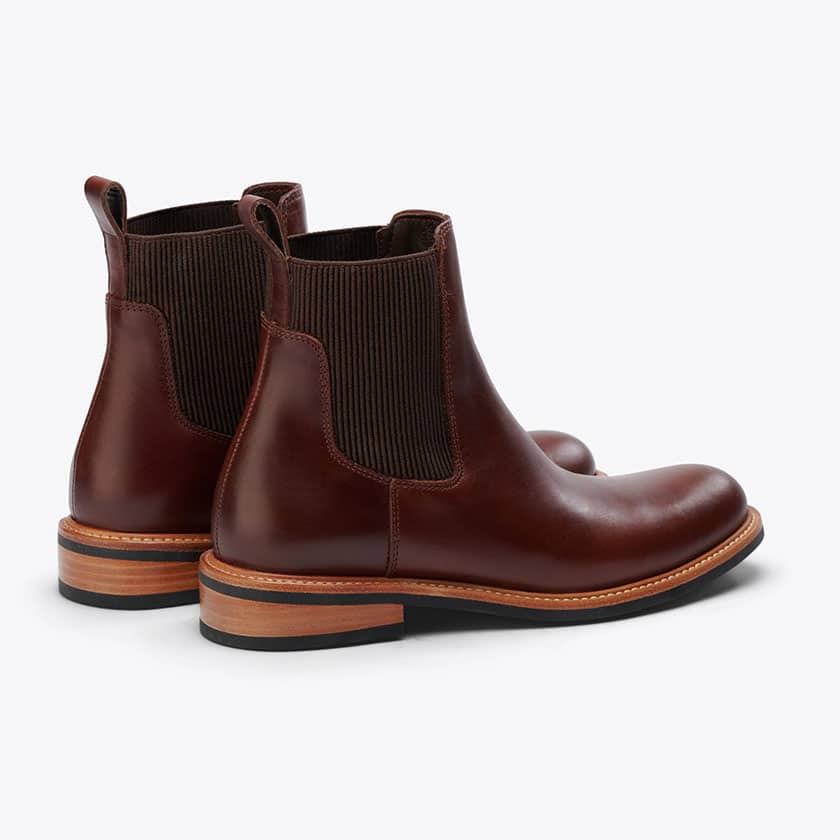 The founders of Nisolo recognize that everything they make leaves an imprint on the planet and that it is entirely possible for the fashion industry to be regenerative rather than depletive if enough effort is put forward. To that end, Nisolo is working hard at both reducing and offsetting 100 percent of their carbon emissions with the goal of becoming zero percent carbon neutral. They source their leather from specialized tanneries that meet the highest environmental responsibility standards and what's more, they use recycled and upcycled materials in their production process.
Nisolo has boots for both men and women in a number of different silhouettes. Quality materials and premium craftsmanship means that you will be getting a pair of boots designed to last a very long time while providing you with the comfiest possible fit.
Our Pick: Carmen Chelsea Boot – The custom leather sole on these boots is lightweight and designed to ensure that every step you take is cushioned. Water-resistant leather means you can wear them even on the rainiest days.
---
9. Nomasei
Nomasei is committed to offering a quality sustainable product at a fair price. Their products must be able to meet two key principles: sustainability and a sense of responsibility. The brand uses both recycled and efficient materials, as well as clean materials such as solvent-free glue. Other steps taken to reduce their environmental impact include water regulation and the installation of photovoltaic panels.
Nomasei's catalogue of ankle and calf boots are sleek and exquisitely designed, available in many different colors and silhouettes. These boots are the perfect fix for an eco-minded fashionista and will perfectly supplement any seasonal wardrobe.
Our Pick: IL DIVO – These sophisticated and boyish boots made from responsibly sourced goat leather have a fleece-lined memory foam insole for a truly comfy fit.
---
10. Matisse
Matisse's collection of boots is all about seamlessly blending contemporary style with injections of bold attitude. Their unforgettable designs are made even more so by the fact that whenever possible, they use recycled textiles and leathers for every part of their boots. They also make an effort to source re-usable and sustainable materials in addition to cutting down on their watershed waste. For their leather, they work with tanneries that are similarly focused on being greener for the greater good.
Matisse's boots are, in a word, striking. Ankle high with many different designs, styles, and accessories, their boots are something you would expect to see on a runway. The quality materials ensure longevity and comfort, making them a must have for anyone who would like their wardrobe to be a little more eco-friendly.
Our Pick: Coconuts Milo Western Boot – With a faux leather upper featuring dual goring for a secure fit, this pull-on boot is beautifully designed. The cushioned insole comforts your foot while the 1 1/2″ heel adds just enough lift.
---
11. Beyond Skin
In addition to being vegan, Beyond Skin is an eco-minded luxury brand. All their boots possess a 100 percent recycled faux leather lining with a plant-based polymer coating. The brand has taken additional steps to do their part in being environmentally friendly by making all their packaging fully recycled or recyclable. They also have sustainable faux leather boots that are ethically handmade in Spain.
These vegan boots are perfect for a wide range of occasions, and you will be able to select from many different fabrics, colors, heels, and styles. If you're searching for something for colder weather, you're in luck – they have warm boots perfect for fall and winter.
Our Pick: Mia Black Faux Leather Knee High Boots – These faux leather boots are more comfortable than you'd think and draw inspiration from vintage fashion. They exude chic confidence while being sleek and durable.
---
12. Coclico
This luxury brand makes some truly unforgettable ankle boots that could liven up any outfit. The best part? Their boots are handcrafted ethically in Spain with materials that are sustainably sourced, such as cork, wood, and leather. In addition, Coclico is a carbon-neutral company, which means that it works hard to offset its emissions.
Coclico's boots are timeless and possess a simple sophistication that can either be dressed up or dressed down, depending on the occasion. The colors are stark, the fit cozy, and the boot itself designed to last a good while.
Our Pick: Tik Clog – This clog bootie is made of luxury suede and has a zipper enclosure. The pale shade will pair well with almost anything, making these great for day or evening wear.
---
13. Brother Vellies
This footwear brand has shown serious commitment not only to the artisans that craft their boots, but to the customers and most importantly, the planet. As a part of that commitment, they use a bevy of sustainable materials such as dyed feathers, hand carved wood, vegetable-tanned leathers, and recycled tires.
Their boots are boldly styled, sporting vivid animal print and colorfully embossed designs. You could be just as comfortable wearing a pair of their boots out to the mall as you could for a night of clubbing with your friends.
Our Pick: Sombra Atlas Boot – This daring take on a classic cowboy boot is sure to become a favorite, particularly as they are handmade from byproduct. This means that every single pair will be entirely unique.
---
14. Po-Zu
Every material that Po-Zu uses in its footwear production has been chosen not only to give you incredible warmth, durability, and comfort, but also to be less of a drain on the environment. In addition to using linen, organic cotton, and cork, Po-Zu also uses Piñatex™ (made from pineapple leaves) and FRUMAT™ (made from apple skins). Natural rubber and coir (a mixture of natural latex and coconut) round out the sustainable materials used by Po-Zu.
Po-Zu's boots are utilitarian and made to handle the outdoors with ease. They are water resistant with cleated soles and in addition to being completely vegan, are also solvent-free. The insole provides great air circulation in addition to comfort so you can wear them for hours without any pain.
Our Pick: Vim Grey (Men's) – This lace-up, high top boot is as rugged as it is stylish, and is the perfect boot for anyone who likes to spend a lot of time outdoors.
---
15. Poppy Barley
Poppy Barley believes in being transparent about their environmental goals and their belief in sustainable fashion. To work toward a greener future this brand has taken a number of steps to lessen their environmental impact by creating a shoe recycling program, reducing their freight and consumer packaging, and sourcing their leather from tanneries that operate sustainably and cleanly.
Poppy Barley has a large catalogue of ankle and tall boots available in solid colors or patterns. Casual wear, formal wear, day to day wear – no matter what you are seeking in a boot, you will be able to find it here.
Our Pick: The Victoriana Boot – In a nod to vintage fashion, this boot laces up the front and also has a side zipper for fast access. The embossed exterior is eye-catching to an extreme, particularly in the pink snake color.
---
16. Christy Dawn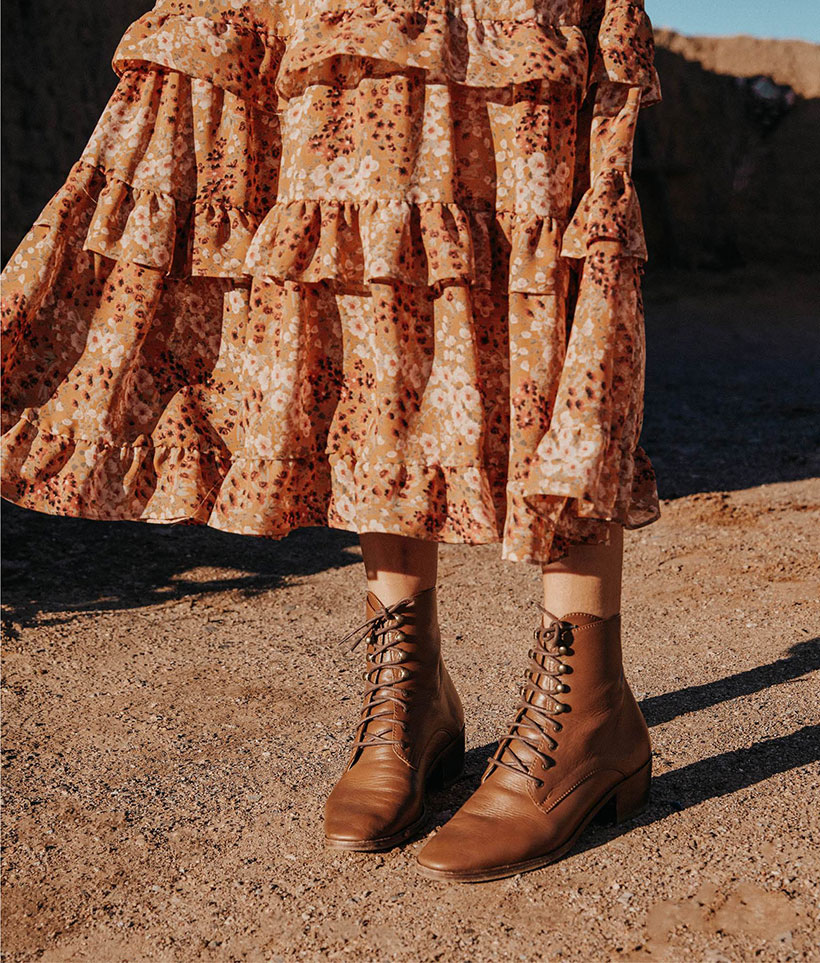 All of the boots offered by Christy Dawn are crafted from leather that is naturally textured, untreated, and upcycled deadstock, which means it is actually leftovers from textile companies. What's more, the brand also has an initiative in which they work together with regenerative farming communities. Those communities produce organic cotton, which Christy Dawn then takes and uses for their collections.
Christy Dawn's boots are vintage rustic, inspired by prairie lifestyles in days past. The silhouettes are charming and simple and evoke a pastoral feeling. They all have front lace up designs and pair as wonderfully with jeans as they do with breezy spring and summer dresses.
Our Pick: The Dawn Boot – Available in two different colors, this boot is Victorian style with cloth cord laces and is a great choice for anyone who likes to rock a bit of vintage in their wardrobe.
.