A comfortable, stylish pair of flats is the easiest way to give your feet a break and if they are sustainably made and more planet friendly, you will have an extra bounce in your step.
The tide has truly turned to comfort these days and the humble flat is a must-have companion for WFH and our new staying local lifestyles.
Comfort is non-negotiable as no one has time for uncomfortable shoes these days. We have put together a list of stylish, eco-friendly and sustainable flats and all of them have passed our comfort bar as well.
On this list you will find brands that have minimal impact on our planet, so less pollution, waste, and resources used.
These flats are made of more sustainable materials, have lower-carbon footprints, use recycled materials, are Certified B Corps, manufacture in safe working conditions.
Many of these brands have also committed to paying a living wage to their workers. All of these brands have sustainability at the root of their mission statements.
Our guide breaks down everything you need to know before shopping for your next pair of comfy, sustainable, eco-friendly & ethical flats.
In a hurry? Check out our favourites here.
Image
Product
Details
Price
Allbirds
• Made from Merino wool
• Machine Washable
• B-Corp Company
Check Price
Vivaia
• Made from recycled bottles
• Machine Washable
Check Price
Suggies
• Made from green certified Italian Leather
• Made in California
Check Price
Top eco friendly, ethical and sustainable flats

1. BENDY by Suggies
This shoe is simple, comfortable, stylish, and planet-friendly. The BENDY has less than 8 components, versus the 25-30 components in an average leather sneaker. This means that, comparatively, BENDY uses less labor and generates fewer emissions to produce their shoes. The shoes are also made in California, so there is less transportation, meaning it has a lower carbon footprint than other leather, Asian-made shoes.
Additionally, unlike most shoes, BENDY is stitched together rather than glued, this reduces workers exposed to toxic glue vapors.
BENDY also has a double-thick, cushioned insole that feels like you are stepping down onto a pillow. The footbed is made of slow recovery, breathable eco-foam. It's similar to the kind you would find in a high-performance running shoe, and it will conform to your particular foot shape.
Fodor's Travel declared BENDY a top stylish travel shoe.
Website: https://www.suggies.com/
Made from: Green Certified Italian Leather
Their Eco Pledge: Ethically made in California
---
2. Allbirds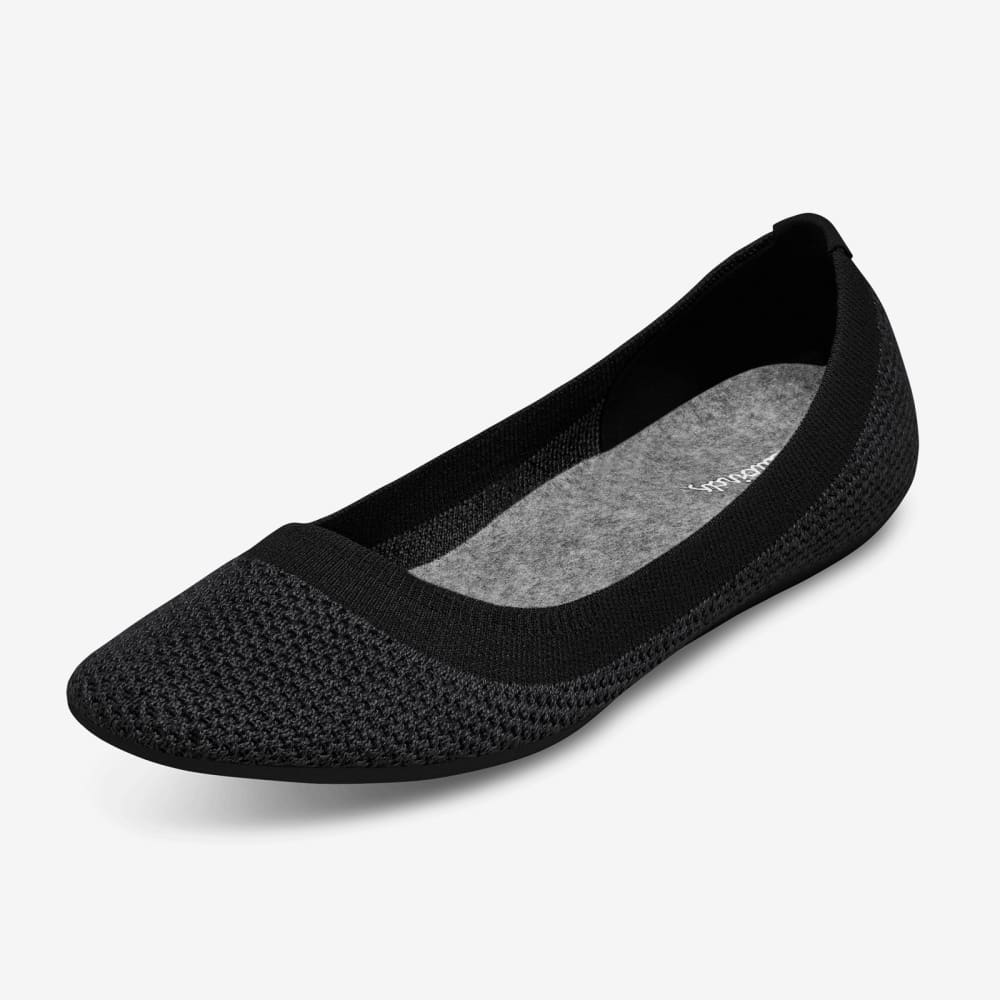 Made of wool, these comfortable flats are breathable, temperature-regulating, and moisture-wicking, making for a pretty comfy kick. Plus, the wool they use comes from producers with high standards for farming, land management, and animal welfare.
The soles are partly made of sugar cane. This sugar cane compound comes from Brazil, where sugar cane grows freely. It's a quick-growing, fully renewable resource that removes carbon from the atmosphere — meaning that the Allbirds' sole is carbon neutral.
Time magazine declared Allbirds sneakers the most comfortable shoes in the world, and their popularity soared. They now make a pretty sweet flat too. They are a Certified B Corp. The founders are serious about sustainability, so this company is the real deal.
Website: https://www.allbirds.com/products/womens-tree-breezers
Made from: Responsibly source wool
Their Eco Pledge: Materials from Nature
---
3. Vivaia
Vivaia are an up and coming eco-friendly fashion brand with a number of beautiful products in their collection.
Their stunning flats are made from recycled plastic water bottles, with a mix of natural herbal and PU foam for the inner, creating a inner that is breathable, mold-proof.
The outsoles are created using carbon free rubber.
The best part? They are machine washable.
The Aria 5° is the evolution of a successful initial release and the culmination of customer feedback. The shoes has been enhanced and refined to bring you a better overall performance.
They have a great range of flats with a number of different styles to choose from.
---
4. Rothy's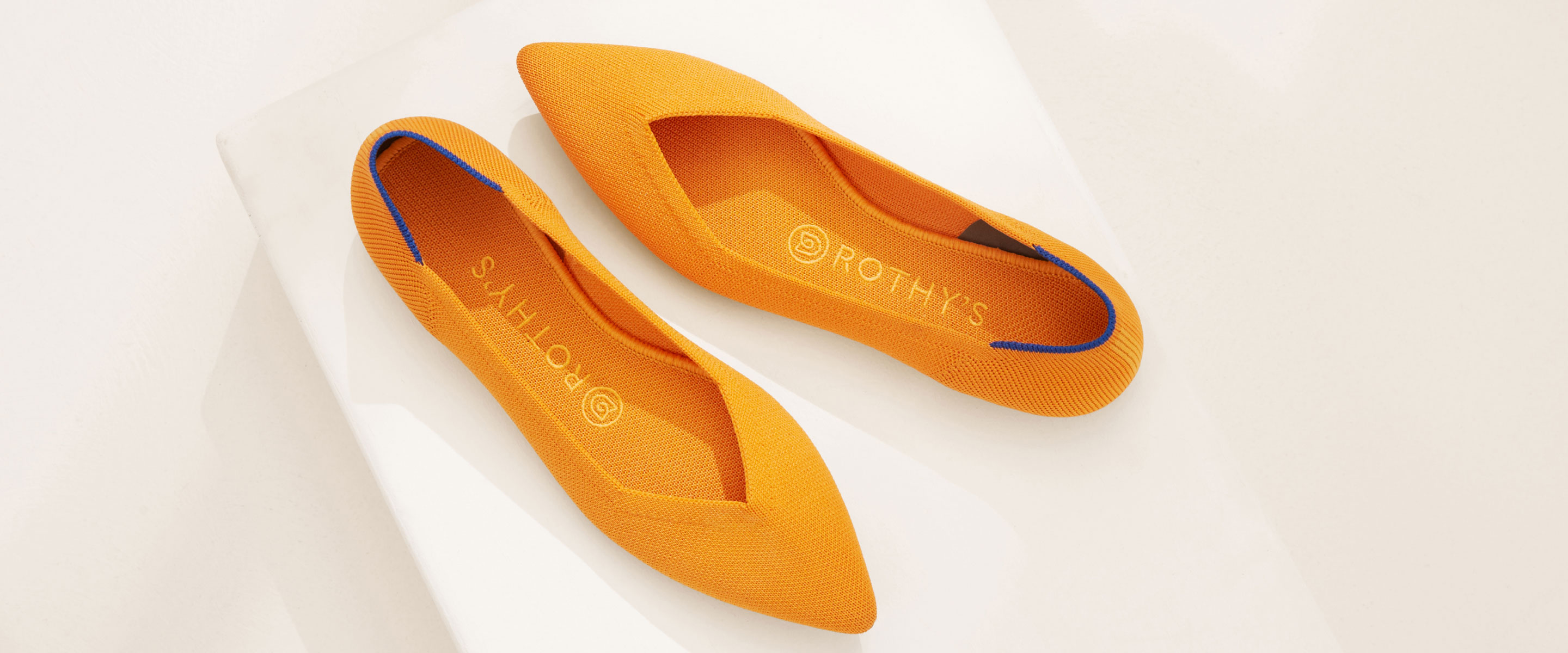 Rothy's shoes are known for their signature style and comfort. This reinvented ballet flat is made from recycled water bottles. To date, they have used over 75 million bottles in their shoes. These shoes use 3D knitting technology, so there is very little waste. Plus, these comfortable flats are washable, so they clean up nicely. The brand is striving for a 100% zero waste business model.
Their sleek and simple style make them very versatile. They are both office-and-weekend-friendly. With many color options, women tend to collect this brand.
This shoe won the heart of Megan Markle, a woman who is often seen wearing her values on her feet.
Website: https://rothys.com/collections/the-point
Made from: Recycled Water bottles
Their Eco Pledge: Zero Waste
---
5. Nisolo
This sustainable-minded brand makes timeless, versatile, comfortable leather boots and shoes. All are made in Peru, and the company pays living wages. This Certified B Corp is also committed to offering healthcare and a healthy, safe work environment for their workers. Thanks to Nisolo, shoe-making as an art form is alive and well and will be passed down to a new generation of Peruvians.
If buying better and higher-quality shoes for fair prices is important to you, give Nisolo a try. These simple, well-designed shoes will serve you for many years to come.
Website: https://nisolo.com/collections/womens-flats/products/womens-everyday-slip-on-loafer-almond
Made from: Green Certified Leather
Their Eco Pledge: Fair Trade, Living Wage
---
6. Everlane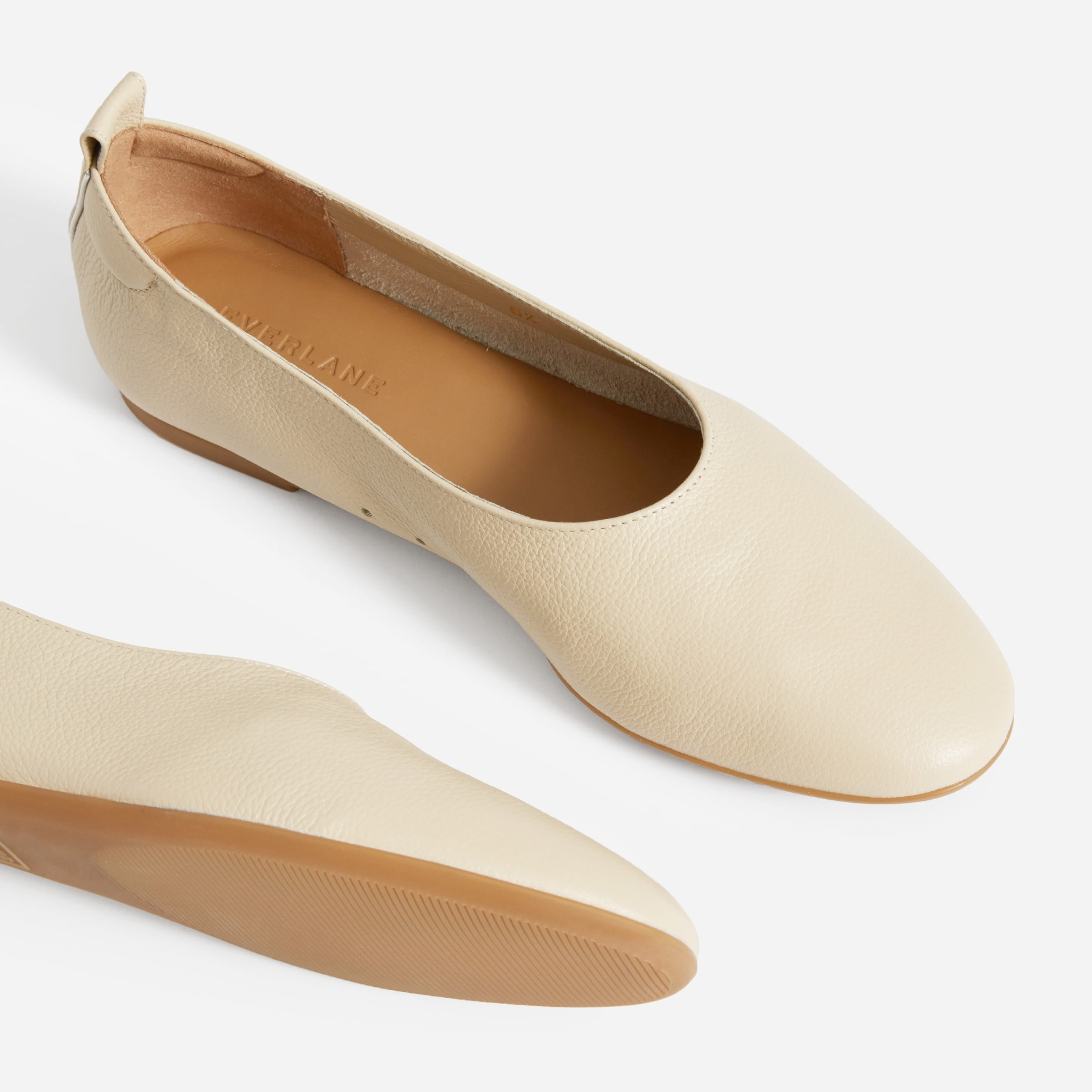 Everlane is committed to building a transparent and environmentally responsible supply chain. They vet all their suppliers for fair wages, reasonable working hours, and environmental practices. If you click on a product, there is a graph that reveals the true costs behind each item, from materials to labor to transportation. They disclose their markup compared to a traditional retailer as well. You can even click through and see the name of the factory and images of their facility.
These Italian made flats are stylish and classic. They work dressed up with trousers or even a flowy dress too.
Website: https://www.everlane.com/products/womens-day-glove-cream?collection=womens-shoes-accessories
Made from: Italian Leather
Their Eco Pledge: Radical transparency
---
7. Vivo Barefoot
This sustainably minded company uses the thinnest possible sole, with no heel. Sounds odd but this allows your feet to move as they were originally meant to move. This shoe feels like you are walking barefoot, and that's exactly the point.
Vivo Barefoot focuses on efficiency in the supply chain and technological innovation to conserve energy during their production process. They use natural, sustainable and recycled materials as much as possible. Vivo Barefoot also offers a repair service, so if your shoes wear out over time, they will re-sole them and bring them back to life.
Some high-performance runners swear by these shoes. The style is simple and clean. But this brand has lots of loyal fans who wear them just to kick around the home office as well. Vivo Barefoot also makes a vegan collection of shoes.
Website: https://www.vivobarefoot.com/us/opanka-ii-womens
Made from: Responsibly sourced leather
Their Eco Pledge: Efficiency in the supply chain
---
8. Mat + Nat
Vegan brand Matt & Nat uses no animal products in their shoe production. In addition to being vegan, this sustainably-minded brand uses cork and natural rubber in their lining and soles.
They only work with trustworthy factories, and this tenet is fundamental to the brand. Regular visits and relationships with these factories are integral to ensure that working conditions meet company standards.
Their modern, minimalist designs have captured the attention of celebs like: Charlize Theron, Nathalie Portman, Fearne Cotton and Olivia Wilde.
Their modern, minimalist designs have captured the attention of celebs like:
Charlize Theron, Nathalie Portman, Fearne Cotton and Olivia Wilde.
Website: https://us.mattandnat.com/collections/footwear-flats/products/ivy-womens-vegan-loafers
Made from: Polyurethane
Their Eco Pledge: No animal products in their shoe
---
9. Fortress of Inca
This family-owned and operated business is known for quality and craftsmanship. They always ensure that the working conditions of the people who create their shoes are safe, and that they are paid fair wages. All shoes are made in Peru, a country which has a rich history of creating quality, handcrafted footwear.
The brand's fair-trade practices, ensure fair wages, gender equity, and good working conditions for all their shoemakers.
The designs are simple, refined and versatile, with classic silhouettes that will stand the test of time. These are shoes you'll wear year after year.
Website: https://fortressofinca.com/collections/womens-shoes/products/carmen-flats
Made from: Responsibly sourced leather
Their Eco Pledge: Fair Trade
---
10. OESH
Developed by a Harvard physician, these Made in the USA shoes are uniquely designed to enhance strength, movement and function, promoting total body health and wellness.
These flats have a zero-waste knitted upper and a 3D-printed sole. They use a unique knitting process, so no fabric trimming is needed — resulting in no waste. Their 3D-printed sole can be shredded at the end of the shoe's lifecycle and reused to make new soles.
This brand believes that the best way to reduce both carbon emissions and waste is to simplify the manufacturing process and keep components and materials to a minimum. That's because 97% of the carbon footprint of a typical pair of shoes comes from the multi-stage manufacturing process (68%) and processing the materials that are used (29%).
Website: https://oeshshoes.com/product/salon-boss/
Made from: Cotton knit upper
Their Eco Pledge: Simplify the manufacturing process
---
11. Camper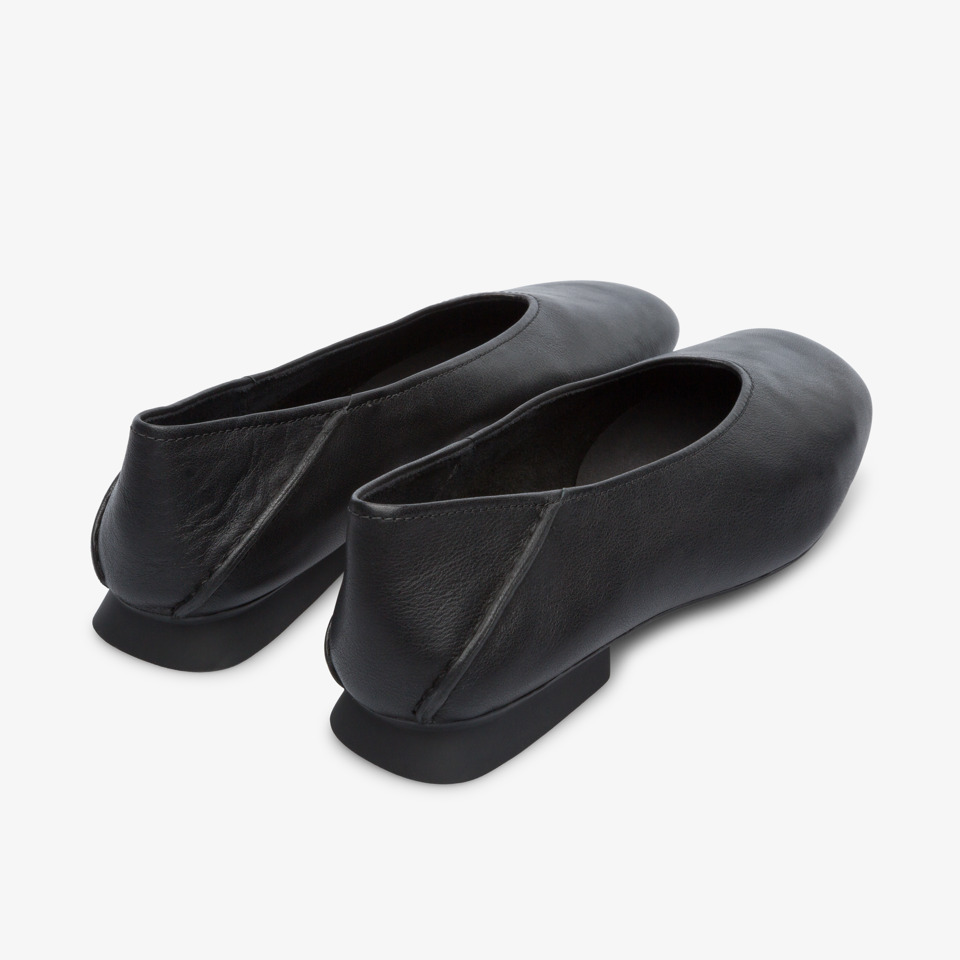 With a long heritage of shoemaking, this unique brand is known for creating modern, comfortable classics. They focus on quality, integrity, and design, and innovative ways to minimize their environmental footprint.
This brand, based in Spain, has committed to increasing the use of recycled materials, and they consistently balance them with materials that are durable and long-lasting. They choose factories that uphold their core principles to ensure high standards regarding human rights and environmental practices.
They have been investing in green energy projects within Spain since 2010, with the commitment to offset the energy they use to operate their business.
Website: https://www.camper.com/en_US/women/shoes/casi_casi/camper-myra-K201253-001
Made from: Green Certified Leather
Their Eco Pledge: Innovative ways to minimize their environmental footprint
---
12. Vagabond Shoemakers
Known for their well-made, simple designs that last, this Swedish shoe company puts sustainability at the core of their shoemaking. This brand believes that fashion brands need to think and act in a sustainable way on all levels.
In all their efforts, they consider their impact on materials, production, and transportation. This 360-degree approach includes 100% sustainable fabrics, efficient chemical controls and replacements, and recycling programs.
Website: https://vagabond.com/us/CLEO-4902-001-20
Made from: Leather
Their Eco Pledge: A 360-degree sustainability approach
---