If you are looking for eco-friendly swimwear made from natural materials and not sure where to start, we have you covered.
Below we have listed some of our favorite brands along with independent creators, making the best organic swimsuits and swimwear for men and women.
If you are looking for smaller brands with more unique and custom made designs, you will find a number on Etsy.
Hemp is such a useful and eco friendly material and below there are a few brands specializing in hemp products including swimwear.
We have also included a couple of companies below which create their swimwear out of recycled nylon from fishing nets as well as organic materials.
Best Organic Swimwear and Brands




1. Men's Organic Cotton Canvas Boardshorts – Patagonia
Materials: 98% organic cotton
Where to get it: Patagonia
For the guys looking to be a bit more eco friendly and looking to jump into some eco-swimwear, Patagonia is a good place to start.
Made from 98% organic cotton and using fair trade practices, this swimwear is made in one of the Patagonia factories in Osaka, or Sri Lanka.
They have a large selection of other organic products ranging from sweaters to hats, including organic beach towels to cap out your organic beach outing.
This fashion brand is highly active in trying to make a difference. Along with their 1% tax, they impose on themselves which goes to the preservation and restoration of the natural environment, they are active in various forms of activism to help our planet.
2. Mara Hoffman – Bikini.com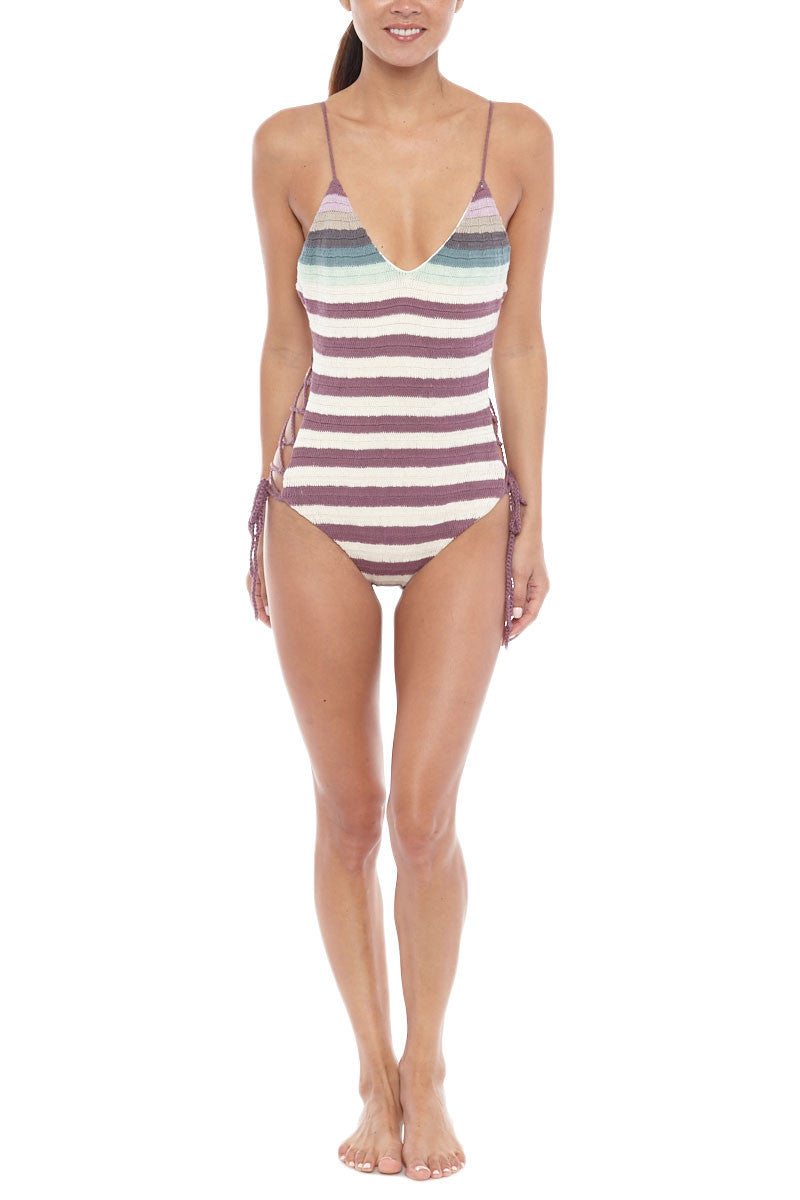 Materials: 100% organic cotton
Where to get it: Bikini.com
With this beautiful eco-friendly swimsuit, you can take sustainable fashion at the beach to the next level.
This Mara Hoffman one-piece is made entirely from 100% organic cotton fabric and features lace-up sides and adjustable straps.
This swimwear brand has a number of organic products mostly in clothing and body care but also has a number of eco-friendly alternatives to purely organic swimwear.
3. Rainforest Tye Dye Bikini – Etsy.com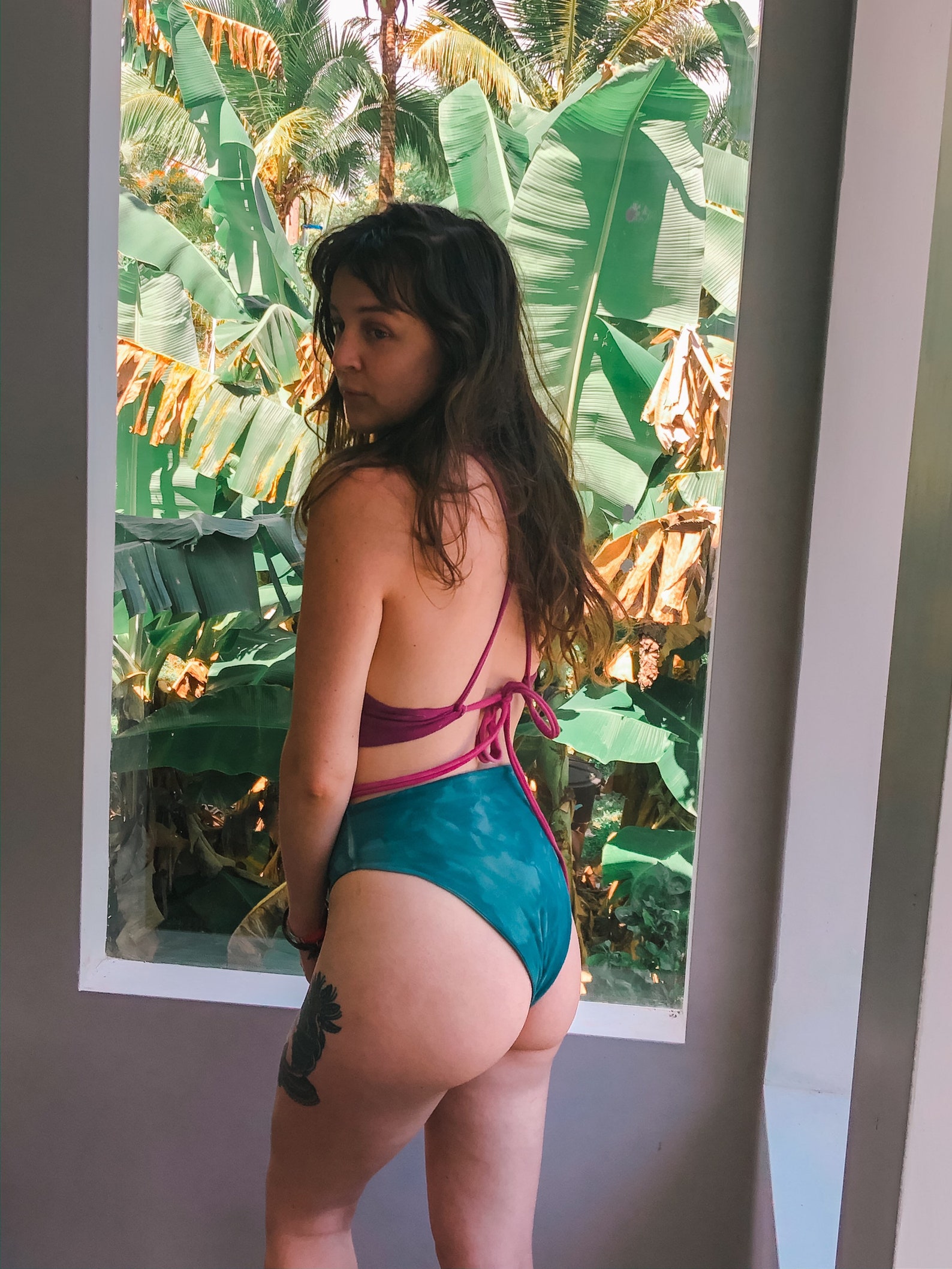 Materials: 90% organic cotton, 10% Spandex
Where to get it: Etsy.com
One of the most popular and eco-friendly swimsuits on Etsy, this bikini is aptly named "Rainforest Tye Dye Bikini."
This organic swimwear is made from 90% organic cotton fabric and 10% spandex and each individual piece is hand-tied and dyed making each piece unique and as many people have commented on, the natural fibers make it comfortable and breathable.
As far as bathing suits go these pieces are somewhat versatile with some purchasers also using them comfortably as underwear.
4. Organic Cotton Crotchet Swimsuit
Materials: 100% organic cotton
Where to get it: Etsy.com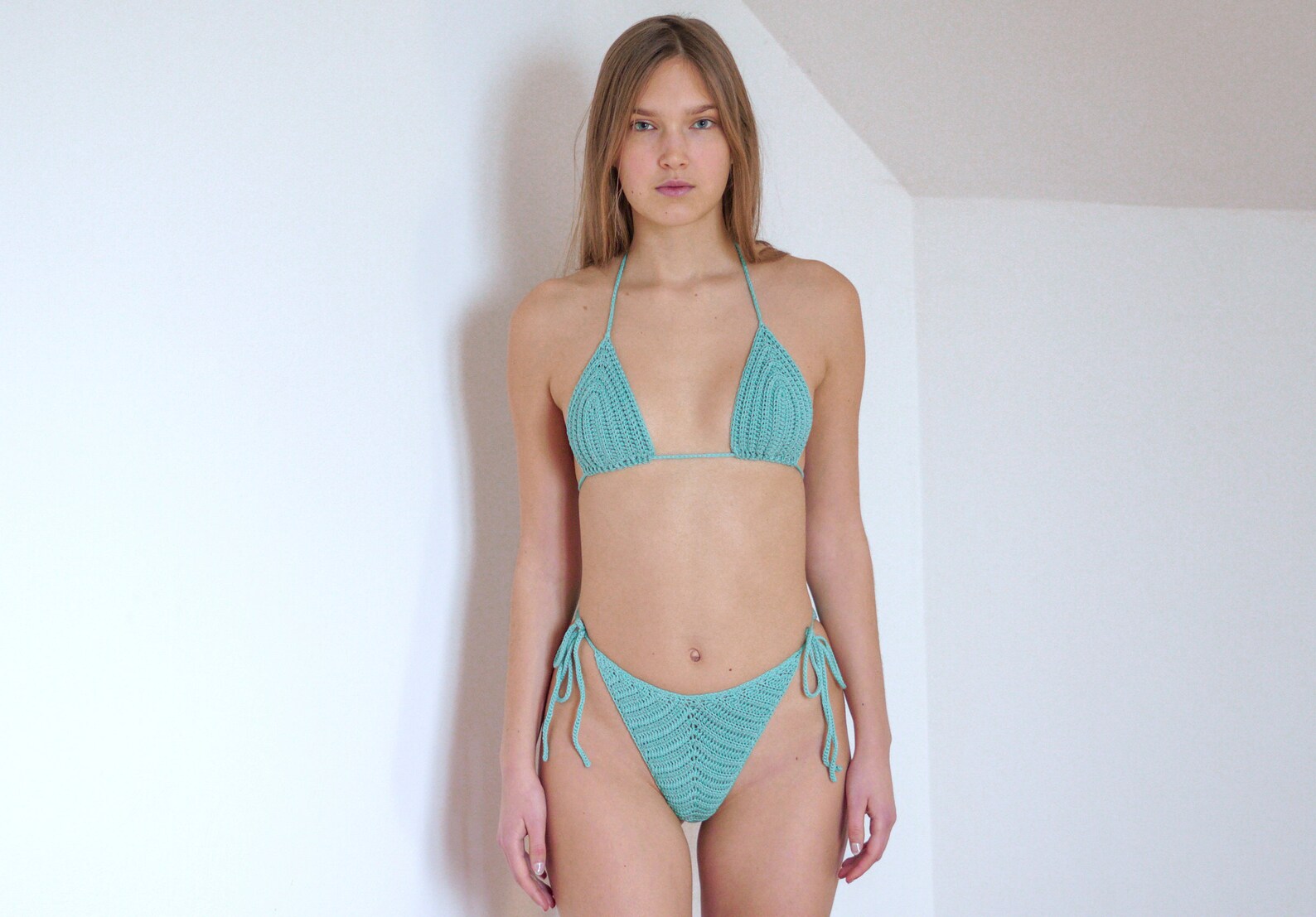 If you are looking for eco friendly organic swimwear then this bikini piece from Anna and Olena Panisova is worth a look.
Hand made from 100% organic cotton fabric this organic swimwear not only looks good but feels soft and comfortable to wear.
5. Organic Island Girl Tanner Bikini Top – Hemphuggers
Materials: 54% Organic Hemp 43% Organic Cotton
Where to get it: Hemphuggers.com
The Island Girl Tanner Bikini Top is one in a larger range made by this swimwear brand. Like many of their pieces, this is a custom made, handcrafted, bathing suit made from a nice blend of organic hemp and organic cotton.
Hemp Huggers have a swimwear line which includes, mix and match bikini swimwear, one pieces as well as a range of eco friendly clothing for women, all hand made from organic hemp and cotton with international shipping and made in the USA.
6. Organic Bamboo Cotton bodysuit- Etsy
Materials: 98% bamboo cotton 2% spandex
Where to get it: Etsy.com
As far as one pieces go you won't find too many as comfortable as this. Why? Bamboo cotton is one of the softest fabrics on the planet.
Made from 98% bamboo cotton this organic swimwear is sustainable and highly absorbent.
7. Jenna One Piece – Vitamin A
Materials: Plant-based and recycled materials.
Where to get it: Vitaminaswim.com
Perhaps not quite entirely organic but worth a mention anyhow due to their production process.
As far as one pieces go you won't find many more stylish. This fashion brand really mixes sustainability with fashion.
There have a large collection or swimwear for women including bikinis, one pieces, and general beachwear.
Probably the most interesting part about this swimwear though is how they are made.
Their swimwear is made from plastic bottles, fishing nets and 'ghost nets' which are then recycled into EcoLux™ – a fabric made from recycled fibers.
As far as swimwear fashion brands go, Vitamin A are definitely worth your time and consideration.
8. Sydney One Piece Reversible – Woodlike
Materials: 78% regenerative ECONYL® nylon yarn and 22% Xtra Life Lycra®
Where to get it: Woodlike.com
We can't mention swimsuits made from fish nets without mentioning Woodlike.
Old and ghost fishnets are recycled into and used to create part of the ECONYL® nylon yarn.
Woodlike have some really amazing swimsuits for women, including, bikini bottoms, tops and one pieces, all of which look stunning.
They have a large range of styles which will likely suit most tastes.
Like Vitamin A – Woodlike are a sure go-to for an eco friendly but fashionable swimwear brand.
9. Luz | Organic Maylo Swimsuit – Landskysea
Materials: 93% Organic Cotton and 7% Elastane
Where to get it: Landskysea.com
The Luz swimsuit "brings to mind the grace and gentleness of a Grecian heroine" and is definitely one for the discerning lady.
Made from 93% cotton and 7% Elastane which is certified by the GOTS® and is created under fair trade conditions.
Mixing good fashion with sustainability this brand offers a number of swimsuit options as well as a number of other eco friendly products.
10. Rebel Red – Natasha Tonic
Materials: natural hemp fabrics
Where to get it: Natashatonic.com
This red swimwear from Natasha tonic typifies their dedication to class. Hand-dyed and sewn in Los Angeles, USA, it is made from natural hemp fibers.
It might be worth a change from your regular polyester made swimsuits as the natural hemp fabric resists bad bacteria that otherwise accumulate with your polyester/polyamide swimsuits.
It is ECOCERT certified.
This swimwear brand offers a variety of swimwear made from hemp and also a range of hemp activewear.
11. Orient One Piece- Kalyn Gardner
Materials: 100% organic cotton naturally dyed with avocados
Where to get it: Kalyngardner.com
Want a completely unique/hand-crafted personally for you, swimsuit? How about this design from Kayn Gardner.
Made from 100% organic cotton these swimsuits are made to your size and then dyed to finish off, leaving you with something the same but different.
Kalyn Gardner have a range of swimwear and general knitwear for woman made from eco friendly materials.
12. Slo Active
Materials: Yulex – Plant materials
Where to get it: Sloactive.com
If you are looking for something a bit sporty and elegantly sleek, then you will want to check out Slo Active's range.
Made from Yulex – a sustainable plant-based alternative to neoprene, this swimsuit is soft, supple, lightweight and flexible providing high levels of comfort.
This brand has a good range of swimwear for women including bikinis, one piece and wetsuits.
For every purchase made Slo Active donate to one of their ocean charity partners.
13. Malibu One Piece Black – September the Line
Materials: 78% ECONYL® regenerated nylon and 22% elastane made from pre and post industrial waste
Where to get it: Septembertheline.com
This elegant one-piece swimsuit is perfect for lounging at the pool or activity at the beach.
Made from sustainable materials this swimwear and the recycled nylon is woven with 22% Xtra Life Lycra®, a higher durability than mainstream swimwear fabric which makes it far more durable that other swimwear.
September the Line have a large range of amazing looking swimwear including both bikinis and one-piece items.
14. Monaco Bandeau Ring Bikini Top – Laara Swim
Materials: ECONYL®
Where to get it: Laaraswim.com
Stand out in the crowd with this stylish bikini from Laawa Swim.
Made from (recycled Nylon) ECONYL® this sustainable swimwear is ultra chlorine resistant, offers UV protection and is ISO certified.
Laara Swim definitely oozes class with their designs and has an extensive range of swimwear including bikinis, one-piece, and sarongs.
This Danish company is one to look at if you want to look good at the beach.
15. Camellia Contour Crop – Peony Swimwear
Materials: ECONYL®
Where to get it: Peonyswimwear.com
You will look be looking great at the beach with this stunningly striking bikini.
Like all of Peony's swimwear 100% of the materials used are from recycled materials such as recycled fibres and nylon.
Peony is a small independent family-owned business based in Australia dedicated to conscious creation and delivering collections that pioneer sustainability.
16. 'Kelia' Reversible Twist Back Bikini – Do Good Swimwear
Materials: ECONYL®
Where to get it: Dogoodswimwear.com
"Simplicity at its finest" sums up this beautiful piece from Do Good Swimwear.
Made using ocean waste (such as, fish nets, plastic bottles, and old nylons) which is then recycled and turned into a beautiful, soft, and comfortable material.
Do Good have a good collection of swim wear for the sustainably-minded person and for each product purchased, they put money back into conservation efforts including ontreeplated.org and Trees For The Future, so you know your dollar is helping the planet.
17. Pfeiffer One Piece – Arrow and Phoenix
Materials: 100% recycled material, 100% recycled yarn
Where to get it: Arrowandphoenix.com
This elegant one-piece is perfect as a swimsuit at the beach or a bodysuit. It comes in multiple colors and sizes and is made in the USA from 100% recycled material and 100% recycled yarn.
Not only are Arrow and Phoenix doing their bit with the materials used in their products but with every purchase $5 is donated to The Coral Restoration Foundation to aid in beach clean up efforts and the restoration of coral reefs.
So if you are eco-conscious you can be assured your money is going to good use.
18. Water Warrior One-Piece Swimsuit – Vivida Lifestyle
Materials: 80% Recycled Polyester 20% Elastane
Where to get it: vividalifestyle.com
How cool are these? Probably one of my favorites. Made of recycled, post-consumer plastic bottles this one-piece not only looks cool but is also UPF 50+ fabric.
Vivda Lifestyle have a good range of swimwear, which all look amazing.
Along with the swimwear they also have a large range of other clothing, for both men and women ranging from sweaters and hoodies, to yoga wear and wetsuits.
I highly recommend checking out their range.
19. Apex Trunks by Kelly Slater – Outerknown
Materials: 86% Recycled Polyester, 8% Recycled Spandex, 6% Spandex
Where to get it: outerknown.com
Another one for the guys.
These trunks are available in many different colors and are made from 86% Recycled Polyester, 8% Recycled Spandex, 6% Spandex and made with fair trade practices.
Outerknown sell a full range of items from swimwear to hoodies to shirts for both men and women.
90% of the fibers they source are organic, recycled or regenerated and 100% of their trunks are made with recycled or renewable fibers.