Vegan footwear is becoming easier and easier to find in all categories, including slippers!
If you're in need of warm, finely crafted, durable indoor slippers for use around the house but despair of finding any that didn't involve cruelty toward animals, your search is over.
There are plenty of companies that make vegan slippers for both men and women for you to peruse until you find the right pair.
So what constitutes a slipper being vegan?
No products or processes involved in the manufacturing process can have any sort of negative effect on an animal, and this includes a surprising amount of things including the glue used to affix the sole to the rest of the shoe and the materials used for the upper and the lining.
Slippers that are labeled as "vegan" often consist of things like organic cotton, hemp, and jute, as well as microsuede, fake fur, and synthetic equivalents like Sherpa lining.
You can often tell if a slipper is vegan just by reading the information on the website.
For your consideration, here's a list of 12 featured slippers that are not the result of animal-cruelty and are environmentally friendly, followed by 12 other companies that also make vegan footwear.

Best Vegan Slippers & Vegan Slipper Brands
1. PAWJ
Eco Practices | Environmentally friendly, cruelty-free
Ideal For | Comfortable boots and slippers
Our Pick | PAWJ Slippers in tan
Price | $79
Born out of a passion to see a world with no cruelty toward animals, PAWJ is a Southern Californian, family-run business and is one of the top footwear companies for vegan footwear for women. They only uses faux fur and synthetics of the best quality in order to make their footwear, and are one of the best places to shop if you are looking for affordable vegan slippers like Uggs. PAWJ slippers and boots are stylish and durable but still provide the utmost in fit and comfort.
2. Isotoner
Eco Practices | Synthetic materials and faux fur
Ideal For | Cozy indoor shoes for women
Our Pick | Noela Moccasin Slipper
Price | $30
Isotoner, a leading brand of footwear and gloves, is starting to take a vegan approach to some of their items. Their selection of vegan moccasins and slippers for women are carefully crafted with memory foam and quality synthetic material to provide the coziest experience possible. This cushy footwear is available in a plethora of homey styles and colors, letting you feel stylish even on the days you're lazing about the house. Isotoner vegan slippers are a great way to spoil your tired feet after a long day of being busy.
3. Freewaters
Eco Practice | Utilizing faux wool and faux leather
Ideal For | Slippers and shoes for men
Our Pick | Norman in charcoal
Price | $55
Freewaters has made sustainability one of their main goals, which means that the materials used in their footwear fabrication are responsibly sourced. Their slippers for men are made without any animal products, have a rubber sole, and are built for both coziness and support. For footwear meant to be worn exclusively around the home, Freewaters vegan slippers still have a relaxing yet elegant aesthetic, which means they pair well with any kind of clothing.
4. Corkor
Eco Practice | Free of any animal product
Ideal For | Premium men's indoor footwear
Our Pick | Slippers Men in tan
Price | $61
Corkor fills a rather unique niche in men's footwear, as they craft shoes made entirely from cork. Most of their shoes are made without any sort of fur or leather, instead featuring synthetic materials and rubber for the soles. Their slippers are the perfect choice for anyone who wants to make an eco-friendly fashion statement, and what's more, they provide incredible comfort and durability.
5. The Grinning Goat
Eco Practice | Faux shearling and synthetic crepe
Ideal For | Cozy, rugged vegan house slippers
Our Pick | Cabin Slippers in brown
Price | $49
Created as a solution to a lack of ethical vegan shopping solutions in southern Alberta, The Grinning Goat is one of Canada's only vegan boutiques. It offers a wide selection of footwear for both men and women, including shoes, boots, heels, and vegan slippers in a wide range of styles and color options. Men in search of slippers that offer comfort as well as a rustic country aesthetic will love their options made with faux fur and micro suede.
6. BEARPAW
Eco Practice | Polyester blends and rubber soles
Ideal For | Vegan winter footwear for women
Our Pick | Loki Suede Vegan Slippers
Price | $137
BEARPAW has recently decided to do their part to work toward an eco-conscious, animal friendly future by making vegan versions of a few of their best selling footwear. Included among these are water resistant winter boots, slip-on shoes, and cozy slippers to wear around home. The use of micro-suede instead of actual suede and polyester instead of any kind of animal product makes BEARPAW vegan slippers a great choice for women who like to make eco-friendly statements through fashion.
7. WINDRIVER
Eco Practice | Sherpa lining instead of wool or fur
Ideal For | Men's slippers designed for comfort
Our Pick | Faux Suede Mule Slipper
Price | $39

WindRiver is one of Canada's most well-known and reliable makers of outdoor and indoor clothing and shoes. Some of the newest additions to their considerable selection includes some of the best vegan slippers for men available. Made of synthetic materials and sherpa lining, WindRiver's slippers are finely crafted and meant to last, providing the utmost in comfort for your feet.
8. Allkind
Eco Practice | Organic and synthetic materials
Ideal For | High-end vegan shoes
Our Pick | Organic Cotton Vegan Wool Slipper
Price | $28
This British brand crafts ethical and sustainable luxury shoes and slippers for women. The company's core focus is to create footwear that is animal-friendly, is made of eco-materials, and leaves a minimal impact upon the environment. Allkind prioritizes recycling and tries to use recycled products wherever they can in their manufacturing process. Allkind's customers will be happy to know that regardless of shoe size, they will be able to find vegan shoes or slippers that perfectly suit their needs. As an added bonus, they also offer free shipping worldwide!
9. NOAH
Eco Practice | Water based glues, microfiber, and organic hemp
Ideal For | Luxury vegan shoes and slippers for men
Our Pick | Donato
Price | $187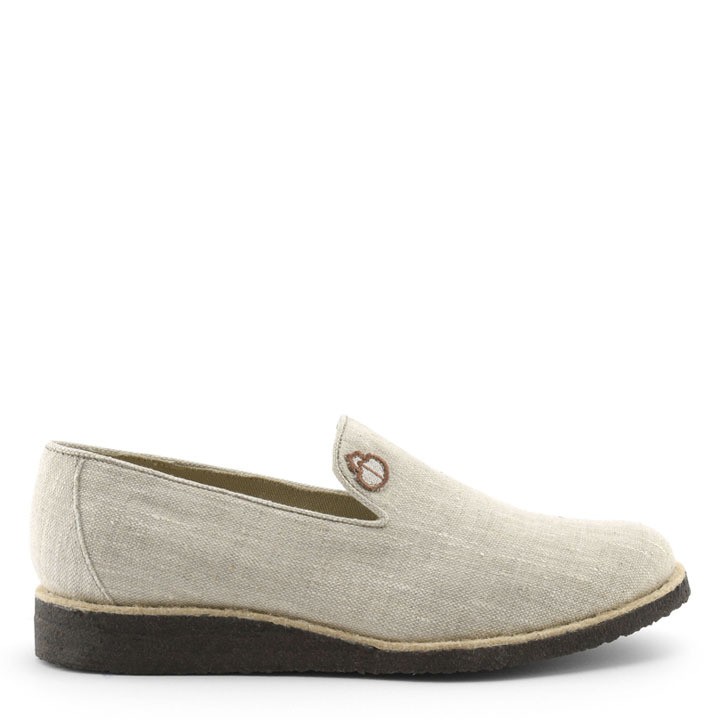 The philosophy behind NOAH's footwear is a simple yet admirable one: a healthy environment is necessary for a wholesome, harmonious lifestyle with nature. In keeping with that belief, this brand crafts slippers and shoes that are completely cruelty-free, but are also of such fine craftsmanship that the customer is sure to be impressed. The look of NOAH's footwear is one of refinement, perfect for any occasion.
10. Sanuk
Eco Practice | "SustainaSole" collection, animal-free products
Ideal For | Creative, cozy men's slippers
Our Pick | You Got My Back III
Price | $75
Sanuk's "brandifesto" is to focus on footwear that's as much about being funky and innovative as it is being comfy and durable. The materials they use for their vegan sneakers, slip-ons, and slippers are all cruelty-free and include jute, organic cotton, recycled PET, and recycled polyester. In addition, some of their men's slippers are made from 100 percent hemp, which creates a cozy indoor shoe that's at the top of many "best vegan slippers" lists.
12. Pudus
Eco Practice | Sherpa fleece and faux fur
Ideal For | Plush house slippers for women
Our Pick | Cable Knit Grey Cozy House Slippers
Price | $85
Pudus crafts slippers for women that fit like a dream, have memory foam, and best of all are made of materials that are all cruelty-free. Luxurious faux fur and Sherpa fleece will keep you warm and cozy even during the coldest winter days. The slippers feature an attractive design with knit fabrics, have an anti-skid sole, and are sure to be available in your size! Pudus has everything you need for comfy vegan shoes and slippers, so be sure to check out their collection!
Additional Vegan Brands
Flora Nikrooz | Ultra plush ladies slipper that will let you roam your home in comfort.
Native | With a memory foam insole, these men's slippers are like pillows for your feet.
Sketchers |The utmost in lounge style, Sketcher's slippers have memory foam to keep you comfy all day long.
Ralph Lauren | High-end designer men's slipper complete with embroidery and a wide-cut strap.
Thought | These slippers feature a hand-drawn design and are made from bamboo and recycled polyester.
T.U.K | Snazzy slippers in leopard print with fake fur and a soft insole that makes it feel like you're walking on air.
Birdies | Birdies crafts vegan slippers that consist of bold solid colors to provide you with a regal look.
Pottery Barn | If you're looking for a non-toxic, no animal-cruelty slipper, Pottery Barn has what you need!
ASOS | Affordable slippers made of fluffy, luxe fake fur available in a variety of styles and colors.
KEEN | Described as being like "a sleeping bag for your foot," these slippers provide you with a rugged look no matter your size.
Airwalk | Made with fake suede and possessing a padded insole and flexible outsole, these men's slippers are very similar to moccasins.
ILLUDE | A pair of these slippers will give you vegan comfort available in every size.