Yoga is a word that has become synonymous with harmony and peace, a vision of serenity between body, soul, and environment. Unfortunately, that's not quite the case – many yoga mats are actually made from polyvinyl chloride (PVC), which has the potential to be quite toxic. Given how popular yoga has become, the sheer amount of PVC yoga mats out there is anything but harmonious in regards to the environment. Fortunately there are many companies out there that are focused on making eco-friendly, sustainable yoga mats and yoga accessories.
Best Eco-Friendly Yoga Mats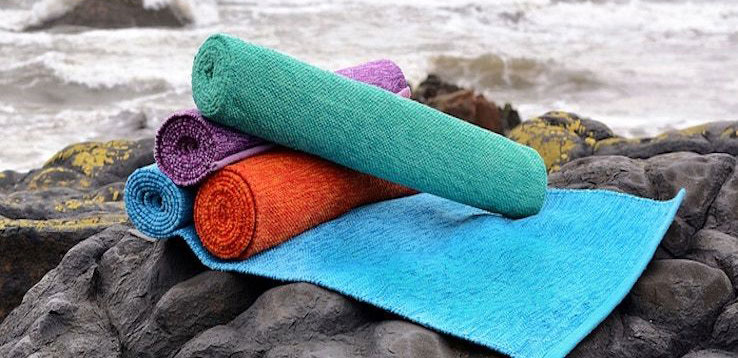 ---
1. Inhala Soulwear
This brand shows its dedication to environmental care through the materials it uses in its products. They use regenerated nylon, which is made from abandoned fishing nets and plastic waste, as well as organic fair trade Peruvian cotton. In addition, Inhala Soulwear ensures that all of their packaging is 100 percent recycled and reusable, and their garment bags are compostable. At the checkout, you have the option to pay one extra dollar to put toward the company's reforestation tree planting efforts.
Inhala Soulwear's eco yoga mats are made from recycled rubber, environmentally friendly eco-suede, and other non toxic materials. While there is a limited choice in color, the mats sport beautiful cosmic and spiritual designs that will assist in getting you grounded and relaxed.
Our Pick: Cosmic Moon – This long mat is lightweight, completely eco-friendly, and perfect for taking with you when you are traveling.
---
2. Manduka
With yoga gear that is both designed and loved by yogis, Manduka is also doing its part to lessen environmental harm. Their Foundation mats are free from harmful chemicals such as glues, dyes, solvents, and phthalates. The Pro mats are made from 100 percent latex free PVC and are manufactured without any emissions, while the eKO mats are made from biodegradable natural tree rubber. The fourth mat offered by Manduka is the GRP mat, which is made from sustainably harvested rubber and is manufactured with no toxic emissions.
As you can see, Manduka's yoga mat selection is quite diverse. Whether you are looking for extra cushioning or non-slip grip, you'll be sure to find what you are looking for. As a bonus, they have enough colors and styles to keep even the pickiest yoga enthusiast happy.
Our Pick:  PROlite Yoga Mat – Sustainable and with plenty of grip, this mat is durable and perfect for beginners and experts both.
---
3. Jade Yoga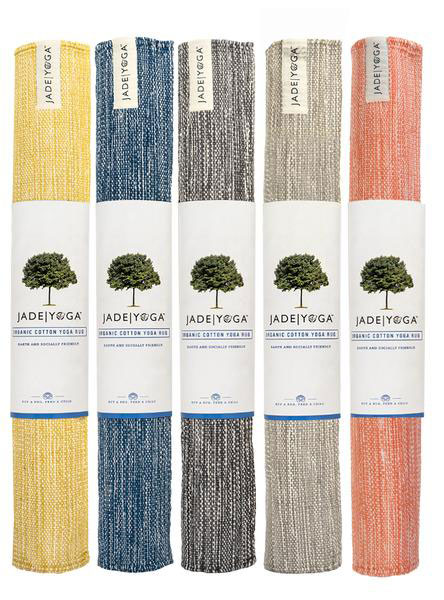 Jade Yoga's mats are crafted in the United States and are made from a number of different eco-friendly materials, including natural rubber from renewable resources. They also have mats made from beautiful organic cotton and recycled sari cotton. Because the materials for their mats are harvested from trees, Jade Yoga has an initiative in place to plant a tree for every one of their mats sold. Since 2006, they have planted over 200, 000 trees.
Jade Yoga has an abundance of mats for sale covering all the bases: travel mats, mini mats, and extra thick mats. These mats are great no matter what type of yoga you practice or what your skill level is.
Our Pick: Organic Cotton Mysore Rug – This rug is the best choice for outdoor and beach yoga classes and are handwoven by artisans in India.
---
4. Gaiam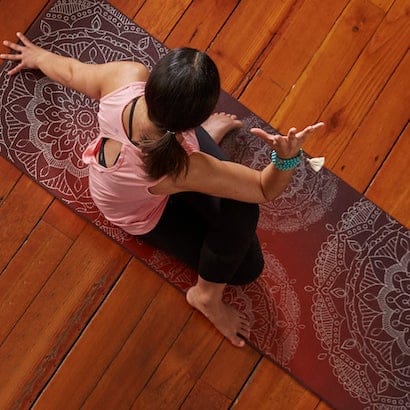 Gaiam is committed to making sustainable healthy living available to everyone, and a part of how they hope to accomplish this is by offering eco-friendly yoga mats and accessories. They utilize sustainable materials such as natural rubber, jute, and cork in their yoga mats. It's not only their mats which are eco-friendly, either – they also make blocks and chairs from sustainable materials like recycled cork, kapok, and rattan.
Gaiam's yoga mats can meet a wide variety of needs and are suitable for hot yoga, indoor and outdoor yoga, and the more intense types of yoga. There's no shortage of colors and patterns to choose from, so pick the one that suits your style best!
Our Pick: Premium Metallic Sunset Yoga Mat – With 6mm of cushioning thickness and a textured surface, this mat is a reliable choice for all your yoga classes.
---
5. Yoga Kargha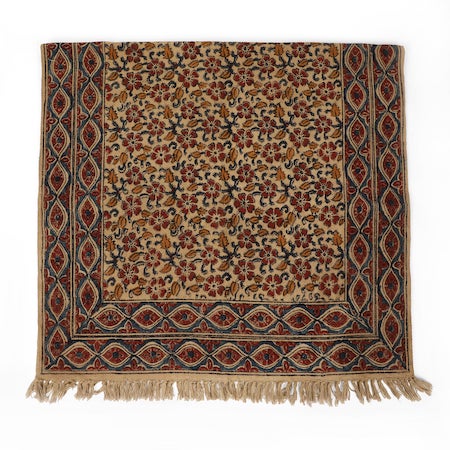 This India based brand is one of the top creators of sustainable yoga mats. Each of their mats is handwoven in India and are made out of organic cotton or grass and jute. The grass is either Elephant grass or Indian reed-mace grass, both of which grow near swamps and rivers in India. When harvested, every single part of the plant is used, with the fibers becoming the yoga mats.
The organic cotton mats are machine washable, which is very convenient for frequent and hardcore yoga practicioners. There is an available rubber coating option you can choose, which improves the mat's grip and is made out of natural rubber. In terms of selection, Yoga Kargha has a wide array of colors, styles, and lengths of mats to choose from.
Our Pick: Kalamkari Hand Block Printed Mat – Made from all natural fiber, this mat can actually double as a decorative carpet. It is far more durable than a mat made from silicone or plastic and can easily be machine washed.
---
6. Yoloha
This brand offers yoga mats that are not only durable and practical, but are entirely sustainable as well. All of Yoloha's mats are made from sustainably sourced cork, which means that no trees are actually cut down when the cork is harvested. Additionally, no bark is wasted during the process. Cork trees that are harvested this way absorb nearly fives times more carbon dioxide than a tree that is cut down.
Yoloha has several kinds of yoga mats available, including some for kids. The mats have gorgeous designs in black or in colour, and some also have inspiring messages. Whether you are looking for a lightweight mat, a travel mat, or something to use in the comfort of your own home, Yoloha has you covered.
Our Pick: Encompass Aura Yoga Cork Mat – With a reliable grip wet or dry, this mat is very easy to keep clean. The fine grain cork makes the mat incredibly lightweight but still maintains durability.
---
7. Barefoot Yoga
If you'd like a yoga mat with a more rustic feel than traditional mats, Barefoot Yoga has just what you need. In addition to the pastoral charm of these mats, there is also their environmentally friendly aspect: the materials used to make them are natural rubber and jute. The manufacturing process of these mats is latex and toxin free and the company does a great deal of recycling with paper and even furniture in order to get their materials.
Barefoot Yoga has a few different eco-friendly yoga mats to peruse through including eco mats, hybrid eco mats, performance mats, and jute mats. There are tons of shades and different thicknesses to choose from, so you can pick a mat that perfectly suits you.
Our Pick: Barefoot Yoga Hybrid Eco Mat (⅙ inch) – These mats are both better for your health and the environment than most traditional mats available. They contain no heavy metals or phthalates and are both affordable and long lasting.
---
8. Yoga Design Lab
The founder of Yoga Design Lab wanted to create a yoga mat that was remarkably functional but also beautiful and eco-friendly. The end result is mats that are made from recycled plastic bottles (nearly 15 per mat!) and natural, biodegradable natural tree rubber. What's more, Yoga Design Lab uses only water based inks in the printed designs on the mats, which is far less harmful to the environment than traditional inks.
No matter what kind of yoga you practice (or where you practice), this company has mats that will suit your needs. There are high-density cushioned mats, non-slip mats, and combo mats to look through, all available in a large variety of colours and designs.
Our Pick: Combo Yoga Mat – Vibrant and ultra-absorbent, this mat has a microfiber towel top layer which adheres to the natural tree rubber base. This is the ideal mat for hot yoga or workouts that really make you sweat.
---
9. Scoria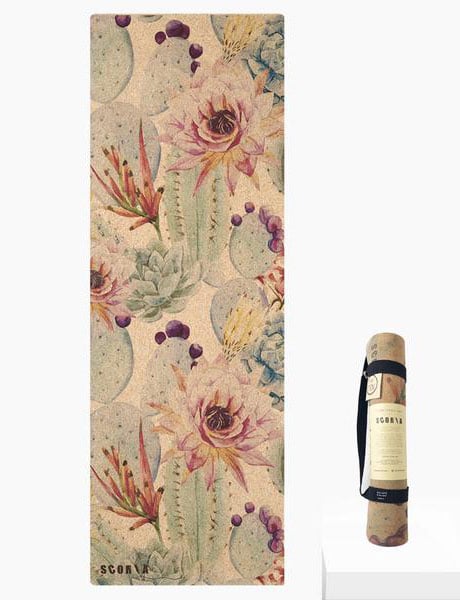 This Canadian brand started out on Kickstarter and creates yoga mats out of sustainably sourced rubber and cork. All of their mats are free from PVC and TPE and all dyes and inks used in the manufacturing process are water based and non-toxic. Eco-glue is also used, which means that the yoga mats are entirely biodegradable. All packaging from Scoria is free of harmful plastics, as well.
Scoria's cork mats are truly works of art with their beautiful and intricate designs. However, it's not just about aesthetics – these yoga mats are designed for longevity, provide excellent traction, and come in different sizes.
Our Pick: Botanicals Cork Yoga Mat – You'll experience no slipping even during the most challenging sessions with this gorgeous cork mat. It's perfect for practicing any kind of yoga anywhere.
---
10. The Ubivore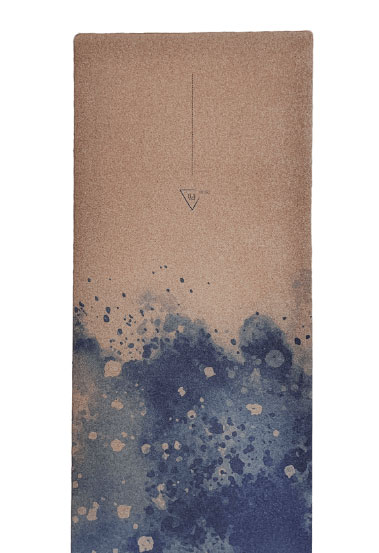 Another Canadian company, the Ubivore offers yoga mats of the highest quality that have a lifespan well beyond that of regular mats. The Ubivore's mats are made from sustainably sourced cork, which means that no trees are felled. The company works in unison with One Tree Planted to ensure that for every yoga mat they sell, trees are planted in a reforestation effort.
The Ubivore has a broad selection of eco-friendly yoga mats and accessories to choose from. Their mats are available in standard and large sizes and there's also a travel option, as well.
Our Pick: WA>NDER Cork Yoga Mat – This travel mat is lightweight and easy to carry, making it the perfect accessory when you decide to head out for a weekend getaway in search of peace and relaxation.
---
11. Yogosana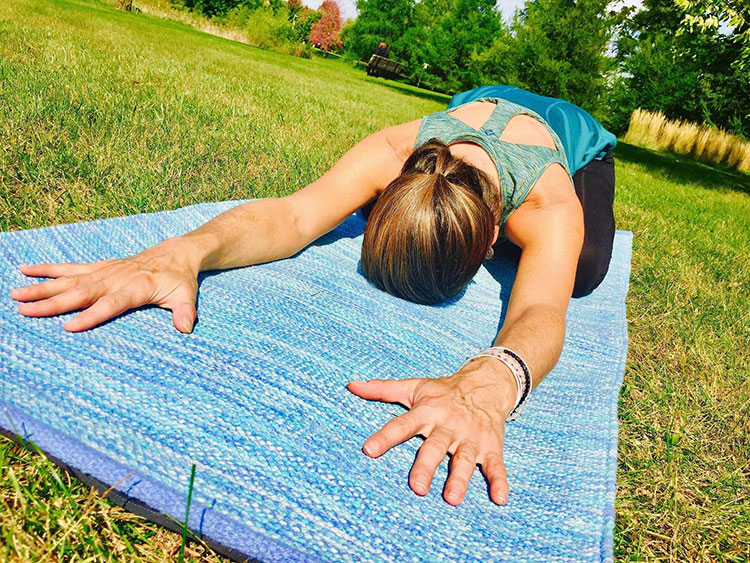 Yogosana's mats are painstakingly hand woven by master artisans in the city of Benares, India. Due to the nature of the craft, each mat takes up to 10 days to complete and each one comes with the signature of the artisan. The mats are made from 100 percent organic cotton and have a life cycle of more than 15 years, which makes them a great investment for true yoga enthusiasts.
Yogasana's mat selection is quite diverse. Their standard mats are four inches longer than other standard mats and provide reliable grip even when you are at your sweatiest. Due to the fact that these mats are machine washable, they are a great choice for outdoor yoga sessions.
Our Pick: Water Eco Friendly Yoga Mat – This reversible mat is a tranquil shade of blue, non-slip, and works just as well outdoors as it does indoors. It functions great as a travel mat, too.
---
12. Hejhej-mats
Disappointed by the lack of eco-friendly yoga mats on the market, the founders of Hejhej-mats set out to meet their own sustainability expectancies. This led to the creation of an eco-friendly yoga made from closed loop recycling. They also work toward spreading environmental awareness by partnering with the Earth Child Project, which is focused on supporting children that come from disadvantaged communities.
The mats made by Hejhej-mats are minimalistic but still highly functional. While there are only two color options, these mats are five millimetres thick to provide all the extra cushioning you could possibly need. The surface is moisture repellent and the logo is completely biodegradable.
Our Pick: Hejhej-mat XL – This extra long mat provides incredible grip, is very durable, and is a good choice for beginners and experts alike.
---
13. Prana
Prana's sustainability movement is simple and direct: they want to create clothing accessories in an ethically responsible way. To that end, they take care to source organic hemp and cotton and to make sure that the other materials they use are non-toxic. Even their packaging is responsible, as they utilize various sustainable methods in order to cut down on waste.
Prana makes their yoga mats out of thermoplastic elastomer (TEP), which in addition to being UV resistant and recyclable, also gives you cushioning support and reliable grip to get you through the toughest of sessions.
Our Pick: E.C.O. Yoga Mat – Available in black and blue, the textured, germ-resistant surface of this mat is great for all manners of yoga.
---
14. MARI Design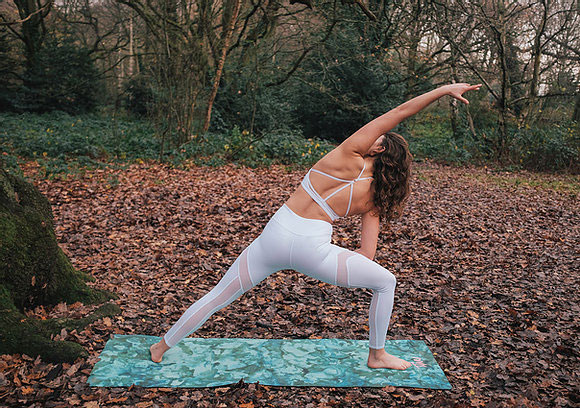 The yoga mats made by MARI Design consist of 100 percent recyclable microfiber tops and natural tree rubber. Working together with a company that recycles and upcycles textiles, MARI Design advocates for the return of your yoga mat once it has worn out so that it too can be recycled. By doing so you will not only be ensuring your yoga mat goes on to be repurposed, you will also get 10 percent off your next order.
MARI Design's yoga mats are bright and beautiful and at the same time, durable and great for any kind of yoga. In addition to the recycled microfiber and natural rubber, all ink used in the patterns of the mats is water-based and environmentally friendly.
Our Pick: Forest Flow Yoga Mat – With inspirational colors and an included carrying strap, this yoga mat is travel ready and machine washable.
---
15. Affirmats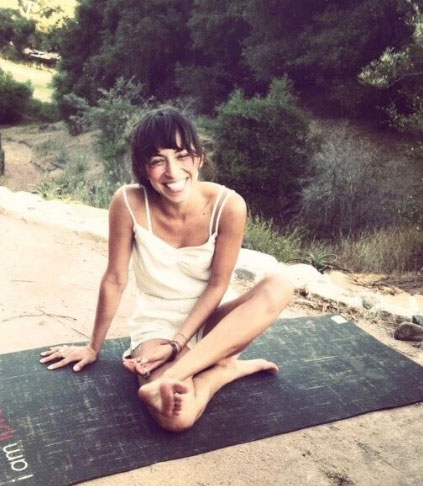 Knowing that yoga provides many people with serenity and quiet in a world where they can be hard to come by, Affirmats has created yoga mats that are made with a jute topper and a polymer environmental resin (PER) base. The mats are entirely biodegradable without sacrificing any quality or cushioning so they're not only eco-friendly, but suitable for any yoga skill level.
Affirmats has yoga mats for both adults and children. In keeping with the company's name, each mat has an inspirational message meant to buoy spirits. You can also choose a customized mat with your own personalized message on it.
Our Pick: I Am Love Yoga Mat – The black jute, silk-embroidered mat gives us the reminder that we are love and loved. It is free from latex, metals, and phthalates and is slip-resistant.
---
16. Second Earth
This Australian brand creates yoga mats that are non-toxic and completely biodegradable. In addition, the materials used to make the mats (natural rubber and jute) are sustainably and ethically sourced. The jute lends itself to the non-slip surface, while the rubber contributes to longevity. These mats are perfectly tailored for long beach yoga sessions.
In addition to being great for outdoor yoga, Second Earth's mats are versatile enough to function well in any kind of yoga setting. Comfort and durability were clearly key concepts when these mats were designed and you will be hard pressed to find any better eco-friendly mats.
Our Pick: 2E Connected Yoga Mat – Available in three colors and inspired by Australia's beautiful beaches, this mat will let you take your yoga practice to the next level.
---
17. Create Flow
The driving vision behind Create Flow was to make a yoga mat that was high quality, visually pleasing, and most importantly, sustainable. They have reached that goal with a line of eco yoga mats that are made from cotton, jute, and natural tree rubber that is non-Amazon harvested. The dye used in the mat manufacturing is mineral based, which is much kinder to the environment than traditional dyes that have toxins.
Create Flow's Eco Range Mukti Mats are minimalistic in design, but offer everything you could possibly need: good grip, durability, easy to clean surface, and plenty of cushioning. Beginners would benefit from these mats just as much as experts would.
Our Pick: Mukti Grounded Mat – Moisture absorbent with plenty of grip, this yoga mat will function just as well in an indoor setting as it will in an outdoor one.
---
18. Bowern
Bowern's inspiration is the flow of life and the beauty of nature, and that's why they have created luxury yoga mats that are not harmful to the environment or people. All their mats have a base made from recycled tree rubber, while the top is microfiber suede – and all of it is biodegradable. In addition, there is no latex, PVC, toxic glue, or silicone used in the fabrication of Bowern's mats.
The colorful designs of these yoga mats are both dreamy and inspiring, meant to aid you into entering a state of relaxation during your yoga sessions. The mats are perfect no matter what kind of yoga you practice, and are just as suitable for a session indoors as they are outdoors.
Our Pick: Stardust – With its gorgeous night sky design, this yoga mat can handle anything from beginner to expert. It's machine washable (gentle cycle) and comes with a carrying strap included.
---
19. SUGA
SUGA's mats are made out of something a bit different: old wetsuits. This American company takes in old wetsuits and recycles the material (neoprene) into fully functional, high quality yoga mats. To date, they have recycled the material from over 12,000 wetsuits, which equates to about 32 tons of neoprene kept out of landfills.
SUGA's yoga mats are a mix of many different colors due to their recycled nature, but function just as well – or better – as any other yoga mat. They are five millimetres thick, provide great cushioning and grip, and are suitable for any type of yoga.
Our Pick: SUGAmat – Indoor or outdoor, this mat will meet your needs. Perfect for home, class, or travel yoga.