If you are looking for Allbirds alternatives you are in the right place.
Below we detail a number of shoes like Allbirds.
Whether it's style, price, comfort, feel, or sustainability, there should be something to suit what you need.
Read on to find out more!
Baabuk – Urban Wooler
• 100% Merino wool upper
• Designed in Switzerland, made in Portugal
• Machine Washable

Woolloomooloo
• Australian Merino Wool
• Machine Washable
• Odor & water resistant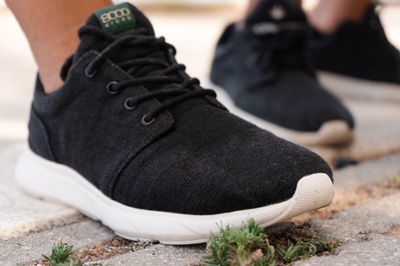 8000 Kicks
• Sustainable Hemp
• Designed in Portugal
• Splash proof

Le Mouton
• 100% merino wool lining
• 73% merino wool outer.
• Lower price bracket
• Machine washable
17 Best Shoes Like Allbirds / Allbirds Alternatives

---
The Urban Wooler's by Baabuk is a great choice as an alternative to Allbirds. Like Allbirds, they are made from merino wool and have a 100% wool upper.
Designed in Switzerland and made in Portugal, these shoes have many features that have helped make Allbirds popular. Wool outers make them water-resistant, and also comfortable in terms of temperature.
They have elastic laces for convenience and the sole is made from TPU rubber.
Best of all, like the Allbirds, this wool sneaker can be machine-washed for your convenience.
2. 8000kicks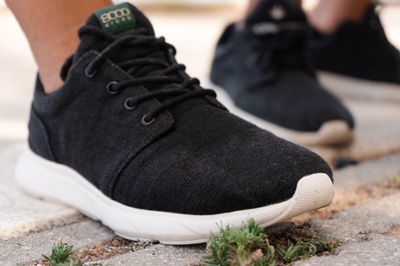 8000kicks produces a super eco-friendly shoe made from hemp and algae.
The outer is made from super strong hemp fibers, while the insole is the world's first natural hemp insole.
The soles, made from an algae bloom, are taken from harmful algae and repurposed into these eco-friendly soles.
They are super lightweight and also extremely flexible, but best of all they are splash-proof so you will have less worry when the weather decides to change.
They are 100% vegan.
Ultimately a very eco-friendly and stylish sustainable men's shoe and Allbird alternative.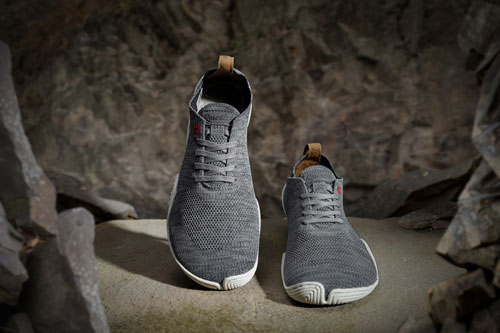 Wildling is a great company that focuses on nurturing the connection between people and nature.
They have done their best over the years to minimize their carbon footprint and are devoted to continuing to do so.
One thing they realize is that the materials they use are valuable and thus deserve to be used with renewability and sustainability in mind.
Wherever possible, the company uses natural textiles including cotton, hemp, cork, and linen to ensure that your feet are kept cool (or warm) and comfortable to wear.
Even the pigment used to dye the shoes is all-natural in keeping with Wildling's ambitions to cut down on potentially harmful processes. For their winter footwear, Wildling uses untreated wool that they secure through strict sourcing criteria to ensure that your feet are kept warm even on the chilliest days.
As for their footwear selection, Wildling has an impressive adult and children selection for summer and winter wear all with a modern style similar to Allbirds.
Their shoes are minimal, which means that they give the wearer close contact with the ground and are built around the anatomical shape of the foot to allow for the utmost comfort and flexibility as well as being lightweight.
Some also offer a remove-in sole which makes airing and drying easier as well as breathability, and, together with the gap in the Wildling outsole, air easily circulates around the feet.
Every single Wildling shoe is handmade with care, making each pair entirely unique.
A look at the Wildling catalog reveals modish sandals like Feather Indigo, adorable kid's sneakers like Daisy, and the hip adult sneakers like Dandelion – all of which are created from natural and responsibly sourced textiles.
The Nebularange looks similar to the Wool Runners and is one of the best Allbirds alternatives when it comes to sustainability.
As far as price goes, a pair might cost you in the vicinity of €100.
LeMouton offers very good shoes similar to Allbirds. They are made mostly from merino wool, with a 100% merino wool lining and a 73% merino wool outer.
They have a flexible, knitted wool upper that suits all kinds of uses from walking to traveling.
One of the best things about the LeMounts wool sneakers is the ability to machine wash them. Not only do they look similar to the Allbirds wool sneakers, but they are also super easy to clean.
They are created from lightweight materials and feel comfortable and the sole is made from synthetic rubber for good traction.
Like Allbirds, the LeMouton brand are concerned with its environmental impact and uses a number of processes to achieve this such as using recycled bottles for laces, using merino wool and all their packaging comes from recycled materials.
LeMouton's are certainly one of the best pairs of wool shoes that are a great choice as Allbirds alternatives or Allbird knockoffs.
---
If you are looking for a cheaper wool shoe like Allbirds Wool Runners, then it might be worth looking at the Urban Fox shoes.
Although it lacks the overall polish of Allbirds, they do carry some comparisons (mostly style and look).
For example, the Urban Fox Parker wool sneakers have a 30/70 synthetic and wool upper which makes these shoes feel naturally soft, lightweight and comfortable to wear.
The sole is created from a foam rubber sole which gives your feet extra traction on surfaces.
Something to bear in mind if you are looking to buy this shoe is that it is not entirely eco-friendly, due to the fact the upper is wool mixed with synthetics which makes it difficult to recycle.
As far as looks, the Urban Fox Parker wool sneakers are one of the best Allbirds alternatives for men's options.
---
6. Vessi
Similar in look, comfort, and feel, Vessi makes a shoe similar in style to the Allbirds wool runners. Though not the wool sneakers like Allbirds, they are still far more eco-friendly than the average sneaker.
One of the best things about the Vessi shoe is that it is 100% waterproof. This means you won't have to concern yourself with getting your feet wet while wearing this shoe.
The style is very similar to that of the Allbirds, and breathable, stretchy, soft lightweight materials and wool make these shoes feel very comfortable.
The sole is ultra-lightweight and bouncy and has a herringbone grip which helps maintain traction even on the wettest days.
As far as price goes, a pair might cost you in the vicinity of $200
Check out our direct comparison here.
---
7. HUPANA FLOW WOOL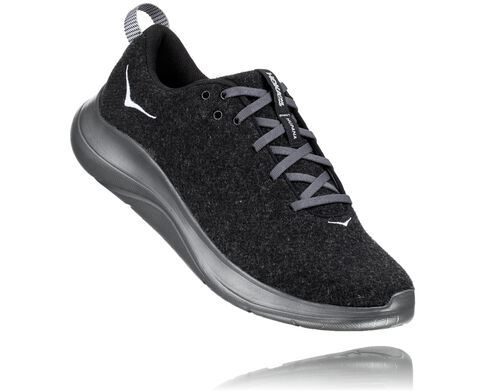 Hoka One One also created a wool shoe with a wool upper like Allbirds. Not only do they look good but these shoes are built for comfort with their natural fibers and rubberized mid and outer sole.
They are responsive and soft to the touch, lightweight as well as comfortable on your feet.
The Woven knit wool blend naturally wicks moisture and offers antimicrobial properties.
Like Allbirds Wool Runners, they look great, are lightweight, are soft, and built for comfort.
As far as looks go the Flow Wools are one of the best alternatives to Allbirds.
In regards to price goes, a pair might cost you in the vicinity of $120.
---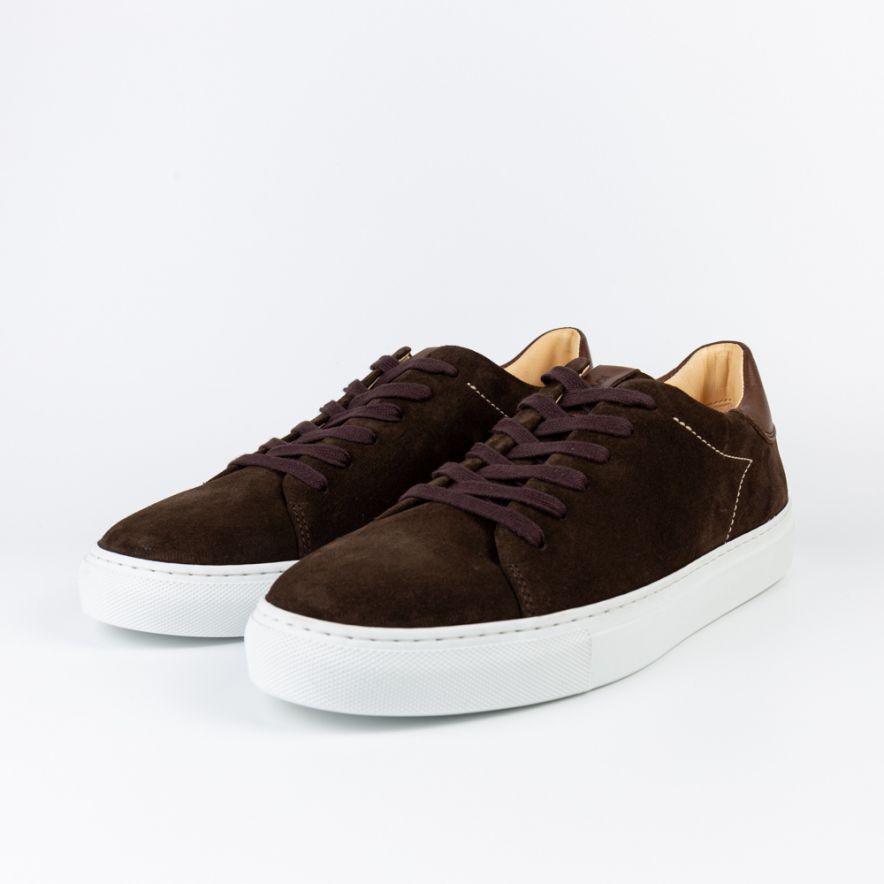 KAVAT's mission is very simply stated: it is its goal to become the world's most sustainable shoe company.
They are well on the way to accomplishing their mission because as of today they are one of the world's leading creators of eco-manufactured shoes, just like Allbirds.
Since 2008, more than 100 of their shoes have been eco-labeled, proving their dedication to creating footwear without leaving a lasting impact on the environment.
The materials used in KAVAT shoe production include a variety of leathers (vegetable tanned, recycled leather scraps, eco-performance leather), cotton that is sustainably sourced, and recycled rubber and plastic bottles.
KAVAT's sustainability practices aren't limited simply to the materials they use (though those are a large factor).
Product durability and longevity are also key, which is why KAVAT offers two different services in order to assist in increasing the lifespan of their products.
The first is a repair service, letting buyers bring in their KAVATs in order to fix the soles, seams, and shoelaces.
The other service is AS NEW, which lets people return previously worn KAVAT shoes to any KAVAT store and receive a 20% discount after their donation. The company then hands them over to their cobbler who mends what needs mending and polishes them up.
After that, they are listed for sale again for anyone who is interested.
A couple of KAVAT's best and most notable, eco-friendly shoes include:
Balsby EP Black Sneaker: A monochromatic twist on the everyday sneaker, these are created from vegetable-tanned and eco-performance leather.
Bodås 2.0 EP Amber Yellow Boot: These comfortable-to-wear chics, colorful boots are certified with an EU-ecolabel and made from eco-performance leather and are a great alternative to Allbirds that look great.
---
9. Ethletic: Vegan, Fair, Sustainable
Ethletic has managed to combine eco-conscious manufacturing processes with a love of whimsical fashion and the end result is comfy, eye-catching, lightweight, durable shoes much like Allbirds.
All the materials used in their shoe production are ethically sourced, including organic Fairtrade cotton and FSC®-Certified sustainably farmed natural rubber.
Ethletic's footwear is also PETA-approved Vegan and for every pair sold, one dollar is given to the Talon Fair Trade Workers Welfare Society.
Best of all, Ethletic also subsidizes repairs to its products in order to lengthen its lifespan.
In another effort to lower their carbon footprint, all of Ethletic's shoes are transported from Pakistan via ship in an effort to cut down on related emissions and pollutants.
A quick look at Ethletic's shoes reveals fashionable, comfortable to wear, striking sneakers for all genders:
Fair Trainer White Cap Lo-Cut Kiwi Shake sneaker: Bright and whimsical, these sneakers are primarily made from renewable raw resources and are entirely plastic-free.
Fair Trainer Black Cap Hi-Cut Human Rights Just Black: The muted urban camo design of these sneakers lets you make a statement.
What's more, they are manufactured through fair trade and ethical practices and are 100 percent vegan.
Fair Sneaker Root II Emerald Velvet: Created from natural foam rubber and organic canvas, these shoes present a traditional yet bold sneaker silhouette and a worthy Allbirds alternative that look great on your feet.
---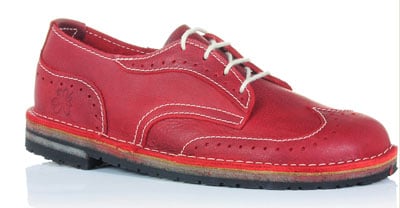 Conker continues the proud tradition of making bespoke shoes for men, women, and children, something they have been doing since 1977.
Conker's shoes are made from the finest quality materials, and the shoes themselves are crafted with sustainability and comfort in mind.
In order to promote a reduction in waste and product longevity, Conker crafts shoes tailored specifically to your foot size and shape.
What's more, the shoes are repairable and easily re-soled and if you are in need of another pair, the company keeps your pattern on file for easy reference.
Conker provides a large array of great footwear styles: sandals, boots, deck shoes, and barefoot shoes.
The Thong Gladiator Sandal makes a bold and sexy summer statement, while the Indian and Rouge Deck Shoe provides a comfortable-to-wear yet stylish fit that also looks great.
One of the best things about every piece of Conker footwear is that they are designed to last until the repair is needed and then beyond, thus reducing not only the company's carbon footprint but the consumer's as well.
Certainly an alternative to Allbirds worth looking at.
---
11. SAOLA Shoes: Sustainable Manufacturing
The oil industry is the world's largest polluter, followed by the textile industry in second place.
The fact that fashion plays such a large role in harming the environment is the reason the founders of SAOLA Shoes have committed to doing their part in saving nature.
They use a variety of eco-friendly materials, such as: Outsoles made of algae foam: Harmful algae caused by global warming, and excess waste chemicals in bodies of water are harvested and used to create foam for the insoles and outsoles.
Recycled plastic bottles: The uppers of all SAOLA shoes are made from recycled plastic bottles (also known as PET).
Organic cotton for the recycled shoelaces: The cotton is organic, which means that it requires less water and that all fertilizer used is natural compost.
Highly renewable cork for the top layers of the insole: Cork harvesting causes no harm to the trees – in fact, the best thing about harvesting the bark from cork trees is that it can actually extend the life of the trees by as much as 200 years.
SAOLA has a great selection of men's and women's shoes in sneaker and slip-on styles.
The Sequoia Misty Blue slip-ons are 100 percent vegan, can either dress and outfit up or down, and are soft and comfortable to wear due to the stretchy nature of the recycled materials.
The Semnoz II Dark Olive sneakers are a smart way to accent any outfit and are also vegan with outsoles that are 20 percent recycled EVA.
Certainly an alternative to Allbirds worth looking at.
---
12. nae Vegan Shoes: Fair and Animal Friendly
nae (No Animal Exploitation) is a Portuguese company focused on creating great footwear alternatives that don't exploit or harm animals throughout the manufacturing process.
Every shoe that nae makes is comfortable for your feet and high quality while representing the company's dedication to a responsible environmental approach.
No textile or other material used in the production of nae's shoes originates from animals, so instead, they use recycled materials like PET and airbags, as well as natural materials like pineapples and cork.
To replace animal furs or skins, nae uses alternatives such as synthetic ecological microfibers.
nae's shoes are cute and trendy, as evidenced by the Bella Pink heels, the ETNA Grey boots, and the EDDA White sneakers – best of all they are 100 percent vegan and made from renewable sources.
---
13. Alice & Whittles: A Smarter World
By using materials such as recycled ocean plastics and natural fair-trade rubber, Alice & Whittles create footwear meant to endure while reducing the company's carbon footprint.
The craftsmanship is impeccable, their styling simple yet elegant, and the processes used throughout the production are both ethical and fair.
Their footwear lineup consists of weekend boots, rain boots, and sneakers.
Their weekend boot is meant for hiking, walking, biking, or any other outdoor activity you want to indulge in on your day off.
In addition to being 100 percent vegan, these great boots are also free of virgin plastics and the lining is made from recycled synthetic wool.
Their minimalist sneakers are comfortable for your feet, lightweight urban chic made from recycled car seat leather, and ankle rain boots are made from sustainably well-sourced rubber.
---
14. Woolloomooloo
Another great alternative to Allbirds is Woolloomooloo which also makes wool knit shoes from the finest Australian merino wool.
It is an Australian company started by founders James and Paul, who have been in the footwear industry for 40+ combined years and were looking to diverge from synthetic products.
They realized the answer was in their backyard and began making a line of merino wool, digital knit shoes.
Wool is a great choice of material for shoes as it is great in warm or cold weather, it is highly breathable, and creates less odor for your feet.
Woolloomooloo shoes are also, handily, machine washable, so you can throw them in the washing machine without much hassle.
Find out more at Woolloomooloo.com
---
15. Matt & Nat: Passionate About Nature
Matt & Nat (short for Material and Nature) is a Canadian-based company that values and loves all aspects of nature, and to that end, they are devoted to doing what they can to negate their carbon footprint.
They do not use leather or any other animal-based material in their shoe designs, but they do use a number of recycled materials such as rubber, cork, nylons, and cardboard.
The linings of their shoes are made from the plastic of recycled plastic bottles and recently they have also started to use rubber from recycled bicycle tires.
The company clearly promotes recycling, but also strongly believes in upcycling.
Just because Matt & Nat uses recycled material does not mean that their products suffer from poor quality. In fact, their great shoes are as durable as they are comfortable and fashionable.
Whether you are looking to make a statement with some boots or kick back and relax in some sleek minimalist sandals, the Matt & Nat catalog has something for you.
---
16. Allbirds Wool Runners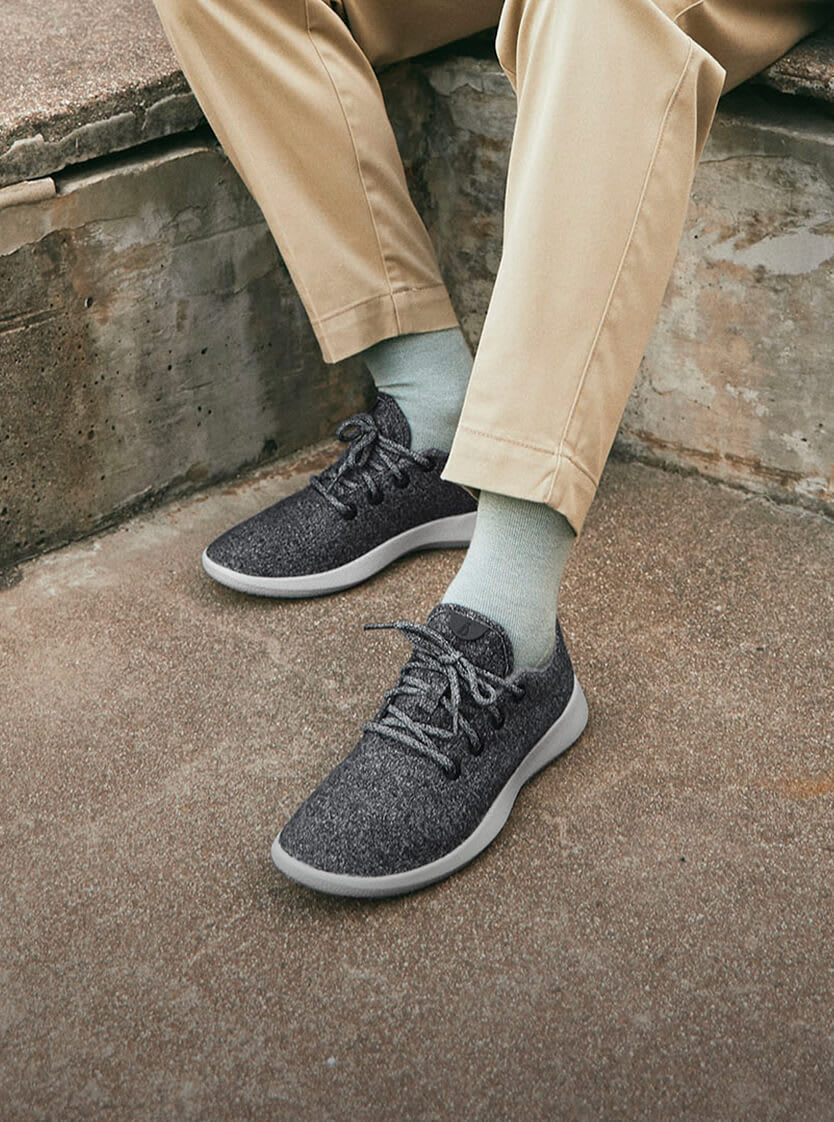 Now, I know this article is about alternatives to Allbirds, but there is a demand for people looking for shoes like Allbirds Tree Runners. Actually, Allbirds do have their own alternative, in the form of their wool runners.
They are made from different materials (merino wool, as opposed to eucalyptus fibers) but keep the same sleek style as the tree runners.
---
17. Giesswein Merino Wool Shoes
If you are looking for a high-quality Allbird competitor you can't go past Giesswein merino wool knit shoes.
Like Allbirds, they are made from 100% merino wool upper, lining, and footbed with a comfortable EVA foam sole.
They are super light at around 550 grams and have an interchangeable footbed.
Like Allbirds, they are machine washable.
Giesswein shoes are designed, produced, and made in Austria reducing unnecessary shipping and transportation. Wool is sourced from small, cruelty-free local farms, and there is zero waste in the production process. There is zero oil use in their machinery and 90% of the water used in the production process is able to be recycled as there are no harmful chemicals used.
They have a great range of colors for this shoe and also have a range of sports shoes and slippers.
I have a pair of Wool Runners which I love. They are so comfy, and light, and these Giesswein are probably the closest shoe to those that I have found.
So if I was looking for an Allbirds alternative, I would say Giesswein would be my number 1 pick.
---
Shoes like Allbirds Tree Runners
Allbirds Tree runner is a popular shoe that is made from Eucalyptus and many people are searching for an alternative. So what are some shoes like Allbirds Tree Runners?
Well, there aren't a lot of companies that have taken up using Eucalyptus so far but there are a few that incorporate the fiber into their shoe.
For example, Reebok has made a shoe that incorporates Eucalyptus.
However, the most comparable shoe like the Allbirds Tree Runner is the Wood Sneaker from Giesswein.
The materials and lining are made from Eucalyptus while the inner sole and sole are made from Wool and Rubber EVA respectively.
While there are a few materials that differ such as the sugarcane midsole and castor bean oil soles on the Allbirds, the Wood sneaker is the closest comparison currently available. to the Allbirds Tree Runners.
Who are Allbirds?
The Allbirds brand is well known for producing great, high-quality, comfortable performance and casual footwear through sustainable, eco-friendly means.
Its mission is to create footwear that leaves negligible carbon footprints behind starting with an interest in the many considerable qualities of merino wool.
On the company website, it states that "Mother Nature is Our Muse," and that statement is clearly obvious when browsing through their online shoe catalog.
Superfine merino wool is one of their main materials due to its temperature-regulating, breathable, moisture-wicking qualities in addition to the fact that it is a sustainable resource.
Another great innovative eco-friendly material used by Allbirds is castor bean oil, which aids in increasing the natural content in the shoe soles.
Recycled bottles are used to make the laces for the shoes, and all Allbirds packaging is created from 90% recycled cardboard boxes.
Allbirds also use a renewable, naturally derived tree fiber that is far less harmful to the environment than traditional, regular fabrics.
This tree fiber, called TENCEL™ Lyocell, is sourced from farms in South Africa that rely solely on rainfall and not irrigation to grow crops and only use the minimum in fertilizer. TENCEL™ Lyocell uses nearly 95 percent less water than other materials like cotton and it allows Allbirds to cut their carbon footprint almost in half.
The soles of all Allbirds shoes are made from sugarcane originating from yet another renewable resource: Brazilian sugarcane.
These SweetFoam™ soles are incredibly comfortable, conforming to the shape of the foot and providing incomparable support.
There's one final ingredient that is put into the Allbirds shoe mix: Trino™. Trino™ is a combination of the aforementioned Merino wool and tree fiber, a yarn of superior quality that is sustainably sourced from start to finish.
What's more, Trino™ provides all the qualities you want when dealing with knit fabric for footwear: it's soft, it's comfortable, it breathes, it wicks moisture, and it does all of that without leaving any kind of negative impact whatsoever on the planet.
Some companies market themselves as being eco-friendly without really showing any proof of their stance.
Allbirds has made its commitment to sustainability and zero environmental impact very obvious, and have done so while creating footwear of exceptional quality.
Allbirds aren't alone in their cause, though – there are a number of other shoe manufacturers that are fighting the same good fight to save the environment by choosing to use sustainable, renewable materials and practices.
Allbirds is not your only option for quality sustainable footwear. So, what shoes are similar to All birds you ask? Below we have detailed 13 Allbirds alternatives.
Sustainable, High-Quality Footwear for Any Occasion
While Allbirds has definitely blazed a trail when it comes to footwear made with sustainable processes and resources, there are plenty of other great alternatives out there that are doing their own significant part in saving the environment at a good price.
Each of these footwear companies is making big changes throughout the textile and fashion industries by choosing to be environmentally conscientious and responsible, which in turn enlightens consumers to the issues that most need attention.
While Allbirds create great, comfortable, hardy, stylish, sustainable footwear, they're not alone in their mission.
Reliable, eco-friendly shoes are becoming easier and easier to find, and by buying them, consumers are doing their part to make a difference.
---
FAQ
What shoes compare to Allbirds?
Baabuk, Gieswein, and Woolloomooloo all make shoes that compare to Allbirds. They aim to be sustainably made and are mostly made from sustainable materials. The aforementioned brands are the best direct comparisons as they are also primarily made from wool.
Are Allbirds actually comfy?
In my opinion, yes, Allbirds are actually comfy. With over 3200 reviews and a 4.6-star rating from customers, it is fair to say they are comfortable. I can also attest to this as I have a pair of Wool Runners and have worn them for 2+ years, and I think are very comfortable.
Are Allbirds good with orthotics?
Yes, Allbirds are good with orthotics. They have built-in arch support but you are also easily able to remove the insoles to insert your own orthotics as needed. They are also very comfortable shoes, so that as well will help with any foot issues you may have.
Can Allbirds be worn in the rain?
Yes, some Allbirds are made to be worn in the rain. You will want to make sure you choose the "Mizzles' as they have a special 'Water-repellent Puddle Guard' which helps to keep your feet dry in wet weather. Also, some Allbirds are made from wool which is an excellent material for wet and cold conditions.
Is Allbirds worth the hype?
Yes, Allbirds is worth the hype. With over 3200 reviews and a 4.6-star rating from customers, it is clear that Allbirds is not just great at marketing but actually makes good shoes. They even offer a 30-day money-back guarantee so you can decide for yourself.