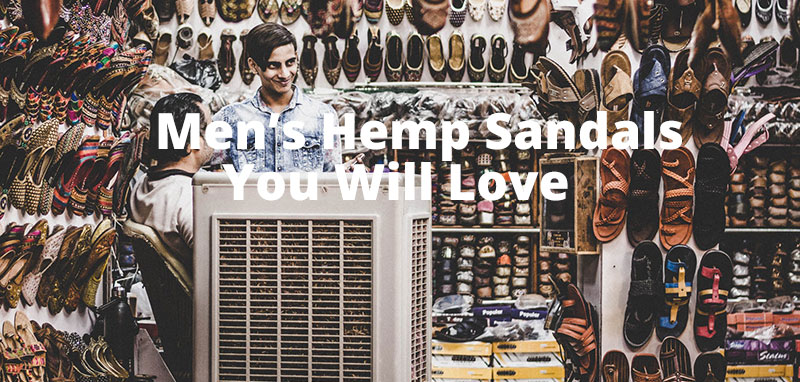 Did you know that only 9% of the world's plastics are recycled? The other 79% ends up in dumpsites, landfills, and more tragically, into the very environment the world has a collective responsibility to protect and maintain.
The problem has become so serious that garbage patches are forming in oceans all around the world. These plastics end up impacting wildlife is such cruel ways it takes human intervention to get those animals to live a semblance of life.
This is why you should pivot towards sandals and shoes made from hemp. You get to save the environment with biodegradable products.
Men's Hemp Sandals
---
Hemp Slippers for Bath by Akkerman Shoes.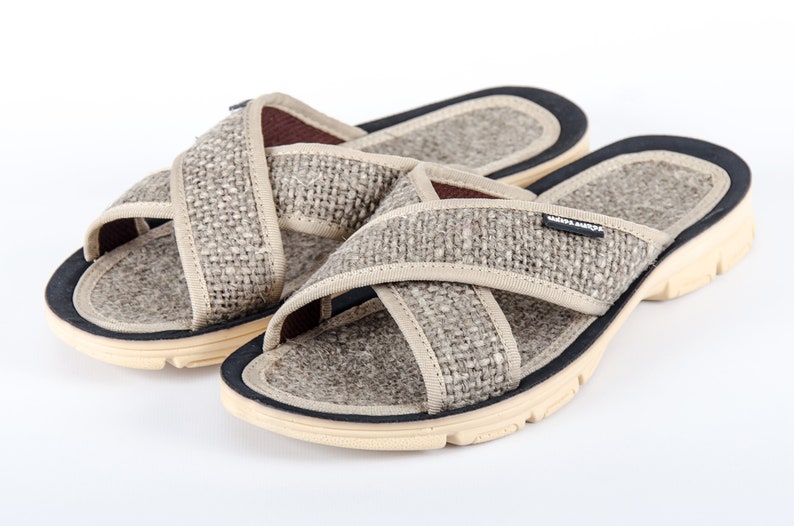 These particular sandals are the epitome of simple design when it comes to hemp products. You get a tough product to serve you, but also to protect the earth when you no longer need them. The sandal is constructed using biodegradable flexible polyurethane as the sole, followed by a shoe lining made from 100% cotton. Hemp comes in to make up the straps and the insole.
As a natural option, these sandals only come in the natural brown color of dried hemp fibers. The FPU sole is cream and the shoe lining is in black. The sizes range from 6.5 to 10.5.
---
Casual Home Sandals by Peter Gervasoni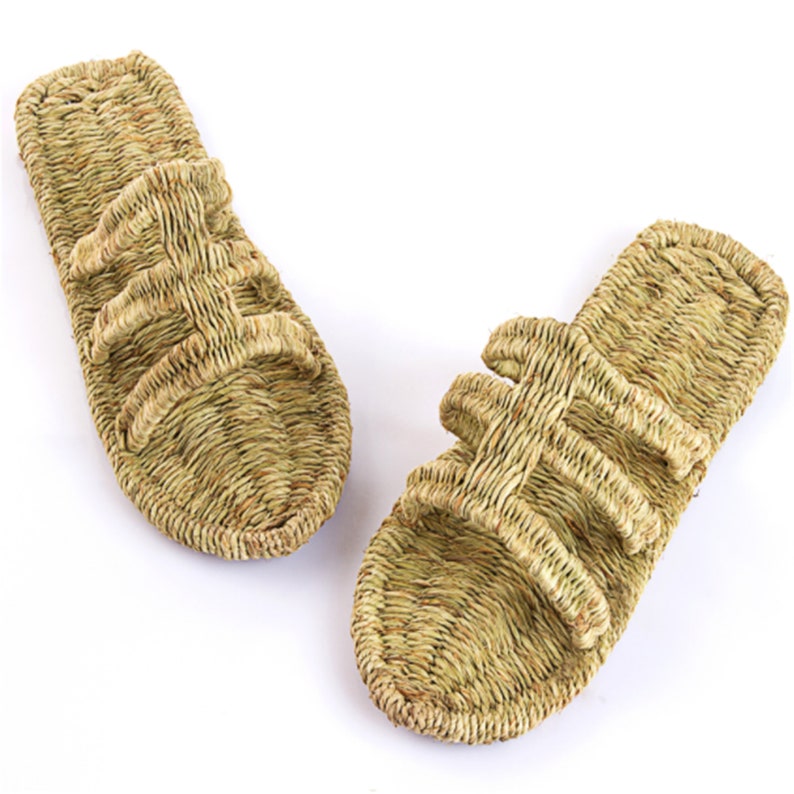 If you are looking for a pair of sandals that will grab the attention of everyone that walks by you, then this is the best pair for that job. The basket-weave look of the large fiber threads make for an interesting look, and definitely feel. The hemp fibers used in creating this product make for a comfortable and durable pair of sandals that will make a great fit for a number of occasions and situations.
These sandals are created to be waterproof but sill cool and breathable. This helps prevent any bad odors from developing in the shoe. You can have the sandals in a variety of sizes ranging from 36 to 42.
---
Retro Straw Shoes by Peter Gervasoni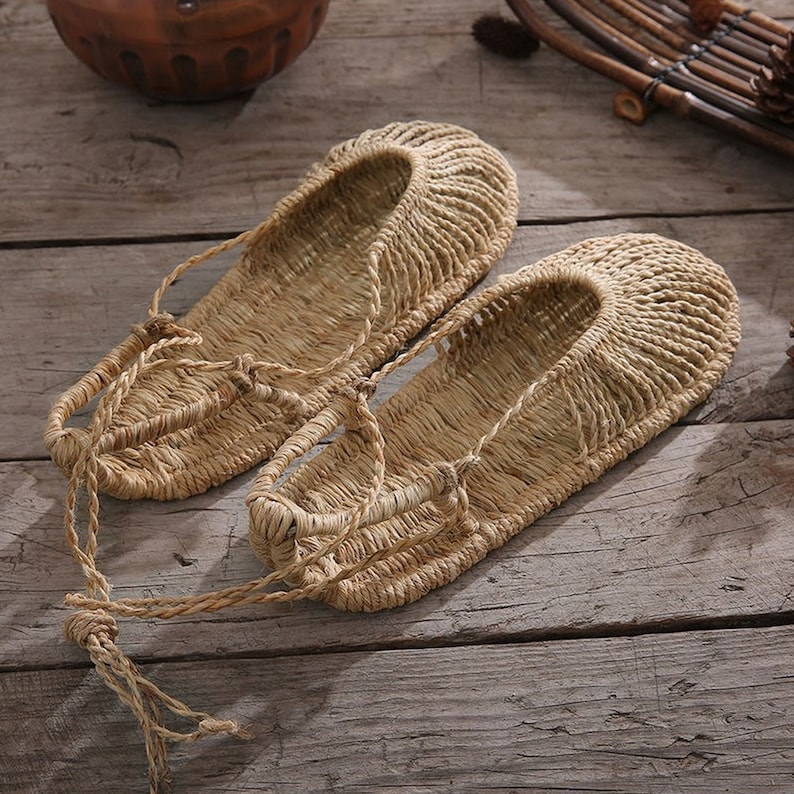 The wefts and wafts of woven hemp fibers can sure jog the creativity of any designer, and it is no different in this case.Here is a pair of sandals that looks like they were meant to be a basket, but then hastily turned into sandals. The effect is a pair of sandals that catches the eye and elicits such wonderful reactions, you will be the talk of town.
These wonderful sandals are hand woven entirely from hemp. The weaving is so tight that the sandal is waterproof, but still breathable. This, combined with the fact that hemp has natural anti-odor properties mean you sandals will never stink.
---
Boardwalk Hemp Sandals by Rawganique.
Rawganique are a brand dedicated to seeing the world gets to enjoy environmentally friendly and bio degradable clothing that is stylish. That's what you can expect from these sandals. They are made out of a hand cut natural rubber sole. The inner sole, the straps and the laces are made entirely from 100% organic hemp. The end result is a design that will look at home, both at home and at the beach.
You can get these wonderful sandals in three different colors; natural, earth brown and black. The sizes range from 36 to 46. The sandals are naturally water resistant from the oils secreted by hemp, but still breathable.
---
Seawall Lace Up Sandals by Rawganique.
It's not everyone who may be looking for designs that will catch the eye. If this is you, then you can be comfortable with these sandals as they easily blend in with myriads of other designs. The major difference will be these are made from a combination of hemp for the woven parts, and a natural rubber sole. The laces help you secure your shoes to your feet, just in case you find yourself in some activity that can see the sandals come off.
These sandals come in three colors. These are bright spectrum for that tie and dye look, natural and black.
---
Cape Town Sandals by Rawganique.
Sometimes you just feel the need to have shoes that are both functional, but also have you at ease. You can switch up activities without having to struggle with getting the appropriate shoe. Well then, here are sandals, or rather, clogs that achieve this desire.
You have a waterproof closed upper part that you can easily slip into and out of, resting on the support provided by a natural rubber sole. The design makes the sandal breathable to help prevent odor. These sandals come in sizes ranging from 7.5 to 13.5. You also get three color choices that are white, natural and black.
---
FlagStaff Hemp Sandals by Rawganique.
Sometimes, you may not want to stray too far away from what is familiar. This means you may want a design you are familiar with and that what the flagstaff sandals are meant to achieve. These sandals are constructed from a cork footbed with a natural rubber sole. The straps and inner sole are woven using hemp fibers. They closely resemble many vintage sandal builds, the difference here is that the FlagStaff sandals are constructed using environmentally friendly and biodegradable materials.
You can get these sandals in two colors; natural and black. The sizes range between 7.5 and 10.5. These sandals are a unisex option.
---
Bahamas Hemp Sandals By Rawganique.
The simplicity trend continues here. This pair of sandals can easily qualify to go by the less used term, thongs. The between-toe design makes for the perfect beachside or poolside aesthetic, the outfit you choose will determine the complete look. The sandals are constructed using hemp for the uppers and the footbed, while a handcrafted natural rubber makes up the sole.
This sandal is 100% vegan friendly and hemp is widely regarded for being hypoallergenic. As these are unisex sandals, you can choose to have laces with your purchase for the Roman aesthetic. The sizes range from 5.5 to 13.5. Only the natural color is available.
---
Montagne Huarache Sandals by Rawganique.
The native Americans were on to something when it came to sandal design, and that has been used as the basis for these striking sandals. The straps cross over from side to side in a manner that is both functional and aesthetic in nature. If you would like, the sandals ship with straps you can use to secure the sandals from slipping.
These sandals are handmade using hemp for the straps and the insoles and then completed with a natural rubber sole. The men's size range from 7 to 13.5. You can get the sandals in a natural color, or in black.
---
Beacon Hill Huarache Sandals by Rawganique.
If you love the huarache design but didn't really like the previous sandals, then this might be the design for you. The design is simple, just four straps crossing each other; two on each side. The design is both aesthetically pleasing, and functional with the hemp straps and foot bed, while a natural rubber block makes up the sole.
The sandals are made out of recycled tire rubber to add to the already organic and biodegradable hemp. This environmentally conscious design is only available in black and in limited men's sizes ranging from 10.5 to 13.5.
---
Rasta Summer Flip Flops by HempHemisphere.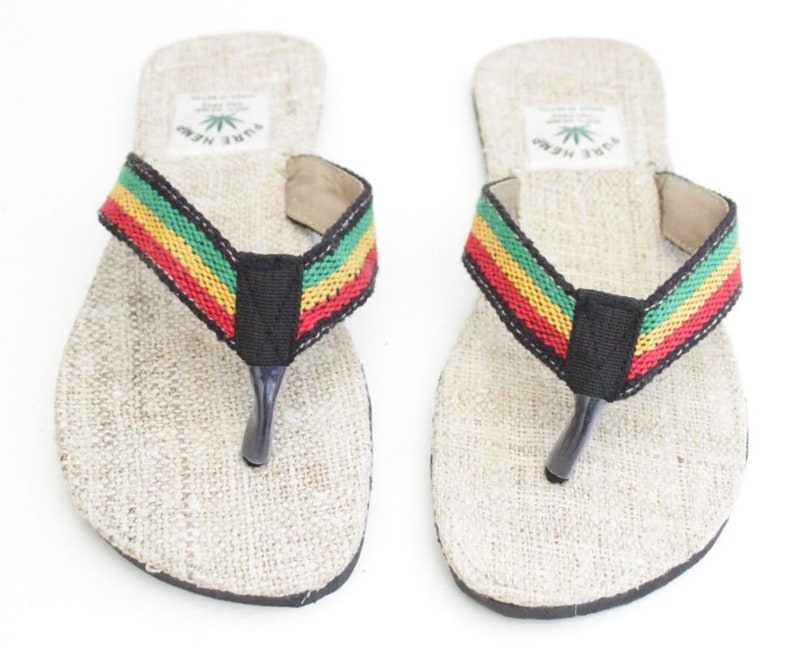 The red, black, yellow and green can be found on many flags worldwide, but none have reached a point of instant recognition that the Rasta colors have achieved the world over. The Rasta colors have also become a symbol of vacationing on warm sandy beaches, which is the perfect place to wear these sandals. They are crafted from recycled rubber as the sole, and hemp fibers making up the straps and the foot bed.
These sandals only have a single color option; the Rasta colors on the strap which somehow complements the natural light brown color of the hemp. There are too many parallels to be drawn but the end product works.
---
A case for hemp.
With eco-consciousness growing all across the globe, it was only a matter of time until the damaging effects of plastics was noted and efforts made to bring it under control. While the struggle is just ramping up, there had to be a solution somewhere that could replace a number of these plastics in shoe manufacturing.
While hemp was previously hampered by the myriad of anti-drug laws across the globe, it turns out it was the perfect answer to a lot of questions. Hemp is hypoallergenic, meaning it can be used to make a lot of clothing products that will not irritate your skin.
Hemp is an environmentally friendly crop that doesn't require heavy irrigation, or even chemicals such as pesticides to grow. If anything, hemp chokes out any plants growing amongst it, meaning weeds have no chances of survival. Therefore, no herbicides, fungicides or pesticides required.
Hemp also has natural anti-bacterial properties. So when you have on your sandals for long and expect to be met with an odor, that is not an issue with shoes made from hemp.