I know one thing, I can't live without my sandals. For those sneaky walks around the neighborhood or trips to the beach, they are my go-to footwear.
There is a HUGE selection of sustainable, eco friendly, and ethical sandals out there but below is a list of some of my favorite sustainable sandals and brands I have found for both men and women.
I hope you enjoy the list.
---
Eco Friendly & Sustainable Sandals
For the ethically minded fashionista, there is an abundance of sandals to pursue over at Swahili Coast Design. All of this brand's products are made in safe environments by artisans that receive a fair wage.
SCD's flip flops run the gamut from colorful to minimalistic. The beadwork is intricate and playful, and no matter the occasion you'll be able to find a pair of sandals to suit your needs.
If you're looking for a pair that are vibrant and perfect for those hot summer days, you will love their Thong Sandals in Serengeti.
---
In doing their part to make the world a better place, Native Shoes has initiated a project that lets both wearer and manufacturer make a positive impact. Every pair of shoes from this brand will be 100 percent life cycle managed by 2023. This means that all well worn, well loved Native Shoes will be recycled and made into something entirely new.
With sandals for both men and women, there are plenty to choose from. The styles range from simple to blazing, and some pairs like the Spencer LX are guaranteed to attract attention no matter where you go.
---
The footwear you'll find at Laiik is made from the finest materials, including vegetable tanned vachetta leather that is sourced from only the most responsible Italian tanneries. In regard to all other materials, Laiik makes an effort to source the best they can find without making any compromise on quality, ethics, and eco-minded practices.
Laiik's sandal selection includes both flats and mules, and you will find plenty of solid color and minimalist design. Whether you are looking for a pair to chill around in on your lazy summer days or a pair to wear out on the down, you won't be disappointed. My choice pair is Ria, because their design and beautiful blue colour make them perfect for day-to-night wearing.
---
4. Beyond Skin
Beyond Skin makes ethical, eco-friendly footwear, all of it carefully crafted at factories in Spain. They use materials such as synthetic leather and polyester satin, alternatives that do not require harsh and environmentally damaging chemical processes. Beyond Skin also uses vegetable polymer coating and 100 percent faux fur leather lining.
The Beyond Skin sandal selection for women has playful designs, urban designs, and minimalist designs. One of the more-eye catching pairs are the Aubrey Leopard Print Vegan Sandals which will accentuate any outfit.
---
Christy Dawn is a brand that believes in honoring Mother Earth, and to that end all of their products are made with repurposed materials. Their Deadstock Collection is an example of that, wherein they rescue fabrics from the landfill and revitalize them.
Christy Dawn's sandals are exquisitely crafted, elegant, and reminiscent of earlier, simpler times. The Monroe Sandal is gorgeous and makes the perfect accessory for formal or semi-formal summer outings.
---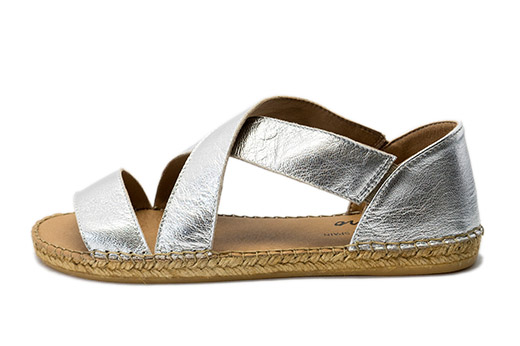 Avarcas is a brand that operates through the meshing of ethics and culture and fashion. Avarcas are traditional Spanish footwear from Menorca, Spain, and the company is now making its fashion statement known in North America. The husband-wife duo that runs the company has ensured that their eco-friendly sandals pay homage to the authentic style, and all the sandals have soles that are made from recycled tires.
Avarcas USA's collection of espadrilles comes in a large range of colors. You'll also find sandals with a wedge heel if you are looking to jazz up your summer wardrobe. The Beach Metallic Silver sandal just begs to be worn on a night out with your friends.
---
Insecta's commitment to eco-friendly fashion is apparent in every single part of their shoes. The soles are made of recycled rubber, while the insoles are created from 100 percent recycled material from the excess of their own production. The uppers are made from a variety of different recycled materials, such as cotton, laminate, vintage clothing, and PET bottle plastic.
Insecta offers both classic and vintage sandals, and both are entirely made from sustainable practices. One of the most striking pairs they make is the Brown Polka Papete Sandpaper Sandal, which has a thick, stylish sole and a classic polka dot design. Regardless of your fashion preferences, Insecta is sure to have a pair that appeals to you.
---
In order to draw awareness to the amount of tire waste in the world, and also in an effort to combat this considerable issue, Indosole's footwear is made from recycled tires. The indestructible quality of tire rubber lends itself very well to shoe soles, providing you with durability on top of stylishness.
Indosole's flip-flops are minimalistic and solidly colored and are perfect for casual outings to the beach or for just hanging out in your backyard. You can find a pair in every color, so why not buy a few just to have them?
---
Verdura's footwear is made with a bevy of sustainable materials, including recycled tire rubber and leather. They also make innovative use of recycled fishing nets for some truly original designs. Verdura's sandals are also made out of vegan, vegetable-tanned leather and all-natural materials like hemp, latex, and canvas.
You will find a few different styles in their shoe collection, including the incredibly unique Vegan Sandals. Whether you are looking to spend your days in comfort or draw some attention to making a statement, Verdura has sandals that are sure to meet your preferences.
---
There are very few brands that create quality organic hemp sandals, and Rawganique may be among the best of them. Each sandal is made by hand at a small European atelier. The sandals are all ethically made through a completely sustainable, all organic hemp supply, and the material itself provides a breathable, comfortable fit for everyone.
There is an abundance of Rawganique sandals styles to choose from, but my favorite is the Boardwalk Unisex Sandal. It has the perfect blend of urban and rustic and is durable enough to be your go-to footwear all summer long.
---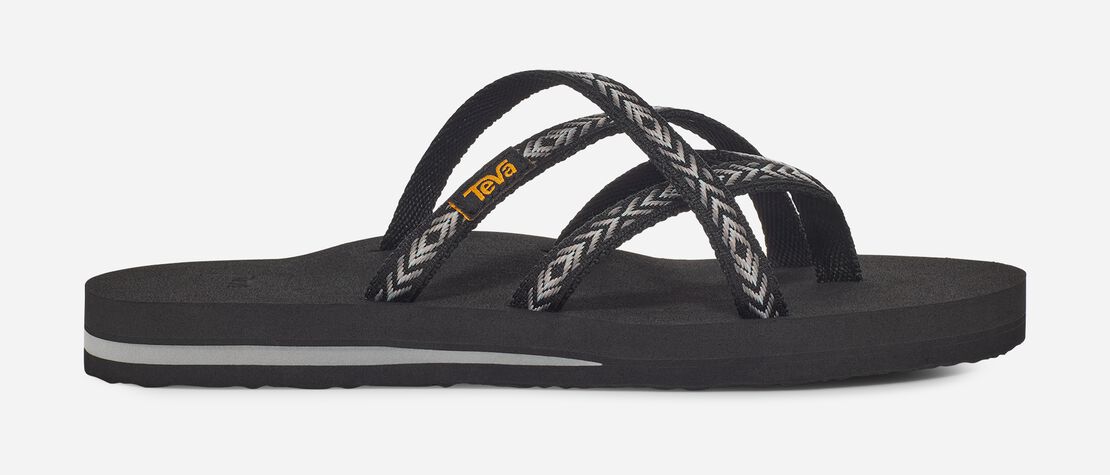 All of the sandals Teva produces have straps that are made using recycled plastic. In addition, the company is always actively looking for sustainable options for the other key materials used in their sandal production, and they also make it a point to use less waste and water in their packaging processes.
There is an abundance of Teva sandals to choose from and you can choose from casual to semi-formal. These shoes are built to last so with that in mind, make a choice based on comfort and style preference. Me, personally? I would go with Olowahu.
---
Etiko has a saying: "Wear no evil." The brand focuses on lessening its environmental impact, and to that end, they use only organic cotton and natural rubber in its footwear production. In addition to that, they do not use any animal glue, and all of their packagings are FSC recycled cardboard.
Etiko's collection of thong sandals is bright and full of personality. They're a great slip-on shoe for when you are just chilling around the house or headed out for a day by the lake/ocean.
---
This Canadian brand epitomizes free spirit, making shoes that not only look earthy and boho but also are made almost entirely out of eco-friendly rope. The shoes are hardy and meant to hold up in sand, mud, water, and every other kind of terrain aside from snow. The rope is sustainable, meaning that the impact of manufacturing is far less than what it would be with other materials.
Regardless of whether you prefer solid color or subtle design, you will find a pair of sandals that catches your eye. Camel with Multicolour Sole are just the right kind of style for me.
---
How about some sandals carefully crafted from repurposed water bottles? In addition to recycled marine plastic, Rothys also uses Merino wool and eco-friendly rubber.
With a footbed made from plant-based materials and vegan leather outsoles, these sandals are perfect for those summer months.
These sandals have a diverse range of vibrant colors and styles to choose, making them the perfect plate to shop for the eco-minded individual.
---
In doing its part to be kind to the environment, this shoe brand has made a commitment to adopt eco-friendly practices. They very closely monitor their energy usage and conserve wherever they can, they minimize waste water and source their leather from Gold Certified tanneries. They also use water-based cement in their manufacturing processes in order to reduce hazardous waste.
With sandals for men, women, and kids, this is a great place to shop for warm-weather footwear for the entire family. The sandals are sleek, durable, and perfect for any occasion. The Olukai Ulele is a perfect example of what an eco-friendly men's sandal should be.
---
For women looking for high-class sandals for those formal occasions, Nelson Made is worth a look.
They have a large range of top-quality sandals in different styles all suitable for highly formal occasions.
Based in Melbourne this fashion brand has gone to great lengths to work on its sustainability with carbon-neutral shipping, solar-powered studio, recycled packaging, and compostable shipping satchels.
The shoes are made from LWG Certified leather (insole and upper) with a recycled leather lining.
---
If you are looking for sandals for the whole family then Kavat would be a great place to start.
This footwear brand has a large range of sandals and shoes for men, women, and kids.
These sandals are one of their most popular sandals and are made from chrome-free Eco performance leather. The insole is made from microfiber and the outsole from rubber.
They are certified with EU Ecolabel which is awarded for environmental excellence.
---
Style and fashion meet eco-friendly and recyclable.
These stylish women's sandals are lightweight durable and have an adjustable ankle strap for added comfort.
Manufactured in a closed-loop recycling process and recyclable, these vegan sandals are made in the USA and are cruelty-free, and responsibly made.
Third Oak has a range of these sandals along with many different styles of flip-flops for women.
---
High-class, men's sports sandals at their finest, these men's sandals from Vivobarefoot are about as sporty as you will find.
Made for running and sports races they will certainly live up to the claim of being as close to barefoot as possible, given their thin and light nature.
I certainly appreciate that in any sports shoes I wear.
These particular sandals are made from recycled plastic PET webbing with an EVA molded footbed.
---
Good, durable, stylish vegan sandals can be hard to come by, but Good Guys Don't Wear Leather offer just that. The company uses vegan leather in all of its shoe and sandal designs, and that leather comes from a wide array of sustainable sources. Most of what they use is 100 percent recyclable, and other leathers they use are made from pineapple and apple waste. They also utilize leather made from cactuses and grapes.
Their sandals have a simple yet refined style and are solidly colored with a durable build. They have a large selection for both men and women, including the Spart Black pair. These particular sandals have a vegan leather upper, memory foam, and a non-slip EVA sole.
---
SoleRebels make funky, vibrant, bright-colored sandals, flip-flops, and these vegan sandals are no exception.
If you like wearing something original and stand-outish, then their range is worth a good look and is all hand-made with hand-loomed and hand-spun textiles.
Hand-crafted in Ethiopia, these fair trade sandals are made from recycled materials including their hand-cut recycled tire soles.
They have a range of sandals for both men and women.