Right now, in this very world that you live in, there is an artificial formation known as the Great Pacific Garbage Patch. No, it is named, not in irony or jest; it is an apt description of the absolute lows that we as humans have reached.
Seriously, there are two great islands of garbage floating around in the Pacific Ocean. The Easter Garbage Patch floats a few miles off the coast of California, and the Western Garbage Patch floats off the Eastern Coast of Japan.
Why is all this happening? Our neglect for the environment we live in and our failure to realize that we need to live sustainably. Yes, the materials floating in those garbage patches are all made of plastic. From masks to nerf guns, old flip flops, to action figures from your childhood.
Choosing to go down the sustainability route isn't just a matter of trying to feel good about something in your life. Well, if you do, you should congratulate yourself vigorously for such a gesture. Yes, you will have made a step in the right direction, no matter the reason behind you doing so.
So, start small, start now, and start with getting sustainable swimwear.
To make things easier for you, we have compiled a list of 17 different sustainable swimwear products from some of the leading sustainability-oriented companies from all around the world.
---
Sustainable Swimwear

1. SS19 by DosSwim
The style of the design tells you it was designed entirely from nostalgia. That's a great thing because the past trends remain to guide what is happening right to this day. In this case, the styling cues and the vibrant colors are reminiscent of the color fest that was the '90 and early noughties.
This product comes from a company that chose not to go and develop its fabric patterns. DosSwim has relied on a myriad of deadstock materials. Those materials would probably have ended up in the landfill or even in the ocean.
The SS19 is but one product in a lineup that is rich with imagination and color.
---
2. Oasis One Piece by Girlfriend Collective.
Here is a design you don't see every day. If anything, this will inject some bold styling into the swimwear market and make for a beautiful companion for the people who want to stand out but have to dress appropriately. This one-piece is made from Econyl, which is 17% Spandex and 83% recycled nylon.
The Girlfriend Collective is unique and forward-thinking in terms of how it goes around making their sustainable wear. Aside from the Econyl, they also use Cupro, a waste fiber product from the cotton industry. All these are weaved into their products at their SA8000 rated facility in Hanoi.
They don't just make the Oasis One Piece; they also have various swimwear options available for you to choose from. The Poolside Bikini Bottom was a great contender for this list, but the wow factor of the Oasis One Piece came through.
Find out more.
---
3. The Ruffle Shoulder One Piece by Londre
The possibilities are endless with this design. A quick tour of the beach or swimming pool, slip out of your shorts, and go in for a dive. Once you come out, just put on that denim shorts and go for dinner. All the material used in the making and packaging of this and other products from Londre is made in a sustainable fashion made in a factory that is OEKO tex 100 certified.
Londre is a company based in Canada that is taking the sustainability fight to the next level. So far, they have taken out over 200,000 plastic bottles from streets and the ocean to create these beautiful works of art. You can tell the products are quality because they pay their staff a substantial living wage.
If the Ruffle Shoulder One Piece isn't classy enough for you, the Cinch Belted and the Multiway are some other styling options you can choose from. Londre is imbued with excellent designers.
---
4. High Hip Bottoms by Kitty and Vibe.
Versatility will always be a remarkable trait to possess. It doesn't matter if it is a partner, colleague, or even the piece of clothing you will be using as swimwear. The reversible High waisted bikini bottoms make for a versatile tool, not on a Swiss Knife level, but still valuable and helpful. All this beauty from sustainable fabric is made from 82 percent recycled polyester.
Kitty and Vibe is not just another story on sustainability. It is a story about self-love and going above and beyond to serve the people who have traditionally been underserved. While they spread the love with their products, they also ensure that their staff are paid a living wage and provided with benefits. Half of the products from their factory are sustainable and recyclable, with shipping being 100 percent recyclable.
The Kitty and Vibe story of love isn't limited to bikini bottoms. Their range covers tops and one-piece designs that are suited for a variety of body types.
---
5. Extended Lydia Bikini Bottom by Mara Hoffman.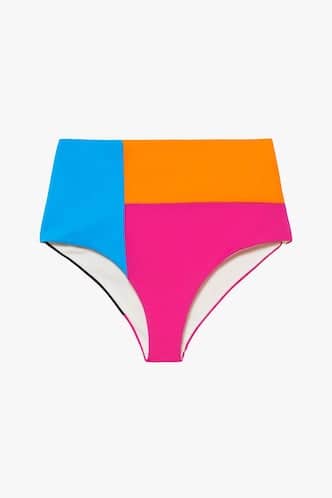 The entire purpose of getting swimwear is to have some appropriate wear when you are out enjoying a swim. Any other design feature is secondary. But what if you want to wear something that is not only appropriate for the activity, but also for the kind of exciting mood you will be in?
Mara Hoffman does an excellent job of providing exceptional designs and working towards a sustainable future. Rather than rely on only one material, the designer has chosen to go with ten—these range from Econyl, Repreve, Hemp, and others.
The Mara Hoffman line of swimwear is extensive. The thing you will note is the colors and patterns are nothing short of being fabulous. You can find beautiful one-piece designs, jumpsuits, dresses, skirts, coverups, and so many other options.
---
6. Astro Bottom by Dippin Daisys
If there is one thing that stands out about this design, it has to be the color, followed by the texture. From afar, it looks like it is a corduroy bikini bottom that has been tastefully dyed to match the radiant colors of a sunset at the beach. Also, the fact that it includes a tie on one end makes this quite the functional design.
Here is a company that is upping the ante in terms of the raw materials that go into making their beautiful designs. 95% of the materials used in making their swimsuits are recycled consumer nylon. To utilize every bit of cloth, they repurpose dead stock by turning them into tye and dye bikinis.
The tye and dye designs are just one part of the large catalog of swimsuit designs they have available. The designs range from bucket hats, skirts, bikini tops and bottoms, and one-piece designs.
---
7. Vacation One Piece by Peony
Here is a beautiful name for a company that does gorgeous designs. That's what you are going to get with the Vacation one piece. With elegant detailing from every angle, this classic figure hugging shape features full coverage for everyday wear. This beautiful work of art is made from 100 percent recycled Econyl.
Aside from just making their products with Econyl, they also use various recycled fibers such as Repreve. The Econyl they use is made from 100 percent recycled fishnets, which would have made their way into the world's waterways and choked marine life.
If the one-piece isn't your thing, but the print is something you love, you can find the print on a bandeau, Hi Pant, halter, or Hi Line Pant. There are various other patterns and designs available from Peony that will for sure give you trouble choosing.
---
8. The Marina by Summersalt.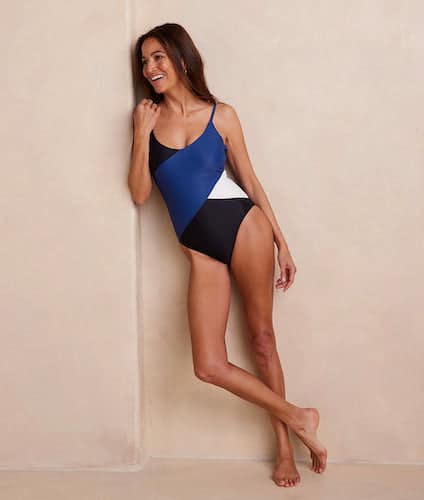 Here is a company that thinks in terms of bold designs. While others may be thinking of small things here and there, then cramming them all onto one swimsuit piece, Summersault decided they will make it obvious. This design is in terms of the bold colors that adorn their environmentally friendly designs.
Summersalt is a company that focuses on producing designs that are not only bold but those which have an immediate impact on the efforts to become a sustainable society. They craft these divine pieces with 79 percent recycled polyamide. The fact that they make their designs for women of varying sizes makes them even more appealing.
Aside from the bold multicolor pieces that you will encounter, you also have the opportunity to choose from bold single-color pieces—these range from a deep blue to luscious velvet and even a leopard skin one piece. Seriously, you will fall in love with their designs.
---
9. Elle Adjustable Tie Side Bottom by Vitamin Swim.
Whatever it is that Vitamin A Swim is on, it seems they have an eye for design and inclusion. The Ellie Tie Side Bottom is a superb example of a design guaranteed to serve women of different sizes so much better than what a generic design would do. The side ties and the solid color design make this a must-have as it fits with every way you may feel.
Vitamin A is a company that started entirely to be sustainable rather than pivot towards it. Everything from their fabrics to their packaging is made from 100% recyclable material. They utilize EcoLux, a premium fabric made from recycled nylon fibers, to weave their beautiful designs into reality.
Vitamin A has other beautiful designs that may be more of your fancy. Their sky blue and white tye and dye designs range from bottoms, high leg, triangle top, and others. You don't need to be told how the different designs flatter different women in ways that generic swimwear can only dream of.
---
10. Positano Hotchpotch  Swimsuit by Boden.
The designs and colors that Boden have available are beautiful and in plenty, but there is something about the Positano Hotchpotch Swimsuit that jumps at you and makes all the others look like posers. Not sure whether it is the rich navy blue color or the striking color band around the waist and shoulders. Maybe it's the simplicity of the design that makes it stand out without trying. Whatever it is, it just works.
Boden is a company at the forefront of making the world a better place. The sustainability and humanity that they have demonstrated should be heralded. Aside from just taking care of their employees, they have been at the forefront of using sustainable recycled nylon, wood from managed forests, and sustainable cotton.
Even if the focus is placed on the Positano, there is still some doubt about this. The other designs from the Boden lineup are to die for. The Bordeaux Tie swimsuit and the Cassis Cup Size swimsuit pop and complement the wearer's bodies; they can draw a tear from your eyes.
---
11. Braxton Onepiece by Galamaar.
The design could easily be construed for two pieces as only a tiny strip of clothing holds the bottom to the top right under the bust. The high waist bottoms form a triangle as they rise to the bandeau, which makes them an excellent choice if you are looking at flattering various body types. The whole effect is a product that can only be described as fitting both in terms of form and function.
Galamaar is a company that lives on the sustainability mantra. The design fabric in use is made from the nylon of discarded fishing nets. Galamaar ensures their wiring comes from regenerated metal hardware. Their packaging is 100% recyclable. Here is a company charting a path towards a sustainable future without making a racket about it.
Galamaar designs tend to lean towards earthy tones. The colors are incredibly complementary and have earthy tones. They range from black to olive green to flowers on their mix and matchable pieces to yellows, orange, and whites. The designs include high kick briefs, high bottoms, band briefs, and slimline briefs.
---
12. Falbala Bikini Top by Sezane.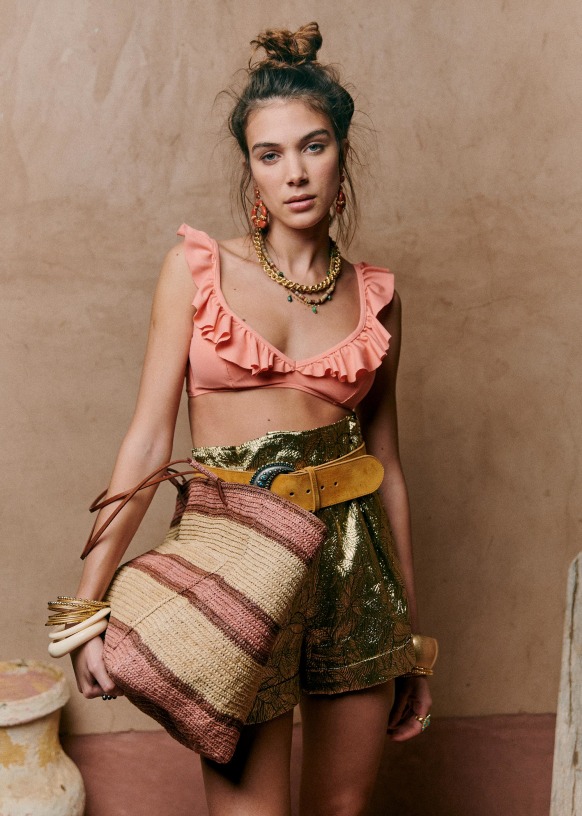 When you lay your eyes on any of Sezane's designs, you can immediately feel the Mediterranean influence filtering through. No other design captures this essence better than the Falbala Bikini Top. The peach color and the frills all around the top seams quickly give you an air of enjoying a swim somewhere along the expansive Spanish and French Meditteranean coasts.
Falbala goes beyond swimwear when it comes to the manufacture of sustainable clothing. From denim to knitwear and so much more, they have ensured that they procure and weave organic and sustainable material into their clothing. This French company relies on recycled polyester to vegetable tanned leather; they ensure their raw material is Oeko-Tex certified and FSC Mix certified.
The swimwear designs by Falbala are tastefully Eurocentric in origin but look to serve the entire world. Their colors, their patterns all hearken strongly to the Mediterranean. Even the simple color designs have something to them that speaks of the romance you are likely to experience while traveling the cities around this expansive sea.
---
13. The Yulex Jane by Ansea
You know what, it's not every lady out there that wants to get some swimwear for a bit of a tour onto the beach, have a swim, lounge around the coast, and maybe go for an evening out later. Some want to take on the ferocious power of the sea on their surfboards and still look stylish afterward. That s what the Yulex Jane is made. Superb, chic, but most importantly, functional.
Ansea is taking the sustainability fight to a different dimension; endlessly recyclable. This sustainability is not just in terms of material but also usability. All their swimwear is made from Econyl, which is regenerated nylon from ocean plastic. Their designs are also reversible, and they are double fabric on each side.
The design gurus at Ansea have taken their mantra and weaved it into such beautiful and functional designs that it is difficult to ignore. These designs are going to explode in popularity all over the world. Their bold and striking colors are sure to get the attention of many.
---
14. Sport Legging Razia by RubyMoon.
Who would ever have thought of combining gym wear with swimwear? Now that you think about it, you can see how that was an inspired move, right? Early morning swim followed by a gym session and not have to stop to change in between; marvelous! Then to cap things off, the florals on the field of blue and black make this a design you should buy right now.
The thought that goes into the design explains a lot. RubyMoon is an enterprise that women started for the entire purpose of helping women entrepreneurs the world over. Aside from incorporating sustainable practices into their weaving, they ensure their profits go into microloans for women-run enterprises worldwide.
To say that RubyMoon designs are inspired is an absolute understatement. These are well thought out and well-crafted designs that have been targeted at the active women of the world. You can wear bikini bottoms to the beach, gym, and volleyball court to tops that can support all three domains and still be functional on the street. The world is getting beautiful for the people in it.
---
15. Danielle One Piece by ARO.
Sometimes, you want to get out there and enjoy a swim. You don't want to set the world on fire; you don't want to tell the whole world you know what colorful design is; you have your mind focused on one thing. That's what Danielle Onepiece does. The plunging design at the back interspersed with straps make for a beautiful design.
ARO was formed with sustainability as its primary goal. Their focus is on upcycling and recycling. Their designs come from deadstock to help reduce textile waste, and then recycled fabrics make up the rest of the materials needed for their plans. Something interesting is that their packaging is compostable in 6 months.
ARO seems to be walking a fine line between bold designs and those that complement skin tones to perfection. Their designs range from chocolate-colored pieces to bold single color and multicolored pattern designs.
---
16. Cassandra Swimsuit by EVARAE
Well, it may be appropriate to dress for the occasion; it doesn't hurt to stand out or even break ranks with what is expected of you from time to time. As long as it is still functional, go for it. That's what the Cassandra Swimsuit does, as it mimics a design that you would expect in an haute couture set but instead is found on the beach.
EVARAE sources its products from a sustainable supply chain in India and Italy. What you get is sustainable swimwear made from Econyl, linen, and silk. They go a step further. With every order that is completed, a tree is planted.
The brilliant minds behind EVARAE designs deserve everything good that comes their way. They simply decided that even if you are at the beach or by the swimming pool, it doesn't mean you should lose all your style. Their designs look like they belong in Monaco rather than by the water.
---
17. Mott Mailot by Marysia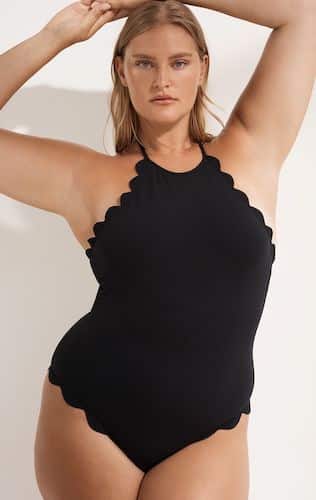 The thing you will notice with most of these swimwear designs is their clean lines and slight curves that make up that specific design. Well, Marysia thought, "What can we do to disrupt that aesthetic while not straying too far away from what the Mailot is supposed to do? Ah, add scalloped edges to it!" I dare say, it worked a treat!
Marysia has been at the forefront of the fight towards a sustainable world. Since setting up shop in 2009, she has ensured her signature scallop designs are made from 100% recycled material. This commitment has allowed her to design award-winning garments and get featured on some of the world's leading platforms.
Marysia's approach to designing swimwear is to have them functional first, then come up with a styling that not only catches the eye but ensures you enquire of yourself as to why you couldn't think of something so simple. The colors and patterns further add appeal to all her designs.