Nothing is more important to our health than getting sufficient sleep, and comfort goes a long way toward facilitating that. The sheets we sleep on are just as vital to a good rest as our pillows and mattress, and that's why it's so important to have sheets that are of the highest quality and are designed to last. Hemp bed sheets are a perfect choice and below we explain why.
The Benefits of Hemp Sheets
One of the best advantages of hemp sheets is that they are very breathable and highly absorbent, which goes a long way toward keeping you cozy and warm in the winter and cool in the summer. Hemp is also very strong and has several times the tensile strength and durability of cotton, which means that hemp sheets will last quite a long time and save you the money of having to replace them.
Hemp has some other great qualities as well. It is antibacterial, anti-viral, and hypoallergenic, and all of these combined make them a great choice for people who suffer from allergies and asthma. People who have seasonal allergies will benefit from having hemp sheets when everything is in bloom as they will find their quality of sleep much improved.
Most hemp sheets are eco-friendly, as they are unbleached and are made without any of the harmful chemical treatments other types of sheets go through. In addition, hemp is a sustainable material as it grows quickly and doesn't require the application of fungicides, herbicides, or pesticides. As a crop, it also requires considerably less water than cotton. Choosing hemp sheets is a good step to take if you want to start lessening your environmental impact.
It is also a great alternative to linen.
What Do Hemp Sheets Feel Like?
Because hemp is more breathable than cotton, they tend to be comfier and what's more, also have improved insulation. Unlike other sheets, hemp sheets are soft and smooth right out of the package and they will soften further after every wash. This means that the longer you have them, the more comfortable they will get.
Are Hemp Sheets Better Than Cotton?
Hemp sheets have some improved qualities over traditional cotton sheets, including better durability and increasing softness after every wash. There's also the environmental aspect to consider – sheets made from hemp are far better for the environment than those made from cotton due to lack of chemicals for treatment and growth.
Best Hemp Bed Sheet Brands
Delilah Home's 100% organic hemp bed sheets are surprisingly extravagant. Not only are these sheets organic and sustainable, they are also very lightweight and breathable. The organic nature of this hemp means that they are free of harsh chemicals and toxins. Boasting a GSM (grams per square) thread count of 180, these sheets are also 50% thicker than most other brands and are guaranteed to give you the utmost in comfortable luxury. Their breathability and insulation mean that no matter what time of year it is, you'll be resting as comfortably as possible.
These hemp sheets are available in four different sizes (twin, queen, and king) and come with a choice of four colours. The sheets are comfortable right out of the package and will only continue to get softer and more comfortable with every wash.
---
Buffy's hemp-linen sheets are better for you and the environment. Hemp is an incredibly beneficial crop as it absorbs a great deal of CO2 and improves soil quality, which makes it a better environmental material than others used for bed sheets. These sheets by Buffy are definitely friendlier for the earth and that's in addition to being very durable. They have a breezy quality which means that you'll be resting just as peacefully in the hottest months as you will in the cold ones. The soft nature of the sheets, which only improves after being washed, is entirely free of chemicals and toxins.
These organic hemp-linen sheets are available for full, queen, king, and california king mattress sizes. There are seven different colours to choose from, which means you will be able to coordinate the sheets with the shades of your bedroom, duvet, or quilt.
---
These sheets by ATLINIA are 100% pure hemp and feature supreme craftsmanship in terms of stitching, making them as gorgeous to look at as they are comfortable to sleep on. The sheets come pre-washed so that you can experience a night of luxe comfort immediately, and what's even better is that these sheets will not stretch or shrink. Their durability means that you will have them for years to come and can look forward to increasing softness with every wash. As we spend a third of our lives in bed, ATLINIA wanted to create a set of hemp sheets designed to last and stay comfortable for years on end.
These hemp sheets are available in 13 different colours and come in both queen and king sizes. The quality of the sheets, as well as the organic material, means that you will be sleeping in unparalleled comfort.
---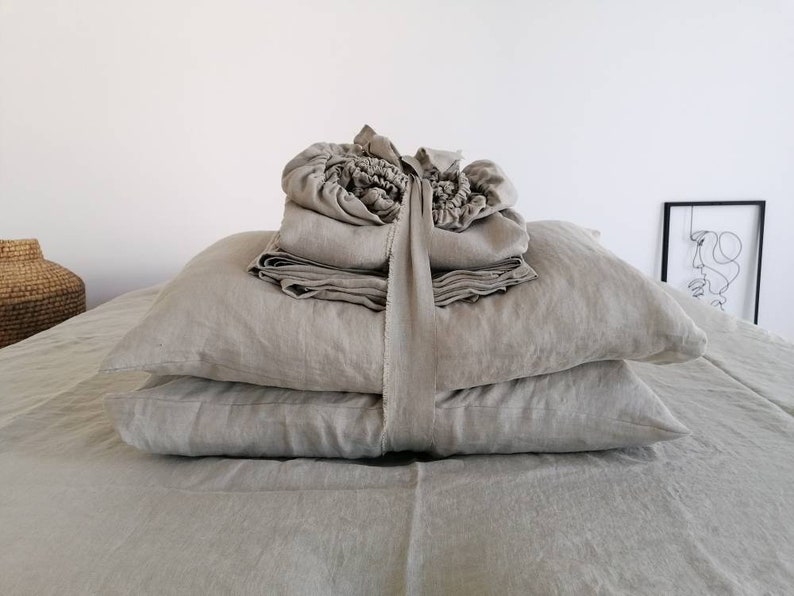 The hemp sheets made by marupeLINENhouse are 100% high-quality, all natural hemp. The sheets come pre-softened with excellent craftsmanship on the stitching at the sames, and all the internal seams are done with French (double) stitching for extra durability. This bedding is designed to last for years and will progressively become softer and more adapted to you, meaning that you'll be just as comfy using them years from now as you will at the start.
While these are only available in one colour (natural), the sheets can be purchased for children's single or double beds, and for adults in twin, twin XL, double, queen, king, and california king.
---
These bed sheets are made from 100% hemp that is viscose-free. The thin, resilient nature of hemp is something DAPU has used to its advantage with these sheets, as they will not fade or wear out. The sheets come pre-softened and feel almost like cotton but with a longevity that most cotton sheets do not possess. When sleeping on these sheets you will not have to worry about becoming too hot or too cold, as they have considerable breathability and moisture absorbing qualities. This makes them a great choice for people who have easily irritated skin or are prone to hot flashes in the night. They are also perfect for people who live in places where the temperatures at night are extreme in either direction.
Regardless of your mattress size, DAPU's sheets are tailored to fit exceptionally well and come with a full set of sheets and two fitted pillowcases.
---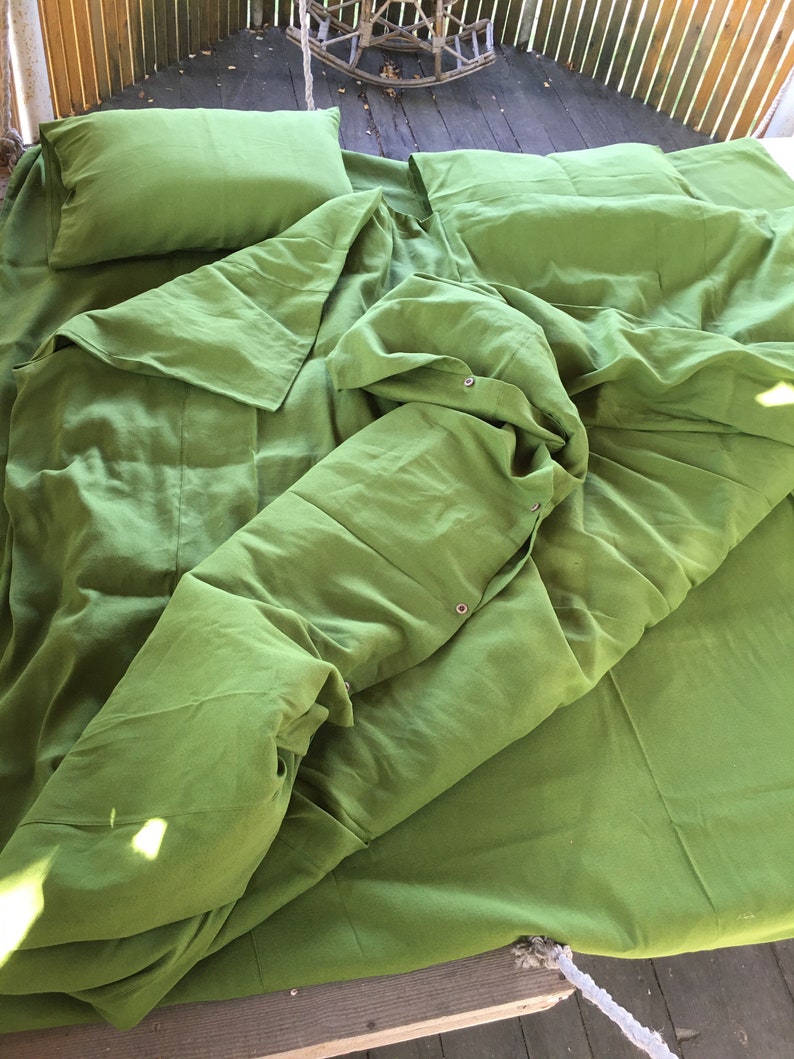 These all organic hemp sheets are hypoallergenic and as such are highly sought after by people with allergies, especially parents with children who suffer from allergies. The natural antibacterial qualities of the hemp also means that it helps to protect against things like fungi, dust mites, and bacteria. The structural makeup of hemp allows it to readily absorb moisture and wick it away. The end result is a set of sheets that provide sleepers with unparalleled comfort regardless of the temperature.
These sheets come in green and are available for a variety of different mattress sizes including single, twin, queen, king, california king, and also can fit baby and children's beds.
---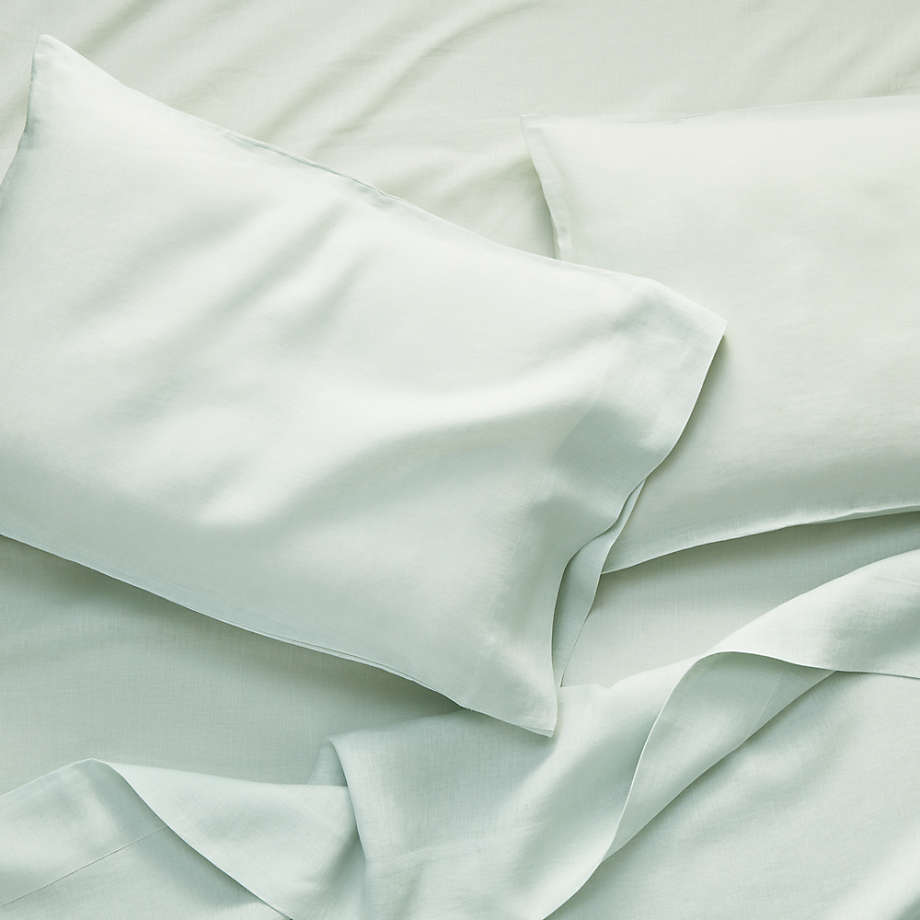 These beautiful sea glass coloured 100% organic hemp sheets are both incredibly soft and light against our skin. The natural breathable quality of the hemp is designed to keep you cool at night but will also keep you insulated when it is cooler. Crate & Barrel chose hemp due to its numerous earth-friendly qualities, particularly the fact that it absorbs a great deal of carbon and requires less water. Purchasing these sheets helps not only to promote eco-mindedness, but also helps you do your part toward helping the environment.
Each set of Crate & Barrel's natural hemp sheets include one flat sheet, one fitted sheet, and standard pillowcases. The seaglass color pairs well with neutral or cool shades found in the bedroom or in duvets or quilts.
---
People who have used Jungmaven's 100% hemp linen sheets have equated the experience to sleeping on a cloud. These sheets have been expertly crafted and woven for maximum breathability and softness, and that softness will only increase with every single wash. Aside from the luxury aspect to these sheets, there is also the eco-friendly aspect to consider. The resilience of these hemp sheets will not only save you money in the long run, but will also go a long way toward minimizing unnecessary negative impact on the environment.
Jungmaven's hemp sheets come in one colour (white) and the fitted sheet is large enough to allow for a feather bed or some kind of mattress topped. It is recommended that the sheets be washed a couple of times to allow for maximum softness.
---
Because the impressive beneficial qualities of hemp are becoming more and more well known, Soak & Sleep decided to capitalize on them and create their own hemp bed sheets. Their sheets are luxurious, soft, and most importantly eco-friendly. Hemp is a wonder-fibre and these sheets exhibit all its positive qualities, including breathability, moisture absorption, and durability. You will not need to own another set of bed sheets for as long as you own these.
These bed sheets come in a light, unbleached colour that will match well with any other colour around it.
---
Rawganique is unique in that the company grows its own European organic hemp and then weaves it into duvet covers, sheets, and pillowcases. The hemp they use is exclusively European and is grown on farms that are inspected regularly in order to ensure they remain chemical-free. No harsh chemicals or heavy metals are used in the manufacturing process, as well. The end result is sheets that are designed to last a long time while providing the same high level of comfort.
You will not have to worry about being exposed to chemicals or toxins while sleeping on these sheets. If you are happy with the sheets, Rawganique also sells duvet covers and pillowcases.
---
There is no better way to rest easy than on Eva's sustainably made hemp bed sheets. Striking a balance between durability and comfiness, these sheets will outlast all others and will fare just as well in cold weather climes as they will in hotter areas. The breathability and moisture absorbing qualities are highly sought after for sweaty sleepers, while the antibacterial, hypoallergenic qualities make them desirable by those who have trouble with asthma or allergies (seasonal or otherwise).
A selection of different sizes means you can have a set of these sheets for every bed in your home. There are six different colours to choose from, allowing you to beautify your bedroom in addition to setting yourself up for nights of easy, comfy sleep. If you like the sheets, be sure to check out the duvet covers and pillow cases.