Did you know that hemp has been farmed in the US for centuries and that it is used as an agricultural fibre?
Compared to other natural fibres, hemp is a far more sustainable textile crop. Because it grows prolifically like a weed, it requires little water and hardly any chemicals thanks to its natural insect repellence. It can therefore easily grow organically and as part of regenerative agriculture practices.
Moreover, itsnatural brightness can avoid the need to use chlorine bleach, a common treatmentassociated with high energy use and pollutants.
To help grow this incredible plant's marketplace, here's our top 11 hemp-based backpacksfor you.
Hemp Backpacks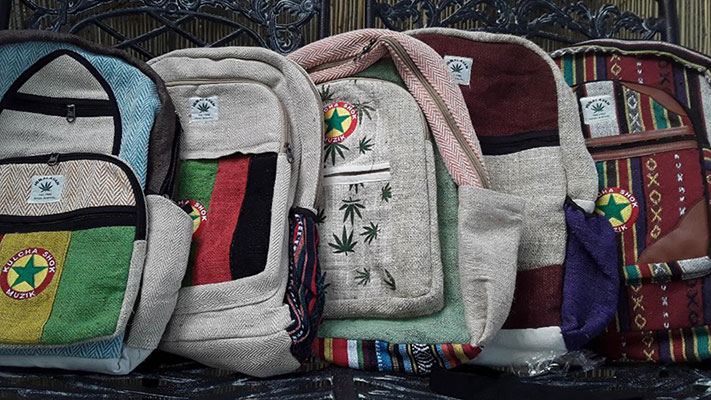 ---
1. Hempalaya
Ethics | Fair wages, wildly grown (vegan) materials, charitable donations
Best For | Active lifestyles
Our Pick | Day Backpack Rolltop in Natural and Green
Price | $ 71
Handmade in Nepal and employing local female entrepreneurs, this rolltop day backpack comes in its natural fibre tone and a dash of color (six to choose from!) for the front pocket. The top compartmentis zippered, folds and closes with a metal ring while the inside features a recycled rice bag for shape and stabilization. The brand also makes a few other equally attractive and quality original models such as a drawstring versionand smaller models.
We love Hempalaya's story which begun thanks to a nature globe-trotting couple from Austria who fell in love with Nepal's people and nature. To top it off, five percent of every item sold goes to a non-profit association fighting global poverty.
---
2. KayJayStyles
Ethics | Handmade fair trade
Best For | Bohemian
Our Pick | Multicolor Large Multi Pocket Hemp Nepal
Price | $ 38.98
Made in Nepal using a blend of natural hemp fiber and natural heavy-duty cotton, this classic boho style backpack is soft yet durable and has pockets of varying sizes. Unisex and lightweight, it comes in a variety of subtly different motifs which really makes this line stand out.
Be prepared to dish out all your hemp fabric knowledge to potential inquisitive passers by as the emblematic marijuana leaf reference is also quite central to looks' logo.
Overall, a good option for lugging a few of your key essentials on a daily basis, from textbooks to smaller necessities, rather than using it as a hard core hiking backpack for heavier items.
---
3. Dime Bags
Ethics | Recycled and organic materials
Best For | Matching with other Dime products
Our Pick | City Dweller in Glass
Price | $ 64.99
US-based Dime Bags was founded in 2007 to bring durable and environmentally friendly hemp bags to the market. While the interior of this bag is made of 100% organic cotton, the exterior is made from a blend of recycled polyester with hemp (known as Hempster), which renders the bag durable.
Available in six vibrant and more classic colors, this roomy commuter-targeted backpack comes with a whopping nine pockets overall to store all your items. And if you're looking for something smaller, the mini backpack versions are also available in various options. You can also pair it with a hemp wallet.
With a pricing on the higher end, the free shipping over $50 to continental US is appreciated if you can't make it to one of the physical stores scattered across the country.
---
4. Billabong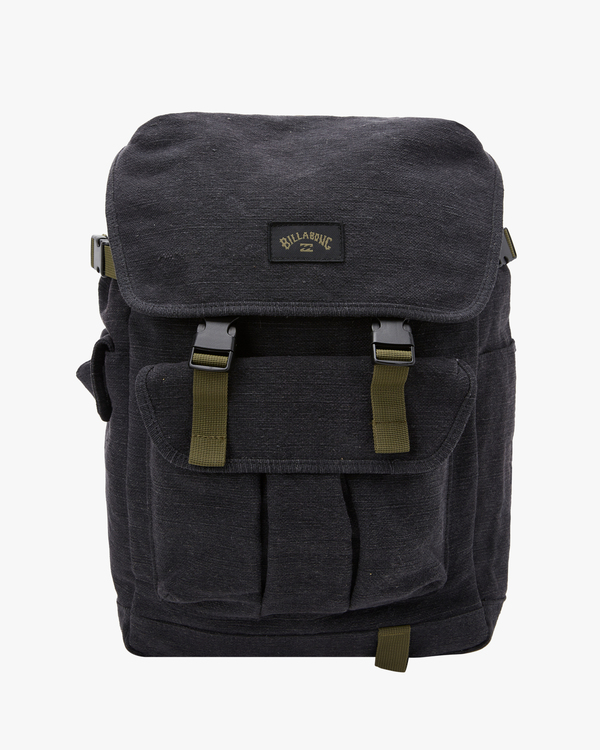 Ethics | Charitable donations through parent company
Best For | Cool and classic style
Our Pick | A/Div Kings in Black
Price | $ 69.95
Made from 55% cotton and 45% hemp, this timeless medium sized backpack (27 liters) will fit your laptop, hiking and overnight essentials, keeping them snug thanks many adjustable straps. Part of Billabong's Adventure Division, you can complete the look with the rest of their recently unveiled hemp collection, currently focusing on menswear.
Billabong is part of a larger parent company called Boardriders, with American headquarters in California, which established a foundation focused on sustainability, environment and education. In 2020 it was reported that the Boardriders group had implemented a sustainability department to work across its portfolio of brands on corporate initiatives like the group's carbon footprint and more.Here's hoping Billabong continues to ride the sustainability waves in the near future, following fellow Boardriders company Quicksilver who has long been spearheading sustainability initiatives.
---
5. Copper Mountain Hemp Traders
Ethics | Handmade, fair-trade
Best For | Small backpack
Our Pick | Gypsie Style Backpack
Price | $ 54.99
With its 12'' by 8.7''dimensions and two zipper compartments, consider this mini backpack as your new jumbo wallet. Thanks to its adjustable straps, this organic hemp and cotton bag is perfect for both adults and children. A little extra we like is the advertised lifetime warranty too!
Designed in the US but made in the Himalaya by craftspeople whose names, it is claimed, can all be traced back, Copper Mountain Hemp Traders uses the highest quality hemp from Nepal. The company also supports the Dream Catcher Nepal Foundation that helps vulnerable women get back on track, making this a great example of circularity and inspiration with regards to supporting community employment.
---
6. Hempmania
Ethics | Fair-trade
Best For | Light activity
Our Pick | BP111-HMini Daypack in Terracotta
Price | $ 73
Made in Guatemala by an Indigenous Mayan family business, this small to medium (16'' x 10'' inch) daypack comes in 7 colors and has all the key features you'd expect for an active lifestyle, including 2 mesh side compartments, a double-zipper front pocket, adjustable shoulder straps and pull straps to keep everything nice and snug.
With a clear mission consisting in promoting the use of hemp as an eco-friendly renewable material, Hempmania has been making hand bags and accessories for the past 20 years. Wholesale manufacturing capacities in the US and Guatemala make for interesting customization opportunities for corporations or events! Retail customers have to add an extra $6 for shipping but you can return and exchange items for a full refund (minus the shipping).
---
7. Himalaya Clothing Handmade
Ethics | Handmade, 100% natural
Best For | Boho designs
Our Pick | HBBH – 0120 
Price | $ 45
Equipped with side bottles holders, this classic shaped rounded backpack has many pockets and a colourful design. Made from 100% hemp material, the bag combines breathability and durability at an affordable price. If you're after something a little different, sling or mini backpack versions with similar designs are also available as part of the hemp collection with equally enigmatic names!
Handmade in Nepal by Himalaya Clothing, items are imported to the US for retail or wholesale and are shipped with major logistics companies straight to your door. Although not officially certified Fair Trade, the company claims the workers are paid more than conventional workers under fair trade ethics beliefs.
---
8. Hemp Authority
Ethics | Fair trade
Best For | Drawstring style
Our Pick | Drawstring Backpack
Price | $ 21
This lightweight small-medium sized (17" x 14" inch) bag in a natural crème tonehas a zipped pocket on the outside and closes fully thanks to its drawstring design. You can match it with the other hemp apparel produced by US-based Hemp Authority who also provide health and beauty products of the hemp kind, from boxers to tea bags.
With a stark vision to simply have a future in 50 years, Hemp Authority indicates that specific efforts are made with regards to reducing the environmental footprint of shipped items to customers, which is certainly a good start.
---
9. Earth Divas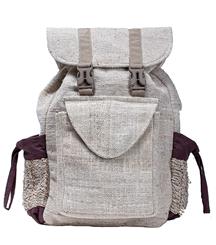 Ethics | Fair tradecertified
Best For | Neutral style
Our Pick | Hemp and Cotton Backpack
Price | $ 49.99
With its 3-inch wide adjustable straps, this square-style backpack is made from hemp and cotton, has two side compartments for items like bottles, a magnetic flap to close the outer front pocket and two buckles complete with a drawstring to close the main compartment opening.
Earth Divas is dedicated to supporting Nepalese women gain decent wages for the items they are making under Fair Trade conditions. A special webpage even has mini profiles of the artisans involved in Earth Divas' manufacturing activities. Thanks to a focus on wholesale production making this and other hemp bags on offer affordable, profits are reinvested in the community as far as possible.
---
10. Copper Mountain Hemp Traders
Ethics | Handcrafted
Best For | Discrete appearance
Our Pick | Eco Warrior style backpack
Price | from $ 25.99
Handcrafted in Nepal from Himalayan-grown hemp, this natural colored product comes in two sizes, small and large. The large model, weighing in at 1 pound for just over 17" by 13" inch dimensions, has larger inner and outer compartments as well as a front zippered pocket and side pockets for bottles. Two adjustable straps will allow for everyone in the family to use this sleek bag for any occasion.
Recently founded, US-based parent company Copper Mountain Holdings ensures that all of the hemp related products are lab tested; this quality control extends to this backpack which is said to be THC-free as well.
---
11. Hemptique
Ethics | Organic textile, environmentally-friendly man-made dyes.
Best For | Carrying your office
Our Pick | Deluxe Trekker in Natural
Price | $ 99.99
Specializing in quality hemp craft and hobby supplies, Hemptique is a company based out in California that caters for a variety of home and apparel needs.
Made from organic Romanian hemp, which is touted as one of the most eco-friendly export-oriented fibres thanks to its traditional farming practices dating back hundreds of centuries, this padded backpack has ample storage for your laptop and accessories, 4 compression straps to keep things tight and a side compartment to hold, for instance, your water bottle. It comes in a lovely beige natural tone or in black. If you're looking for the real deal, you can't get more of a sturdy hemp backpack than this.