Looking for ethical and eco-friendly and sustainable children's shoes and brands, but not sure where to start?
We have you covered.
Below I have hand-picked a list of the best sustainable kids' shoes and shoe companies around.
I have chosen, what I think is a stylish choice from their selection, but be sure to check out all their options!
In A hurry? Check out 3 of our favorites below
Best Sustainable kids shoes and shoe brands
1. PRIMUS SPORT KIDS – Vivobarefoot
Website | Vivobarefoot.com
Materials | Recycled PET plastic and a bio-based Bloom EVA performance insole
Their Eco Pledge | Pledge

Vivobarefoot is another one of these shoe companies doing their best to provide a quality product with as little impact on the environment as possible.
And with this kid's shoe they manage to create that, but with style. This particular product is super lightweight and flexible giving little restriction on your child's natural movement.
Vivobarefoot always strives to make their products natural, recycled, durable, and locally sourced when possible.
They have a bunch of kid's shoes options including vegan shoes.
2. ZORA – Wildlings shoes
Website | Wildlings.shoes
Materials | Organic wool, polyester, polyamide, rubber, cork
Their Eco Pledge | Pledge
These funky kids' shoes will have your children not only looking good but keeping warm.
These shoes are made from canvas with a microfiber edging and 60% synthetic rubber with approx. 33% recycled content, 15% cork sole.
Each shoe is individually handmade so you can be sure of the quality and also receive a unique product.
Wildlings have a range of beautiful looking shoes for kids as well as their parents and well worth a look.
3. Sneakers Hitops – Etiko
Website | etiko.com.au
Materials | Sustainable latex & cotton
Their Eco Pledge | Pledge

How about some Chuck Taylor-looking shoes? This trendy style of shoe has been popular for generations and continues to be so.
These high-top kids sneakers from Etiko use sustainable latex certified by the FSC and organic cotton which is certified both organic (GOTS) and fairtrade (FLO). This company provides all vegan shoes.
Etiko, whose motto is "wear no evil" has a range of products in their shop, from shoes to apparel, to accessories.

4. BLAKE SLIP ON – Inkkas
Website | Inkkas.com
Materials | Microsuede, rubber, elastic
Their Eco Pledge | Pledge

Inkkas range of kids' shoes is really funky and if you are looking for bright, eccentric kids' shoes definitely check out their range.
These particular shoes were designed by Designer/Artist Kelsey Archila and have a kaleidoscope of color and vibrance.
How are these sustainable? Although these sneakers may not be made from the most eco-friendly materials, they do participate in a 'One Shoe, One Tree' program and boast an impressive number of trees planted.
They have a good collection of kids' shoes with a very diverse range of styles and colors.
5. Navy Flames – Rothy
Website |Rothys.com
Materials | Re-purposed plastic water bottles
Their Eco Pledge | Pledge

This particular shoe may not be to every children's taste but I love it. They are bright, vibrant, and have a funky design.
These shoes are made from recycled plastic water bottles and the cool thing about them is they are easily washed by removing the insole and popping them in the washing machine.
Not you, or your kid's favorite design? No worries. Rothy's have a good selection of shoes for your little ones with a variety of different designs.
6. Idre WP Black – Kavat
Website |Kavat.com
Materials | Recycled textiles, fleece, microfiber, lace
Their Eco Pledge | Pledge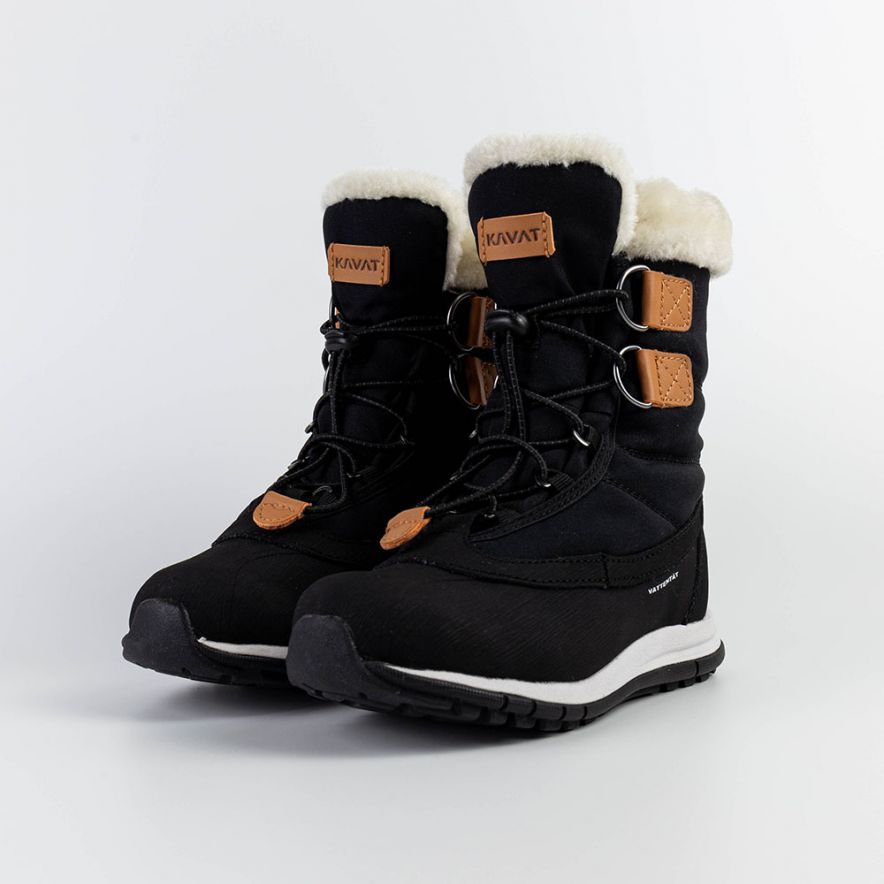 These shoes make my feet feel warm just by looking at them and your little one's tootsies will undoubtedly feel that way.
The upper of these shoes are made from a combination of textile and leather. An inside biodegradable membrane and sealed seams make it 100% waterproof. These kids' shoes are perfect for those winter months.
As far as sustainable shoe brands Kavat takes its sustainability very seriously and they were the first brand to be certified with the EU Ecolabel.
As far as their selection goes they have a very large range of products for children ranging from boots, to sneakers to slip ons.
7. Smallbirds Wool Runners – Allbirds
Website | Allbirds.com
Materials | Recycled textiles, fleece, microfiber, lace
Their Eco Pledge | Pledge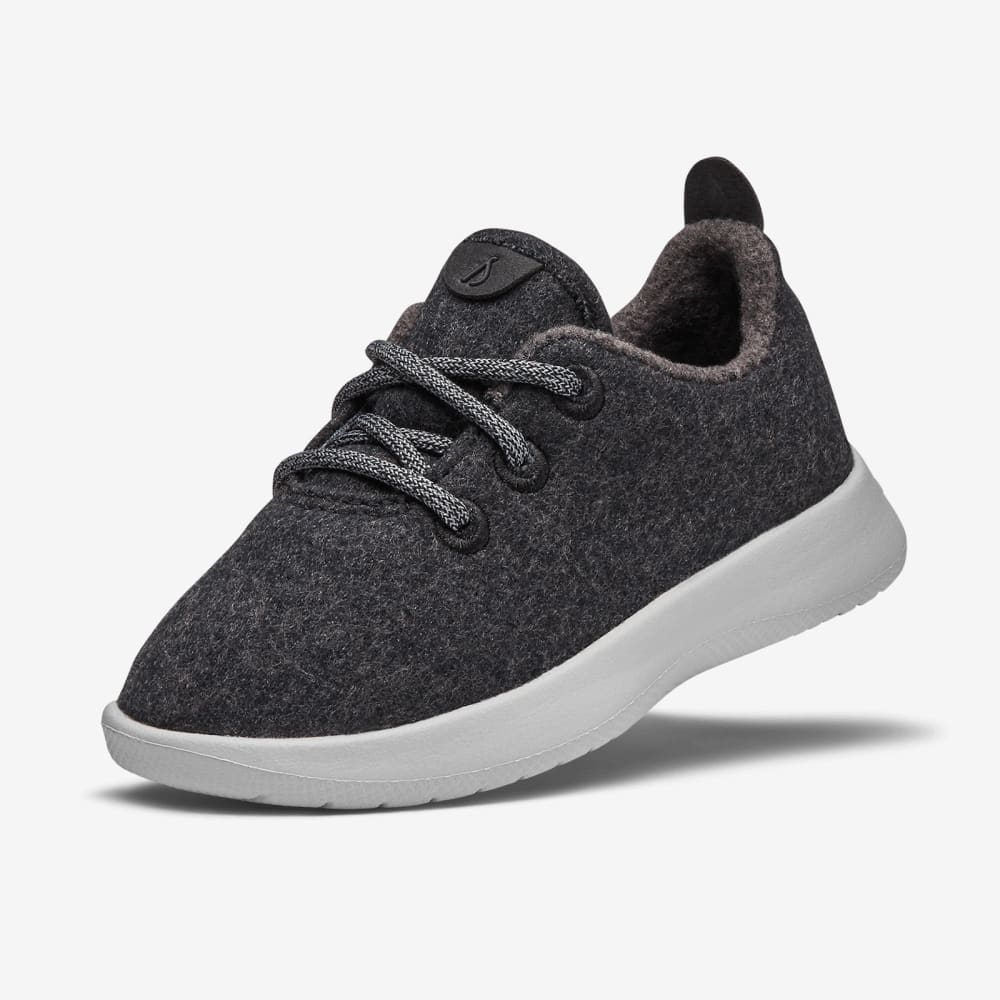 The Allbirds brand is super popular and has a good selection of products made from mostly natural materials.
They even have small kids range for those who want their kids to rock that classy Allbirds style.
With these kicks, your children get the Allbirds quality with all the style and quality materials you expect from this brand.
They currently don't have many options to choose from for your kids, but if you have by chance never heard of them yet, parents should definitely check out their adult range.
8. V-12 VELCRO CHROMEFREE – Veja
Website | Veja.com
Materials | ChromeFree Leather, vegan suede, recycled plastic bottles, rubber organic cotton
Their Eco Pledge | Pledge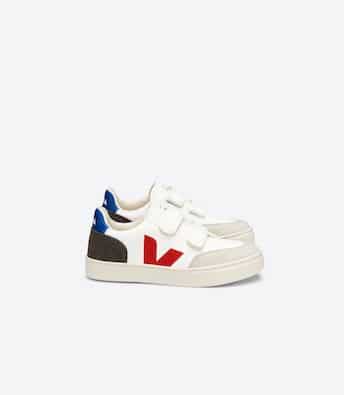 Veja kids shoes ooze style and class as can be seen here with these "steel" kids shoes.
Made from a mix of natural materials along with fair trade materials and working conditions, these quality shoes are perfect for your child or toddler.
Veja also has a good range of vegan shoes too.
For boys and girls alike, Veja has a good selection of products to choose from.
9. KIDS LO CUT CLASSIC – Ethletic
Website | Ethletic.com
Their Eco Pledge | Pledge

These quality shoes are perfect for parents looking for traditional skater-type kicks for their kids.
From production to delivery this company does all it can to protect the environment and its workers. They are fair trade certified and source fair trade and vegan materials, always source more sustainable materials in the production process when they can and their workers have good working conditions.
Unlike many other brands, you can even see who has made the shoes! It's nice to have a face behind the product.
10. Jefferson 2.0 Liteknit – Native
Website | Nativeshoes.com
Materials | Recycled Liteknit Upper, Elastilite Recycled EVA & PU Insole Rubber Toe
Their Eco Pledge | Pledge

Parents will be able to see their kids from miles away in these bright and effervescent kids' shoes.
Fashion meets sustainability in these updated and more sustainable 2.0 versions of these kids' shoes.
Like some of the above brands mentioned, this company sources its materials when it can from the environment, using pineapple leaf fiber, linen, kenaf, lactae hevea, and naturally sourced cotton. Their standards are high, and the use of chemicals is low making them better for the planet.
This collection of shoes comes in a number of different colors.
11. Groms ESSNTLS Flip Flops – Indosole
Website | Indosole.com
Materials | Recycled tire soles
Their Eco Pledge | Pledge

Looking for some flip-flops that are environmentally friendly and good for the planet? Check out these recycled tire sole slip-flops. Durability is long with these because of the material, but importantly you are making use of tires that otherwise would never decompose.
Youngsters often want to replicate what their parents wear, and Indosole has flip-flips for the whole family.
12. Rush Sports shoe with Boa® – Superfit
Website | Superfit.com
Materials | +VIOS, vegetable-tanned leather, tencil laces
Their Eco Pledge | Pledge

These smart-casual kids' shoes are great for people looking for shoes that will work with any clothing style.
Made from renewable raw materials (vegetable tanned leather) these little baby shoes are part of a large collection of sneakers made by Superfit.
This company's product catalog ranges from babies right up to teens.
13. Youth Grey Cordones Sneaker – Toms
Website | Toms.com
Materials | Chambray
Their Eco Pledge | Pledge

I wouldn't mind getting a pair of these sneakers myself. These cool casual kids sneakers are perfect for the home or out in about everyday situations.
They are made from chambray and are 100% vegan. Toms are b-corp certified and are a company who are continuously working on its sustainability.
They have shoes for the whole family, from baby shoes to teens to adults.
14. VAGABOND BOYS – Sanuk
Website | Sanuk.com
Materials | Canvas, foam, rubber
Their Eco Pledge | Pledge

Do your kids live at the beach? These are the shoes for them.
These canvas-based shoes are perfect for your kids to slip on and off with comfort and they also have materials to help reduce odor.
Sanuk is always striving to incorporate more responsibly certified and sustainable materials in its products.
They have shoes for the whole family ranging from toddlers, kids, and teens to adults.
15. SPORTY CHELSEA MOSS – Petit Nord
Website | Petitnord.com
Materials | Vegetable-tanned leather & suede and recycled TR rubber
Their Eco Pledge | Pledge

Why not go for that classy Scandinavian style. These kid's shoes from Petit Nord bring that style mixed with comfort and warmth.
Hand-made from 100% ecological, 100% vegetable tanned, 100% biodegradable, and 100% chrome-free leathers and suedes.
Petit Nord strives to use the above materials in all their shoes and vegetable tan their shoes which takes longer than the traditional method of using chrome tanning (which releases harmful waste chemicals back into the environment.)
Petit Nord has a large collection of footwear ranging from socks to sneakers to ballerinas.
16. Fenton Mesh Multi – Emu Australia
Website | emuaustralia.com
Materials | 100% wool upper, 100% cotton inner
Their Eco Pledge | Pledge

These funky ankle-high kid's sneakers will have your kid's feet feeling comfortable and looking good.
Made from merino wool the shoes are lightweight, and easy to get on and off, but best of all they are machine washable.
Emu Australia has a large array of merino wool shoes suitable for the whole family and certainly ticks the box for those people with sustainable values.