A large part of the fashion and footwear industry has already pivoted toward sustainable practices and more are following this trend.
Nike is a brand that has been making shoes marketed as being eco-friendly for years, and one of their biggest accomplishments in that regard is its "Plant Based Shoes."
However, are the Nike plant based shoes really all that sustainable?
Nike is not the only footwear brand undergoing a sustainable shoe journey – there are other brands out there working hard to reduce their environmental impact while creating quality footwear.
We invite you to keep reading for a thorough comparison between Nike plant based shoes and those made by other eco-conscientious brands.
Nike Plant Based Shoes
The plant based shoe concept Nike put forth was inspired by nature, and to that end its design team aimed for footwear made of at least 20% recycled content by weight.
Each shoe in the plant based collection is inspired by a particular plant, as seen by the botanical designs and dyes on the shoes themselves.
The shoes are made from 100% recycled poly-canvas and recycled cork. All colors used on the shoes are extracted directly from plants.
Nike has several pairs of shoes that fall under the eco-friendly label, including:
Nike Air Force 1 – Made with Flyknit uppers that come from recycled polyester yarn and creates less waste than traditional uppers.
Nike Space Hippie – Inspired by the concept of life on Mars, these shoes are the product of sustainable practices. Made from recycled materials including post-industrial scraps, T-shirts, and plastic bottles.
Nike Air Max – These shoes also make use of recycled Flyknit fabric.
Nike Blazer – The Blazer is made with at least 20% recycled content by weight, as well as partially recycled synthetic leather.
While all of this reads well on paper, it's important to view the sustainable practices put forth by Nike from a broader lens.
While there is no denying the company has set out in the right direction, it is by no means an industry leader in terms of sustainable practices or materials.
The use of some eco-friendly materials and the introduction of water reduction initiatives in its supply chain does not yet offset the environmental impact it has made.
The brand has set itself science-based targets for reducing the greenhouse gasses created by its supply chains and operations, but there is very little evidence that it is even on track to meet those specific goals.
In addition, Nike has said nothing about preventing or reducing the deforestation that occurs through its textile supply chain.
It is imperative our forests be protected due to the crucial role they play in the balance of our ecosystems and atmospheric gasses.
If Nike truly wishes to be seen as a sustainable company, they simply must do more to that end.
---
7 Nike Plant Based Shoe Alternatives
There are many other footwear brands out there that have firmly established themselves as sustainable companies, and their footwear really is eco-friendly in addition to being high quality.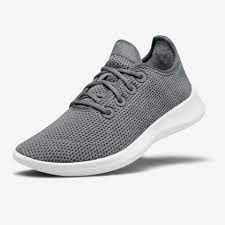 Allbirds' popular Tree Runners are carbon neutral due to sustainable practices such as investing in environmentally beneficial projects. The company works to neutralize their own carbon footprint by funding different types of carbon offsets.
The Tree Runners are also sustainable by merit of the materials used in their fabrication, including:
Uppers made from TENCEL™ Lyocell, which is eucalyptus tree fiber.
Midsoles made from SweetFoam®, which is made from sugarcane-based EVA
Shoelaces that are made from recycled plastic bottles
Insole foam made from castor bean oil
The Tree Runners are highly breathable, lightweight, and comfortable.
They're perfect for warm weather days, for walking, and for everyday wear.
Even better is their versatile design – these shoes boast a classic style that matches well with anything, making them great for pretty much any kind of excursion, as well as a great pair of travel shoes.
---
Hylo Athletics makes a point of listing just what their shoes are made of right up front, and here's a breakdown of what the Run Two running shoe is comprised of:
Corn Fiber (28.52%)
Natural Rubber (20.44%)
Corn-Based Reinforcement (7.77%)
Water-Based Ink (0.01%)
Polyester (0.08%)
Algae Bloom (7.02%)
Bioform (1.64%)
Water-Based Glue (1.55%)
Corn Spring® (28.82%)
As you can see, there's an impressive amount of sustainable, eco-friendly materials used in the shoe's fabrication.
Hylo Athletics has also gone the extra sustainability mile in terms of recycling and packaging.
All their shoe boxes are made from FSC-recycled cardboard and there is no additional packaging used.
When you are finished with your Run Two running shoes, you can send them back to Hylo Athletics to be recycled.
These shoes are designed for performance, whether it is at the gym or at the track, and they are durable, lightweight, and comfortable.
---
This sneaker is made not only from sustainable practices, but ethical ones as well.
They are made from canvas twill organic cotton that is sourced from small farms, and all of the organic cotton was grown by producers that are a certified part of Fairtrade and is grown and harvested in accordance to Fairtrade standards.
The shoe soles are made from natural FSC-certified rubber that is sustainably sourced from Sri Lanka.
These skater sneakers are Lo-Top and have a comfortable fit, enhanced by the FSC latex foam heel support.
They also have a tongue strap to make them easier to slip off and on with or without laces.
The reinforced rubber toe wing is designed to protect the toe while skating, and the processed latex foam in the ankles gives the wearer additional stability.
The insole is antibacterial in addition to being removable, and it has coconut fibers for extra absorption.
---
These trendy slip-ons are approved vegan and cruelty free, and are made from a host of different sustainable materials such as:
Organic GOTS (Global Organic Textile Standard) Certified cotton
Raw jute
GRS (Global Recycle Standard) Certified recycled plastic
Lightweight cork
Natural rubber
In addition, these shoes are made with a glue-free vulcanization process.
The vulcanization is done through heating that melts the rubber into the natural fibers of the uppers, and the bonding is meant to endure through extensive use of the shoe.
The vulcanization also gives these shoes a superior grip on many surfaces, which makes them a great choice for things like tennis, sailing, or walking.
These slip-ons are ultra lightweight, with a sleek and trendy silhouette.
A cushioned innersole means you'll be comfortable no matter where you go, and a range of neutral colors means these shoes will go well with any outfit.
Inspired by life in the Mediterranean, these are perfect for traveling or for everyday wear.
---
8000 Kicks is determined to help make our planet a better place, and that's why they've worked hard to make their shoes eco-friendly through use of sustainable materials and practices.
Working with their factory partners in both China and Portugal, they have increased their dependency on renewable energy sources.
They have also invested in CO2 offsets with hemp farms and reforestation, and currently their emissions sits at 4.1Kg of CO2 per pair of running shoes, compared to the industry average of 14 Kg of CO2 per pair of running shoes.
The materials used in the construction of their shoes are broadly sustainable.
The majority of the shoe is made from hemp fiber, which is highly durable.
The insoles are also made from hemp, and the soles are made from algae blooms.
The end result is a shoe that can handle a lot of activity, is breathable, and is 100% vegan and eco-friendly.
---
In an effort to reduce their environmental impact, TOMS has made good use of sustainable, renewable materials.
They use certified organic cotton in addition to recycling cotton material that was destined for landfills, and also make use of eco-fibers like jute, hemp, and linen.
Additional materials include post-consumer recycled plastic bottles, sugarcane EVA, recycled rubber, and TENCEL™ Lyocell.
The custom TOMS insoles are made from 50% "earth-friendly" materials such as recycled PU foam, recycled rubber, and bio oil.
The shoes themselves are very lightweight and are highly durable.
They are designed for a comfy, airy feel and reviewers have reported that even brand new, they already feel broken in. T
he casual, urban silhouette, accompanied by a range of colors, makes these a great addition to any day-to-day outfit.
The OrthoLite® insoles deliver incredible comfort, making these sneakers great for everyday use or travel.
---
These sneakers are another example of sustainability done right.
The raw rubber used in their production is acquired via ethical "tapping" methods, which is removing the sap from the bark without damaging the tree.
The cotton used in the uppers is GOTS Certified and is grown without the application of any pesticides or other harmful chemicals.
The lining, threads, laces, and labels are made from recycled plastic bottles, and the memory foam vegan insoles are made from bio memory foam, cork, and organic mamona oil.
Going a step further, all of CARIUMA's packaging is made from recycled and recyclable materials.
These canvas sneakers feature lightweight cushioning and the classic cap-toe design.
They're comfortable, durable, and great for work or your other day-to-day activities.
They're available in solid black, white, or gray or you can choose from nine different colors with white soles.
The silhouette is classic casual and will look great with anything.