For the eco-conscious fashionista, finding accessories that are both stylish and in line with your ideals can be tough, especially if you are looking for cruelty free vegan handbags.
Luckily, we have you covered.
Below we have hand-picked a list of the best vegan handbags and brands.
Best Vegan Handbags and Brands

SINBONO is an industry leader in vegan fashion accessories. Their mission is to empower fashion lovers to make responsible, sustainable choices when shopping for must-have accessories that complement every look. Their brand is well-known for its trendy and chic designs that are inspired by high fashion and pay close attention to the smallest details.
Their leading product is the beautifully designed Vienna Bag collection which is comprised of vegan leather and faux suede lining.
Sinbono boast a large collection of styles and colors for every occasion.

Find out more at SINBONO
---
The collective belief that drives Noize is that every manner of fashion can be attained without wasting essential resources or harming animals. It's not a trend, it's a lifestyle, and that's why Noize has taken great effort to ensure that their high-end products use only leather alternatives and vegan furs. Noize's bags run the gamut from minimalist to bright and sassy, so there's something to be found for everyone.
Our Choice: Melina (White) – This bag is large enough for all your essentials with sturdy straps and a striking quilted design that's sure to grab attention no matter where you go.
---
Founded by a husband and wife duo, the heart of everything JW PEI does is sustainability. Those that lead the company firmly believe that all kinds of fashion should be empowering, accessible, and effortless. Their minimalist design makes use only of sustainable vegan materials without sacrificing any quality or durability.
Our Choice: Gabbi Bag (black) – Their Gabbi shoulder bags are made of vegan leather and faux suede and has a magnetic closure for easy access to all your on-the-go necessities.
---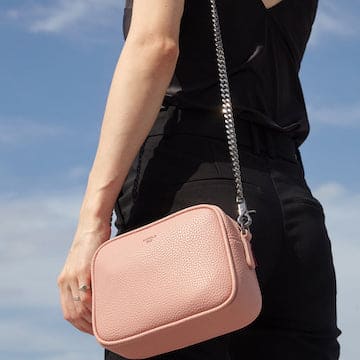 Angela Roi describes themselves as "the no-sacrifice fashion brand." The bags from Angela Roi are all high fashion styles made with ethical materials and processes. Every single one of their bags is hand constructed out of certified vegan materials. The accessories they create come with affordable price tags so that everyone can enjoy and appreciate eco-friendly fashion.
Our Choice: Grace Micro Crossbody [Signet] (Coral Pink) – Made with pebble textured vegan leather and accented with gunmetal hardware, this micro purse is perfect for busy days spent on the go.
---
As one of the first fashion brands to make vegan handbags, Matt & Nat's accessories have become incredibly popular with both vegans and non-vegans alike. Their bags are made from polyurethane (PU) and polyvinyl chloride (PVC), in addition to cork, rubber, cardboard, and recycled nylons. In addition, the lining to all their bags is constructed from 100% recycled plastic bottles. They also have a good selection of vegan leather bags.
Our Choice: Arta Clutch – this gorgeous little clutch has a front metal closure and comes with a detachable crossbody strap. It's the perfect accessory for a night out with your friends or just for a day spent shopping.
---
This United Kingdom – based designer brand was first founded in 2008, and it specializes in vegan bags that are made through both ethical and sustainable practices. There are absolutely no animal-based glues or dyes used in their product creation process, and Labante London make use of vegetable byproducts, polyurethane, and recycled plastic bottles as well and have a good range of vegan leather bags.
Our Choice: Demi Winged Faux Leather Bag (Grey) – This tote bag is one of simple and refined elegance. Its interior is roomy enough to hold all you could need it to, and the storage within ensures you can stay organized no matter where you are.
---
This brand's speciality are environmentally friendly, ethically produced designed accessories and handbags. They have taken an innovative approach with the materials they use in their bags, as they use vegan leather alternatives such as corn leather, apple leather, Piñatex and Freedom Leather. Freedom Leather, a material that consists of 100 percent silicone, requires less electricity and water to produce compared to other materials like PVC and PU. Each of Alexandra K's bags is handmade in Poland and are entirely unique with their own serial number.
Our Choice: 2.5 Mini (Caramel & Red Wine Suede) – This gorgeous bucket bag is very lightweight and versatile, as it can be worn over the shoulder, crossbody, or in hand. The tassel detailing and the two-tone colour are guaranteed to make this bucket bag a conversation starter.
---
This Canadian vegan accessory and handbag brand believes that styles can be functional, trendy, and socially responsible all at once. Driving that belief is their admirable stance that veganism goes beyond taking a stand on being cruelty free to animals – it also means improving the quality of life for every living thing on Earth. The materials they use include recycled plastic bottles, cork, and solvent-free vegan leather.
Our Choice: Nicola Pouch Large (Apricot/Metallic Rose Cork) – You can either carry this elegant clutch, wear it as a wristlet, or wear it as a crossbody bag. It's lined and lightweight and the metallic accenting is sure to compliment whatever outfit you pair it with.
---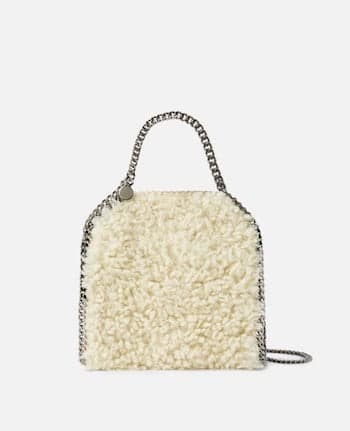 Stella McCartney is a high-end designer brand, and the founder of the brand has been a vegetarian for almost the entirety of her life. Her commitment to operating an ethical and responsible business means that all of her bags are made from animal-free materials like organic cotton and recycled nylon and polyester, as well as alter-nappa. Alter-nappa is a material made from PU and PVC, but requires a reduced amount of petroleum in its manufacturing process.
Our Choice: Falabella FFF Mini Tote (White) – Made from faux white fur and sporting a silver diamond cut chain accent, this Stella McCartney mini tote boasts simple elegance that is perfectly suited to an evening out.
---
The designers of Jill Milan gained inspiration from being unable to find any luxe vegan handbags when shopping around, ultimately deciding to make their own. Many of their vegan bags have been worn by celebrities when attending prestigious awards such as the Emmys and the Oscars. Jill Milan's bags, handcrafted in Italy, are made from animal and PVC-free materials. A portion of the proceeds made from all bag sales are donated to organizations that look after former racehorses.
Our Choice: SoMa Bucket Bag, Gold Antique – Made from ultra suede, this drawstring vegan bucket bag has plenty of room for all your essentials and can be worn over the shoulder or in the hand.
---
Frustrated at the lack of vegan accessories available for purchase, the founder of Svala, Helga Douglas, decided to make her own line of luxury vegan accessories and handbags. Her trendy, versatile bags and vegan purses are handmade in Los Angeles and are made from a combination of animal-free materials such as Piñatex, Italian PU, and cork. Each Svala bag is lined with material made from recycled polyester, recycled plastic bottles, and organic cotton.
Our Choice: Sarah Chain Wallet Purse (Silver) – This clutch is made from silver embossed faux snakeskin and is perfect for a person that is constantly on the go. It functions as both wallet and purse, as it comes with a detachable strap.
---
The bags that Melie Bianco creates are a prime example of their ideals, as they represent the highest level of craftsmanship and quality while providing people with affordable luxury. Melie Bianco's bags are made from vegan leather and are PETA approved. This brand also ensures that every step in the manufacturing process utilizes ethical, fair trade principles.
Our Choice: Alexis Green Cross body bag– With its buckle accent, rich colour and polka dot lining, this crossbody bag with its soft vegan leather is as supple as it is luxurious. It has plenty of room for your phone and anything else you might require for busy days spent outside the home.
---
All of Lee Coren's handbags, clutches, purses, backpacks, and other accessories are wholly vegan. As well, they are also ethically handmade from materials that are sourced from independent local vendors. The materials used include Italian-made microfiber PU, which is far less harmful to the environment than PVC. They have a long list of restricted ingredients they will not use in the fabrication of their bags, and animal-derived ingredients are among them.
Our Choice: Portofino Pouch – This compact, zip-top clutch is the perfect size to carry all your small necessities such as your identification, your credit cards, your lipstick, and your keys.
---
This brand offers vegan leather briefcases, belts, backpacks, handbags, and accessories, with plans of adding vegan shoes in the near future. The brand was founded as a way to provide eco-conscious consumers with vegan alternatives to fashionable accessories. The brand makes use of synthetic materials in order to slow down the harmful consumption of resources and to be cruelty free to animals.
Our Choice: Debut Portrait Tote – These vegan tote bags offer prime utility wrapped in an aesthetic of simple refinement. When looking at the gorgeous color, it's hard to believe that the bag is made from Tyvek, which is recycled plastic.
---
Sans Beast is a maker of luxe vegan wallets and handbags. As stated on their website, their mission is to "challenge the fashion paradigm that animal products are essential for the design process." Their bags are constructed from high quality PU, that is then coated in paint and given texture embossing. The PU that Sans Beast uses does not include any toxic chemicals during its production process. They also use plant-based and recycled materials in their products.
Our Choice: Noir Coco Brief Liaison Tote – Featuring custom hardware in gold and a vintage luggage inspired handle, this tote has more than enough room to fit a 9-inch tablet and features various storage compartments for all of your organization needs.
---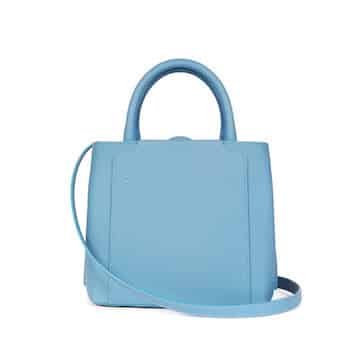 The founder of LUXTRA, Jessica Kruger, is driven by the belief that the only correct way to do business is to do so responsibly. To that end, she established a globally successful fashion brand that hinges on ethical core values and sustainability. All LUXTRA's bags are handmade in Italy and are crafted from sustainable resources such as mango leather, apple leather, and Piñatex.
Our Choice: Nina Mini Handbag (Periwinkle Blue) – This adorable mini handbag, named after singer Nina Simone, is made out of Organeah, which is a recycled nylon textile. It is a PETA approved product and comes with a detachable shoulder strap.
---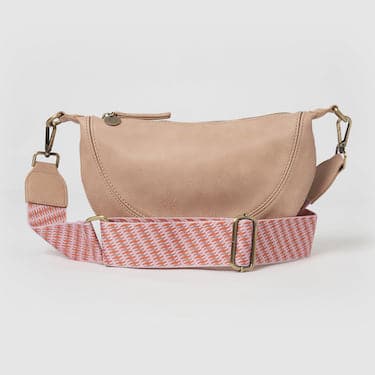 This brand is luxury vegan, 100 percent cruelty free. The accessories and handbags they produce are as practical as they are beautiful. The creative minds behind Urban Originals believe that fashion's future must become both sustainable and ethical, and they are helping to pave the way to that future by utilizing recycled materials and vegan leather, along with canvas and sustainable cotton.
Our Choice: Mini Luna Crossbody – This crossbody bag exudes Boho chic, is made entirely from vegan leather, and features eye-catching gold hardware. With one internal zip pocket and 2 internal slip pockets, it has all the storage options you need. 
---
This is another Canadian vegan brand that shows a strong commitment to making sustainable fashion accessories with a strong creative vibe. SIX REALMS's vegan leather bags all possess distinctive silhouettes and are a seamless merge of contemporary and classic styles. The materials used in their bags include the PU based material Myrco-Leather, as well as plant-based acetate, which is sourced from Italy and is biodegradable.
Our Choice: Satori Moon (Ink) – The Satori Moon box is shaped like a half-moon and is attached to a masterfully constructed metal frame. It creates the illusion of a floating handbag, and comes with detachable hand straps and shoulder straps.
---
19. Kinds of Grace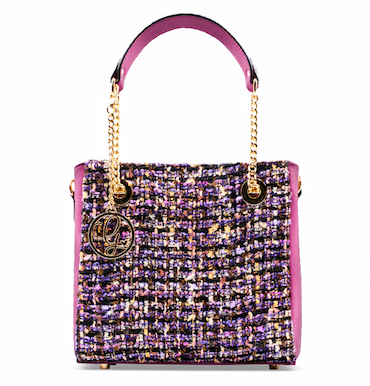 Kinds of Grace is determined to lessen the impact that fashion takes on the environment, and to that end, they craft luxury handbags by moving away from the traditional methods, which they consider cruel and outdated. Instead, they opt to use materials that are animal and cruelty free, such as synthetic vegan leather, Piñatex, vegan wool, and vegan silk.
Our Choice: Fuschia Field Tweed Handbag – Made from colourful vegan wool and accented with gold hardware, this handbag can easily convert to a crossbody bag, making it the perfect accessory for day or evening excursions. 
---
The vegan leather bags created by this brand are made in Los Angeles in a small factory that is family-run, where all workers are paid a fair wage. HFS Collective only uses materials that are animal and eco-friendly, and include organic cotton and eco-vegan leathers. In addition, they make use of upcycled, recycled, and low environmental impact materials such as cork, organic cotton, hemp, and Piñatex.
Our Choice: Gigi Tassel Bag (Black Eco-Suede) – Featuring magnetic top flaps and an interior made from organic cotton, this tassel bag can convert to a clutch or shoulder bag with ease.
---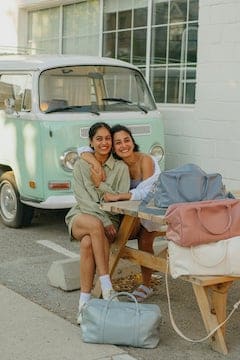 Those who love minimalist fashion will love the bags that SAMARA creates. Their designs are luxury vegan and provide wearers with a simple but undeniable elegance. They only use eco-friendly materials such as apple leather, PU, castor seeds, microfiber, bamboo, recycled ocean plastics, and recycled plastic bottles. They have a good range of vegan leather bags.
Our Choice: The Radhi Weekender – Not only is this beautiful tote bag made from vegan leather an exquisite example of vegan leather work, it's also the perfect bag for a weekend getaway. It functions just as well for everyday use, and it has enough room to store whatever you need to bring with you.
---
This vegan brand is based in Rotterdam and creates bags that are both versatile and minimalist. All of their handbags are made with Microfiber, which is a material made from pressed fibers in a strong coating. Microfiber is very durable, water-resistant, and most importantly, sustainable. All of DENISE ROOBOL's bags look and feel like actual, quality leather.
Our Choice: Charlie Bag (Dark Green) – With six compartments and a crossbody attachment, this bag is all that you need whether you have a busy day of shopping planned or are simply on your way into work.
---
Another minimalist brand, Moenn vegan bags boast classical, timeless designs that are bolstered by their sustainable background. Moeen firmly believes in using materials that are not from animal origin so 100% cruelty free, which includes recycled bottles and vegan leather. They are also committed to adhering to ethical labor practices, to ensure that everyone involved in the manufacturing process is treated and paid fairly.
Our Choice: Marcelline Tote (Caramel) – Roomy and elegant, this tote bag has enough functionality to suit both your day to day needs, as well as those you have when you're traveling.
---
It is the love of animals and the environment that led this German brand to make high quality vegan handbags that have a strong European aesthetic. The materials used in making nuuwaï's bags are all entirely vegan: apple leather and upcycled and recycled resources and completely cruelty free to animals. Despite the nature of these materials, nuuwaï's bags have the appearance and feel of luxe vegan leather.
Our Choice: Vegan Crossbody Bag – Incredibly lightweight but surprisingly spacious given its size, this bag will let you carry around all your daily necessities with ease. You can either wear it over your shoulder or utilize a detachable crossbody strap in order to free up your arms.