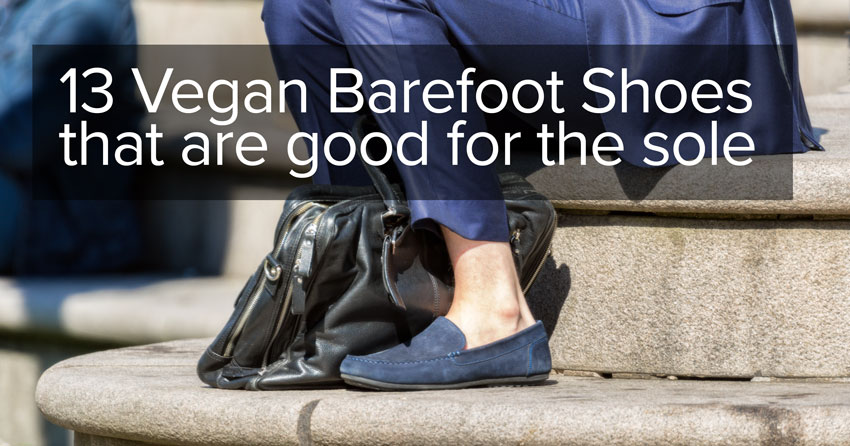 Last year the vegan shoes accounted for 32% of the footwear market in the USA alone.
The vegan footwear market is growing more year on year as consumers are looking for more eco friendly and cruelty free alternatives for their fashion and clothing.
It this article you will find 13 Vegan Barefoot shoes along with their vegan brands and accessories which we have handpicked and think will keep you looking good while also leaving you with a clear conscience knowing you have made an eco friendly and cruelty free purchasing decision.
Image
Product
Details
Price
OUR PICK
Vivobarefoot
• Recycled all-weather mesh textile
• Made from recycled materials
• Water resistant

Check Price
at Vivobarefoot
Vegan Barefoot Shoes
1. Groundies
Originating from Europe, Groundies are your go-to urban functional first footwear with a special emphasis on flexibility thanks to their basic zero-drop neutral footbeds. Designed in the German shoe capital named Permasens and stitched in Portugal, their minimalist barefoot style comes in two classic vegan flat models, Tokyo and Sydney, in monochrome (black or white) and pastel colors, and two booty versions in black – the Nagano and Odessa – for women. Men also get to strut in stylish white, brown and beige versions of the Sydney.
Where Groundies stand out is through their German-guaranteed long-lasting warranty (3-year for sole punctures) and corporate initiatives geared towards their employees (e-bikes and e-scooters to get to work!) and the environment. Indeed, for every order, a tree is planted with "Plant-for-the-Planet" as part of its carbon neutral manufacturing commitment and over 10,000 have been planted so far.
Although they may be on the pricier end of the spectrum (USD 140-186), their social component and customer service justifies the TrueSense branded technology designed to make your walk more ergonomic.
---
2. Lems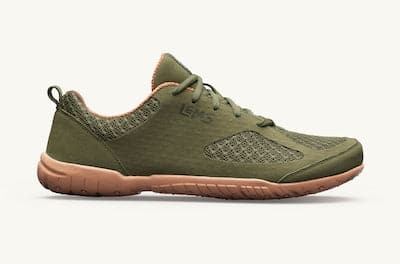 Devised in 2008 and with a first protype born in 2011, Lems is a US-based shoe outfitter based in Boulder, Colorado that was born to promote a different foot strike compared to other traditional outdoor shoes, thanks in part to its wide toe box and zero-drop design. With colorful versions for both men and women, their vegan assortment (currently 5 styles) caters to a range of uses starting with the casual Primal (an ultra lightweight zero-drop at $105) to the canvas Chukka or Boulder boots (up to $125).
The company perpetually recycles materials into its shoes and works with causes such as Soles4Souls to encourage its community to repurpose shoes, giving them a second life. Check out their blog for some useful tips on transitioning to minimalist shoes or learning more about the health and safety benefits of this kind of footwear.
---
3. Magical Shoes
Magical Shoes is a Polish brand which manually crafts shoes from local quality materials. With a history dating back from 1966, it values minimalist barefoot walking and offers vegan products made without the use of materials from animal origin. It boasts a range of styles for the whole family, spanning minimalist toe-capped Caballo hemp-made sandals, to the casual multicolor Recovery mesh model specifically designed for athletes' pre- and post- workouts, to the Explorer and Promenade series, the latter of which comes with activated carbon foam which has anti-sweat properties. Plus, they have the cutest vegan barefoot models for babies' first shoes to get them started on the right foot.
Find out more at Magicalshoes24
---
4. Ahinsa
Meaning "non-violence", Ahinsa is a Czech Republic headquartered shoe company that produces an award-winning, handmade, 100% vegan line of products out of locally produced materials sourced within the European Union, and as such respecting strict environmental and labour standards. Founded by a physiotherapist and designed by doctors, the shoes' functionality has even been endorsed by the local University.
With great gripping outer soles, flexibility and special breathable mesh, they come with an impressive array of models including ballerinas, sporty styles and ankle bootlets, including winter models. The variety of colors and materials is dizzying. Oh… and there's also bespoke designer pieces on show for the VIPs amongst you if you need that unique one-of-a-kind item!
---
5. FeelGrounds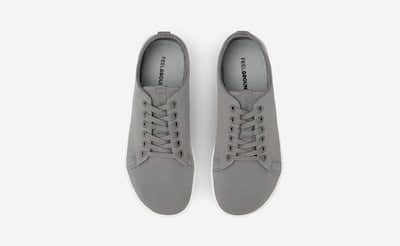 Developed by a Taiwanese team, built in Vietnam, headquartered and crowdfunded out of Europe, FeelGrounds have had a global whirlwind development since its first model was produced in late 2018. The ultimate casual barefoot unisex models are intended for everyday use and come in 5 categories (high-top, low-top, slip-on, sneaker and winter boot) in classic colors, with mesh, knit and faux-leather materials to choose from. With sizes ranging from 35 to 49 European, these can fit anyone!
One hundred percent vegan from the onset, the company has placed sustainability at the heart of its manufacturing process, using recycled materials where possible. It also ensures fair working conditions are abided by under International Labour Organization standards. Sleek and fuss-free, watch this space for likely more models to come out soon!
---
6. Merrell
Founded over 40 years ago in the United States, Merrell is best known for its high-performance hiking boots, accessories and related clothing products. With a growing array of vegan styles and over 20 products classed as minimalist & barefoot, there are plenty of trail models to choose from, including for children, featuring lightweight, flexible, resistant and recycled characteristics. One of the flattest vegan-friendly ultra-light barefoot runners includes the new Vapor Glove, for men or women, which has a typical Merrell style and a Barefoot 2 construction designed to keep the foot in a natural position.
As part of its ongoing corporate sustainability journey, Merrell strives to increase durability, reduce waste and preserve water throughout its manufacturing process. It is also a committed member of the Sustainable Apparel Coalition which includes large global brands who are engaging in efforts to standardize sustainability measurements as part of their corporate social responsibility commitments.
---
7. Wildlings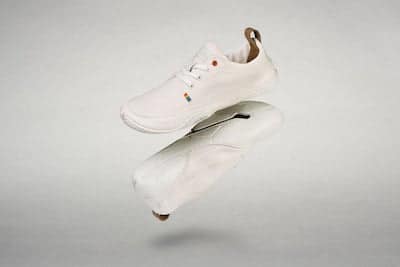 Created out of necessity to find winter-friendly natural-fitting shoes for their children who had grown up barefoot, an Israeli-German couple founded Wilding in the aim of providing a protective layer for their kids to continue playing outside, wild, while strengthening their growing feet. With a sports therapist background and much determination, the first prototype took a year and a half to come to life. Beyond the kids' range, the Rewild collection of non-animal origin offers a range of low to high cut and sandal styles, with hemp-flax-fleece lining for the winter months and uppers made from hemp or linen including washi fabric (check out the timeless Tanuki Niji model) which is, wait for it…, made from 75% paper!
Wilding has strong sustainability values. Materials are locally sourced in Germany and manufactured in Portugal under fair working conditions. Having created a Positive Impact Team, Wilding joined the 1% For The Planet non-profit movement in 2020 which means they contribute 1% of annual sales to support charitable projects that are dedicated to protecting our planet.
---
8. Xero Shoes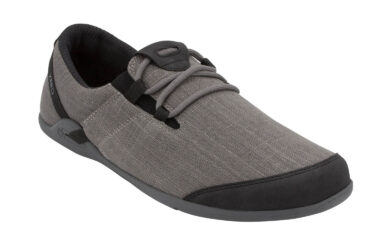 Run by a couple of avid hikers and sprinters tired of being injured and uncomfortable, Xero Shoes's motto is to help you live life feet first! This down to earth duo from Boulder, Colorado (you could call them sole mates, pun intended), started thinking of making their own running sandals after being converted to the barefoot running philosophy back in 2009. After an appearance on Shark Tank (which you can view here) and dedicating several years to their develop their business, Xero Shoes now boasts a full range of adult minimalist shoes for running, fitness, hiking, boots and casual wear along with other gear and accessories, with a couple of kids' models. And if you're looking for the ultimate custom fit experience, they even sell a barefoot do-it-yourself kit consisting in a FeelTrue rubber sole (either 4mm or 6mm) and twenty colored laces to choose from.
With a sole warranty of 5000 miles and tens of thousands of reviews, customers seem to suggest they're great! In terms of their corporate social responsibility, Xero really go back to the root of their concept by honoring the Tarahumara Indians of Mexico, well known for their barefoot running feats. Five percent of their sales proceeds go to the Tarahumara Children's Hospital Fund.
---
9. Matt & Nat
This Montreal-based vegan shoe and accessories maker has been on a continuous journey to increasingly imbed recycled materials in its product range and become fully sustainable by 2023. With collections that can be found all over the world across 800 boutiques, you can find elegant minimalist shoes to match your handbag and outerwear for smart occasions. Although not technically branded as barefoot as per other anatomically-driven footwear makers, a few options like the Alberta Vegan Flip Flops or the Alana flats appear to have the characteristically thin and flexible outer soles of minimalist footwear. With supply chain transparency at its core, you can be sure that the natural material (Nat Mat…which became Matt & Nat) that forms the basis of their collections and that is driving their vision for sustainable living, is on par with beautiful, chic products.
---
10. VivoBarefoot
Leaving as little trace as possible on Earth and making healthy shoes that are good for humans and not detrimental to the environment are concepts at the heart of VivoBarefoot's vision.
Based on four pillars of sustainability encompassing manufacturing efficiency, eco-friendly materials, lasting products and performance, British-based B-Corp. VivoBarefoot is working towards making the perfect shoe that can be made in close loop manufacturing, with no adverse impact on the environment.
You'll find a selection of vegan shoes for adults for everyday and rainy occasions, like the Primus Trail II All Weather model with its 3mm base and water-resistant material, and a great selection of kids' plain shoes for school and outdoor activities.
Their website also has tons of resources about the bare necessities of barefoot science and the company's corporate implications across a range of subjects like anti-bribery and environmental sustainability. They have their own impact investment fund to support regenerative social and environmental initiatives and even have their own podcast you can listen to while you walk in their shoes!
---
11. Zaqq
According to German designed and crafted ZAQQ, their barefoot shoes are the closest thing to not wearing any shoes at all. Every step of the design and manufacturing process is described so you know every little detail of what goes into making these minimalist shoes. With a whopping 70 vegan models to choose from, you're covered for colorful casual occasions, running and winter thanks to warm and waterproof models such as QUEST.
As everything is sourced and made in Germany and because they're made from natural products, they are apparently completely biodegradable and you'll only have to worry about the environmental footprint of the shipping costs. So, check out your size thanks to this nifty guide and pick some styles!
---
12. Vibram
Italy-based Vibram is well know for its signature FiveFingers foot glove shoes which was named as one of the best inventions of 2007. Invented by mountaineer Vitale Bramani, the Vibram sole was launched in 1937 and tested in high altitude hikes.
Having entered the casual and dress market in the 1980s, Vibram has constantly evolved and, through its "Sustainable Way" program, indicates it is working towards developing more sustainable products.
Beyond the many FiveFingers minimalist bestseller styles, if you're located in more continental climes, you'll want to wrap your feet into the stylish Furoshiki mid boots, equipped with city street-adapted grip and anti-slip adherence.
A couple of other similar models are available and just as beautiful, making these your must-have minimalist vegan boots!
---
13. Freet
UK-based Freet developed two styles of barefoot shoes with the traditional and four-plus-one split toe configurations. They come with added shock absorption material for those wanting a little more comfort on harder surfaces or for longer wear time.
With super grip outsoles, these are ideal for water activities too. Available in a full range of smart everyday, sporty and junior models, vegan options include a CoffeeFlyMesh upper made from 100% recycled coffee grounds milled into nanometer powder, which exist in a trail version (Kidepo) or a single-piece sneaker style (Tanga).
Freet's business ethics include supporting local causes of all kinds, from ocean protection to natural landscapes, cancer charities and Shoe Aid which repurposes no longer wanted shoes, saving them from landfill.
---
14. Extra
Founded and designed in Vancouver, Canada, in 2017, Vessi is a self-proclaimed 100% knit-based waterproof sneaker brand that aims to keep your feet fresh and dry.
Completely vegan, they are manufactured in Asia using water-based adhesives and strive to reduce energy and water use as well as wastage.
Made to take the shape of your foot, they have a patented waterproof membrane (Dyma-tex) coupled with a thin antibacterial cushion insole and ultra lightweight sole. Waterproof vegan minimalist shoes for casual wet weather? There you go.
---
Reasons to go Vegan
Can what we wear on our feet be a win-win situation as much for our health as for the environment? We think so…
Shoe manufacturing is a polluting industry, responsible for generating hundreds of millions of metric tons of carbon dioxide a year.
On top of that, the leather footwear market not only has obvious consequences on the animals whose skins are used to produce as raw materials but other health and environmental effects associated with the transformation processes of raw materials, beyond leather, like animal-based wool make traditional shoemaking not so ecofriendly and sustainable.
Fortunately, a flurry of ethically and sustainably-driven shoemakers have emerged, reversing the tide of fast fashion and using responsibly sourced materials to deliver ergonomic, stylish, quality products for the whole family at comparable price points to standard offerings.
And, as the vegan women's fashion market is expected to grow by over 13% from 2020 to 2027, the vegan footwear market subset is also fast growing, particularly in North America, and is associated with multiple environmental, social and economical benefits.
Asides from the health and ethical benefits of using no animal-based materials on your feet, there are many advantages of going down the barefoot shoe path, including:
Fewer injuries: with a foot alone containing 26 bones, 33 joints, 19 muscles, and thousands of nerve endings, it's worth helping your feet get stronger and more flexible at their own pace and according to your natural circumstances.
Improved flow: with less constrained encasing, your feet can move more freely which improves airflow and blood circulation, with or without socks.
Lighter and smaller: with many models flexing into balls, most styles are ultra-light and can be stored and transported under minimal space conditions.
Augmented sensations: most importantly to converted barefooters, wearing shoes with thinner soles enables you to feel the ground and adapt accordingly. This sensory feedback plays an essential role in postural stability and dynamic gait patterns. Many people find wearing barefoot shoes to be super relaxing as it's basically like receiving a foot massage!
Here's our list of vegan barefoot shoes that are good for the planet and for your sole!