In 2017, the World Footwear Yearbook estimated that 23.5 billion pairs of shoes were sold across the globe, with the sneaker market taking up a large percentage of this.
But, what does that mean for us, our planet and our wildlife?
A huge proportion of these sneakers are sure to end up in landfill and the manufacturing process must have a significant impact on the environment.
Leather is the most common fabric used in the production of sneakers, which through ties to the agricultural industry, contributes to a shocking amount of deforestation, as well as alarming greenhouse gas emissions.
Furthermore, leather tanning is a major source of toxic pollution.
Therefore, it's hardly surprising that Vegan sneaker brands and shoe companies are looking for ways to tackle this issue and provide footwear that is suitable for an ever-increasing environmentally-conscious and/or vegan customer base.
Not only have we chosen styles that are completely vegan, but also sneakers that have been made with sustainability in mind.
From retro styles to edgy contemporary sneakers, from hi-tops to plimsoles, there is sure to be a style for the animal lover in all of us to covet.
Best Vegan Sneakers and Brands
Since 2005, Veja has been producing ecological sneakers that are produced under dignified conditions using raw materials from organic and agro-ecological farming, with no chemicals or pollutants. Of the 20+ styles in the vegan sneakers collection from Veja, our choice is the V-10 as it's sharp and sophisticated with a minimalist aesthetic that is always on-trend.
Our Pick: V-10 Trainers
Features: Vegan, Organic, Fair Trade
---
Our Pick: Basket Lux Low Trainers in Green/White
Features: Vegan and 33% recycled upper
Superdry Vegan shoe brand has one foot on our ecological future and the other at the forefront of streetwear fashion with its collection of vegan sneakers and footwear. The Basket Lux Low shoe are certified by the Vegan society, whilst still being strong, flexible, and watertight. Coming in a number of on-trend colourways, these stylish shoes have that pop of colour you've been looking for. Team with wide-leg jeans and your favourite long sleeve tee for a perfect off-duty look.
---
Our Pick: 2790 Linea Up Down
Features: Vegan and cruelty-free
Love your planet and love your Vegan shoes, with Superga's collection of canvas vegan sneakers that are eco-friendly and cruelty-free. The 2790 Linea Up Down style in classic white is sure to become your go-to style, for hanging out, running errands, or even work. Show off the statement flatform sole in cropped trousers and an oversized shirt. Effortless.
---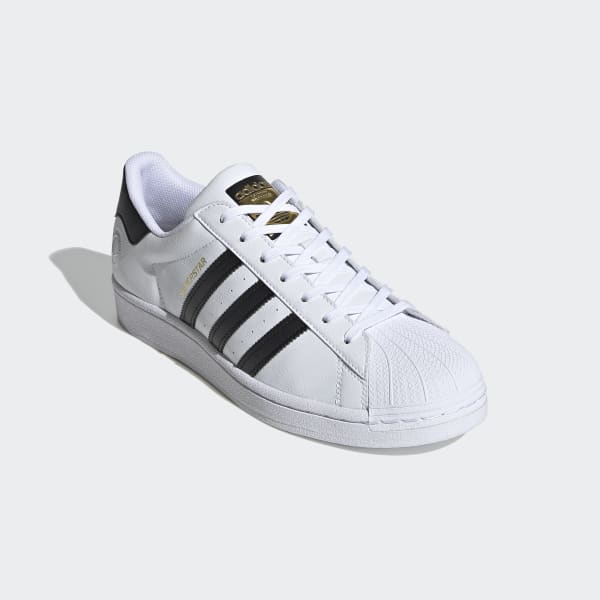 Our Pick: Superstar
Features: Vegan and recycled rubber sole
Adidas' iconic styles have gone vegan and sustainable, including the irreplaceable Superstar. Made from recycled materials with animal free based products, the classic '70s still retain that classic retro look. Timeless and ethical, pair with double denim for a contemporary look that nods to the past. Other icons in the vegan collection include Stan Smith, Samba, and Supercourt. Perfect for any shoe collection.
---
Our Pick: Carlo Eco Sneaker
Features: 100% Vegan
Not only does TOMS have an extensive collection of vegan sneakers, but also with every purchase a third of the profit will go to partner organisations to improve the lives of those in need. So, when you wear your Carlo Eco Sneakers, not only will you be looking good in this pair of shoes, you will also be doing good. It's nice that Vegan sneaker brands are paying more attention to the environment.
---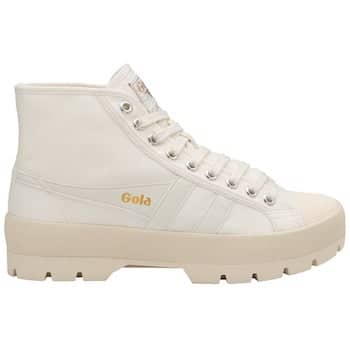 Our Pick: Coaster Peak High Trainers
Features: 100% Vegan
All of Gola's vegan sneakers are completely animal free with no animal skin, whilst still maintaining high-quality construction and covetable aesthetics. The clean lines and sturdy soles of the Coaster Peak High shoe make them the ideal choice for everyday wear. They will look just as good with a floaty dress as they do with your favourite pair of ripped jeans and a white tee.
---
Our Pick: Challenge V2 Sneaker
Features: Sustainable Vegan
Ultra-cool vegan fashion label, Humans Are Vain, have a great selection of chic and stylish shoes with the Challenge V2 Vegan Sneaker being our top pick. The matte finish leather upper is complemented by the white sole made from recycled rubber. The sustainability doesn't stop there – the lining is made from recycled plastic and corn fibre, and the heel panel is constructed from Italian apple leather. Sustainable style at its best from one of the best vegan sneaker brands.
---
Our Pick: Smart Sneakers
Features: Vegan, Carbon Neutral, Fair Trade
Ethically-made in Portugal with Italian vegan leather that is constructed from plants using bio-oil from organic cereal crops in a carbon-neutral process, the Smart Sneakers from Will's Vegan Store will go with everything in your wardrobe. The gorgeous tan lace-ups are classically chic and can (and should) be worn anywhere and everywhere. Also available in black.
---
9. Comovita
Our Pick: The Sneaker
Features: Sustainable Vegan, & Ethically-made
Choose The Change with The Sneaker from Comovita. They are perfectly constructed in Italy using vegan leather – from apple waste – and recycled materials, that are made to last a lifetime. These Vegan sneakers were made to be seen, so team with ankle-grazer jeans and a leather biker jacket, for an uber cool look.
---
Our Pick: Apollo in Cabo Blue
Features: Vegan and Ethically-made
Native Shoes have been keeping us stylish and reducing our environmental impact since 2009, and the Apollo Vegan Sneaker is a perfect representative of this Vegan sneaker brands contemporary aesthetic. Comfortable and breathable, the Native Shoes Apollo sneaker is made from vegan microfiber leather and is available in over a dozen colours. Our favourite from Native Shoes is the vibrant Cabo Blue. Keep your outfit neutral to let the bright and bold sky blue really pop.
---
Our Pick: Chai Vegan Trainers
Features: 100% Vegan
Buffalo London has a wide selection of Peta-approved vegan sneakers and our #1 pick is the 90s-inspired Chai Trainer. It's a highlight in terms of both style and comfort, and the versatile cream colour will look stunning with a wide range of outfits.
The chunky rubber sole adds a sports-luxe feel, whilst iconic branding finishes the edgy vegan sneaker. Fresh and trendsetting!
---
12. Tretorn
Our Pick: Tournament Hi Ocean Pile
Features: Vegan & Eco-friendly
First released in 1955 the Tournament sneaker is a classic Treton style. The updated hi-top model is water repellent and sustainable, being made from Ocean Net nylon made from recycled fishing nets and plastic waste from the ocean. Tournament is the perfect transitional trainer, thanks to a warm pile lining that will keep your feet snug and warm on the coldest days.
---
Our Pick: Roland V.10
Features: Sustainable Vegan
Purchase a pair of Vegan sneakers from Flamingos and you help to clean the oceans of plastic as with every pair of Roland shoes sold, a donation is made to the Waste Free Oceans Foundation. The latest version of the Roland trainer is constructed from recycled plastic bottles, corn waste, and bamboo, with a sole made with natural and recycled rubber. The eco-credentials of this trainer are as impressive as its style, with the tri-colour variation being our favourite from this vegan sneaker brands awesome range.
---
Our Pick: Airbag
Features: Vegan, Unisex, & Ecological
Standing for No Animal Exploitation, Nae guarantees its quality footwear is 100% vegan. The Portuguese brand is known for producing fashion-forward styles with a strong unisex sneaker selection. Our top pick is the Airbag trainer, which is made from – you guessed it – recycled airbags. It comes in a number of colourways, but we love the pastel pink upper contrasting with the black sole. Wear with faux leather leggings and an oversized sweater for an elevated streetwear look.
---
Our Pick: Checkerboard Slip-On Platform
Features: 100% Vegan
Skater brand Vans has a huge selection of vegan sneakers and is there a style any more iconic than the classic Checkerboard Slip-On style? We love the version with the platform rubber sole, not only does it give you a little extra height, but it's also contemporary and cool too. All the materials from the textile upper to the signature rubber sole are free of any animal by-products and therefore, are 100% vegan. Head back to the Nineties and team with wide-leg jeans and a logo tee.
---
Our Pick: Siempre
Features: 100% Vegan
Completely free of animal products, the Siempre shoe from Victoria boast a retro silhouette that is evergreen when it comes to style. The clean lines of the white upper features the contrasting signature V of the Barcelona brand. The perforated vamp allows for breathability, making these vegan sneakers a great choice if you're always on the go.
---
Our Pick: Fair Trainer
Features: Fair trade, Sustainable Vegan
Add a touch of fun to your look with these white shoes from Ethletic. The timeless canvas Vegan sneaker minimizes your ecological footprint while maximizing your style. The Vegan sneaker is 100% vegan made from Fairtrade certified organic cotton and natural rubber from sustainable forestry. The Ethletic website also allows you to tip the skilled craftsman that made your sneakers in Pakistan.
---
Our Pick: Slip On
Features: Vegan & Responsibly Sourced
With a brand ethos all about sustainability, it's guaranteed that your Slip On sneakers will be durable enough to last you a lifetime. Thousand Fell's sneakers are crafted from recycled bottles and rubber, as well as sustainable materials like palm leaf fibres and coconut husk. Plus, they also collect its used sneakers and the materials are further recycled or upcycled. Stylish all year round, wear with skinny jeans and fisherman's jumper during the colder months and Bermuda shorts and tee in the summer.
---
19. Beyond Skin
Our Pick: Quinn Trainers
Features: Vegan & Ethically Made
The Quinn Trainers from Beyond Skin may be one of the more expensive sneakers on this list, but they are expertly handcrafted in Spain with quality, yet ethical materials. Constructed from luxury vegan leather with a chunky recycled rubber soul, no animals have been harmed in the making of these Vegan sneakers and water waste is greatly reduced. The timeless and trans-seasonal Vegan sneaker is produced in limited quantities, to slow fashion down.
---
20. Po Zu
Our Pick: Sneak SIlver Apple Skin
Features: 100% Vegan & Solvent Free
Made from Apple Skin, a vegan alternative to leather, this stunning silver lace-up Vegan sneaker is water-resistant and eco-friendly. Not only are they kind to the planet, but they are also kind to your feet thanks to a memory foam insert made from natural latex and cork, for extra comfort and bounce underfoot. The metallic shade means these Vegan sneakers can be dressed up or dressed down depending on the occasion.
---
Our Pick: Nut Hi Top Trainers
Features: Vegan & Sustainable
The perfect trainer for kicking back in style, the Nut Hi Top Vegan sneaker has your off-duty look covered. Completely free of animal products, it's crafted from durable black canvas and sustainable and ethically sourced materials. A contrast rubber sole, laces, and iconic branding finish off these Vegan sneakers. Wear with anything and everything – this is a Vegan sneaker for all occasions.
---
Our Pick: Disruptor 2
Features: 100% Vegan
Fila has released a number of their iconic trainer styles that are made from completely vegan materials, including the famous Disruptor 2. You'll be unstoppable in these Vegan shoes, which provide the perfect balance of comfort and style. The chunky silhouette is bang on trend, with a '90s vibe that would look great with some high-waisted mom jeans and a baggy tee. The crisp white shade will add some light and life to whatever outfit you pair them with.
---
Our Pick: Seoul Premium Vegan Trainer
Features: 100% Vegan
Hummel's handball-inspired Vegan sneakers are now available in an all-vegan interpretation. The upper of Seoul is made from premium vegan leather and suede and sits atop a minimalistic, recycled rubber outsole. The sustainable alternative of the court-style classic is available in a number of colourways – including those with bold '80s and '90s tones – but our top pick is the super wearable sharp white with grey accents.
---
26. Genesis
Our Pick: G-Iduna Vegan Trainers
Features: Vegan & Recycled
We love the classic running style of the G-Iduna from Genesis, not just for its appearance but also for its eco-credentials. The upper is made from eco-friendly (carbon reduced) leather, with mesh constructed for recycled plastic bottles. The insole is made from recycled EVA foam and the cork soles come from sustainable productions. Even the shoelaces are made from recycled PET plastic bottles. Genuinely sustainable Vegan sneakers.
---
Our Pick: Pureboost X
Features: 100% Vegan
Looking for a vegan running shoe? Look no further than the fashion-forward Pureboost X from Stella McCartney's collaboration with Adidas. The high-performance trainer offers a sock-like fit and exceptional grip, making these Vegan shoes ideal for running on most terrains, whilst being chic and edgy for everyday wear too. Boasting a striking silhouette, the black woven upper of this vegan running shoe is complemented by the iconic boost sole for the ultimate in comfort.