Who knew there were so many natural resources available to make non-animal based vegan leathers? From cactus, to pineapple, to coconut, an increasing number of alternative sources to animal leather are being used to make cruelty-free vegan sandals, without compromising on comfort or price.
We've selected 15 of them, designed by a variety of brands who are taking sustainability in their hands, to offer you the perfect choice for any occasion this summer. Whether you want to hike along rugged trails, casually walk the town in style or match with your other half, we've got you covered.
Top 15 Vegan Sandals

1. H&M
Ethics | Vegan, sustainable materials, ethically-made
Best For | Eye-popping appeal
Our Pick | The Neon Green vegan sandal
Price | $110
Ever thought of wearing cactus? These striking neon green 4 inch heel sandals are made from non-toxic cactus-based faux leather (also known as nopal vegan leather).
They are designed by Desserto, a Mexican textile supplier which has been developing this novel alternative to leather under the strictest quality and environmental standards. Cactus farming also saves over 1800% of Greenhouse Gas Emissions compared to animal leather!
Available from the British H&M website, they're already sold out! Sign up here to be notified when back in stock.
---
2. Nae Vegan Shoes
Ethics | Vegan, carbon-neutral, ethically-made
Best For | Matching your shoes with your pineapple cocktail
Our Pick | Darco in White
Price | $99
Available in black also, the Darco White unisex sandal is made from 80% Piñatex, which is a pineapple leaf fibre. With antibacterial and antimicrobial properties, a natural cork footbed and recycled car tires soles provide a comfortable arch support.
With no CO2 emissions produced from its manufacturing undertaken under fair work conditions, Nae Vegan Shoes offers over 50 other vegan sandal options for women and over 10 styles for men. The company has cool collaborations with PETA and RE-MOVE, which uses recycled plastic from the ocean.
---
3. Birkenstock
Ethics | Vegan, sustainable materials, ethically-made
Best For | Classic arch-support comfort
Our Pick | Mayari Vegan in Black
Price | $110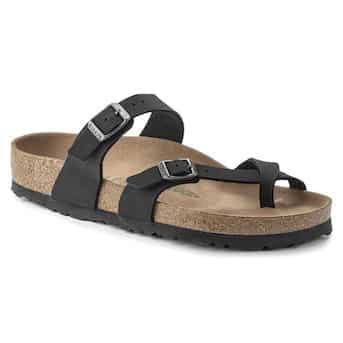 Everyone knows the German transverse arch supported sandals and now 5 styles are available in vegan form, including a couple for kids. The Mayari is an elegantly comfortable sandal with adjustable, crisscrossing straps that form a single loop around the toe. If you prefer the double buckle style, Arizona, that's available in two colors.
With natural cork, being one of the most important raw materials for this line, Birkenstock carefully harvests the barks, uses mostly water-soluble and solvent-free adhesives, and uses renewable textile fibers in the footbed. Pretty simple!
---
4. Carmona Collection
Ethics | Vegan, sustainable materials, ethically-made
Best For | Platform comfort
Our Pick | Karla in Green
Price | $89
Karla is a stylish dark green Desserto sandal, made up of a 1-inch platform and certified organic vegan cactus leather. Handmade by artisans from the León Guanajuato region of Mexico in a workshop offering double the minimum Mexican wage, the materials are produced in sustainable native nopal cactus farms. Part of the Carmona Collection, four other heel versions of the sandal are available in black, green, beige and red.
---
5. Collection And Co
Ethics | Vegan, eco-friendly materials, ethically-made
Best For | Easily completing any look
Our Pick | Filia in white
Price | $90
The Filia sandals by Collection and Co are a slip-on style available in off-white or tan. Featuring a large crossover front and ¾-inch heel, they are made from upcycled vegan leather (PU) including Pinatex and recycled plastics. Conscious of not wasting resources, Collection and Co only produce limited quantities of each style (currently 6 sandal types) in a small factory in Greece. So snap these up while they last!
---
6. Lulus Orchid Lace-ups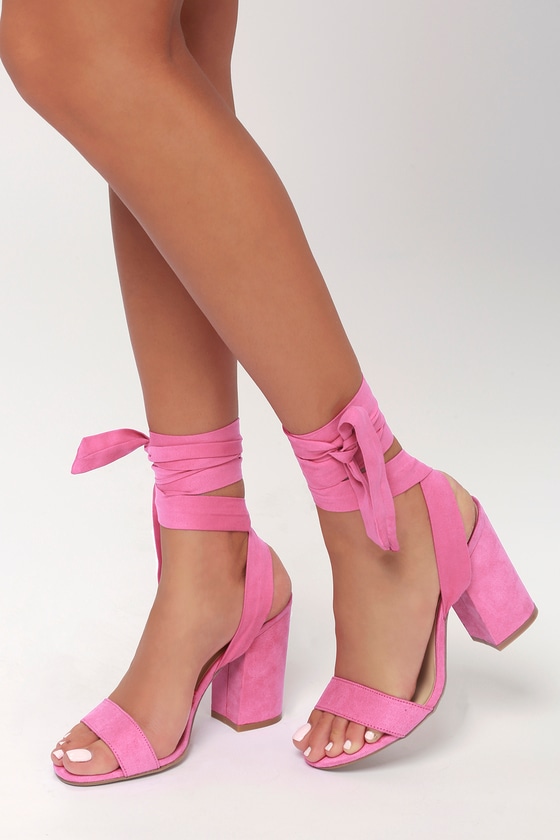 Ethics | Vegan, sustainable materials, ethically-made
Best For | Attention-seeking
Our Pick | Alta in Orchid pink
Price | $38
Alta is a showstopping sandal with a nearly 4-inch block heel and long straps to lace up how you like above your ankle. Available in light nude too, these sandals are completely vegan friendly, as are at least 200 other pairs of Lulus sandals in thong, sling back, flats, slide or ankle strap styles to suit any occasion and budget. Although not overly explicit on their sustainability commitments, Lulus do indicate they set up an endowment for supporting higher education and empowering women.
---
7. Plaka Seashell
Ethics | Vegan, sustainable materials, ethically-made
Best For | Vacation
Our Pick | Seashell in Ivory
Price | $35
The plain sweet-ivory Plaka summer sandal immediately stands out by its summery beach vibe. With soles made from vegan-friendly rubber, premium nylon is used for the intricate woven ropes. If the 13 other colors including a blue jeans footbed aren't enough, there are four other styles to choose from, plus a customizable option too. At that price, why not get creative and gift a friend their unique vegan sandal!
---
8. Will's Vegan Store
Ethics | Vegan, sustainable materials, carbon-neutral
Best For | Urban walking
Our Pick | Huarache in tan
Price | $105
These womens' tan-colored Huarache sandals, also available in 3 other colors, are made in Portugal with plants using bio-oil sourced from organic cereal crops grown in Northern Europe, in a carbon neutral process. With an adjustable strap, arch support and grippy outsoles, meet your functional yet classy vegan sandal. We love that the shipping is also plastic-free and that the company is independently verified as carbon-neutral, from manufacturing to operating their website. They also have 6 sandal styles for men.
---
9. Matt & Nat
Ethics | Vegan, sustainable materials, ethically-made
Best For | Dressing up
Our Pick | Acacia in black
Price | $125 – but final sale on right now: $87.50
The Acacia 2-inch-high vamp espadrille has an open toe and adjustable heel strap, and comes in either black, beige or tan. Made of Polyurethane (PU) (a.k.a biodegradable) soles and Thermoplastic rubbers (TPR). If you prefer, a lower slip-on version is also available if they run out of stock. As like all of Matt & Nat products, this sandal is vegan-friendly and produced under strict environmental and labor conditions. As part of continuously improving their sustainability journey, procuring and building under these standards is part of Matt & Nat's vision to rely on environmentally-friendly materials and undertaking socially respectful manufacturing operations.
---
10. Malibu Sandals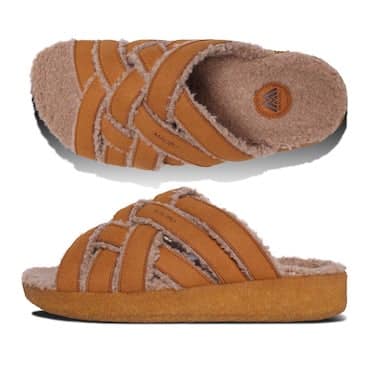 Ethics | Vegan, sustainable materials, ethically-made
Best For | Multi-Purpose Sandals
Our Pick | Zuma LX in Golden Oak/Tan
Price | $120
Based on the Mexican Huarache models, these 100% natural hand-woven Malaysian Crepe sliders (Zuma LX) are made from cruelty-free suede vegan with sherpa lined straps. Not only are they designed by and for free spirits, they are engineered with an 'epic' arch support thanks to their ergonomic footbed. With other colors available, there are other styles to choose from for women and some funky extra styles for men. Malibu Sandals are hand-crafted and use PETA-approved and water-friendly materials. Being based in Santa Monica, they've chosen to donate a percentage of sales proceeds to the California Wildlife Center.
---
11. Merrell's Kahuna Web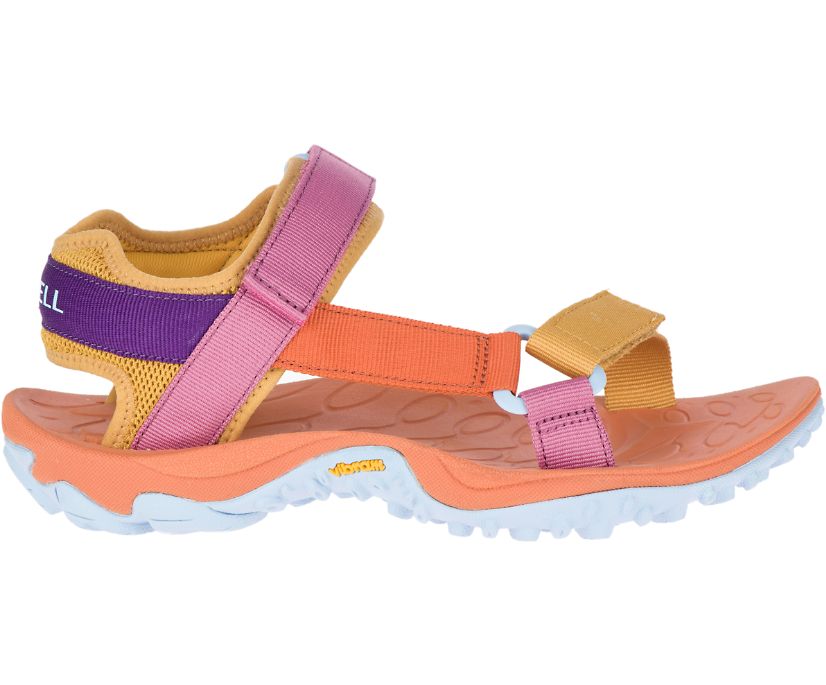 Ethics | Vegan, sustainable materials
Best For | Trekking rugged terrain
Our Pick | Kahuna in apricot orange
Price | $90
Although not much is said about the materials used for this sandal, it is labelled as vegan and has Vibram soles which are well known for their durability. With two multicolor options in addition to the beige and black versions, this Kahuna model exists for men and kids too so you can go hike together, equipped with matching footwear. Asides from its growing line of vegan shoes, Merrell also aims to increase its corporate sustainability endeavours by reducing waste and preserving water during the manufacturing process. As a member of the Sustainable Apparel Coalition, it contributes to standardizing sustainability metrics at the industry level.
---
12. Z-Trail EV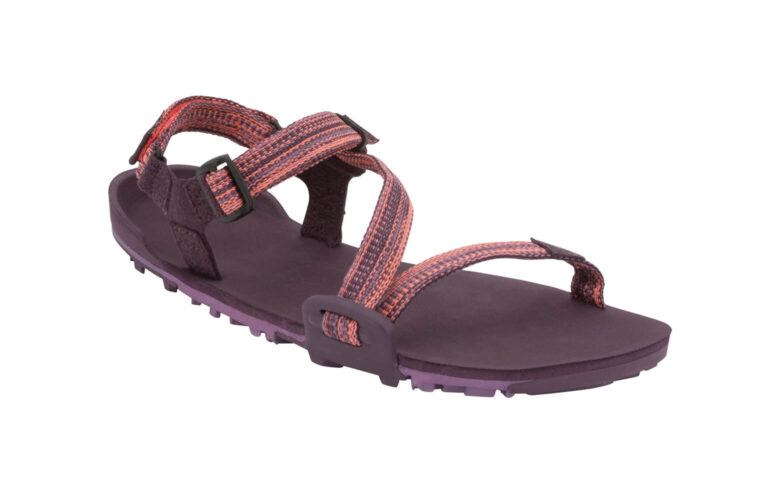 Ethics | Vegan, sustainable materials, ethically-made
Best For | Light-weight trails
Our Pick | Z-Trail EV in ruby red
Price | $80
Xero's Z-Trail EV, available in dusty rose, magenta or multi-black, is a light weight (4.3 ounces), versatile and affordable hiking sandal made from vegan-friendly materials and nylon sourced from recycled water bottles. Also available for men in different colors, it has two adjustable straps and women's' sizing ranging from five to twelve. Asides from the down to earth demeanour of the founding members (you can check out their journey on their website), we like Xero's approach in honoring the Tarahumara Indians of Mexico, whereby five percent of their sales proceeds go to the Tarahumara Children's Hospital Fund.
---
13. Ahimsa
Ethics | Vegan, sustainable materials, ethically-made
Best For | Classic, solid comfort
Our Pick | Camila in dark olive
Price | $129
Handmade in Brazil, Ahimsa, which symbolizes a conscious, awakening is a 100% vegan brand of shoes with its own dedicated factory. Made from polyurethane, more known as simply PU, these sandals are made from PETA-approved vegan leather upper and have a breathable lining, ideal for summer. Available in three other classic colors including navy, three other similar flat styles are also on offer with a similar price range and several versions with heels are also on show for a more elevated look. Who could not adhere to Ahimsa's honest manifesto to do not harm and share the power of love?
---
14. Toms
Ethics | Vegan, sustainable materials, ethically-made
Best For | Peep toe wedge
Our Pick | Michelle in Black Metallic Linen
Price | $79.95
Made 100% vegan and equipped with an OrthoLite insole for high rebound and long-term cushioning, these unusual pumps looks so chic thanks to the metallic fibers weave through the linen uppers of this stand-out wedge espadrille. As a certified B Corp, Toms proudly displays its sustainability commitments in a complete impact report, including fair labour credentials and actions like a third of their profits being invested in grassroots organizations.
---
15. Matisse
Ethics | Vegan, recycled materials, ethically-made
Best For | Adding a touch of exoticism
Our Pick | Fuji in tan
Price | $85
With its 1-inch high platform, padded insole and distinct decorative raffia finishing (a palm tree-based fiber), this PETA-certified vegan sandal has an elasticated slip-on for easy fitting. The Fuji platform sandal is only available in tan, but check out the other Matisse models like Seashore, Oasis or Coconut for more raffia options. Based in Los Angeles, products are made in family-owned and operated factories with long-standing partnerships which are audited for social conformity. Matisse uses recycled materials where possible and selects partners with eco-friendly green credentials.